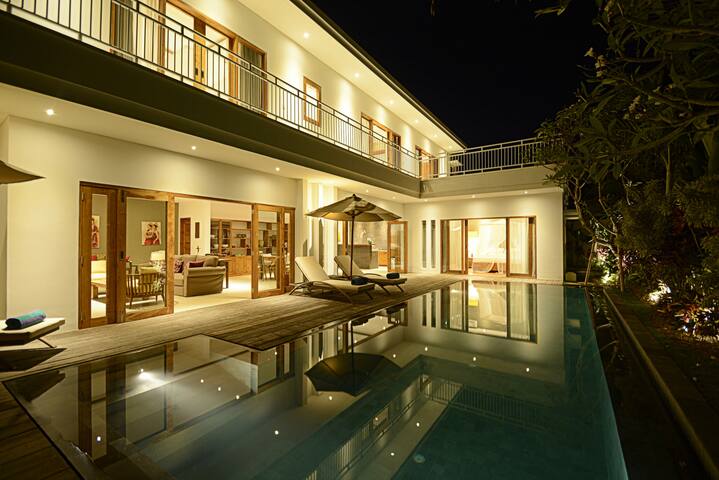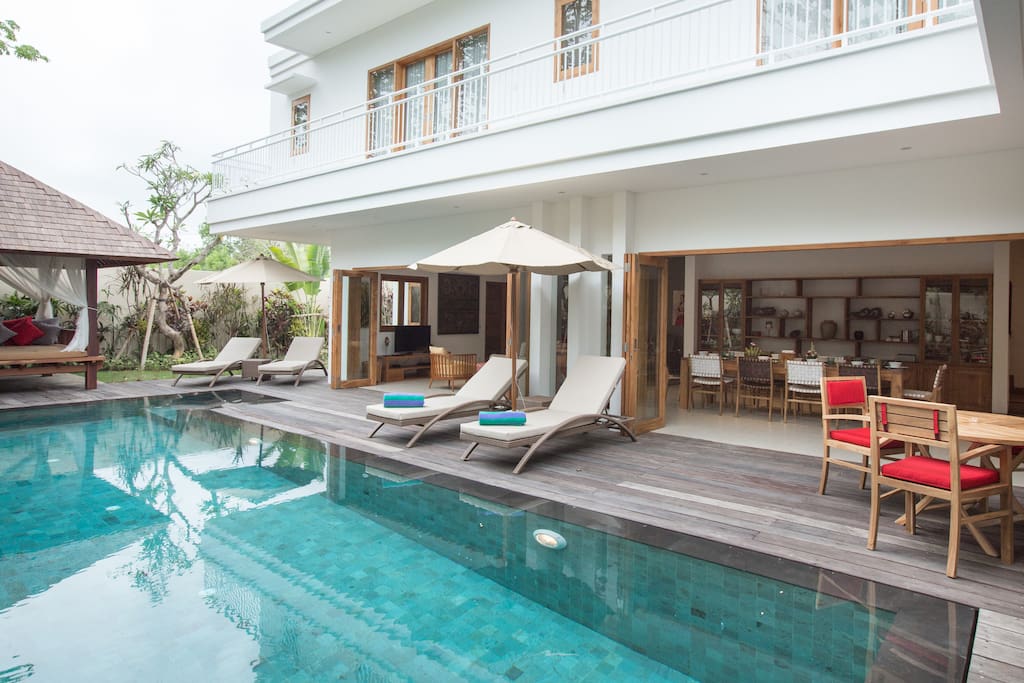 Lovely villa with plenty of space! Having 5 bathrooms and 4 bedrooms was a real treat since we were a party of 3 couples and two singles; which was perfect. More than enough space for everyone to have their privacy and no fighting over showers and toilets but also has a great living and dining area for everyone to be together. Pool is great to have and even though it isn't huge, it was big enough for us to have fun. Very clean villa and felt like royalty having our own housekeeper and chef to cook breakfast every morning. If you're big eaters like us you will need to give the chef extra money to buy more ingredients, in saying this, its practically pennies. Very communicative staff and easily reachable on (SENSITIVE CONTENTS HIDDEN) which they seem to prefer. Wifi is good, not fantastic but will do the job. Also have Netflix for those lazy nights in. Would recommend taking the private driver to your locations as taxis and Uber's don't seem to be allowed into the area which seems to be monopolised by a single family and the private driver is reliable and won't try to scam you. Definitely take a bluebird taxi or uber back as it is much cheaper. Overall we had a great time and great stay and would stay at the villa again anytime we need to be in the area.
来自Jing, Wayana + Bukit Vista Hosts的回复:
Hi Chanel, Thanks for the review and your great words to our property and hospitality service. It was our pleasure to host you during your memorable experience in Bali. Glad to know that you enjoyed your stay and looking forward to welcoming you back in our charming little paradise! Cheers-Rafik
---
You will not regret booking this beautiful villa. We had a wonderful 2 weeks stay here and were very well looked after by BukitVista. We stayed with our 2 children (age 3 and 7) and there was ample space, it would easily accommodate 8 adults. It is very well equipped, with everything we needed. The BukitVista team were amazing, with excellent communication from booking through to check out. We had breakfast cooked every day, which was a real treat for us (fruit, eggs, pancakes, nasi goreng, omelette - whatever we asked for the day before) One evening we had a delicious Balinese meal cooked for us too. Beds are very comfortable, and the whole place is as clean as could be. The pool is a little cold, not that our children complained, but it is big enough to have a proper swim in and we were even given some inflatables for the girls to play with. The chorine is strong, and our swimsuits had turned green within a couple of days and were falling apart by the end of 2 weeks (so maybe take an old one just for the pool). Better this way than for the pool not to be clean. The location of this villa is pretty much as good as you can get in Bingin, without being on the beach itself. It is a short walk to the beach car park, and yes, Bingin beach is only accessible via about 100 steep steps. But it is worth the climb - it was our favourite beach on the Bukit by far, and helps keep you fit on holiday! There is a great restaurant around the corner, a laundrette, a mini mart and a new pizza place was opening as we were leaving. There are plenty of good places to eat nearby, but it would help to have scooters to get around. We didn't do this as the driving is pretty crazy and we didn't feel confident with the children, but the team arranged a driver for us, who lived close by and took us wherever we wanted to go each day, for a very reasonable price. This was much better than the local taxis, as they can overcharge. The team arranged to take our laundry and it was brought back within 24 hours, which really helps if you have a long stay. We highly recommend this villa, and would love to come back. Thank you!
---
This villa is gorgeous. Walking distance to the Bingin beach and away from the craziness of Kuta. The hosts and Wayan the housekeeper took excellent care of us with helping arrange food, transport, and poolside massages. Definitely the best stay I have had in an Airbnb, it was more like staying in a 5 star hotel.
---
热带现代别墅离Bingin海滩仅几步之遥。良好的 WiFi。互联网、电视和隐私。清洁、现代的简单建筑,适合群体和家庭度假。在步行距离,私人游泳池和封闭的空间扩展的访问都理想的当地餐馆。
---
---
---
---
Love Bali, respect our staff, and smile a lot =)
* Our rooms are NON-SMOKING rooms. You are most welcome to enjoy your cigarette at our open-space living areas.
* Check in time is after 02:00PM and check-out before 12:00 noon. Early check-in and late check-out request will be subject to availability.
*Let us know your arrival time, especially after 6pm. We would like to welcome you and make sure you have proper arrival process. Please note that we are not always at the villa.
* Our onsite team will present every morning to ensure the cleanliness of the villa. We hope that you do enjoy your holiday experience at the villa and treat the space like your own house, and we do also expect you to let the villa's beauty and charm stay still as the very first day you see and feel it =)
* Last but not least, we do hope you enjoy your holiday experience. We will be at your disposal should you need further information and assistance during your stay.
---
---
---
---
Jing, Wayana and the Bukit Vista team want to make your trip to Bali awesome. We have a collection of some of the most iconic accommodation options in Bali. Tree Houses, Beach Villas, Cliff Lodges, Tropical Apartments and Rice Paddy Cabins. We are a hospitality startup here on the sunny island of Bali. Our mission is to "inspire delight". We want our guests to see our island home through local, authentic hospitality.

Instagram: @bukitvista

Bukit Vista Hosts:
Jing and Wayana are the founders. Rafik, Denny, Jan, Bastian, Bayu and Kris are part of our hosting community. Bukit Vista lives for happy guests. We love to experience the world through our guests. We're cheerful and solution focused. We make a point to try and meet every guest. Allow us to be the ambassadors to our neighborhood, local culture and attractions.

We collectively speak 7 languages: Mandarin Chinese, Bahasa Indonesia, English, Portuguese, Japanese, French and Spanish. We're learning Russian and German.

语言:
Bahasa Indonesia、English、Español、Português、中文、日本語