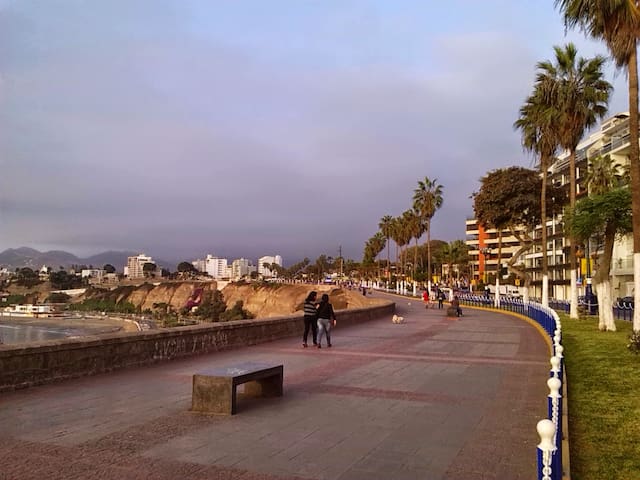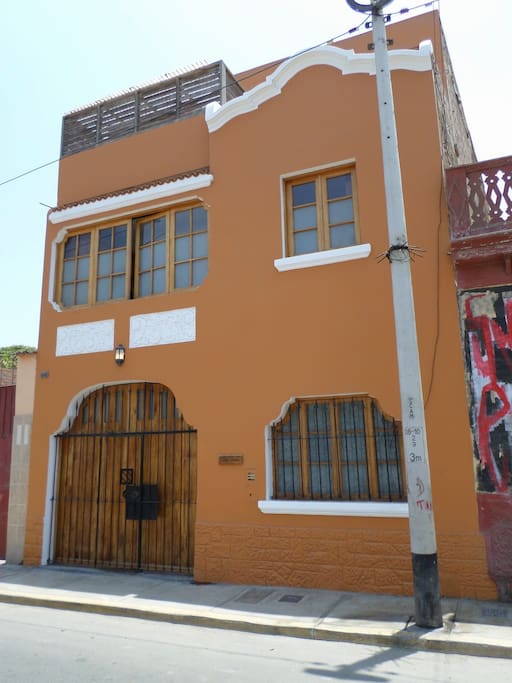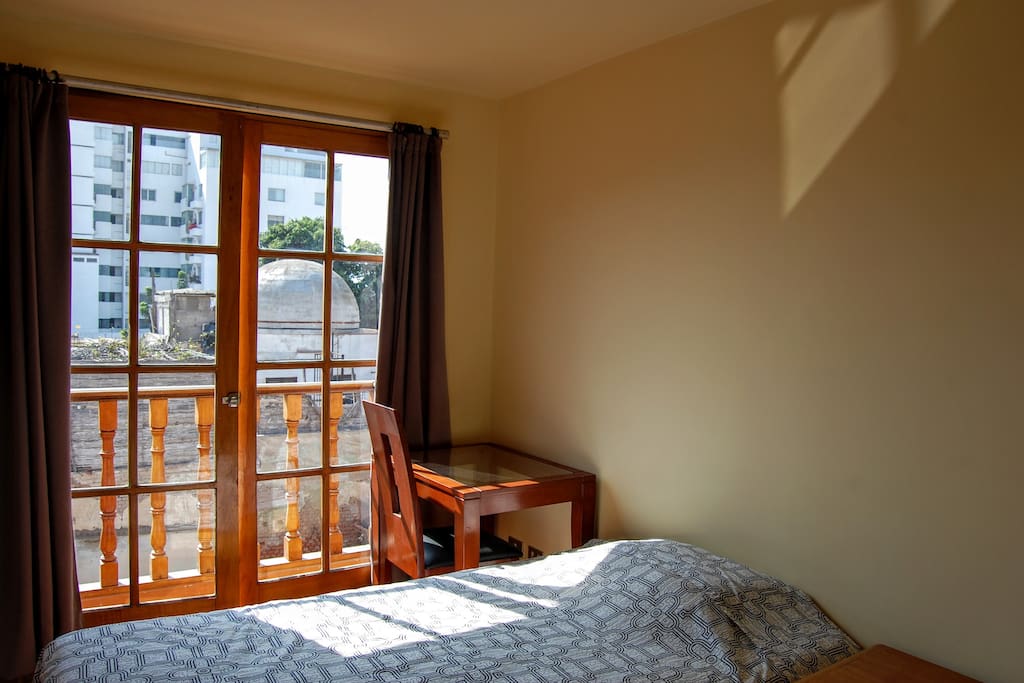 ALLICHAY Chorrillos - Chbre d'Hôtes
In a contrasted neighborhood, agreeable 3 floors House with all commodities and good personal attention. Terrace, light and good vibes. Near the sea, Barranco & Miraflores, yet away from the crowd, easy to go to the historical Center by express bus.
房源
CHORRILLOS TWO BLOCKS FROM THE OCEAN
French - English - Spanish
Hello and welcome home.
Take the time to discover Chorrillos and enjoy a completely different experience during your stay in Lima !
We are a belgo-peruvian family.
Our house was built in the end of the 19th century and has been completely renovated in 2007. It is located two blocks away from the Pacific Ocean, in the heart of the old part of Chorrillos, in the South end of the Bay of Lima, next to the district of Barranco, 15 minutes away from Miraflores and 25 minutes from the center of Lima. It is of easy access from the airport of Lima/Callao by the coast expressway.
Transports nearby : mototaxis, buses, taxis, Metropolitan express bus. Banks, stores, markets at walking distance or with mototaxis.
At your arrival, the house will permit you to rest from your trip, discover the new environment and organize your journey through Peru in the best conditions.
Our neighbourhood is a living contrast between popular and prosperous spaces. The mototaxis, the processions and their joyful people give to the "barrio" a lively ambiance and animation.
This district has a better climate for being well protected from the winds.
Some blocks away from our place,
You will find good restaurants as The Hornero (meat), Sonia, Morocho, Punta Arenas, Nautika (fish), Vara (international, peruvian), Inguiri (jungle specialties),
You will enjoy an animated and colourful market,
You may go down to Playa Pescadores with its fish market, its popular restaurants, its fishers boats, boat tours and pelicans, or to Playa Agua Dulce to walk, run or rest on the beach and to swim in the summer.
You may walk to the Herradura beach, popular with surfers and for its restaurants,
You can discover in mototaxi the Huge Cross which dominates Lima and from where you will enjoy a panoramic view of the entire Bay and out to La Punta and the Isle of San Lorenzo,
You may visit the Planetarium on the Morro Solar Hill,
and visit a little further away the Pantanos of Villa Reserve for birds lovers.
If you wish, we can guide you on tours of the city (Miraflores, Barranco, historical Lima...), excursions to the Isle of San Lorenzo (boat tours with sealions), La Punta... and propose you sports activities as horseback riding on the beach and/or dunes in Lurin, 30 minutes away from our place (our specialty !), surf, bicycling and paragliding.
We will provide you help with all the questions you might have about your trip : tips, transports, reservations, itineraries in French, English and Spanish...
Our place and activities around are adapted to family groups, sports lovers and social oriented persons. However, if you wish to discover the nightlife of Lima, Barranco (the "bohemian" district known for its cafés, bars and art galleries) is just 5 minutes away by car. There are secure taxis to go out at night.
ROOMS and SERVICES
Comfort & Warmth
The Allichay House proposes comfortable bedrooms, delicious breakfasts and sharing of meals on demand. Wifi is free of charge. A terrace and a living room corner with maps, guides and tourist information are also available. In addition, for a small extra cost, it is possible to have your laundry made, to hire a babysitter, to use the kitchen, to have coffee and teas, to rent an electric heater...
The 3 rooms available have comfortable beds. They have private WC, shower rooms and hot water. A shared terrace occupies the third floor with the two main bedrooms.
We can pick you up at the airport or at the bus station (cost on demand).
PRICES
Rooms and services
Room for 4 persons, one queen bed and bunkerbeds:
One person : 40 S./ (+/- 16 $) per night
Two persons : 80 S./ (+/- 32 $) per night
Three persons : 100 S./ (+/- 40 $) per night
Four persons : 120 S./ (+/- 48 $) per night
Room for 2 persons, 2 beds :
One person : 40 S/. (+/- 16 $) per night
Two persons : 80 S./ (+/- 32 $) per night
Breakfast : 15 S./ (+/- 6 $) per person Extra-meals on demand
A discount is applicable on demand in case of staying 5 or more nights.
Babysitter : 10 S/. (4 $) / hour
Laundry : 10 S./ (4 $)
房客使用权限
Their room
Shared terrace
Kitchen (see hours)
与房客的互动
We like to help and converse with guests on any matters they wish to talk, especially about their trip and the way of life of this country and its people.
其他注意事项
Our house is perfect for people and families who like to visit and explore Lima, do sports, be a little away from the crowd of the more touristic districts. We are however very close to Barranco where it is possible to walk by the beach or take a quick ride. Miraflores is the district next to Barranco and is also easy of access. If you wish to visit the Historical Center of Lima, there is a express bus "El Metropolitano" which takes you there in 30 minutes.
---
Francisca, although at the time of my visit in Belgium, made sure we will be taken care of by her son Humberto, and his friend Manolo. The house is very nice, bedrooms with bathrooms, with terraces, and bikes, close to the ocean, and well designed architecturally. I will recommend it highly to the next guests. Mark from Florida
---
francisca made arriving in Lima as easy, homely and relaxing as possible. The accommodation was beautiful and she was extremely hospitable and generous with information about Chorillos and Lima and general travel experience and information. We had a rocky start when I booked the wrong dates etc but she was very understanding and helpful. I would definitely recommend staying with Francisca!
---
I am actually still at Fransica's place as I am writing this review. That should tell you something, if anything. I originally wanted the other room with the queen and twin, but it was booked for one night during my planned stay. When I got to the house, Fransica told me she arranged it so I could take the room I wanted. This is why she's is a Superhost. She is very attentive, responsive, so helpful and knowledgeable of Peru in general. The house is very clean, secure and comfortable. You cannot go wrong with staying here with Fransica, no matter how many nights you stay. She will try and convince you not to stay if you only need one night. Do not listen... Come stay at the southern edge of Lima. You will not be disappointed with the place and the host! Highly recommended and will stay here again.
---
We loved staying here! Caterina, Franciscas friend was taking care of the home while Francisca was abroad. However, they were both very very helpful! Francisca responded promptly to all of my questions before we arrived and was very informative. Caterina was very friendly and accommodating, and called a taxi for us whenever we needed. She also gave us recommendations for places to go. I would definitely stay there again. There is a hot shower, clean towels provided, comfortable beds and wifi! Thank you Francisca and Caterina!
---
Francisca is retired, loves to have people from all around the world in the house, share conversations and help with your plans when needed. She enjoys listening to your travelling experiences and feels very happy when you feel at ease in the house.
语言:
English、Español、Français