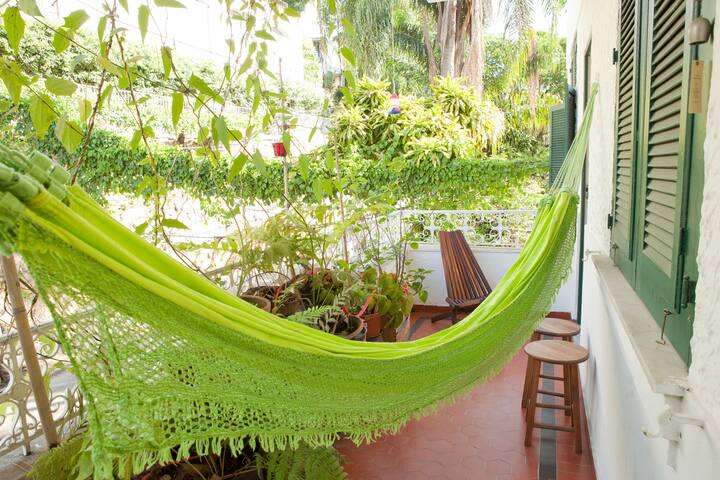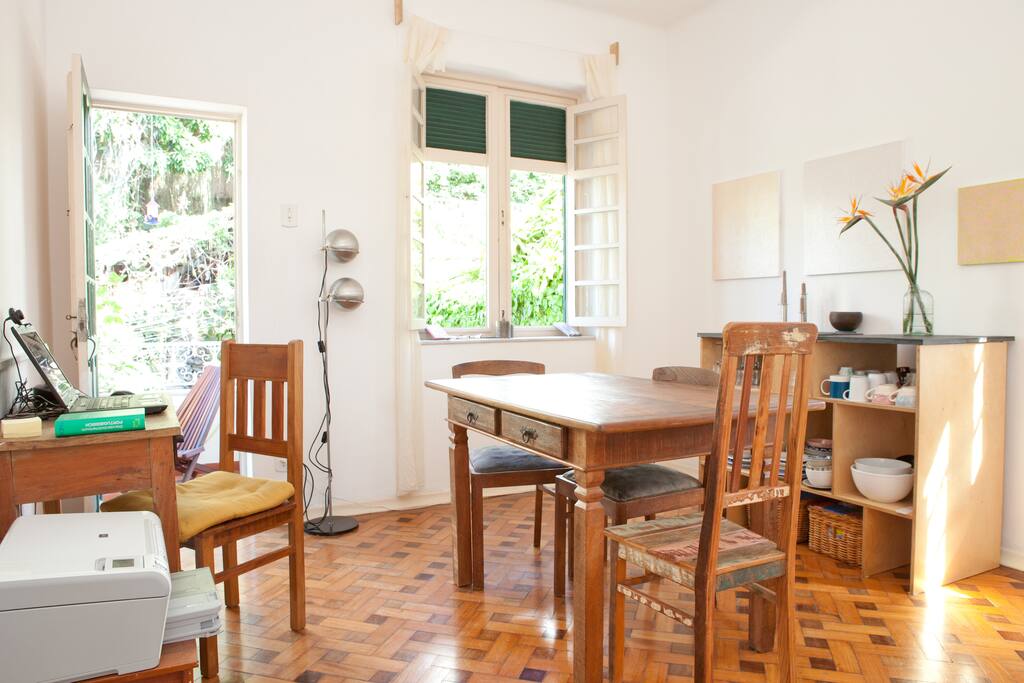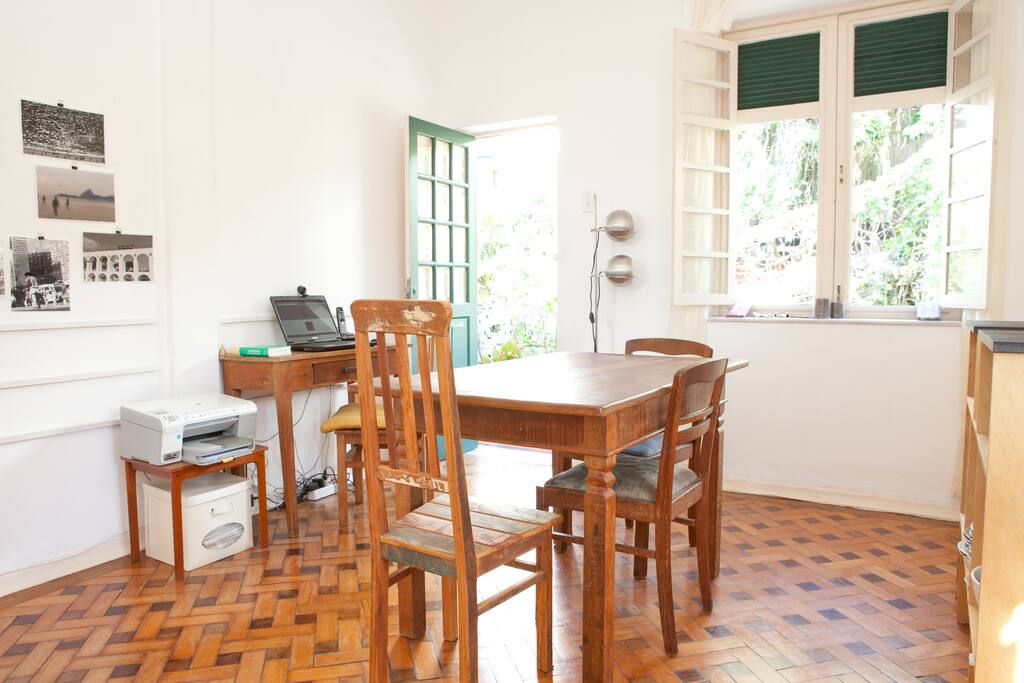 wonderful room with balkony
It's hard to imagine better hosts than Tanja and Nogger. They provided a wonderful breakfast each morning and really helped us navigate Rio's bus and metro system. The Wifi worked flawlessly and helped us stay connected to our family at home. We were lucky that Tanja and Nogger had some time off for the Olympics and were able to show us around the city, including an off-the-beaten path overlook with spectacular views. We found their flat charming and enjoyed its location in the historic Santa Teresa neighborhood. It is quite hilly so guests should plan to get a little exercise or make liberal use of the readily available taxis. We generally walked but took advantage of the cheap taxi from the Gloria metro stop (~12 real/4 USD) after some late nights watching the Olympics. Even at 2 am on Saturday and nearly 1 am on Sunday the local restaurants were crowded. That contributed to our feeling of safety but also made for some noise at night (those historic buildings weren't designed to be soundproof). If you are a light sleeper (as my wife is) then I recommend you bring ear plugs. My wife had no troubles just with the basic earplugs supplied by the airline during our overnight flight. Our only regret was that our busy Olympic viewing schedule didn't leave us with enough time to explore all that Santa Teresa, Rio, and our hosts had to offer.
---
Wir haben die ersten vier Tage unseres Aufenthalts in Brasilien bei Tanja und Nogger verbracht und es hätte uns nichts besseres passieren können. Wir sind davor noch nie durch Südamerika gereist, doch die Zwei haben uns den Einstieg extrem erleichtert. Sie haben sich viel Zeit für uns genommen, uns dabei geholfen unsere Tage in Rio perfekt zu gestalten und uns viele tolle Tipps gegeben. Das Frühstück ist wie schon in anderen Bewertungen genannt sehr, sehr lecker und liebevoll. Die Marmelade vermissen wir jetzt schon. Insgesamt waren die Gastgeber, die Wohnung und die Lage ideal um Rio zu entdecken.
---
El departamento es muy lindo, limpio y ordenado. La ubicación es perfecta y el barrio muy tranquilo. Tanja y su marido fueron muy cordiales y amables, nos dieron tips que sirvieron muchísimo. Los desayunos muy ricos y variados. Estamos muy agradecidos de haber alojado en su departamento y lo recomendamos al 100%
---
Me and my mother had a great stay with Tanja. She and her husband are lovely and very interesting people. We felt very welcome and at home! The appartment is situated in the heart of Santa Teresa near all good restaurants and I never felt unsafe walking around there. Breakfast was delicious (homemade bread, eggs, vegetables, fruit, granola, yoghurt, whatever you want). The room is beautiful and clean and the balcony is great. The only downside is that it can be hot at night. Still, i would recommend this place to everyone, and i would for sure stay here again.
---
Although I already have some experience with air bnb accommodations, I must say that this stay in Rio at Tanjas place was the best stay ever! We got a lot of very helpful tips to explore this beautiful place in Brazil - and although Tanja herself was not there during our stay she was always available via (SENSITIVE CONTENTS HIDDEN). Ana - her lovely friend - was a great help as well - she prepared a great breakfast every morning and made us very happy with her outgoing nature and smile! I highly recommend this stay at Tanjas place - if I will come back to Rio, I will make sure to stay there again!!
---
Es war einfach klasse!!! Wir hatte wunderschöne drei Tage bei Tanja. Das Zimmer ist einfach, aber stilvoll eingerichtet, die Wohnung ist sehr schön und das Viertel hat uns super gefallen. Alles war genauso schön, wie auf den Fotos zu sehen und in der Beschreibung zu lesen. Sehr schöne Restaurants und nette Cafes sind in 2 min (100 m) schnell und sehr sicher zu erreichen. Tanja und ihr Freund waren während unseres Aufenthalts verreist, aber ihre Freundin Ana hat uns unglaublich liebevoll und herzlich begrüßt, uns jeden Morgen mit einem leckeren Frühstück verwöhnt und unseren Aufenthalt versüßt. Wir werden sicher wiederkommen!!!
---
wir leben seit 5 jahren in rio de janeiro, geniessen stadt und menschen und möchten gern unsere erfahrungen teilen! die schönheit der stadt, das klima, die farbenpracht und intensität inspiriert die sinne!
neben der kunst, kochen wir gern, wandern viel und geniessen das meer!
语言:
Deutsch、English、Português