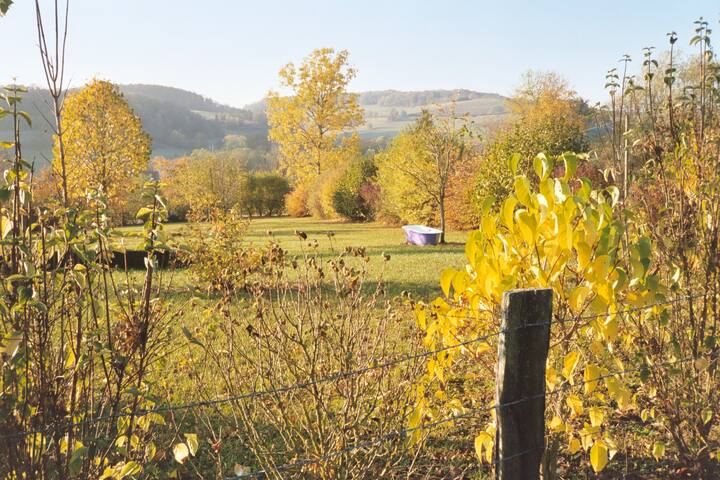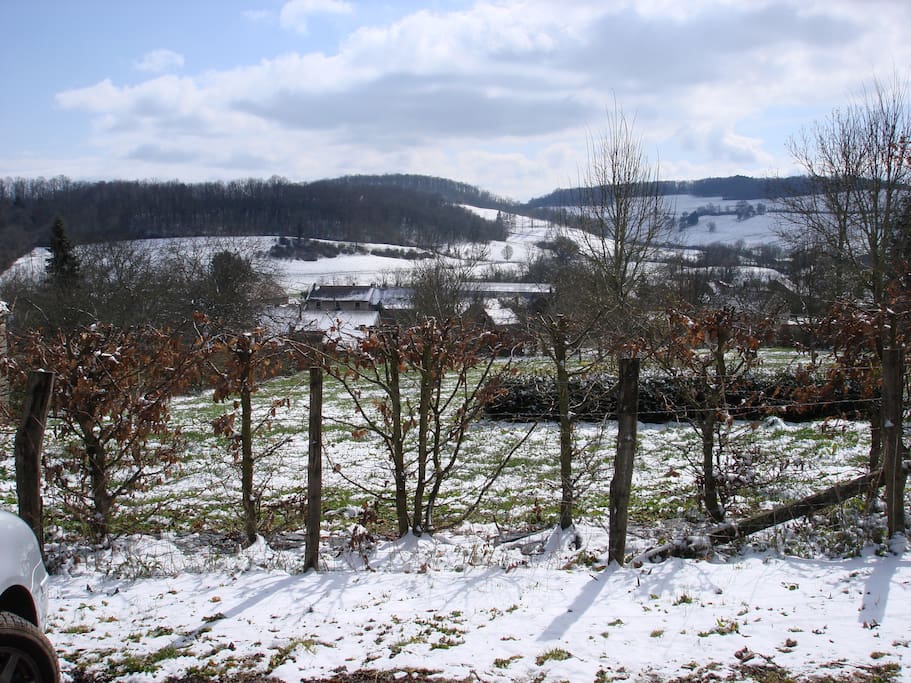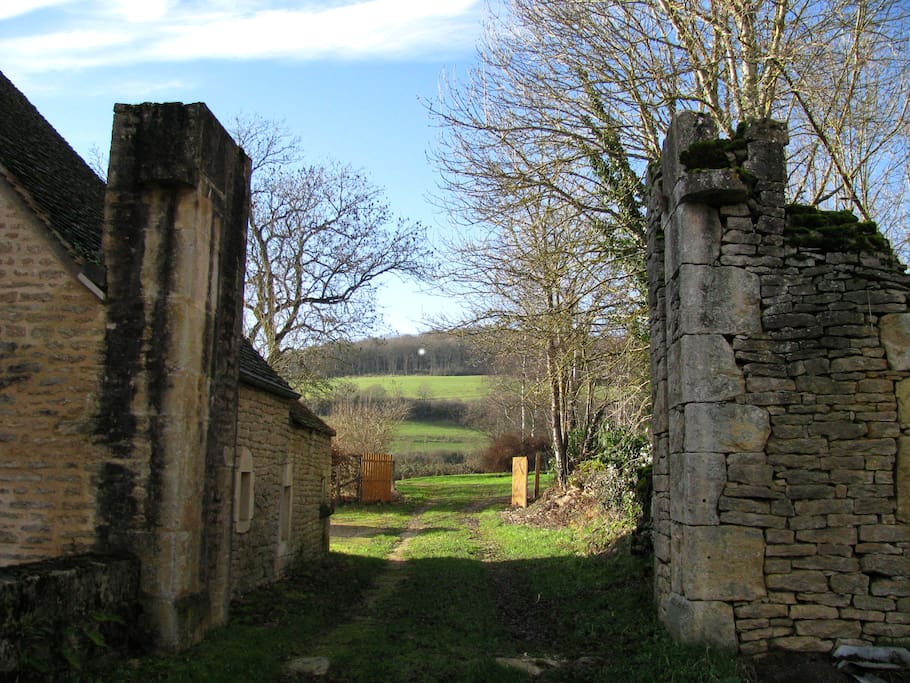 Yoga, Food & Wine - Burgundy. bed 4
房源
Poire (bed 4 of 8)
One of twin beds on mezzanine of the first floor bedroom sharing with 2 others. You must shimmy up a ladder to reach it, but its cosy and visually private once you're tucked up. Very comfortable firm mattress on a slatted base. Choose feather or non feather pillows. Its one of two beds that are close so you'll want to share with a friend or tell us you'd like it to yourself. There is shared use of a spacious limestone shower room with WC adjacent as well as the luxurious bathroom with porcelain tub on the ground floor.

Price is inclusive of all yoga, bed and full board.
______________________________________________________
After many years of careful restoration to a seventeenth century stone farmhouse in the Cote d'Or its has become Anne and China's family home from home. Now we'd like to open it up to friends old and new. Set in rolling pastoral scenery; it lies at the upper end of an attractive village between the Morvan National Park to the West, the Cote d' Or with its fabulous wines to the South, and hilly plains to the North. The village is quiet but well connected by road (the A6 from Paris is at a respectful distance) Only a 40 minute drive from TGV stations at Dijon or Montbard, and conveniently (for the character of the region) not served by an airport. The house embraces all the eco-technology it can to heat by heatpump, giving underfloor heating to the first floor yoga room and attic accommodation - supplemented by a gloriously old fashioned enormous open hearth.

China and I are hosting a yoga holiday in July 2013 (five days yoga, six nights). Arrive early evening of Wednesday 24 July 2013 and depart on tuesday morning, 30th July 2013 after breakfast, and with a packed lunch if desired. In the future the house will be open to new opportunities to host visiting yoga teachers and their students, or individual visitors - and other courses connected to food and wine. More details later on.

The house is ideal if you're looking for a relaxed break - and as a good mother and daughter team we also say why not bring your mum - or your grown up daughter! Come and meet friends you might not have met yet!

The holiday is all inclusive, and the sleeping accommodation is shared (there is one private room, first to book gets it if you'd like it at a small premium) in two spacious rooms each with mezzanine under beautiful chestnut roof timbers - one carpeted and tiled, the other oak boarded.

All meals are included - let us know in advance if you have any special dietary requirements. Meals are suited to two yoga sessions a day - so an extensive brunch and a delicious evening meal will be served at the long dining table by the fire. If the weather permits we could eat outside.

It includes two classes a day in a fully equipped yoga studio - morning and evening - with a balance between learning to work in a range of postures and to let go and relax. I'm a fully qualified Iyengar yoga teacher with over a decade's teaching experience and look forward to giving the classes whatever your age or level. You are welcome to browse my personal yoga library while youre here.
,
The underfloor heating is designed to remain on 24/7, so no chilly moments, but as Easter is early this year we don't think you'll be sunbathing this trip! There will be a big log fire to sit around.

Its a family home in the country - not a hotel - we will invite the bats and spiders to leave, but if you really are an arachnaphobe perhaps this holiday isn't for you!

The nearest shops are 3 miles away - and they're pretty extensive - including a fine patisserie. There's a very small local market on friday evening. If you bring your car it's a very interesting region to explore, otherwise we could arrange for a train to be met, and you could rent bikes locally to explore lakes, canal, chateaux, picturesque stone villages all within easy distance. A little further afield you'll find Julius Caesar defeating the Gauls (think Asterix country), one of the greatest Benedictine Abbeys - Fontenay, Dijon the second city of Art in France, regional markets, the best wines on the planet and lots of info in the house regarding it all and more. We can advise you on travel
---
---
This is a non smoking building
This is a home - please leave the house how you find it
This is a tech free environment but there is free wifi in the next village should you need a fix...

---
---
I became a full time yoga teacher in 2000 after retiring early from the design industry here in London. I'm old enough to have lived several 'lives', and to bring some wisdom and practical knowhow to a new venture that I'm young enough to take on with enthusiasm. I'm well travelled - living in the Far East for a few years in the 80's, but recently most of my travels have been in the french countryside. I speak adequate French, and am attempting Italian.
The house has 350 years of its own history, the last twenty years of which have interwoven with much of my own, family and friends.
Now I look forward to welcoming new people into the story.
语言:
English、Français