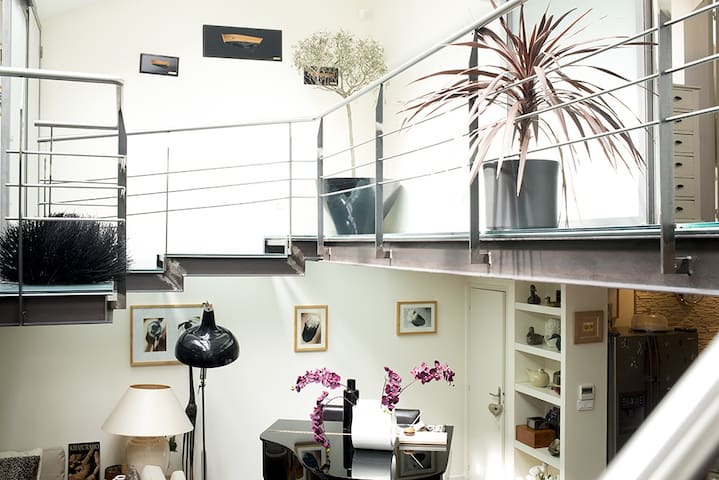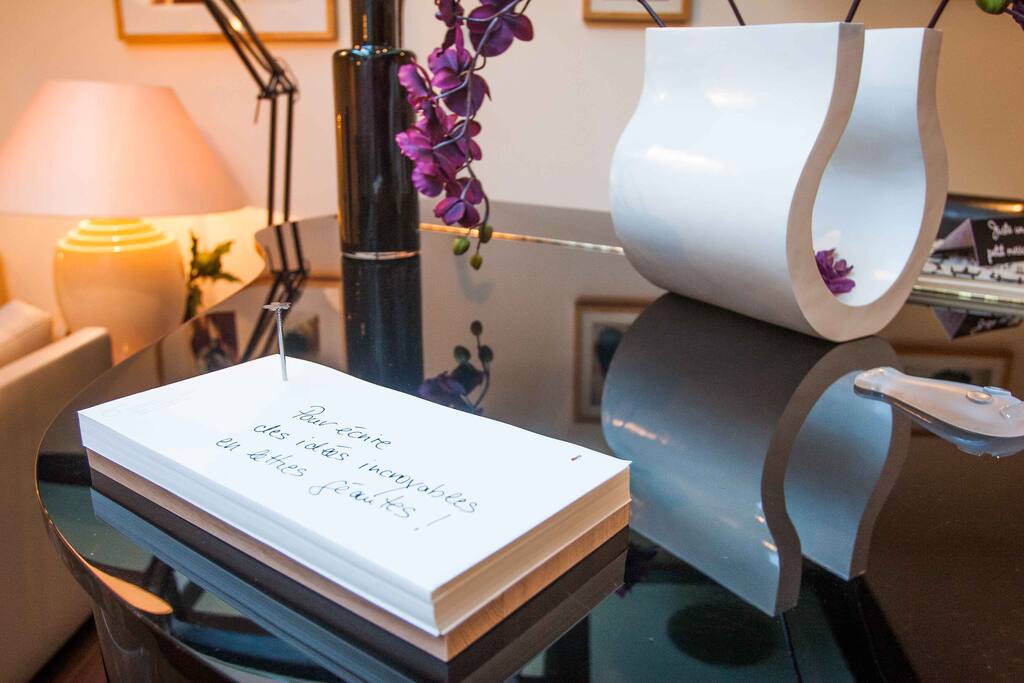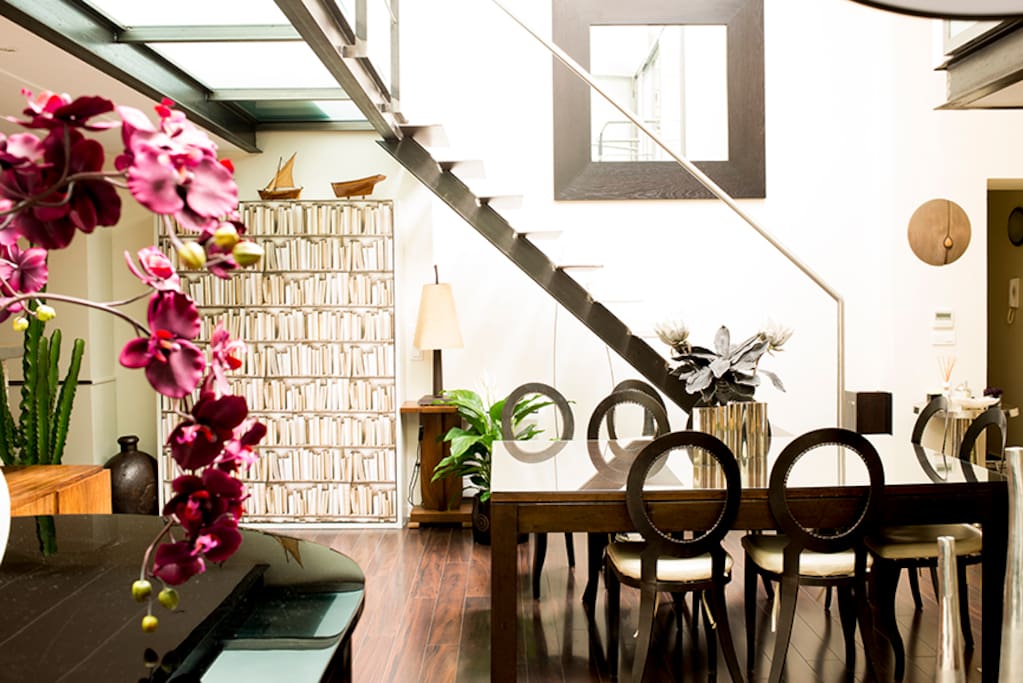 Loft in the heart of Marseille in Provence, European capital of Culture, located 700 feet away from the « old Harbour » and 10 minutes walking distance from the beach and all major exhibition places (MUCEM, CEREM, Opera, Criée theatre, Notre Dame de
房源
Loft in the heart of Marseille in Provence, European capital of Culture, located 700 feet away from the « old Harbour » and 10 minutes walking distance from the beach and all major exhibition places (MUCEM, CEREM, Opera, Criée theatre, Notre Dame de la garde Cathedral…)

Situated at the back of a porch and interior courtyard of an old theatre, on the first floor, this bright 130 m2 loft has been luxuriously renovated and furnished with contemporary design and large cosy rooms.
-Living room ( three seater and two seater sofa + leather club Hugues Chevalier ; flat screen TV, DVD player and amplifier…)
Dining room (table made of wenge wood and glass for 8)

Large open kitchen well equipped to cook delightful dishes with spices from all over the word (including herbs and olive oil from beautiful Provence, recipe books and cooking pots ready for use). Oven, microwave, dishwasher, American refrigerator, electric appliances (Nespresso coffee machine, kettle, food processor, juicer, juice extractor).
A back laundry room with washing machine, dryer, ironing room and plenty of storage.

For your additional use : a single bed and a very comfortable wall queen-sized double bed.

On this first floor you will find also some toilets.

By a wrought iron staircase you come to the second floor made of tempered glass which leads to :
-A parental suite with a Bamboo king-sized double bed, a chest with 8 drawers, a cupboard, a wardrobe behind curtains, a Bang and Olufsen TV with hifi and VCR.
-A spacious adjoining bathroom (shower, toilets, double sink and bathtub)
On the opposite side :
-Another bedroom with its nice little inside balcony, furnished with a queen-sized double bed with its own bathroom (Small bathtub and sink), coffee table and a workspace with a desk.

In this nice and cosy apartment, you will also appreciate the decorative furnishings and fine workmanship, hot and cold air conditioning in all rooms, skylights and automated roller shutters, alarm, baby grand piano, lamps with adjustable luminous intensity….

Linen is provided (look rates) Baby's cot and High chair on request.

You will find many restaurants and cafés within walking distance (Cours d'Estienne d'Orves, Ste neighborhood, Cours St Julien..), the most prestigious boutiques (rue Grignan, rue du Paradis) and the shopping street called Saint Férréol street very closeby. Nearby also, the very typical fish market on the old Port with fresh fish sold at auction every morning by fishmongers

Directions :

By Metro : Vieux-Port or Prefecture stop,
Buses stop just by the loft
Tramway stop : 5 minutes walk
From the airport : shuttle bus until St Charles station then taxi or métro.
By car : numerous car parks close by : Monthyon and Cours d'Estienne d'Orves.
房客使用权限
Subway Vieux Port or Estrangin 200 meters.
Bus at 50 meters.
Central station walking 10 minutes.
与房客的互动
By mail or call before and during the stay.
其他注意事项
Ideally located, the place is very quiet, very well furnished and equipped as locators can feel at home in my home.
All the necessary for breakfast is offered.
---
We loved the loft! It is large, comfortable, beautifully decorated and stocked with everything we needed during our trip. Our host even had the fridge stocked with breakfast foods. The location is so close to the Port, it made sighseeing so easy. Our host Patricia was very attentive to our needs and even set up our airport taxi for us. It really felt like our home away from home. We would love to stay there again on our next visit to Marseille!!
Bonjour Kathleen, Je vous remercie pour votre commentaire. Je tiens toutefois à vous rappeler que si je n'ai pû vous accueuillir personnellement c'est â cause de mon hospitalisation en urgence. Nous échangions en français avec Kayla votre fille résidant en France, quant aux instructions, elles se trouvent dans le book bleu sur le bureau. Je tiendrai toutefois compte à l'avenir de ce commentaire pour les autres vacanciers. Belle journée Kathleen, bien cordialement. Patricia
---
Patricia was very charming but she requested a surcharge of 100 euros in cash which I found very off putting. I'll start with the loft and then get to the surcharge. The place is absolute amazing! The most gorgeous airbnb that I have stayed in. Patricia showed us how everything worked and was for the most part very charming. However, I was frustrated to have been coerced into paying an additional fee that I was not expecting. Patricia said that she need an extra 100 euros to cover linens which she claimed Airbnb does not cover. I had already booked the place and felt like there was no other choice. However, when we got there my brother asked why this was the only airbnb in our history of stays that has ever request additional money for cleaning linens. Patricia's response was that if we didn't pay up, she'd be "forced" to take it out of our security deposit. We acquiesced to her demands but it colored our perception of her as a host. She also asked that we take out the trash, strip the sheets, and make sure every cup and fork were in the right cupboard (literally she gave us a packet of pictures where everything was supposed to be placed). Honestly, this would have been fine but, given that we had been strong armed into paying an extra 130$, we felt a little bitter about it. Overall, the loft is worth the extra $130 bucks. However, airbnb is designed to account for all the costs of cleaning so the fact that we were nickled and dimed really took away from the experience.
"Dear Peter, I'm sorry to hear about your frustration related to the extra charge. Just wanted to make clear that you were aware of this before coming in the loft and you agreed without any comment at that time. All the guests who stayed in the loft payed this extra it was not exceptional at all and I never tried to hide it from you. This is supposed to cover the cleaning, iron and bed making with extremely soft and sweet smelly linen which you could admit it takes a long time. Secondly concerning the book of pictures it had been asked by one of my old guests who explained that because of the miscellaneous stuff in the apartment she didn't remember where to place everything ! I got the idea to give a book of pictures to help guests using the loft. I never thought it could be seen as a problem but I hear your point and will make sure that my next guests won't be shocked by this. I hope that unless all this you had a great stay in Marseille. Kind regards, Pat
---
PERFECT PERFECT PERFECT, just like Patricia, an angel that has created a perfect spot to be in whilst traveling in Marseille! We we central to all the gifts of Marseille...Patricia is sooooo organized and soooo loving and caring. We felt totally taken care of. There is nothing you need to bring other then yourself. Thank you Patricia for your love for your exceptional space and for simply being you! We look forward to visiting your space and again and eventually meeting you! Sooooo much love Catherina and Gerry
---
We were greeted by Sara and she was very nice. They made sure we had some basic juices and milk to start us off and there was a great fully stocked coffee maker with all the supplies we could need. Sara showed us that there were also spices and supplies for cooking. The apartment was beautiful and very comfortable. In the USA we use air conditioning a lot and it was nice to have it while we stayed here. As we drove from Germany we could feel it get warmer and warmer and it would have been hard for us to sleep without it. The location was great. We loved being able to walk very quickly to Vieux Port, and plenty of shopping as well. There was very easy parking very close. The neighborhood also felt very safe and we never felt like we needed to worry. Marseille was a beautiful old city. There were old sights and new museums, and boat rides and swimming. It had many recreational options for our whole group. We also needed to find food that was Gluten Free and the Lafayette Market (I think that was the name, it was connected to a shopping mall nearby) had a good selection for us. If we ever make it back we would definitely stay here again. Thanks Patricia!
---
This loft is quite incredible. Two floors, two bedrooms with extra murphy bed and day bed downstairs. Massive kitchen with everything you need to cook-in and enjoy local markets and fish. Patricia was a great host and provided all the necessary information to make our stay wonderful! Highly recommend.
---
Mes amis et proches disent qu'il y'a beaucoup de moi dans ce loft ...ainsi vous me découvrirez en y séjournant car en vous le confiant, je vous livre ma sensibilité aux ambiances, aux ondes positives à la sérénité et à la beauté dans la simplicité...

Bienvenue dans mon lieu de vie que j'aime tant !!!

Souvent en déplacements, je souhaite que mon loft ne reste pas vide et enchante d'autres amoureux de la Provence ! Partager cet endroit que j'affectionne tout particulièrement est une joie et vous permettra de découvrir notre si belle région ! Marseille et ses environs sont magnifiques, riches en histoire, nature, culture et découvertes tellement insolites !

Dans le centre ville de Marseille où tout est accessible à pied, le loft est situé dans une maison en fond de cour et bénéficie par là d'un calme exceptionnel. De grandes ouvertures, verrières et fenêtres de toits automatisés en font un lieu baigné de lumière ! Habité au quotidien, ce lieu est très beau mais aussi très fonctionnel. Tout a été prévu pour mon confort que j'ai le plaisir de vous faire partager le temps d'un court ou long séjour afin que vous puissiez vous sentir un peu comme chez vous.... chez moi ....
语言:
English、Français、Italiano