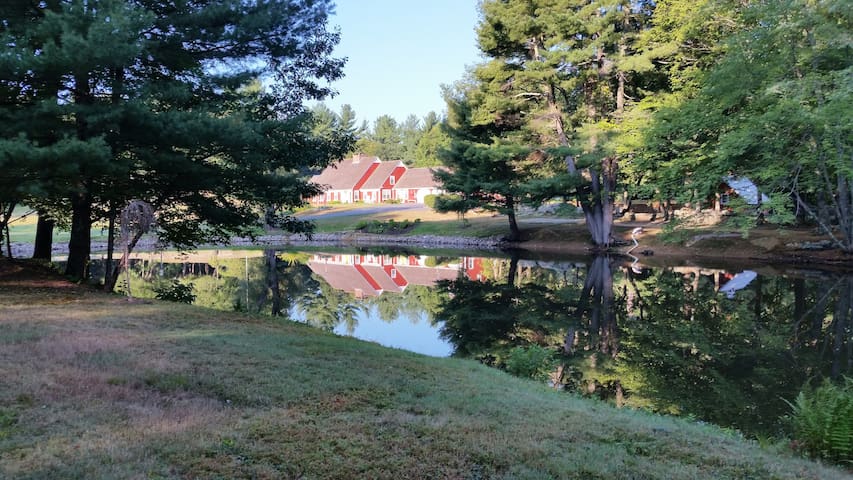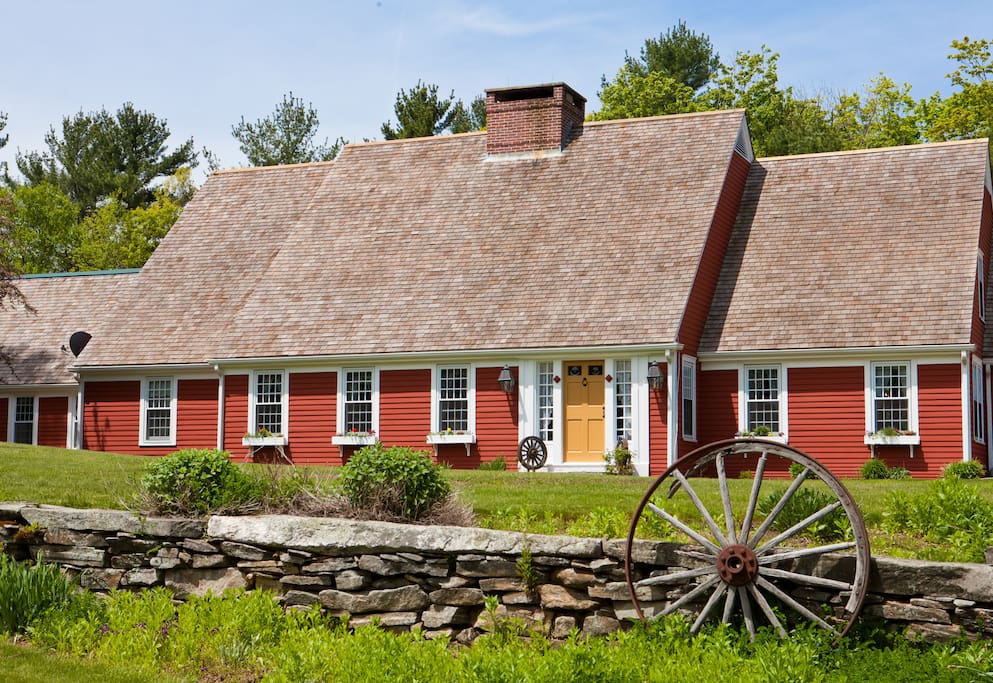 HeartofGold Estate Brimfield Sturbridge Village MA
You will enjoy this beautiful jewel of a RETREAT near NYC and Boston for 2-16 guests !
6 bedrooms 4 baths COUNTRY ESTATE nestled on 11 beautiful acres with a pond , forests, cliffs and 1800 stone walls surrounded by conservation land. 2 nights minimum.
This charming cozy home was designed by Royal Barry Wills, a famous American architect and a master of traditional Cape Cod style homes, in the 1950's.
Be amazed at the comfort, charm and warm inviting atmosphere of this beautiful home!
房源
Come to this PRIVATE estate to rejuvenate yourself whether it is 2 or 16 of you Take a break from the hustle and bustle of everyday city life. Reserve your GETAWAY or MINI CONFERENCE and RETREAT here your very own RESORT !! Major tourist attractions are all within 1.5 hour. Come for the beautiful fall foliage.
Stroll along the well-designed spectacular landscaped grounds with the sounds of the chirping BIRDS and you will discover natural beauty that will delight any outdoor enthusiast. Enjoy the peace and tranquility of the estate's POND as you sit and read a book on the bench and observe the many FROGS, turtles and fish that are in the pond or go for a ROWBOAT ride or float in a TUBE.
Relax and enjoy the fenced inground SWIMMING POOL ( we have life jackets and pool toys for you ) or gather with your friends by the outdoor FIRE PITS and have a barbecue using our 3 large, propane GRILLS.
There is something for everyone here! Outdoor activities for adults and children include VOLLEYBALL badminton, croquet, soccer, football, horseshoe rings, HIKING and JOGGING around pond, horse paddocks, wooded trails. Bring your BIKES to ride along charming country roads just out the driveway.
We also have an assortment of TOYS (puzzles, card games, monopoly, building blocks, hula hoops) for adults and children to enjoy.
Enjoy quiet dinners in the dining room with seating for eight or outside for sitting for 12 plus, warm yourself or tell stories by the cozy stone WOOD and GAS fireplaces in the PUB room.
Enjoy all the comforts of home with modern amenities that include dvd, Netflix, WiFi , FANS, CENTRAL AIR and full use of washer and dryer. There is an old fashioned pub living room, 2 family rooms, garden room, study area and library computer room for your use. You can have gatherings on the stone patios that surround the house. On the property there are 5 brick or stone dust PATIOS that are on the four corners of the property to have group activities including firepits. By the house is a firepit for all to enjoy after dinner. Great COOKING facility with 3 outdoor propane grills, 3 induction cook tops, 4 gas burners ( 10/17) and convection oven.
Sorry, NO pets in house or garage as we have family who have allergies. No SMOKING allowed in house, garage, pool house, any buildings and within 150 feet of any structure.
房客使用权限
Guests can enjoy or play anywhere on the property, and use the pool and pond. Please SHOWER and USE the TOILET prior to swimming in the pond or pool so that the pool and pond will stay CLEAN for you.
In the garage we have put sport equipment, toys, some rain boots and ponchos for you to use. If you can put it back in their containers in clean condition after use would be appreciated.
Guests can use the rowing boat in the pond ( depth of 9 feet). Please use the LIFE JACKETS (4 for adults and 3 for kids) . There are NO lifeguard. Swim at your own Risk . Please watch your (URL HIDDEN) present with them.
What to bring ?
Bring your BEACH and BATH towels, sunscreen, hat, sunglasses, INSECT spray, inside the house SLIPPERS, flip flops , SWIMSUIT, goggles and cap for pool, sandals.
Also bring RAIN GEAR and rain boots, light HIKING shoes with long pants, TOYS, games, outdoor sports equipment, BIKES and puzzles.
Bring paper goods ( large trash bags, paper towels, saran wrap, baggies quart and gallons, aluminum foil, napkins, paper plates and cups, plastic utensils) We have teabags, salt, pepper, various spices, ketchup and mustard for your use .
No need to bring groceries. There are excellent grocery stores 10 minutes from the home to buy fresh ground COFFEE, bags of ICE , milk , orange juice, fruits, salads, nuts, seeds, and other goods.
与房客的互动
There will be caretakers who will be on the grounds every 2-3 days. They will be watering the outside gardens, removing the trash and cleaning the pool. For people staying on the property longer than 2 days, Can you WATER the house plants please ?
Please take care of this home as it is precious to us.
其他注意事项
Check in time is 4 pm and check out time is 11:00 am. Do you want to stay later from 11 am to 5 pm for a last minute gathering ? A HALF DAY rate on day of departure is 0.4% of a night rate.
Pricing 450-650$ per night first 2 people. Each additional person over age 2 is 75 to 100$ per night up to 16 .
Cleaning fee 150$ for 2-4, 300$ for 5-7, 500$ for 8-10, 700$ for 11-12 and 850$ for (PHONE NUMBER HIDDEN)$ for 17-19. There is a 10 % DISCOUNT from November 1 to May 1 excluding holiday weeks ( Thanksgiving, Christmas, New Year, Valentine etc) and Brimfield Fair weeks.
Do you want to have a party or gathering for friends that are not staying with you ? There is a fee is $30 per person over age 5 up to 100.
---
---
卧室3
1张特大号床, 1张充气床垫, 1张地板床垫
---
---
---
---
1. For walking inside the house please bring slippers, clean rubber shoes, socks and clean feet because we have hand painted floors which will get scratched from outside shoes. For outside the house bring 2 pairs of outdoor shoes, flip flop for pool, sandals, rain hiking boots to explore the woodsy grass area.
2.no pets and smoking please as we have family who have allergies.
3. As the house is in the country there are little critters around so please clean up AFTER every meal . For the outside grill , clean and scrub with wire brush after EACH use while still HOT to remove the black char. Remove trash and put in bins in garage, wash your dishes and pans and put away, clean up the counters, stove and tables, sweep the kitchen floor
4. For the summer please bring your beach and bath towels, swimsuit and cap, sunblock, insect spray, sunglasses, hat, long pants, shorts and tops, socks. For the fall and winter bring hat, mittens, gloves , scarves, wool tops, pants and sweaters, thermal underwear and waterproof boots with several pairs of wool socks.
5. There are life jackets ( 4 teens/adults and 4 kids) for the pool and pond. The rowboat is for your use as well as donut shape tubes . Please be careful as there is no lifeguard. Watch your children and any adults/teens that does not swim. The pond is 9 feet deep and the pool from 1 foot to 8 feet. There are frogs and small fishes.
6. Please do not litter. if eating on the property, please put all litter including gum candy wrappers, popsicle sticks in your pocket until you could put them in the trash cans.
7. There are 4 fire pits on the property that you could have a wood fire from our stacked Pine wood pile close to the pit. There is a barrel of wood kindles that you could start a fire with. Please when finished with the fire, COMPLETELY smolder the rest of the fire out before going into the house. Please do not accidentally start a forest fire!! PLEASE
8. Upon departure, we would appreciate your help in cleaning. From each bedroom, remove ONLY the 2 used sheets and pillow cases and your towels and put in SEPARATE piles for each bedroom on stone floor of sunroom . If your towels are still wet, hang them on first floor black and white bathroom. Remove all trash from all the rooms( bedrooms, bathrooms etc) and put inside trash bins in garage.
9. If you can start the first wash of the SAME color on speed wash only with cold tap water with a SMALL amount of detergent that would be superb. Please do not mix colors. Only the same colors should go in the wash otherwise the colors will run and ruin the sheets and towels.

10. In the kitchen clean all the dishes, pots and pans put them away, clean the coffee pot , wipe off the counters, stove, microwave and oven, remove all the trash and take your food from the refrigerator and freezer.
11. Outside patios, please remove all dishes, pans and clean them. Clean the grills and counter, wipe off the tables, remove all the trashes and put them in the barrels.
12. Please do a second check of each room, the patios, the pool area, the garage to look for missing keys, cell phone chargers, glasses, medications, beach towels, clothing etc.
---
---
---
---
We have 3 places in New England area, a 1 bedroom apartment in Boston and in NYC as well as a 6 bedroom home in Sturbridge Mass area just 1 hour from Boston. You will just love our unique beautiful home in 10 acres with stone walls , large pond and a three horse stall with its 2 acre paddock surrounded by rolling conservation land. A perfect place for outdoor activities.
We have a 1 bedroom apartment ( fits 1-4 people) in central Boston and ALSO in NEW YORK CITY . Come and stay and you will say it is the perfect apartment and location !!
We are avid architectural buff with strong interests in preserving nature for future generations. We are Sierra Club members and relish hiking and biking. We have used Aibnb for our stays across the country and love it.

I will go the extra mile to make sure that you have everything you need .
语言:
English