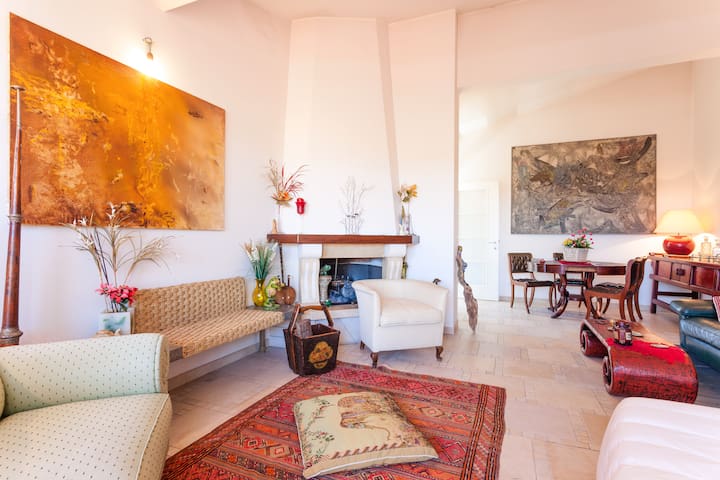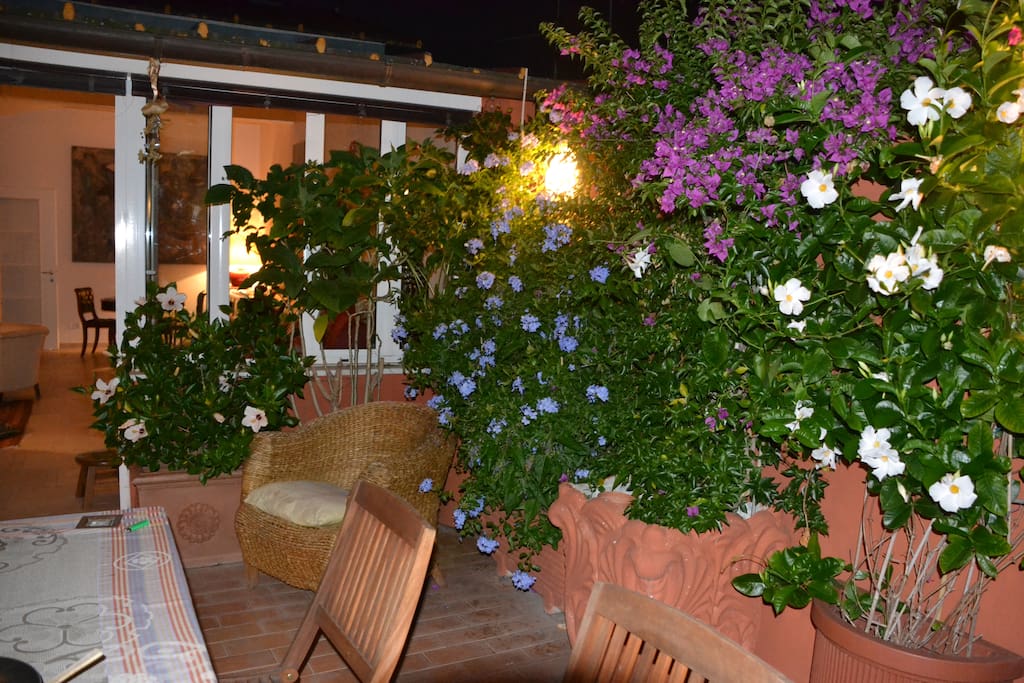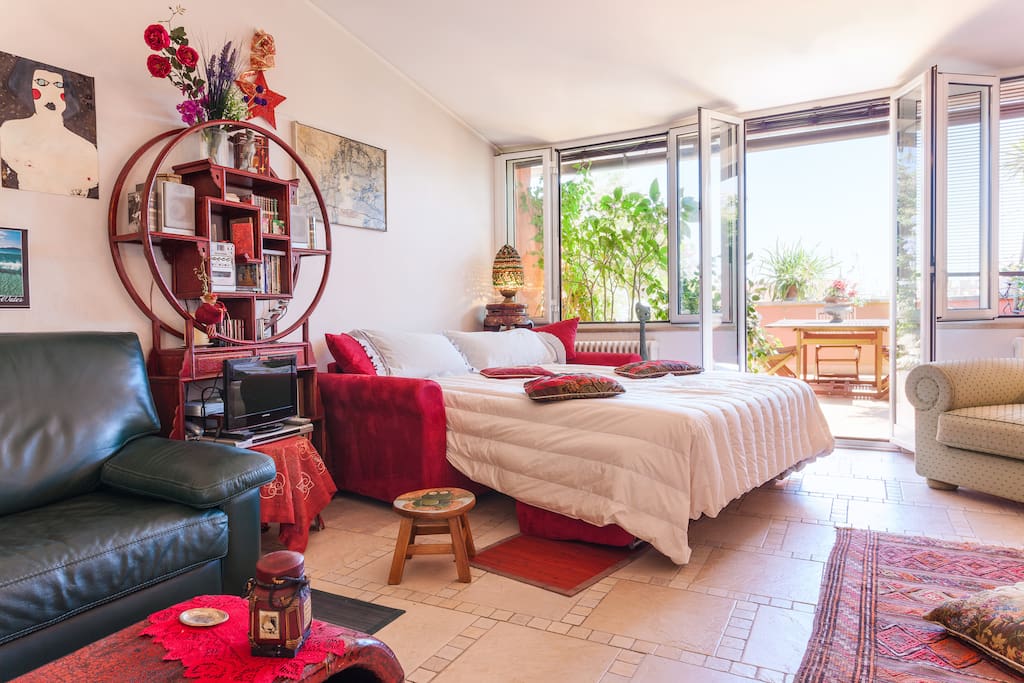 房源
Overlooking the Dome of St. Peter is a house which returns with its bright and spacious terraces that surround the magic of Rome. The house offers a private and quiet on the sixth floor of a building and some spectacular views of the nearby St. Peter's Basilica. And 'situated in a strategic position to reach every corner of the city on foot or by metro. The love for art and cinema of the hostess energy damage to the environment very special and full of magical charm. All the furniture is designed to provide a Linux environment warm and welcoming, even with a careful choice of details.
The room that you will in reality is a large living room (45 sqm) with fireplace and two sofas, one of which is a sofa / bed.
The lounge has a private access to a large private terrace and surrounded by beautiful plants, which in times of flowering, full of scents and colors. The view is spectacular, offering both day and night, when you have the impression of touching with a finger at the moon and the stars.
The kitchen to be shared with the owner of the house is cozy and modern, but there is only one bathroom with large shower and whirlpool tub.
The house offers peace and tranquility, a well-stocked library, WiFi and TV.
It is located in Prati / San Pietro, and in a very central location, easy to reach from Termini Station with a few stops on the subway (Metro) and two steps are underground stations, restaurants and pizzerias, supermarkets, a market hall, cinema and all kinds of shops.
The Vatican City is easily accessible on foot.
The main street of the quarter is Via Cola di Rienzo, one of the main shopping streets of Rome.
The first part of the district comes from piazza Risorgimento and the Tiber, its continuation leads to Piazza del Popolo, it focuses upon himself the commercial life of the neighborhood.
The line of the underground city through the Prati district for a long stretch, stopping at stations Lepanto and Ottaviano San Pietro and the Vatican Museums. Two steps are easy to reach Castel Sant'Angelo, Piazza del Popolo, the Belvedere Pincio and much of the historic city center.
Everything you described can not make one that offers my apartment.
Rome INFO
(URL HIDDEN)
---
"Vivere per sopravvivere è una vera bestialità" potrebbe essere il mio motto che ha accompagnato il mio viaggiare nel mondo, un mondo in cui ho cercato bellezza ,armonia,sorrisi e gratitudine da scambiare con gioa ed allegria. Avendo da sempre lavorato con le Immagini ( prima nel cinema e ora più sulle immagini interiori) ho cercato che queste immagini (le cose che mi circondano) fossero belle. Per questo vivo in una casa molto particolare, quasi in cielo ,con molta luce,fiori,silenzio pur essendo situata nel cuore della Roma Antica e dove dai suoi terrazzi la si può ammirare ( Il Cupolone di San Pietro è a vista da tutta la casa.) La mia ospitalità è discreta ma accogliente: amo che chi arriva si senta a suo agio e possa godere con la sua personale disposizione ciò che questa meravigliosa città può offrire. Amo cucinare,la musica e,se capita l'occasione,offrire con gioa questa mia ospitalità.Non sono presuntuosa ma credo di avvere catturato in questa casa un pò di quella MAGIA che Roma dona ad ogni suo visitatore e sono molto lieta di poterla offrire.
语言:
English、Français、Italiano