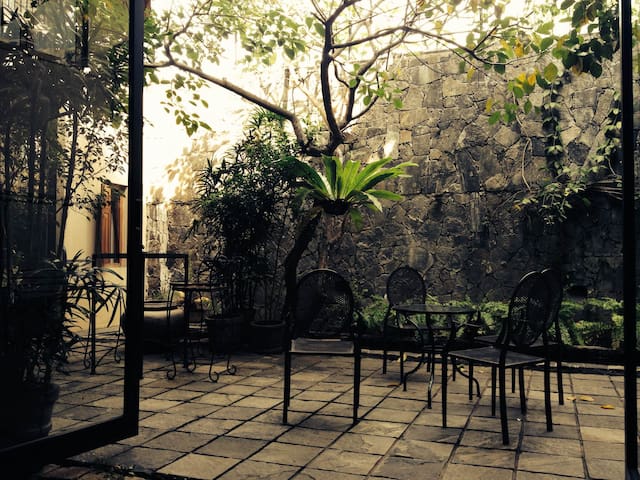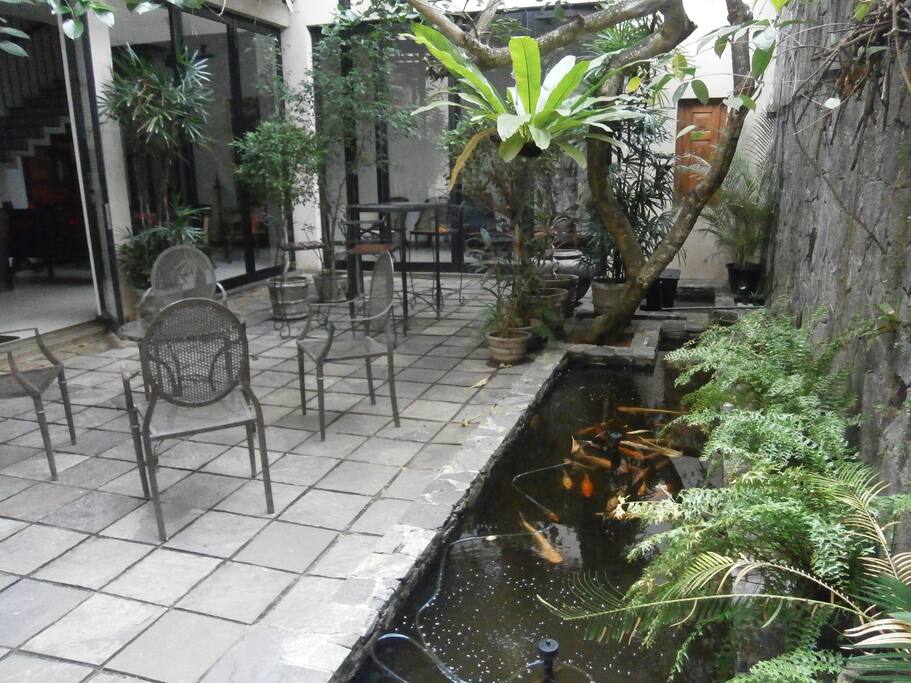 Aircon oasis in central Colombo 4
房源
A Warm Welcome to the Oasis!
The above price quoted for this room includes with Aircon facility and Breakfast. (Includes Room Airconditioning featuring Econavi and E-ion/Air Purifying System).
NB. I have recently installed mosquitoe net in the room, although it is not indicated in the pictures online.
NB. I also have another 3 rooms listed online on the Airbnb webpage.
One could search for them by typing online 'Sri Lanka, Havelock Town', with our same family picture indicated online.
Also Optional Offer Available on this Room:
Per night Room rate at USD 30/ without Aircon / Non- Aircon and extra charge of USD 7/ for 2nd Guest.
But this particular room is recommended to be taken / booked with Aircon provision.(at above indicated rate of USD 38/ per night, and extra USD 8/ for 2nd Guest per night).
Unique architecturally designed double Bedroom! (includes Airconditioning facility) with a comfy real double bed, with attached toilet and basic amenities on the Ground Floor.
Location:
The property is located in Colombo -04.
It's in close proximity to following attractions in Colombo city:
- the famous Mount Lavinia Hotel (it's wonderful to sit out on the open terrace by the pool overlooking the beach at sunset!) - it's around 20 minutes ride by Tuk tuk,
- the sought after Gallery Cafe restaurant (excellent food!) - around 15 minutes by Tuk tuk,
- Barefoot Gallery (ideal place to chill out by the cafe, and check out the batik clothes, books etc) - 15 mns by Tuk tuk,
- the Green Cabin restaurant (good Sri Lankan food!) - 15 mns by Tuk tuk,
- the serene and calm Galle Face green, and the imposing Galle Face Hotel - 20 mns by Tuk tuk,
- the Gangaramaya Buddhist Temple - 20 mns by Tuk tuk,
- MacDonals, Pizzahut, Fab pastry shop, Tasty caterers, etc - around 10 minutes by Tuk tuk.
Description of Property:
The room(s) are designed in a very unique and unusual architectural touch that would make one's stay here all the more memorable! There are ample large windows and antique doors located in the premises.
There is facility to make one's own coffee/ tea (self service) in the large common kitchen area, and there are some nice take-way restaurants nearby (ten minutes walk).
In case there is no availability, one could look at 'My Other Listings' indicated on right side of same Airbnb web page.
Facilities/ Internet Access:
There is Wi Fi internet, Cable Tv, Laundry, 24 hours security, close proximity to Supermarkets, Bus stands, Railway stations etc.
The room(s) would be cleaned regularly including bed linen.
One just has to stay in one of the room(s) here to experience the true warmth and hospitality that is a true trait of the simple minded individuals of this island!.
We could also arrange for Airport pick ups and drops at around USD 35/ , and tuk tuk/ threewheeler hires to around Colombo city, and for arranging transport for tours in the island.
So, come and experience the true unique architectural atmosphere that has been put in place in these unique room(s) which would make one's sojourn here more interesting!
Explore the world when one has the time and means to do so before the time arrives for one to say Adios to one's sojourn on this earth!
Kindly contact the host if possible before making a reservation, and also kindly tell us something about yourself.
Reservation Requirements:
We will require full details to be provided of each guest who wishes to stay with us, at the time of registration before confirmation.
We also have an 'Exclusive Villa facing the Lagoon' as how it is listed online on Airbnb when you search online: 'Sri Lanka, Norochcholai', with 4 rooms with attached large Bathrooms, facing the beautiful Puttalam lagoon!
About two and a half hour drive from the International Airport.
---
房间干净,周围很安静利于休息。交通便利,到哪都很方便。房东人很好,很耐心的给我们讲解景点和路线。房东家准备的早餐也很棒。 The room is cozy and clean, the whole house is situated in a quiet neighborhood but within easy reach to the main road and other tourist attractions by tuktuk. Dijen is a friendly and nice man, the family also prepared delectable breakfast for us. It was a wonderful experience to meet Dijen and to live in his place!
---
Dijen was a very good host. Communication was on point and he replies to the messages very promptly. He helped us with the airport pick up by booking a car to pick us up with a fair price. The room was accurate to what the pictures show, and Dijen would check in on us to make sure everything was working properly. He provided us with bottles of water, bug spray and towels. The AC worked very well, shower water pressure was quite good. The only thing is that as the shower/toilet/sink have no partition between them, the entire bathroom gets wet once you take a shower. Breakfast was the highlight for us. Well served and lots of options. They leave a kitchen so we can make eggs (provided by them), toaster, kettle. Fruits and baked goods were available as well. On our second and last day, his wife made us local breakfast which was nothing short of delicious! The only con of our stay is that the room is on street level and while during the night the street is quiet, in the morning gets pretty loud with honks and general traffic noises. That starts around 6am. Despite of that, the location of the house is very good, a short walk to a commercial street. If you are looking for a good location and yummy breakfast, this is your spot!
---
Dijen and his wife was excellent hosts. They speak very good English and was always available and ready to help. They gave me very good instructions on arrival too. I totally loved the house. Its like a small colonial style boutique hotel. Breakfast is great every morning with many varieties. House is always very clean. Water tea coffee is always available. I will definitely stay here again and recommend to others too. Plus house is in central Colombo. So its very easy to get to places. Wish Dijen and his family happy hosting. Cheers
---
Dijen's place was a perfect way for us to end our trip in Sri Lanka spending our final night in Colombo. Room is clean and aircon is great and bed was very comfortable. The house itself is beautiful and as the reviews have stated it's very private for being in someone else's home. Dijen was welcoming and hospitable and organised transport to the airport as well as being flexible with check in and check out times. Thanks so much
---
Dijen and his wife were very helpful and caring during our stay. They would even prepare us a goodybag since we left very early in the morning. The common area of the home is very nice. The neighborhood is good and quite central.
---
Good place. Dijen is a very helpful host. Bathroom is private to the bedroom, which is nice. Basically, there is a family upstairs, and then this room is part of a beautiful downstairs area with high ceilings, art, and that "oasis" area behind a wall. Breakfast was not as fantastic as other places in Sri Lanka, where I paid a few dollars for a delicious meal, but excellent for free - fresh tasty pastries from what seemed to be a fancy bakery, great bananas/plantains, some cereal options. Location was the best part - it is 7 or so minutes walk to Galle Rd, - main north south street, so I just walked there and took the super-cheap and easy public bus down to Mount Lavinia Beach and up to Colombo Fort, Pettah, etc. Much recommended - way cheaper than tuk Tuks! The only negative was how loud the room got in the mornings, I believe around 7 am - it is below road level, so it's a real rumble. I was up earlier, and this is common in Sri Lanka, but FYI.
---
This place is a dream! From the very comfortable room, to the delicious and well appointed breakfasts, to the excellent location, to the ample amount of indoor and outdoor living space and the excellent wifi, Dijen's beautiful abode was a great home away from home for my short stay in Colombo! Dijen and his family were also great hosts - from places to pick up an umbrella, to sights to see and places to eat, they were full of great recommendations! Highly recommend staying here if you're planning a trip out - I hope to stay there again myself. Thank Dijen!
---
I am a down to earth person with an open mind towards the world. I welcome guests from all over the globe. It is my pleasure to meet and interact with people from different corners of the World, and to get to know about various cultures!. Come and experience an 'homely stay' with us, and immerse oneself in the local environment here!. Motto: Take one day at a time..., and try to appreciate and enjoy the little/ simple things in life...