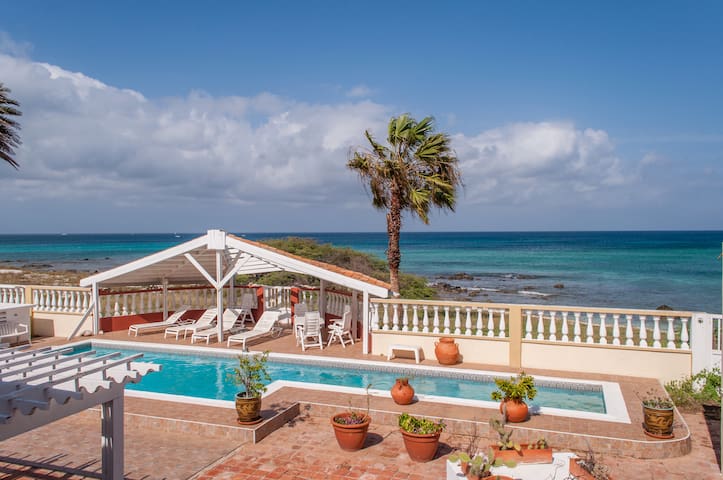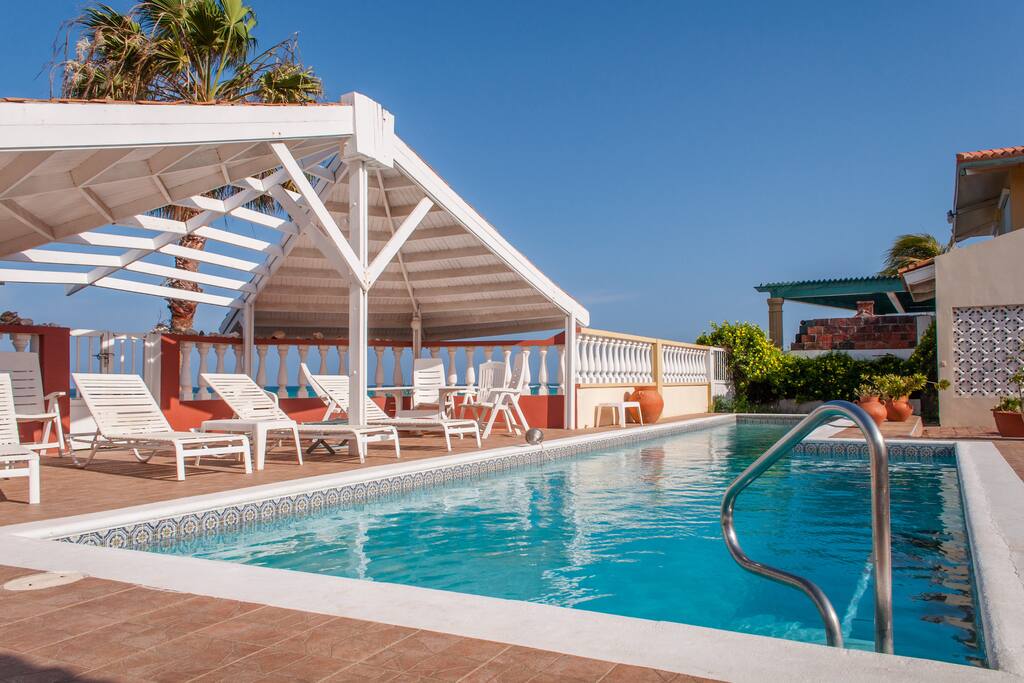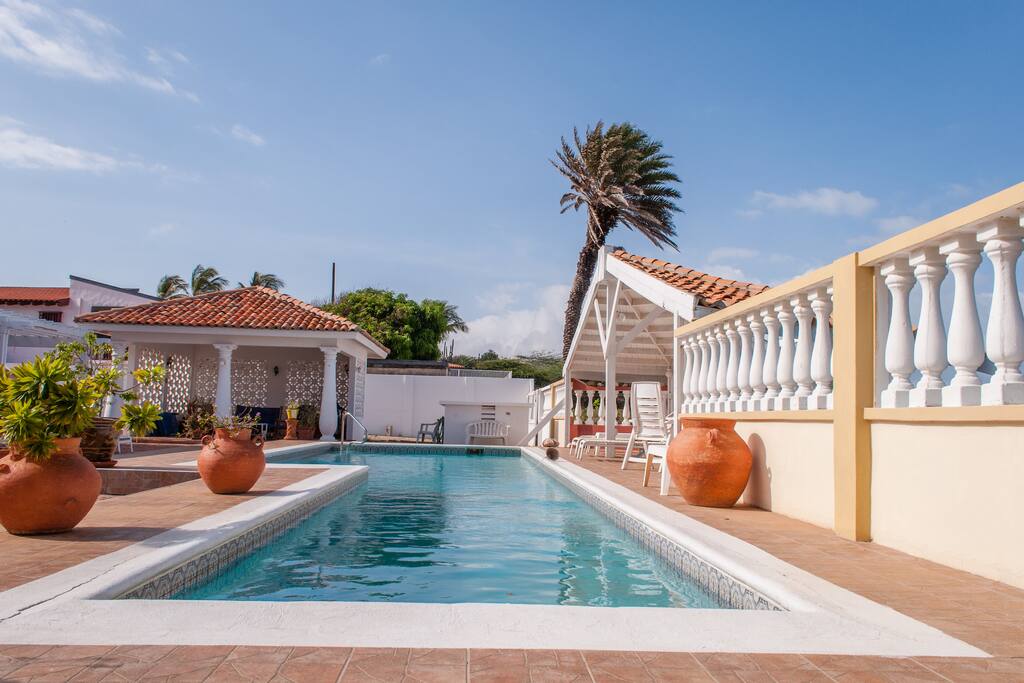 This GuestRoom #3 is good value of 6 rooms of classic private villa located directly on the ocean, excellent swim and snorkel of the Arashi Beach. Air-conditioned bedroom, private bath, cable TV, WiFi, pool, shared use only upper level kitchen. Taxed to be collected upon check-in (payment required in cash) at 11.5% plus $3 environment fees per room.
房源
ARUBA BEACH FRONT GUEST ROOM SELECTIONS ON THE BEACH, OCEAN VIEWS, WITH POOL AND SHARE KITCHEN.

Located directly in front of the Caribbean Sea, Aruba Beach Front Guestrooms offers a mix of affordable accommodations, including single bedrooms, connecting rooms and suites. Small and intimate, this charming beachfront oasis is never crowded! Just step out onto the sand from your terrace and enjoy your own semi private beach! Or go to Arashi Beach or Malmok Beach or Boca Catalina Beach just a few steps from your garden for sunbathing, snorkeling or diving. The complex features a large private pool, entertainment area, spacious balcony, Gazebo, pool loungers and a veranda with comfortable chairs. The complex has a relaxing island décor and amenities to make you feel right at home. Spend lazy, sun-filled afternoons in a sunbeds at the pool, delight in refreshing sea breezes under the cabana, relax with a glass of wine on the spacious balcony with panoramic views and enjoy the spectacular sunset over the crystal clear azure waters of the Caribbean Sea. All Aruba's Beachfront Guestrooms features individually controlled air-conditioning, king beds or queen beds, private bathroom, in house safe, cable TV and internet access. Each guest room offers its own unique character with individual furnishings and interesting architectural detail. Bring your gear we have great snorkeling from this fabulous beach (or rent snorkel, mask and fins). A Multi-million dollar neighborhood, quiet and safe area. Only 2 minutes to hotel district by bus or taxi. The villa is professionally managed by Aruba Villa Rentals for your protection. Multiple rooms or private floor available or rent the entire villa.
房客使用权限
GuestRooms #1 & #2 & #3 have shared access to upper level living space, veranda, library, main kitchen, with refrigerator, stove, dishwasher, pot, pans, dishes, glasses and direct beach access, use of the pool shared by all house guests.
与房客的互动
ArubaVillaRentals is available at our nearby office or by phone or text message if you have questions or need any assitance. (EMAIL HIDDEN) and teleph(PHONE NUMBER HIDDEN) or (PHONE NUMBER HIDDEN)
---
---
House Rules -
This reservation shall include the following additional occupants: (LIST NAMES OF OTHER GUESTS) - email them as the names become available.

In addition we would like to reserve: We would also like to request the following options at an additional cost: (examples – Car Rental, Jeep Rental, Grocery Shopping Provision, maid service daily or weekly, baby crib (pack&play), sizes of snorkel gear, scuba dive, etc.) Email us with details or special needs or requests additional charges will (URL HIDDEN)

Aruba Villa Rentals / Aruba Reservation Services hereby confirms that they have made the above reservations on your behalf with the appropriate vendors. If there was anything that we were unable to confirm, it has been adjusted or noted above. Late check in fees $60 apply for arrivals after 8PM. Penalties apply for smoking inside any property.
A true photocopy of the passports of all above listed occupants shall be presented upon check-in or attached to this agreement. No other persons shall occupy premise other than those listed above. Maximum occupancy for this property is 2 persons per bedroom unless otherwise indicated. Guest shall contact ARS at (PHONE NUMBER HIDDEN) or (PHONE NUMBER HIDDEN) on day before the day of check-in to arrange to meet and take possession after 4:00 PM on the day of arrival. Late check-in Fees $60 will apply for arrivals after 8PM. Guest must vacate premises and check-out by 11:00 AM on departure date, failure to check out on time will result in automatic charges for 1 additional night's rental, we must have adequate time to ready the property for the next arrival.
A Security Deposit and $ open "credit card guarantee" shall be collected upon check-in as security against damage. Security Deposit shall be refunded at check-out after satisfactory inspection of premises by AVR. Should there be any damage to premises, other than normal wear and tear, or items missing, Guest shall be responsible and AVR may deduct reasonable cost to repair or replace. Should guest not agree with AVR's assessment, Guest may request that AVR deposit said funds with the office of a notary or mediator for dispute resolution. Both Guest and AVR shall also deposit an amount equal to anticipated fees and those fees shall be paid by proportionate share based upon the comparison of AVR's original assessment to the determination of mediation. Should mediation produce an award to ARS greater than AVR's original assessment, the 'excess' fees shall be deemed as being awarded to AVR.
Guest agrees to use the premises for as a temporary accommodation purpose only and will vacate according to above schedule. Should Guest 'overstay' without written permission of ARS, Guest shall be liable for treble (3 times) the normal daily rate, plus costs and hereby gives consent to immediate removal of their belongings and all measures to insure that Guest does not re-enter. Guest shall maintain premises as given, shall not leave any food items open or unattended, shall only use any airco units while in premises and shall use premises prudently and for the purposes which intended. No illegal activities may be conducted anywhere on the property, including within the premises. Pets are not permitted without written consent of AVR. Smoking is not permitted in any property. A Penalty shall be assess in excess of $300 per Airco Unit shall be applied if smoking is detected at any time. (This amount may be increased depending on number of Aircos and the size of the property ).
Weekly rentals may be inclusive of a budget amount of utilities, electric, water, cable, septic service, telephone (if available for local calls only), gas and / or (other services which may be provided at additional cost at the house such as internet or other services) at a predetermined "normal" usage. You will be responsible for any "excessive" utility usage. A meter reading will be taken upon check-in and check-out. Please inquire if telephone is available, cellular phone rentals also available.
AVR shall not be responsible for circumstances that are out of our control. AVR is not responsible for personal property, losses or theft. Guest accepts that this is a house or room rental only and not a resort or hotel. Guest cannot make a claim for refund or compensation due to unexpected repairs, emergency or unexpected equipment failure. Guest should take prudent care of premises and personal effects. Weddings or parties are not permitted by law without prior written consent and are restricted to the number of attendees x 2 of max. occupancy. All doors must be kept locked when premises is not occupied, all screens must be kept closed at all times. If property is equipped with a security system, Guest shall activate it whenever not on premises. Any washing machine, dishwasher, air conditioner, stove, refrigerator, TV, and all other items must be kept clean and used in accordance with intended uses. Guest shall not waste water or electricity and shall abide by the rules of the specific property. Guest shall remain liable for any consequences resulting from their failure to comply with these terms as well as any other terms and conditions of this specific property. Violation of any of the terms and conditions shall be grounds for immediate termination and removal from the property without refund.
AVR can only accept credit cards for those suppliers that accept them. Fees to AVR do not include any fees imposed by the supplier or by ARS acting as supplier or by credit card agency. It is understood that Aruba Villa Rentals ("AVR") a registered trademark of AVR Hospitality Management & Real Estate N.V., as a reservation and booking agent for various individuals and businesses that offer activities, seminars, boats, restaurants, catering, hotel and privately owned accommodations or other services to the tourist industry. Any representations made have been based upon information provided to us by the owners or managers of the properties that we believe to be accurate but we cannot warrant its accuracy and shall not be held liable or responsible in any way. AVR shall not be responsible for circumstances that are out of our control.
It is assumed that any cancellation or 'no show' shall be non-refundable. All Timeshare reservations are non-refundable and do not include energy costs, incidentals and/or taxes that may be imposed by the resort. Policies vary and if AVR is able to obtain partial or full refunds, AVR is entitled to an administration fee of $300.00 USD plus any credit card fees. If cancellation occurs within 90 days of your reservation AVR would also be entitled to a fee of 25% of the reimbursement that we are able to obtain for you. AVR can only accept credit cards for those suppliers that accept them. Fees to AVR do not include any fees imposed by the supplier or by AVR acting as supplier or by credit card agency. This agreement shall be governed by Aruban Laws.
---
When we arrived in Aruba our car was delayed but Joy waited for us and check in was a breeze..Joy is sweetheart to deal with and she takes a personal interest in your stay. I had read the reviews before coming and the comments about broken pottery around the pool and the the grounds not being maintained as well as the upper porch not being in good shape are currently not true. The villa is not new but very well built with modern appliances in the kitchen. I took several pictures of the property which is very nice. If there was a spot to leave pics I would. We stayed in the upper section of the Villa and we were surprised at the amount of space that we shared with 1 other couple. The view is AMAZING!!.. Walk out the back gate and we were on the beach 1 block in either direction from 2 of the best beaches on the Island. 1 for swimming and the other for snorkeling which we did plenty of :).The property is almost at the upper tip of the island so you get amazing sunsets from the porch and a 1-2 minute drive puts you on the east coast to see amazing sunrises and crashing waves...Tnx Joy !!!...
---
The host was easily reached by email before our trip and took the time to answer all questions. Joy offered suggestions regarding logistics from airport to house. She is professional and nice. Both my husband and I were happy with our room on the second floor. It was clean, the bed was comfortable and the bathroom was nice. I would highly suggest making sure you stay on the second floor! The nice kitchen and dining area with incredible views are only offered if you stay on second floor. The views from the dining balcony were incredible. There were some maintenance issues with upper deck during our stay but we were still able to enjoy dining table. You will need bug spray. The mosquitos were definity hungry. Cindy the housekeeper was very nice. She worked hard making sure things were nicely kept. The pool area was nice. Both my husband and I enjoy snorkeling. To have one of the best spots in our own backyard was awesome. Pack less clothes and Bring your own snorkeling equipment (mask/snorkel/fin) you will not regret it. We saw an octopus, a few eels, sea snake, beautiful fish including cuttle fish, gar, parrotfish, Angel fish etc etc. it was awesome. We got lucky and met two nice couples. We enjoyed going out to dinner with them. That was a hidden surprise in renting this room. This was our 4th time in Aruba and we meet really nice people. This house is literally three houses away from Arashi beach (a very beautiful beach). The view, location, and meeting nice people made up for maintenance issues with deck. The pool was nice, clean and was very refreshing. I would stay here again and recommend this property. Again, upstairs are the nicer units. The host, Joy, knows the island very well and told us about another great snorkeling spot. Thanks. We loved snorkeling at Mango Halto as well. Thanks for a nice vacation.
---
I can't begin to describe this place. The location is great! Right on the beach with amazing snorkeling 5 steps from the back door! Very private location but a short cab ride to all the night life, restaurants, and shopping! Joy was amazing to work with. She kept in touch leading up to our trip and even had the place unlocked for us so we could go straight there from the airport since we were taking a cab and would also have groceries with us. This was one of the best vacations my husband and I have taken in a long time! We will be back here for sure!
---
My boyfriend and I had a great experience here. The snorkeling was amazing right in front of the house. You're so close to the ocean and the outdoor deck area was great to dine and relax on. Our only complaint at all was that the exterior was not very well maintained, especially compared to the pictures. The landscaping and care that was obvious in the photos was not the case. There were piles of dead leaves and dirt, empty tipped over flower pots, and pealing paint. It wasn't very clean or pleasant to be pool side but the house and upper deck area was very well maintained.
---
This is a nice property with a gorgeous beach view. Many of the snorkel tours anchor their boats off the shore to take advantage of the snorkeling out your backdoor here. It is important to note the location is not where it is shown on the Airbnb map (as of March 2014) it's further north near Arashi beach. A car is almost a necessity if you plan to get out after dark (buses don't run late and the walk to the high-rise area is several miles). The description indicates that this room has a private bathroom, which is not correct, it shares the bath with one other room. Pros: Gorgeous view, lovely pool, attractive common areas and modern appliances. Cons: Location much further north than shown on map, hot water not very hot.
---
Had a wonderful stay at Aruba Beach Front Guest Room #1. We were unsure what to expect as we usually book at an all inclusive or hotel. As we needed to book at the last minute, and prices at these type of resorts were high, we decided to try this out. The house was a little dated, but the setting was beautiful and perfect for the kind of vacation we were looking for. On our arrival, we met Joy from Aruba Villa Rentals who was the perfect hostess. We followed her to the house and she showed us around and even set us up to have a fabulous dinner and wine delivered to the huge patio overlooking ocean on our first night. We had the whole house to ourselves that night! The pool at the house is very nice and you can walk right out the back to a (semi) private beach for snorkeling and swimming. A few steps away is Ashanti Beach which is beautiful. There is a huge shared kitchen, living room, dining room and sitting room upstairs as well as the patio mentioned above. Day 2, two more rooms were occupied. Our house guest upstairs was really nice, and we had a meal or 2 with him, but we both had our privacy. There was a couple who were staying downstairs that we barely saw. We did have a car, but you can catch a bus right up the street and cabs are reasonable. It turned out to be a great relaxing vacation at an incredibly reasonable price! We would recommend staying here for a great value vacation. Once again, Thank you Joy at Aruba Villa Rentals!!
---
Aruba Villa We offer Studio Guest Rooms Each with private Bath directly on the beach the best value rooms in Aruba! We also have entire house rentals available by the week or month! Located on the pristine white sandy horseshoe beach of Arashi (near the lighthouse) and Malmok …
语言:
English、Español、Nederlands