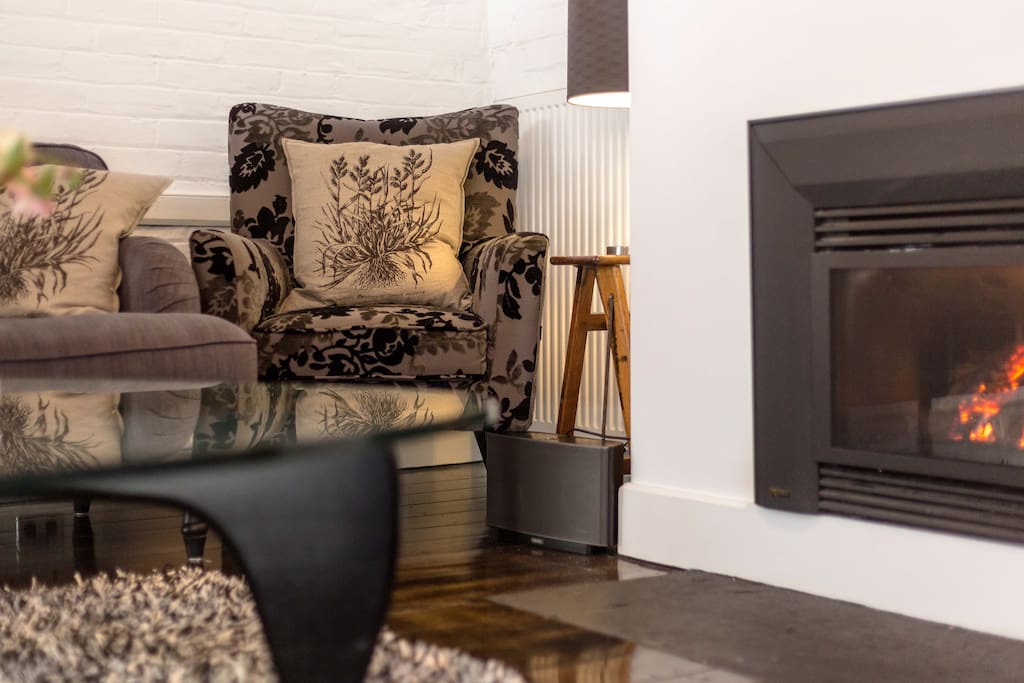 Romantic Old School House with Cosy Fire
老校舍:一间两卧室公寓,由澳大利亚着名建筑师之一设计,设有舒适的火炉,为您带来难忘的假期体验。一个具有吸引力历史的建筑 - El Alamein / WW2的Monty在这个地方受过教育。 免费无线上网和停车。步行距离萨拉曼卡。查看我们的老主教宿舍下的其他列表。
Old School House: a 2 bedroom apartment with cosy fire designed by one of Australia's leading architects for a memorable holiday experience. A building with an intriguing history - Monty of El Alamein/WW2 was educated in this place.
Free wifi and parking. Walking distance to Salamanca. See our other listings under Old Bishops Quarters.
房源
精美的奢华在世界之巅!一个特别的隐藏的奢华,精品酒店的感觉,没有酒店和更多的空间。 留在一个宽敞,精美的,独立的两卧室公寓在蒙蒂的老校舍,澳大利亚最古老的房子之一,以前是塔斯马尼亚州每个主教的家园,直到2003年,已经有160多年的历史。我们的家庭住在在20世纪30年代,坐落在霍巴特最有吸引力的绿树成荫的街道上,坐落在电池点边缘 - 就在我们街道尽头的大约一英亩的花园里。不像电池点/其他中心区域,我们有免费停车场外面! 随着我们的网站预订系统同步(可以看3D 3D游览),可用性应该始终是最新的。对于价格,点击预订与您的日期并提供报价。免费无线上网,床单/毛巾和停车场;住宿。小厨房不配备烹饪,但有一个烧烤。 学校客房公寓是一个宽敞的75平方米的撤退,有丰富的历史。它是完全轮椅可及,包括: - 原来的校舍在工作室风格的布置下,包括带有特大号床的主卧室旁边的气体火灾休息区(特大号床可以根据要求设置两张单人床) - 通过玻璃连接,这将导致一个单独的阳光明媚的小厨房/用餐空间 - 一个宽敞的浴室/淋浴间,可以使用轮椅的湿式淋浴 - 一个舒适的"宿舍间",上部和下部双层床(顶层双层折叠)或可根据要求提供紧凑型双层床 - 开通东北面的庭院 - 一楼,没有步骤 - 可应要求提供婴儿床和高脚椅 访问是通过一个有吸引力的庭院从一个专门的街边停车场,就在你的门外。 我们的客人已经决定这是留在霍巴特的好地方。公寓已经达到了最高标准。浴室设有深层天然石浴,宽敞的淋浴(完全可达)和地板采暖。公寓有很多的性格。太阳能由太阳能供电,由老果园的大型太阳能阵列供电,并辅以天然气。休息室/主卧室配有空调和燃气供应的日志。还有吹风机! 免费WiFi,电影电视,iPad和Sonos高保真系统与潘多拉无限音乐点播。定制的小厨房配备了新的电器 - 6台设置Fisher&Paykel单抽屉洗碗机,酒吧冰箱,微波炉,烤面包机,水壶和咖啡柱塞(无烹饪设施)。 除了由国家信托基金在20世纪90年代资助的一个重大修复项目,现在我们的努力 - 尤其是取暖!这座房子是由19世纪最着名的澳大利亚建筑师亨利·亨特和乔治·法格(George Fagg)分两个阶段设计的。有关过去业主,居民和客人的故事,包括WW2名将的马尔默蒙哥马利公园,Lady Gowrie夫人,臭名昭着的赫尔曼·洛克菲勒(值得一个网页搜索!),从19世纪中叶到21世纪初的塔斯马尼亚的所有圣公会主教,无尽的总督一般人士,塔斯马尼亚州的第一位总检察长,坎特伯雷和约克大主教John Wordsworth(不是诗人,而是索尔兹伯里的主教,诗人的大侄子)等等。 星期四晚上开始的预订通常只适用于我们,如果它包括周末,因为周五是周末预订的非常受欢迎的开始日期。 11月至4月期间,周末预订将收取4位客人的房价。没有党提前办理入住手续往往可以通过事先安排。 来享受21世纪霍巴特与19世纪的混合! 这是关于从"家庭中的田野马歇尔"(Brian Montgomery)的学校的摘要: "我们不寻常的父母:塔斯马尼亚18世纪90年代 同时在霍巴特,以她平常的组织能力,母亲安排了导师从英国出发,接管了教育孩子们的全部工作,他们正在快速成长。这些导师的到来给她更多的自由,把注意力集中在殖民主教的妻子的许多不同的活动中。幸运的是,Bishopscourt,他们在霍巴特的家,是一个大型的漫游建筑,一个大花园,非常适合她的目的。她在房子外面建了一个额外的房间,作为一所学校,不仅有自己的孩子被教导,还有霍巴特或霍巴特附近某些亲密朋友的学校。其中一个男孩来自安德鲁·霍尔顿,霍尔顿医生的儿子,他是塔斯马尼亚州父亲最亲密的朋友。很久以后,安德鲁结婚了我的姊妹Una。 男孩们 的学校负责教室,每周轮流保持清洁,点燃火,砍木头,一般保持它。在这里,他们也有自己的晚餐,为此目的,这个星期的负责男孩被赋予了一半的冠冕,超过厨师提供的额外费用。 一个男孩会把全部的钱花在蛋糕或饼干上,而另一个男孩则买了一罐三文鱼,说服厨师把它们放进鱼蛋糕里。未来的场 - 元帅有一次轮到他的时候发现,在适当考虑经济的情况下,发现了一些便宜的鸡蛋。他宣布,他的父母很高兴,但是他对同胞的沮丧,他提供了"减蛋"!虽然所有的孩子都不得不遵守母亲的习惯和秩序感,但塔斯马尼亚不应该认为他们不开心或不满。相反,他们喜欢这一切,特别是不断的户外生活,野餐,骑马,钓鱼等。
Splendid luxury at the bottom of the world! A special hide-away with the feel of a luxury, boutique hotel, without the hotel and much more space.
Stay in a spacious, beautifully appointed, self-contained two bedroom apartment in Monty's Old School House, part of one of Australia's most historic houses, formerly home to each Bishop of Tasmania for over 160 years until 2003. Our family home was built in the 1830s and is set in about an acre of gardens on one of Hobart's most attractive tree-lined streets on the edge of Battery Point - just at the end of our street. And unlike Battery Point/other central areas, we have free parking outside!
Availability should always be up to date as it is sync'd with our website booking system (have a look at 3D tour there). For prices, click on booking with your dates and up comes the quote. Free wifi, linen/towels and parking; accommodation only. Kitchenette is not equipped for cooking but there is a BBQ.
The School Rooms apartment is a spacious 75 square metre retreat with a rich history. It is fully wheel chair accessible and incorporates:
- the original school house includes sitting area with gas fire adjacent to the master bedroom with king-sized bed under a vaulted ceiling in a studio-style arrangement (king bed can be set up as two single beds on request)
- via a glazed link, this leads to a separate sunny kitchenette/dining space
- a large bath/shower room with a wet room style shower which is wheel chair accessible
- a cosy 'dormitory bedroom' with upper and lower bunk beds (top bunk folds away) or available as a compact double on request
- opening on to a North East facing courtyard
- ground floor, no steps
- cot and high chair on request
Access is through an attractive courtyard from a dedicated off-street car park which is right outside your door.
Our guests have already decided that this is a great place to stay in Hobart. The apartment has been fitted out to the highest possible standard. The bathroom features a deep, natural stone bath, a wide shower (fully accessible) and underfloor heating. The apartment has plenty of character. Heat is solar powered from a large scale solar array in the old orchard, supplemented by gas. There is air conditioning in the lounge/master bedroom and a gas powered log. And there's a hair dryer!
Free wifi, cinema TV, iPad and Sonos hifi system with Pandora unlimited music on demand. The custom made mini-kitchenette is equipped with new appliances - 6 setting Fisher & Paykel single drawer dishwasher, bar fridge, microwave, toaster, kettle and coffee plunger (no cooking facilities).
Not a lot has changed in the main house over the years, other than a major restoration project funded by the National Trust in the 1990s and now our efforts - especially heating! The house was designed in stages by two of Australia's most renowned architects in the 19th century, Henry Hunter and George Fagg. There are many stories about past owners, residents and guests including Field Marshall Montgomery of WW2 fame, Lady Gowrie, infamous Herman Rockefeller (worth a web search!), every Anglican Bishop of Tasmania from mid-19th century to early 21st century, endless Governor-Generals, the first Attorney General of Tasmania, a good selection of Archbishops of Canterbury and York, John Wordsworth (not the poet but the Bishop of Salisbury and grand nephew of the poet) and so on.
Bookings starting on a Thursday evening will usually only work for us if it includes the weekend as Friday is a very popular start date for weekend bookings. Between November and April, weekend bookings will be charged at the rate for 4 guests. No parties. Early check-in is often possible by prior arrangement.
Come and enjoy 21st century Hobart mixed with the 19th century!
Here is an extract about the School House from 'A Field Marshall in the Family' (Brian Montgomery):
"Our Unusual Parents: Tasmania Days 1890s
Meanwhile at Hobart, with her usual organising ability, Mother had arranged for tutors to come from England and take over the whole job of teaching the children, who were rapidly growing up. The arrival of these tutors gave her more freedom to devote her attention to the many and varied activities of a Colonial bishop's wife. Fortunately Bishopscourt, their home in Hobart, was a large rambling building with a big garden, well suited to her purpose. She had an additional room built, outside the house, which served as a school where not only her own children were taught, but also those of certain close friends in or near Hobart. One of the boys who came was Andrew Holden, the son of Doctor Holden who was father's closest friend in Tasmania. Much later, Andrew married my elder sister Una.
The boys of the school had the charge of the schoolroom, taking their turn weekly to keep it clean, light the fire, chop the wood and generally maintain it. Here too they got their own evening meal, and for this purpose the boy in charge for the week was given half a crown to spend on 'extras' over and above what the cook provided.
One boy would spend the whole sum on cake or biscuits, whilst another bought tinned salmon and persuaded the cook to make it up into fish cakes. The future Field-Marshal, on one occasion when his turn came round, discovered, with due regard for economy, some cheap eggs. He announced, to the great amusement of his parents but the dismay of his fellows, that he was providing `reduced eggs' ! Although all the children had to submit to Mother's routine and sense of order it should not be thought they were unhappy or discontented in Tasmania. On the contrary they loved it all, especially the constant outdoor life, the picnics, riding, fishing and the like."
房客使用权限
您的私人公寓可通过一个迷人的庭院从一个专门的街边停车场,就在您的门外。它是轮椅可访问。在主门和卧室与公寓的新区域之间还有一个小嘴唇/阈值。浴室是慷慨的比例,但小厨房不是设计与轮椅的想法。
Access to your private apartment is through an attractive courtyard from a dedicated off-street car park which is right outside your door. It is wheel chair accessible. There is a small lip/threshhold at the main door and again between the bedroom and new area of the apartment. The bathroom is generously proportioned however the kitchenette was not designed with the wheelchair in mind.
与房客的互动
我们通常在周围,并且在这里帮助尽可能多或只要你想要的。有些客人几乎没有看到我们,因为他们忙碌着。有些人喜欢在花园里看到对方的时候停下来聊天。 请注意,如果您需要找到我们,学校营业时间((PHONE NUMBER HIDDEN))对我们来说往往很棘手。
We are usually around and are here to help as much or as little as you would like. Some guests hardly ever see us as they are busy out and about. Some like to stop and have a chat when we see each other in the garden.
Please note that school run hours (8.30-9.30) and (2.30-4) are often tricky for us if you need to find us!
其他注意事项
有时可以安排入住时间,但即使如此,由于我们无法控制的事件,儿童通常也无法保证!
Earlier check-in times can sometimes be arranged but even then cannot be guaranteed due to events out of our control - children usually!
---
---
---
---
始终通过爱彼迎进行交流
为了保护您的账号隐私和付款安全,请不要相信其它任何平台的折扣或优惠券代订,并始终在爱彼迎站内转账和交流。
了解更多
---
Enjoy your time here! Chill out. There's lot to see and do or not, depending on your mood.
Absolutely no smoking inside or within the grounds, parties, candles or loud noise/sounds please - peaceful co-existence is important to us. The apartment is not designed to receive visitors of our guests.
---
---
---
---
I am Australian and have lived in the UK and Japan. My husband, Dermot, grew up in Ireland and has lived in the UK and Australia. We love meeting people, having a laugh, fresh air, walking and cycling, beautiful scenery and great food and wine --- Tasmania! We are both involved in running our Airbnb apartments, having expanded since our initial listing in 2012.

My career has been in healthcare (mainly midwifery) and my husband's in finance. We are keen travellers, especially if it involves sailing. We have four school age children so we are also good at keeping ourselves to ourselves, as appropriate.

We have taken on the challenge of looking after this 19th century house, the Anglican Bishop's residence from the 1840s till recently, and spend a lot of time on it. I am particularly fond of searching for interesting pieces of forgotten furniture, making/growing things and trying to be creative in kitchen. Dermot is particularly mad about his growing solar thermal project in the orchard!

We were drawn to Airbnb as we get to know a little about our house guests and vice versa. Also, we find that it connects us with people who are considerate and pleasant which is important!