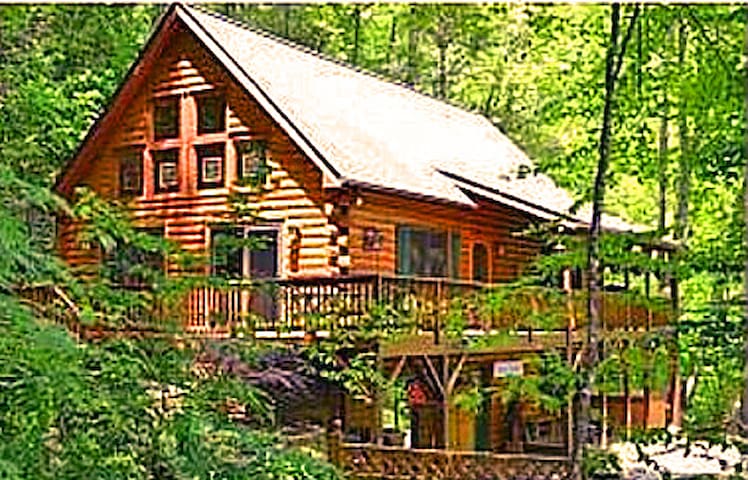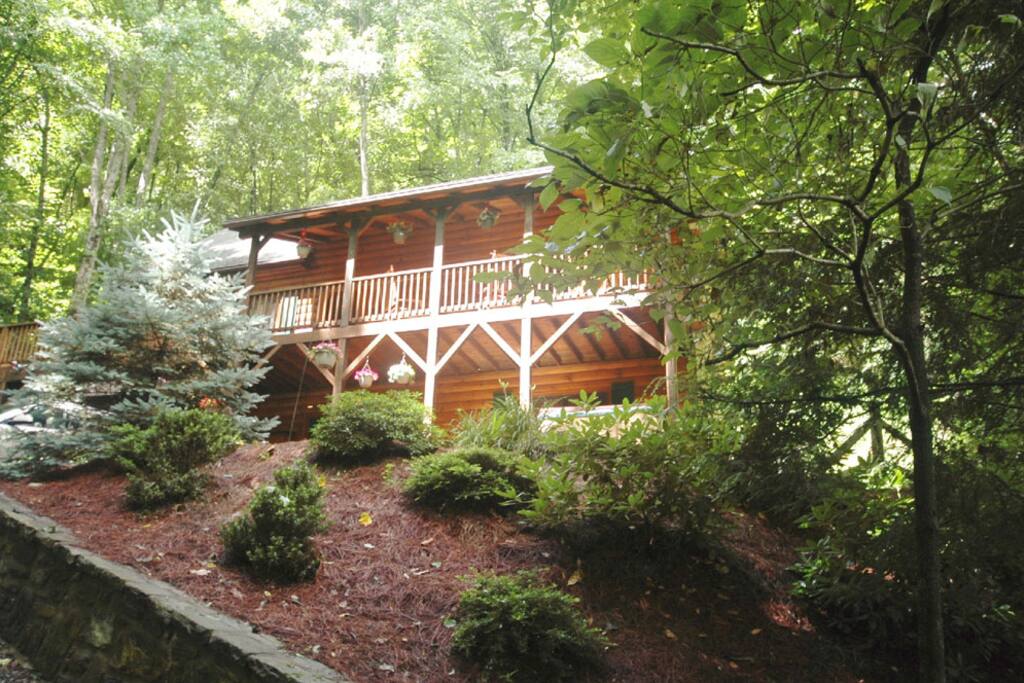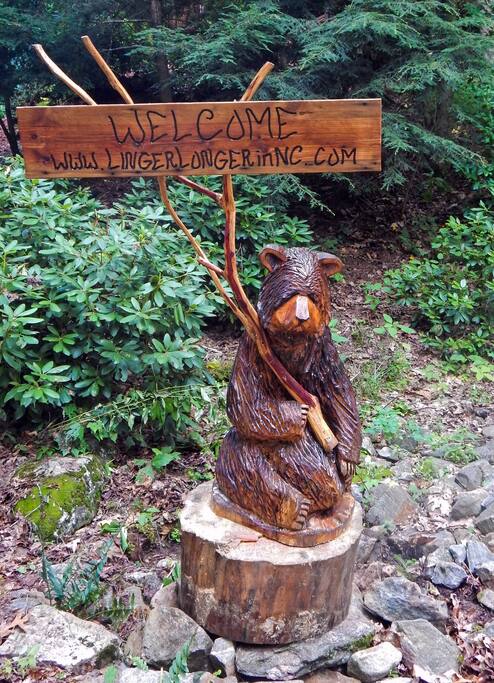 Linger Longer Lodge- Discounts on Golf and Skiing
Linger Longer Lodge- Discounts on Golf and Skiing
Whether you're looking for a romantic get away or a family fun vacation, Linger Longer Lodge can provide you with a private elegant home base, to relax, yet still be centrally located to all that Western North Carolina has to offer.
We will consider pets (maximum of 2) but please contact me prior to booking to get approval. There is an additional charge of $50/pet.
---
---
---
The maximum occupancy for my home is 11 people and it is STRICTLY enforced. Pets may be allowed but let's talk first.. It is a nonsmoking home but you are welcome to step out on the porch.
Sorry, we do not rent to groups.. We cater to couples and families. Two of the adults must be at least 35 years of age and they are the ones whose credit card information will be provided and sign the rental agreement. If you're looking for a party house, this one is not it... Failure to abide to the above will be cause for immediate eviction.
Please note that by submitting your credit card information, you are agreeing to the rental agreement and terms below.
Important and Helpful Information
Linger Longer Lodge
Should you have any questions or concerns, kindly give me a call before signing, as we would not want you to be disappointed, later on.
We encourage you to print out this information and keep it handy for you and your guests, during your stay.
THIS IS A VACATION RENTAL AGREEMENT UNDER THE NORTH CAROLINA VACATION RENTAL ACT. THE RIGHTS AND OBLIGATIONS OF THE PARTIES TO THIS AGREEMENT ARE DEFINED BY LAW AND INCLUDE UNIQUE PROVISIONS PERMITTING THE DISBURSEMENT OF RENT PRIOR TO TENANCY AND EXPEDITED EVICTION OF TENANTS. YOUR SIGNATURE ON THIS AGREEMENT, OR PAYMENT OF MONEY OR TAKING POSSESSION OF THE PROPERTY AFTER RECEIPT OF THE AGREEMENT, IS EVIDENCE OF YOUR ACCEPTANCE OF THE AGREEMENT AND YOUR INTENT TO USE THIS PROPERTY FOR A VACATION RENTAL.
We rent to family groups or couple groups only. A family group is defined as immediate and extended family (parents, children, grandparents, siblings).Or singles and couple groups over the age of 35. No fraternities, sororities, college, school, church, civic or other non-family groups are permitted. Additionally all family members less than 27 years old must be supervised by at least two accompanying adults 35 years of age or older at all times during tenancy.
The supervising adults must also be present at check-in and remain for the duration of this tenancy. In addition, the supervising adults must be the same individual(s) that have both paid and signed the rental agreement. In the event that we determine at check-in or thereafter that you are not a family group, you will be in material breach of your lease, and you will be denied access to the property and or subject to immediate expedited eviction and will forfeit all rents and fees paid.
Disbursement of rent and third party fees. Tenant authorizes agent to disburse all monies to the owner (or as the owner directs) prior to tenants occupancy of the premises.
Security Deposit. Any security deposit provided may be applied to actual damages caused by Tenant as permitted under the Tenant Security Deposit Act. In addition, Norma Rea and it's designated agents, may deduct from the security deposit the amount of any unpaid long distance or per call telephone charges and cable television charges that are not specifically described in this agreement (including any addendum hereto) as being included with the Premises. Agent shall apply, account for, or refund Tenant's security deposit within 45 days following the end of the tenancy.
1)Please note the address. While some GPS systems will take you to the door, others are unable to find the route. We highly recommend that you go to (URL HIDDEN) enter the address and print out directions to avoid any unexpected problems. NOTE- Creekside Drive splits as you are heading up the mountain. You'll want to take the road to the left.
2) We use a keyless entry system to enter the home. You'll find the keypad on the first floor entrance door, next to the hot tub. Your code is included with this email or will be sent to you prior to check in.
3)Check in time is 4:00 p.m. Check out time is 10:00 a.m. We quite often, need to turn the home around quickly, to be prepared for the next arriving guests. Please honor these times accordingly.
4)Should you need to have incoming calls into the home, the phone number is (PHONE NUMBER HIDDEN). Long distance calls are blocked from this phone.
5)The cable company is Charter Communications. Their phone number is (PHONE NUMBER HIDDEN). The account number is (PHONE NUMBER HIDDEN). From time to time they have cable outages. Often there is a prerecorded message to update you on a potential outage in the area. If you believe something else is going on, please let me know and I will also contact them.
6)Your occupancy count has been agreed to. Please note that the number of occupants will be strictly enforced and are based on what the home can safely and comfortably accommodate. Should a tenant violate this policy, the tenant will be immediately evicted and no refunds will be given.
7)We do NOT provide any paper products, such as toilet paper, paper towels, Kleenex and so on. We recommend you pack some or stop at a store prior to your arrival.
8)Towels and linens are provided. There are eighteen bath towels, hand towels and face cloths along with two sets of sheets per bed. There are also six bath robes.
As much as I hate to do this, we've had too many damaged and missing linens. Sadly, we must now charge, $30 per damaged or missing towel, $100 for damaged or missing sheet and $50 per damaged or missing robe. These amounts and/or other amounts will be deducted immediately from the rental deposit.
I pride myself on taking very good care of my home and keeping it in tip top condition. From time to time a household appliance may malfunction or a repair may be needed. We cannot guarantee that there will not be any malfunctions. Should one occur, please contact us immediately and it will be handled as quickly and as professionally as possible. No refunds or credits will be issued due to ordinary failures or mishaps.
We also understand that accidents happen. Should something take place, on your watch, please notify us immediately so that we can replace or repair it for your convenience and for other upcoming guests. Please note, if you have purchased travel insurance, your policy will most likely reimburse for accidental damages. THEY WILL REQUIRE A PHOTO IN ORDER TO REIMBURSE YOU. Please contact the insurance company for any particular questions; you may have, regarding your policy.
AC and HEAT – IF ANY DOORS AND WINDOWS ARE OPEN, THE SYSTEM MAY SHUT DOWN AND WILL CERTAINLY NOT FUNCTION AT THE TEMPERATURE YOU WANT. THIS HOME IS EQUIPPED WITH AN ENERGY MONITORING SYSTEM. EXCESS ENERGY USAGE COSTS WILL BE DEDUCTED FROM YOUR SECURITY DEPOSIT.
Please, DO NOT REARRAGE THE FURNITURE. Any costs incurred to pay staff to put things back in place must be passed along.
If upon arrival, you notice something is amiss… Please notify us immediately or we must assume it took place under your watch.
Please be aware, that if you are vacationing in the winter months, the weather conditions in the mountains can change quickly and drastically. It will be the tenant's sole responsibility to get to and from the rental home should the weather become icy or snow covered. Your travel protection policy should cover you in case of such event. Please contact the insuring company to verify cover- ages and exclusions available to you.
We also suggest, should a storm be approaching, that you aim your car facing down the driveway. As I am sure you know snow and ice on the driveway and decks may make them slippery. The county is very good about plowing and dropping salt to the home, again, we cannot guarantee the ultimate timing on storms or plows.
October 1st through May 1st,The gas pilot, in the fireplace, will be confirmed to be in working order before your arrival. At the bottom of the fireplace is a removable metal grate.....just pull it towards you... You'll see the knob and the instructions on the right hand side on how to operate. If you require a service call to restart the pilot light, you will be charged a trip fee of $50.00 unless there is a malfunction of the logs.
Please DO NOT rearrange the gas logs! This can cause them to burn incorrectly and produce large amounts of carbon monoxide in the home. Also, DO NOT put any foreign objects in the gas logs, such as wood, food, paper, etc. This will also cause damage to the logs and can cause them to emit carbon monoxide inside the home. Should there be any damage to the logs, caused by any of these reasons, you could be charged a minimum repair and service fee of $100.00
Homes with HOT TUBs:
Hot Tub hours are from 9 a.m. to 9:30 p.m. Use of hot tub outside of these hours may be cause for eviction without a refund. The Property is located in a residential area with strict curfew laws associated with "excessive" noise. Please keep noise levels to a minimum.
Please check the temperature of the water in the hot tub before use. Maximum safe water temperature should be established by a medical practitioner, not to exceed 104 degrees Fahrenheit.
Do not use or allow the hot tub to be used alone.
Minors under the age of 18 shall not utilize the hot tub unsupervised. Unsupervised use by children is strictly prohibited. Never leave children unattended in the vicinity of the hot tub.
Do not add anything to the water including foaming bubbles, chemicals, soaps, bath oils, etc. If these items are used in the hot tubs, an additional cleaning fee will be assessed.
Absolutely no candles (floating or any type) are allowed on or in the hot tub.
Absolutely no shoes are to be worn in the hot tub.
Absolutely no pets are allowed in hot tub.
Absolutely no electrical appliances should be used in or near the hot tub.
Surrounding patio/deck may be slippery and dangerous when wet.
Persons who have high blood pressure, skin sensitivities, or who might be pregnant are strongly urged not to use a hot tub. If in doubt, please consult with a physician prior to using the hot tub.
Observe reasonable time limits to avoid nausea, dizziness and fainting. Should you experience any of these symptoms, carefully exit the hot tub immediately.
Lessee agrees to leave the hot tub in the same condition it was received.
Lessee agrees to fully reimburse and indemnify Lessor for damage caused to the hot tub during lease term, including damage caused by any person, including invited or uninvited guests, pets, animals, and children.
Lessee understands there will be no reduction in rental fees if the hot tub is unused or unavailable during the term of Lessee's rental period.
Please do not turn off or unplug the hot tub.
The hot tub is serviced and chemically treated weekly. Excess costs beyond normal use will be passed along.
It is recommended that no jewelry is worn in the hot tub due to chemicals used. The chemicals in hot tubs can also affect color-treated hair and damage swimsuits.
The hot tub shall be covered when not in use, especially if there are any children in the vicinity. Hot tub covers are easily damaged. Do not stand, jump or walk on the cover.. In addition, evaporation occurs quickly when the tub is not covered. You will soon find that the water level will not be ideal.
Wi-Fi is available. The password is found in your rental instructions.
The DVD player in the downstairs game room needs to be on channel 3 in order to work. You are welcome to rent movies from The On Demand System. Please note that these amounts will be deducted from your rental deposit plus a $5.00 processing fee per movie. The code is 0716.
The washing machine is a HE (High Efficiency) machine. You MUST use a HE Detergent!!!!! Not doing so will cause your clothes to retain lots of the soap, possibly making them irritable to your skin. It will also DAMAGE THE MACHINE! Look for the HE logo (usually sky blue and white in color) on the front of the detergent bottle to make sure it is compatible with our machine.
The hot tub runs a self-cleaning cycle from time to time. If you hear it running, for about fifteen minutes, that's what it's doing. If it's running longer, you may have left it on or have left the temperature set to high.
Please be safe…there are several children/people that SHOULD NOT use a hot tub. If you are uncertain, please contact your physician to confirm that it's safe for you and your guests to do so.
Should you have any emergency medical needs, call 911. However, The CVS Pharmacy has a PA on staff (please check the store for hours). They can be quite helpful for non-emergency needs and they can also write prescriptions. We've found them useful for many common ailments. The number is (PHONE NUMBER HIDDEN).
As a reminder, all garbage must be bagged and placed into the outside receptacle. If you leave it on the deck or outside the bin, the wildlife will tear through it, causing potential harm to the animals and one heck of a mess. All pet waste must also be properly disposed. As I'm sure you can understand any additional expenses will have to be passed along.
The Popcorn Machine- Please note the popcorn machine DOES NOT have a timer. Most popcorn takes about a minute to pop. If you walk away, odds are it will burn, setting off the smoke detectors.
Before your departure, please make sure that all dishes, pots, pans and other kitchen ware has been cleaned properly and replaced to their original location.
Should the cleaning staff, require extra time, above and beyond their normal duties, the costs will have to be passed along.
Please stay safe and use your common sense. Ultimately, you are responsible for your own safety, as well as your guests.
Lastly, our lawyers make us do this…
1)NO mobile sleeping units (bags, cots, ECT.) are permitted in the home to provide for additional housing. As a reminder, your occupancy count has already been agreed to and these items should not be necessary.
2)In the event the owner chooses, for any reason to remove this unit from the rental program, every effort will be made to contact the renter with as much advance notice as possible. We will make every attempt to assist you in finding similar accommodations available, or your prepaid rent/security deposit monies will be fully refunded.
3)The renter understands that Norma Rea, LLC is a rental Agency which rents for the owner. The agency nor Norma Rea is not liable to renters(s) for (a) loss or theft of any of the renters' properties; (b) accidents, injuries or damages of any nature from any cause (including acts of God) to renters, guests, relatives or invitees; (c) weather, road, travel, skiing or other recreational activities conditions; and (d) items removed or changed in unit by owner.
Tenant Duties. Tenant agrees to comply with all obligations imposed by the Vacation Rental Act on Tenant with respect to maintenance of the Premises, including but not limited to keeping the Premises as clean and safe as the conditions of the Premises permit and causing no unsafe or unsanitary conditions in the common areas and remainder of the Premises that Tenant uses; and notifying Agent in writing of the need of replacement of or repairs to a smoke detector, and replacing the batteries as needed during the tenancy. Tenant agrees not to use the Premises for any activity or purpose that violates any criminal law or governmental regulation. Tenant's breach of any duty contained in this paragraph shall be considered material, and shall result in the termination of Tenant's tenancy.
Agent Duties. Agent agrees to provide the Premises in a fit and habitable condition. If at the time Tenant is to begin occupancy of the Premises, Agent cannot provide the Premises in a fit and habitable condition or substitute a reasonably comparable property in such condition, Agent shall refund to Tenant all payments made by Tenant. Agent shall conduct all brokerage activities in regard to this Agreement without respect to race, color, religion, sex, national origin, handicap or familial status of any tenant.
Transfer of Premises.
1.If the owner voluntarily transfers the Premises, Tenant has the right to enforce this Agreement against the grantee of the Premises if Tenant's occupancy is to end more than 180 days after such recordation, Tenant has no right to enforce the terms of this Agreement unless the grantee agrees in writing to honor this Agreement. If the grantee does not honor this Agreement, Tenant is entitled to a refund of all advance rent paid by Tenant (and other fees owed to third parties not already lawfully disbursed). Within 10 days after transfer of the Premises, the grantee or the grantee's agent is required to: (i) notify Tenant in writing of the transfer of the Premises, the grantee's name and address, and the date the grantee's interest was recorded; and (ii) advise Tenants whether Tenant has the right to occupy the Premises subject to the terms of this Agreement or receive a refund of any payments made by tenant.
2. Upon termination of the owner's interest in the Premises, whether by sale, assignment, death, appointment of a receiver or otherwise, the owner, owner's agent, or real estate agent is required to transfer all advance rent paid by Tenant (and other fees owed to third parties not already lawfully disbursed) to the owner's successor-in-interest within 30 days, and notify Tenant by mail of such transfer and of the transferee's name and address. However, if Tenant's occupancy under this Agreement is to end more than 180 days after recordation of the interest of the owner's successor-in-interest in the Premises, and the successor-in-interest has not agreed to honor this Agreement, all advance rent paid by Tenant (and other fees owed to third parties not already lawfully disbursed) must be transferred to Tenant within 30 days.
3. If the owner's interest in the Premises is involuntarily transferred prior to Tenant's occupancy of the Premises, the owner is required to refund to Tenant all advance rent paid by Tenant (and other fees owed to third parties not already lawfully disbursed) within 60 days after the transfer.
Mandatory Evacuation. If State or local authorities order a mandatory evacuation of an area that includes the Premises, Tenant shall comply with the order. Upon compliance, Tenant will be entitled to a refund of the prorated rent for each night that Tenant is unable to occupy the Premises because of the order. However, Tenant will not be entitled to a refund if, prior to taking possession of the Premises: (i) Tenant refused insurance offered by Agent that would have compensated Tenant for losses or damages resulting from loss of use of the Premises due to a mandatory evacuation order, or (ii) Tenant purchased such insurance from Agent.
Expedited Eviction. If the tenancy created here-under is for 30 days or less, the expedited eviction procedures set forth in the Vacation Rental Act will apply. Tenant may be evicted under such procedures if Tenant: (i) holds over in possession after Tenant's tenancy has expired; (ii) commits a material breach of any provision of this Agreement (including any addendum hereto) that according to its terms would result in the termination of Tenant's tenancy; (iii) fails to pay rent as required by this Agreement; or (iv) has obtained possession of the Premises by fraud or misrepresentation.
Indemnification and Hold Harmless; Right of Entry; Assignment. Tenant agrees to indemnify and hold harmless Agent and the owner from and against any liability for personal injury or property damage sustained by any person (including Tenant's guests) as a result of any cause, unless caused by the negligent or willful act of Agent or the owner, or the failure of Agent or the owner to comply with the Vacation Rental Act. Tenant agrees that Agent, the owner or their respective representatives may enter the Premises during reasonable hours to inspect the Premises, to make such repairs, alterations or improvements thereto as Agent or owner may deem appropriate, or to show the Premises to prospective purchasers or tenants. Tenant shall not assign this Agreement or sublet the Premises in whole or part without written permission of Agent.
Pets. Unless otherwise specifically permitted in this Agreement (including any addendum hereto), no pets shall be allowed on the Premises. Tenant's breach of this provision shall be considered material, and shall result in the termination of Tenant's tenancy.
Other terms and conditions.
If you cancel your reservation 60 days or more prior to check-in, you will receive a refund on pre-rent monies you have paid. The reservation fee is never refundable.
If you cancel your reservation within 60 days of your check-in, no refunds will be given, under any circumstances. Please check your traveler's insurance policy for their refund details
No refunds will be issued should you decide to leave early.
We recommend you purchase Travel cancellation and Protection insurance and is designed to protect you in the event it becomes necessary for you to cancel your reservation. Should you decide to opt out of this insurance, tenant hereby agrees that all risks are assumed directly be tenant and will be tenant's sole responsibility for any and all costs incurred by tenant or by Norma Rea, LLC. Norma Rea, LLC and the owner(s) will not be held responsible if you are not able to make it to your rental unit.
Norma Rea, LLC. reserves the right to charge tenants credit card on file for any excess cleaning, trash, intentional damage, or gross negligence upon inspection of property.
By signing this rental agreement you are authorizing Norma Rea, LLC. to charge your card for all monies owed regarding your reservation.
Our home is nonsmoking. If upon inspection of the premises, there is evidence of smoking in the home; $1500.00 will be charged to your credit card on file.
If upon inspection, there is evidence of a pet(s) in a unit that has not been agreed to; $200 will be charged to your credit card on file. Should a pet have been agreed to, tenant understands that fees paid DO NOT cover cleaning up any pet waste. Additional charges will apply.
Tenant agrees that Tenant has received and read any such addenda, and that they shall constitute an integral part of this Agreement.
We do hope you enjoy your stay as our goal is to provide you all the comforts of home. I know you will treat my home, as you do your own. We only offer these very simple guidelines to keep you safe and avoid additional expenditures. If you can think of anything that we can assist you with, by all means, let us know. We will do everything in our power to answer your requests promptly.
We also invite you to visit our web site as it has many ideas, on events and things to do. Relax.....Redefine.....Relish.....Reinvent.....Remarkable....
Wishing you a most pleasant stay….
Best Regards,
Norma Rea
(PHONE NUMBER HIDDEN) or (EMAIL HIDDEN) (URL HIDDEN)
---
严格
旅程开始前的7天之前取消预订可以获得50%的退款。如果在旅程开始前7天内取消预订,该预订将不可退款。
---
---
---
Great location for lots of play. We hiked in Pisgah and along the Blue Ridge Parkway. We also visited Cherokee. Guests should know that it is in a mountainous neighborhood, with a beautiful view of the forest and trees. It's great for vigorous walks up and down the hills of the neighborhood and around the local golf course. Think twice about bringing a trailer, as the roads are very narrow and the driveway and road up are steep. Norma's place was very clean. Her communication and planning for our stay was excellent and impressed us from the start. The cabin was very well appointed with all we needed utensil wise for a few dinners in, and close-enough to town to go out to eat a few times as well. Beds were SUPER comfortable! Towels, sheets, etc were all in great condition making us feel at home. Would definitely recommend if you like sitting on the porch and enjoying beverages with those you love and exploring local active things to do.
---
My family and I have been visiting western NC for over 20 years.. I finally decided that this would be the best place I knew, for a vacation home for my family, friends and to share with others.
I've been in the real estate business for over 20 years.. I've owned many rental properties and Love to share my home with others.
语言:
English