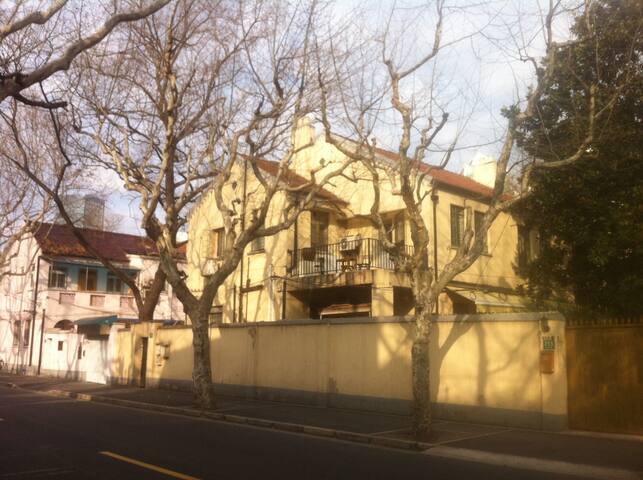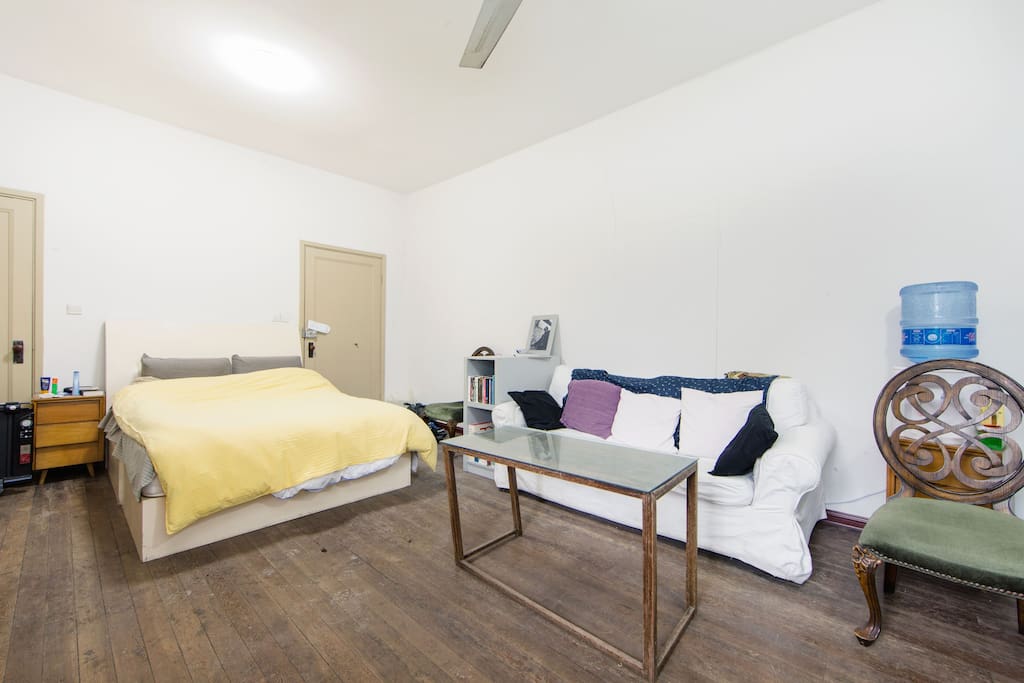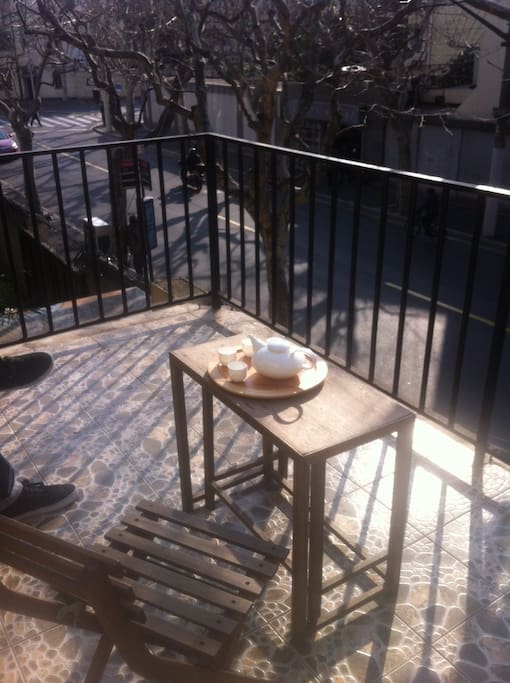 this apartment is available 25-30, feel free to rent!

房源细节
注:欢迎更长时间的住宿,一个月或更多! 这个房源是一个大型的一室公寓,位于上海的法租界中心,我在那里正常生活。一间非常大的客房(25平方米)包括一间卧室,一张带咖啡桌的被褥(折叠成一张床),以及一张供写作的美丽木制书桌。毗邻一个小厨房/浴室,一个美丽的12平方米的阳台,可以容纳8人或以上容易。我在我自己的20世纪20年代上海风格的想法装饰公寓。距离地铁10号线上海图书馆3分钟路程,距离横山路1号线10分钟路程,靠近众多公交线路,乘坐出租车经过淮海路附近。 在您入住期间,我将在另一个公寓附近,因此将可用于帮助您从购物,翻译到餐厅的建议。这个公寓是非常核心的,但在一个安静,宽敞的街道,隔壁的德国领事馆(认为格林威治村NYC,伦敦,蒙马特在巴黎的Bloomsbury)。一个街区(足够远,你不会被打扰的街道噪音,但足够接近非常方便)是上海最好的酒吧和餐馆的一些;在15分钟内是优秀的法国,广东话,北京,上海和许多其他类型的餐馆。该公寓是一对夫妇寻找一个良好的基地探索城市 - 非常方便的交通,靠近酒吧,餐馆和艺术画廊,并有娱乐新朋友的空间的理想选择。如果你有任何特殊需求,我会只是在街上...可应要求提供女仆服务。还有一个有自行车锁的自行车可用。 注意:烹饪设施非常有限:冰箱,咖啡机,蒸馏水机,茶具,榨汁机...我自己通常只在家吃早餐,周围有许多不错的地方吃饭。上海的美食非常实惠。尽管如此,如果烹饪对你很重要,这可能不是你正确的地方。
Note: welcome longer stays, of a month or more!

The listing is for a large studio apartment very centrally located in the French Concession of Shanghai, where I live normally. A very large room (25 square meters) includes a bedroom, a futon (folds out into a bed) with coffee table, and a beautiful wooden desk for writing. Adjoining are a kitchenette/bathroom, and a beautiful 12 square meters balcony, which can easily accommodate 8 people or more. I decorated the apartment in my own idea of 1920s Shanghai style. 3 minutes away from metro line 10 Shanghai Library, 10 minutes away from line 1 Hengshan Road, near to numerous bus lines, and with taxis passing by every minute on nearby Huaihai Road.
During your stay, I will be in another apartment fairly nearby, and so will be available to help you with anything from shopping to translation to restaurant recommendations. The flat is very central, but on a quiet, posh street, next door to the German Consulate (think Greenwich Village NYC, Bloomsbury in London, Montmartre in Paris ). A block away (far enough away that you won't be disturbed by street noise, but close enough to be very convenient) are some of the nicest bars and restaurants in Shanghai; within 15 minutes are excellent French, Cantonese, Beijingnese, Shanghainese, and many other kinds of restaurants. The flat is ideal for a couple looking for a good base to explore the city- very convenient for transportation, close to bars, restaurants and art galleries, and with space to entertain new friends. And if you have any special needs, I'll be just down the street... Maid service available on request. There's a bike with bike lock available as well.

Note: the cooking facilities are very limited: a refrigerator, a coffee press, a distilled water dispenser, tea things, a juicer... I myself usually only eat breakfast at home, surrounded by so many nice places to eat out. Fine dining in Shanghai is very affordable. Nonetheless, if cooking is important for you, this might not be the right place for you.
Smoking is OK, but only outside;
Please try not to leave watermarks on the desk, as it was custom made,
Feel free to drink any alcohol, coffee, or tea on premises; I will bring fresh, seasonal fruit for your stay.
A stay of at least 3 days is preferred.
Excellent location in quiet French Concession. Near subway, shops and restaurants. Second floor balcony a real treat. Accomodations could use a "woman's" touch as a few additional items would add to stay such as electric teapot and cups, etc. The building itself (beyond control of Jacob) coud use some attention. Overall positive stay and recommend.
---
I truly enjoyed my stay. If you are looking for a fully catered, squeaking clean and organized quarters, then this may not be the place for you. But if you have ever driven through the streets of the French Concession and wondered what a stay in a one of these beautiful rustic homes might be like then this is the place. It is spacious, comfortable, mostly equipped, and has a balcony where I sat, under he trees, wondering why I don't live in SH (I live in SF CA). Very friendly and accomodaing hosts, I recommend it for anyone wanting to experience this area. My magic moment in Shanghai....
---
Jacob and brother Max were model hosts: attentive, sensitive, non-intrusive. The balcony is an excellent feature, the apartment's best. As others have written, minimal cooking facilities. The apartment is very well located on a quiet street, 鬧中取靜,as locals would say, and is within walking distance of many points of interest. The 季風書店 Jifeng Bookstore, Shanghai's best, is off the nearby subway station at the base of the Shanghai Library, in whose reading rooms English-language readers can, if they choose, peruse 100 year-old copies of the North China Daily News. The baozi (steamed raised-dough dumplings) stand down Gao'an Road is one of the best in Shanghai. The 雍福會,at number 200 across the street, is a carefully restored Moorish-Chinese fantasy with garden from the 1930s, formerly housing Soviet, Vietnamese, and British diplomatic corps, now a restaurant/bar with beautiful outside seating.
---
Jacob is a delightful guy and his charming ittle apartment is in a great location. I was visiting Shanghai (and China) for the first time and Jacob was kind enough to take me on a short walking tour of his very pleasant neighborhood. The apartment is on a quiet tree-lined street in the French Coincession, one of the city's nicest districts. You are a three-minute walk from a major subway line and minutes away from many good restaurants, cafes, clubs, and boutiques. But the best part of all is the balcony, where I spent many pleasurable hours sipping coffee and wine while watching Shanghai pass by below me. Jacob is very knowlegdeable about Chinese culture and history, so if you get a chance to talk to him you will learn a lot. Highly recommended!
---
We frequently visit Shanghai and most of the time we stay at hotels. This was our first time using Airbnb. It's a good experience which we plan on repeating. Jacob's place is ideally located, it's a stones throws from some of the best restaurants in the City. Jacob was flexible and accommodating. He kept in contact through SMS making communications very easy. When we arrived in Shanghai we received a welcome text and while traveling on Metro Line 1 towards the French Concession he adjusted our check in schedule an hour earlier. That allowed us to shed our luggage and head off for dinner.
---
My brother and I have been living in Shanghai for +7 years between the two of us, both are fluent in Chinese, and love it very much. I myself have written several academic articles about the old housing in Shanghai- it's really a passion of mine.

As such, the apartments we have are all traditional, old buildings dating from the prewar period. Here, you'll be able to have a traditional Shanghai life (the contradiction of tradition in China's least traditional city...) Be warned, (or excited), these flats are not like american suburban homes; these are old communities, which you can join during your stay ;) It is a must be to courteous to the neighbors and have an attitude of respect. If you do- you will have a wonderful time, as the many positive reviews of my apartments suggests. I love to meet cool people on airbnb- I have met playwrights, film directors, artists, businessmen, journalists- all kinds, and from all around the world. I would love to share with you the experience of Shanghai- the flavors, the colors, the small restaurants you won't find yourself...

I am pretty low key, and as a guest, I tend to just use an apartment as a base for exploring (so far in Mexico, Paris, and San Francisco). As a host, I will be available, still staying in the city, and try to make your visit light and easy, leaving coffee and fruit for you, and always being available to help with any language/culture issues that you might encounter in Shanghai.

语言:
English、Español、Français、中文