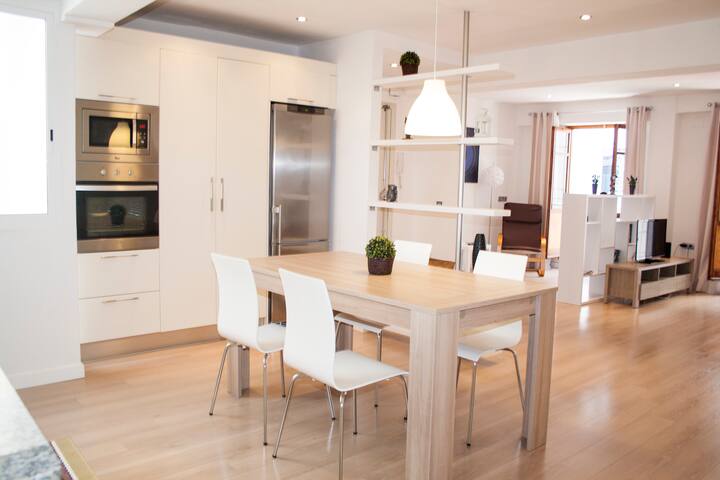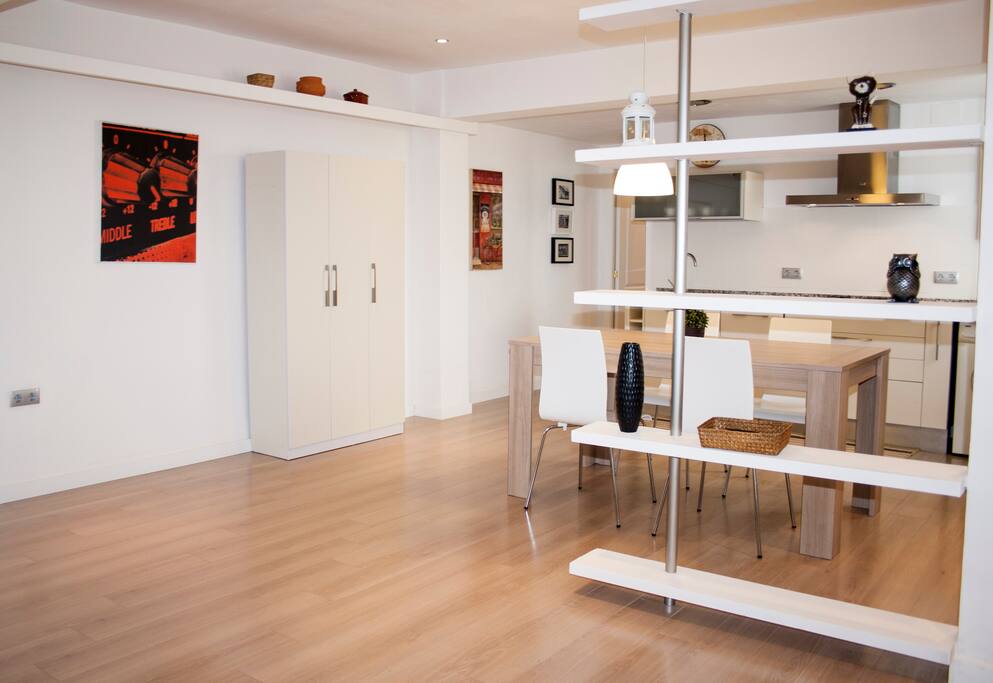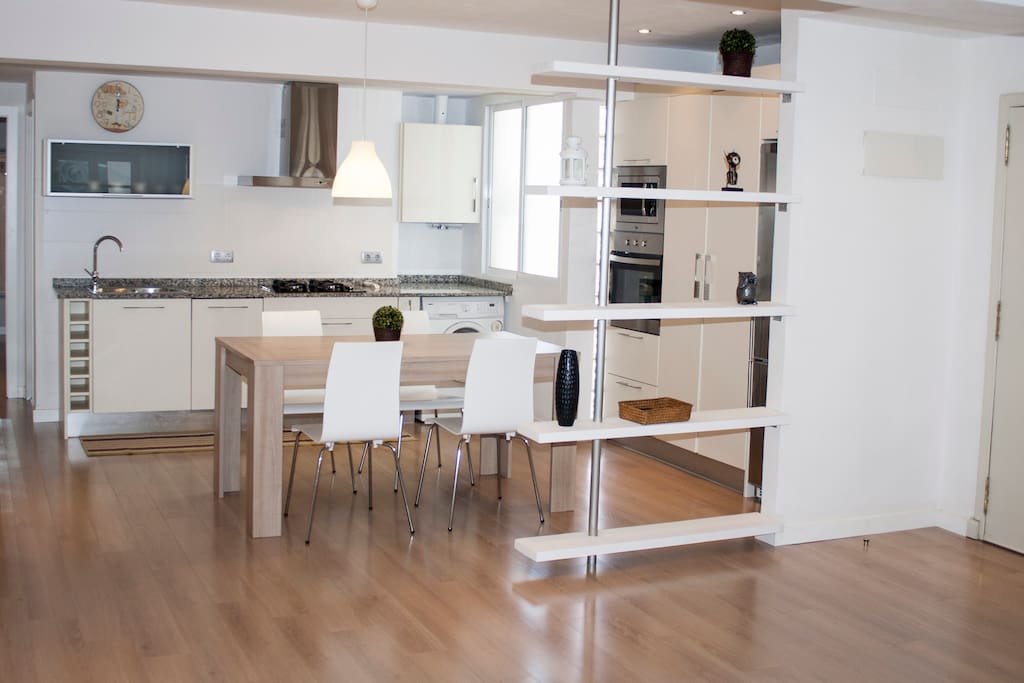 Nice decorated, very confortable, very sunny and full equipped one bedroom flat in Valencia. Internet wifi connection at flat. Full equipped kitchen, fridge and freezer, washing machine. Air conditioning. All the furniture and equipment are new.
房源细节
Nice decorated, very confortable, very sunny and full equipped one bedroom flat in Valencia. Internet wifi connection at flat. Full equipped kitchen, fridge and freezer, washing machine. Air conditioning. All the furniture and equipment are new. Very good location, metro station 5 minutes walking, Amistad, all bus lines have stops 100 m around the building. Big market 3 minutes walking. Bars, restaurants, shops and lively ambient in the surrondings
The price includes linen and towels (self-catering), utilities, final cleaning and VAT. Free internet connection. It is not included additional cleanings or linen changes but we can do it under request, please do ask for the fees of other services you can need.
More details about the flat
The flat has a exceptinal natural lighting. It is oriented towards the South-East with a great sun in the morning and sunny the rest of the day.
There is a washing machine in the flat (not dryer) and there are clothes lines for hanging the clothes out, upstairs on the building deck but there is also a launderette near the flat. You will find also a clothes horse in the flat.
In the kitchen you will find an iron and an ironig board, a hoover and some cleaning products.
In the living -room there is a big sofa bed and a sunny balcony.
About the air conditioning: there is a panel-split in the bedroom and another one in the sitting-dining room. The two splits are independent, you can turn on-off each one separately and select diferent temperature in each room.
There are linen and towels for two people, there is also a thin bedspread on the bed (you can see it in the picture). In winter-autumn you will find duvets on the beds. In summer we use to leave also two cotton blanquets in the wardrobe. If you have problems with your pillow or need an extra pillow, or you feel cold in bed, please ask us for that you need.
More details about the building, neighborhood and location .
The building has 5 floors without lift. the apartment is in the second floor.
The neighbors are very quite and respectfuly.
About me.
I am a person who working for you I wish you fell as at home but I do not offer luxury flats. My flat have been thought for cosmopolitan people, who love live in their way, mix with the people and learn about our culture. I specially offer you in my flat simplicity, comfort and cleanlines and also my personal touch to decoration and hospitality. I hope you enjoy our city and you stay with us.
Security Deposit: 200€
-Reservations
Once the availability of the apartment is confirmed and after reading this document, you are ready to make the reservation.
When a customer makes the reservation, it is understood that the customer accepts the following terms as outlined below.
For any other questions or comments that you may have, please do not hesitate to contact us. We will be only too glad to help.
On your arrival you will be given this document with your personal data and the terms of your reservation to be signed, and you will also be given a copy of it at that time. If you wish to have an invoice, please ask us for it when you make the reservation and add your invoicing data. In that way we will be able to post you the invoice when Airbnb make the payment for your stay .
-Cleaning.
The apartment will be handed over in perfectly clean and tidy condition. We kindly ask you to treat the apartment with the greatest possible care. Should you require additional cleaning, we can provide this under request, weekly cleaning or by hours, please ask for a budget of this service that is not include in price (only the final cleaning is included). This flat is a self-catering one.
Although the final cleaning is included in the price, if on check-out, the apartment does not comply with the minimum cleaning requirements, 50 € will be deducted from the breakage deposit. The minimum cleaning requirements are considered to be: not to leave any of rubbish in the bin or in the flat, to leave the fridge empty (without any of food) and any washing up to be done in the sink. To leave blankets, bedspreads or duvets and used sheets and towels in the cloth baskets or folded on the beds (please, not on the floor) and leave things and furniture in a tidy condition.
-Hours of Arrival and Departure of the apartment.
The arrival-departure time is flexible: you can check in-out between 9:00 h and 22:00 h. However between 22:00 h and 9:00 h, a 20€ surcharge will be applied.
The last day the customers can leave the flat as they wish, leaving the keys inside and shuting the door. The last day, customers can use the flat until 21:00 h
Please note however, if another visitor is arriving at the flat the same day of your departure, check-out must be before 12:00 h.
- Complaints
Should there be any problem during your stay, please contact us so that we can immediately proceed to rectify it. Please be aware that complaints will be not be considered at the time of your departure.
You can be assured in the unlikely event of a problem, the owner will put the maximum effort into resolving it as soon as possible with the minimum inconvenience to the customers.
-The following is forbidden during occupancy
•Introduce furnishings into the apartment or perform repairs or alterations.
•Exceed the maximum capacity of occupants as stated for the apartment.
• Sub-let the apartment or use it for purposes other than those for which it was contracted.
•Introduce flammable or explosive materials into the building or any other materials which could cause damage or disturbance to neighbours.
•Indulge in any activity which causes a hygiene or a public nuisance or disturbs other users of the building. Noise is forbidden after 22.00h inside the apartment and also on the staircase.
•Introduce animals into the building when it has been expressly forbidden to do so by the owner.
•Any breach of the above rules may result in the owner taking whatever necessary corrective action.
Guests not respecting these points will be immediately asked to leave the property with no refund of the rental payment and deposit. We thank you for your understanding.
-Loss of reservation and deposit.
The reservation of the apartment will be cancelled with the loss of the deposit if it is not occupied within a period of 48 hours from the stipulated day.
Only if the customer confirms his arrival in this period and occupies the property before the daily rate for the accommodation exceeds the deposit, will the reservation be maintained.
-Additional rules.
•Normal use of electricity, gas and water is included in the price. Please, help us to control the utilities. Remind to switch off the lights, heating or air conditionig each time you leave or when you are not at home.
•All the keys provided must be returned at check-out. It's absolutely forbidden to copy the keys. If the customer loses, breaks or damages them, 50 € must be paid for each set
We stayed in this apartment for 4 weeks as we settled our son to live in Valencia for a year as a grad student at Berklee School of Music. Our experience was amazing and staying in Alejandro's apartment made us feel very at home. Alejandro was a great host. He was attentive to our needs and was available anytime we needed him. He spoke fluent English so communication was easy. The apartment is very cozy, clean, and spacious. It met all of our expectations and needs. The location was close and convenient to everywhere in Valencia. We recommend this apartment and give it 4 stars.
---
I spent two months at Alejandro's nice flat while in Valencia for work and had a great stay there. The flat looks much better in reality than it looks from the pictures on the web, it is really comfortable, the furniture is new and has everything you need. I even survived 'las Fallas' and managed to sleep well as the bedroom is on the back on the flat, while the street was very busy and noisy - the local falla mounted a stand there. The flat is conveniently located - just 20 minutes on foot from the city centre - and the barrio offers whatever you need in terms of daily shopping. Alejandro and his family are really very hospitable: as I drove to Valencia, his father parked his car just on the street below the flat and moved his car when I arrived to allow me to park close to the flat. Thanks Alejandro! Highly recommended, also on shorter stays
---
Me and my girlfriend stayed in Valencia for four weeks. This apartment was our first choice and we booked well in advance and received 50% off the booking fee (I think it was 30 days minimum to get it). Alejandro gave us a warm welcome and had excellent recommendations and insider tips, such as trying the typical Valencian Horchata (almond milk) in combination with Fartóns (sweet pastry). He also recommended a few places to eat and was a great and friendly host. He was always available for requests and any questions we had. He usually answered within minutes ((SENSITIVE CONTENTS HIDDEN), of course). The apartment is located in an authentic Valencian neighbourhood with only few tourists around. You can easily reach the beach (4 km) and the center (2 km within walking distance). Bus stops are just around the corner. However, we highly recommend you rent bicycles for the time being as you can easily navigate through the city on a multitude of cycle paths. We only paid 75€ per person for one full month (DOYOUBIKE). Moreover, the Turia park where we went several times for some sports and sightseeing, is only a few minutes away. Be sure to check out the "City of Arts and Sciences" which is just amazing. A large Mercadona was only two minutes away which has been very convenient for us because we used the kitchen quite a lot (and you will need lots of water). It is fully equipped with a dishwasher, microwave, oven and washing machine and has plenty of room for preparing larger meals. The living room is nicely decorated and we often relaxed on the sofa or watched Spanish TV. There is even a separated area with a desk (besides the large kitchen table) for doing work on the laptop, writing, etc. You can't easily see this in the pictures, but we really appreciated it as my girlfriend spent a lot of afternoons writing on her paper while I used the kitchen table for some programming. There are two large doors which lead to the balcony which has the typical size for Spanish balconies. We used it mainly for drying the laundry because you can barely put a chair on it. Also the traffic noise might keep you from using it much. This did not really bother us much though. The bathroom is nice and spacious even for two. Alejandro brought some extra towels after the first week which we really needed because of our long stay. This leads us to the sleeping room which is pointing towards the courtyard and therefore is very quiet. There is a huge closet which even my girlfriend could easily stash her clothes in. Due to the built in air condition, we always had a decent temperature even at hotter nights. You can find another air condition in the living room. We highly recommend this apartment because of its location and size. It is well suited to explore the different parts of Valencia and the large kitchen...
---
I stayed at Alejandro's place for 4 weeks and it was the perfect location for my stay in Valencia. It was a mix of work and holiday so I spent plenty of time in the apartment whilst working and I couldn't have picked a better place - it is bright, comfortable and quiet as well as being right by a choice of supermarkets, cafes and bakeries. It is only a 5 minute walk from Turia Gardens which is one of the many highlights of Valencia, and about a 7 minute walk from a metro station where you can take a train to the beach or into more central areas of the city. Alejandro is friendly and so accommodating, the apartment has everything and is beautifully furnished. If you're planning on going to Valencia I fully recommend this place - I'll certainly be back!
---
Building engineer. I am from Valencia. I would be glad to welcome you to this apartment, if you have questions or need further information don't hesitate to contact me.