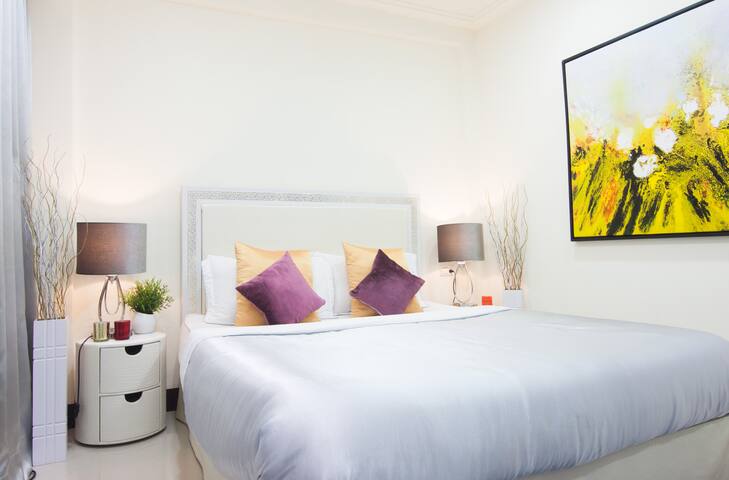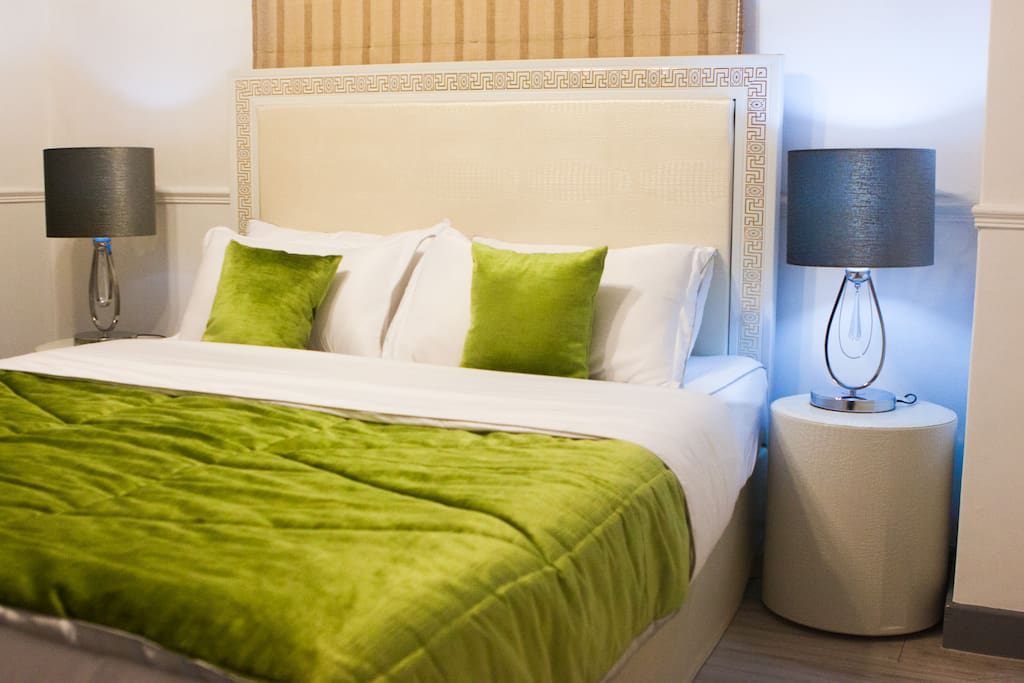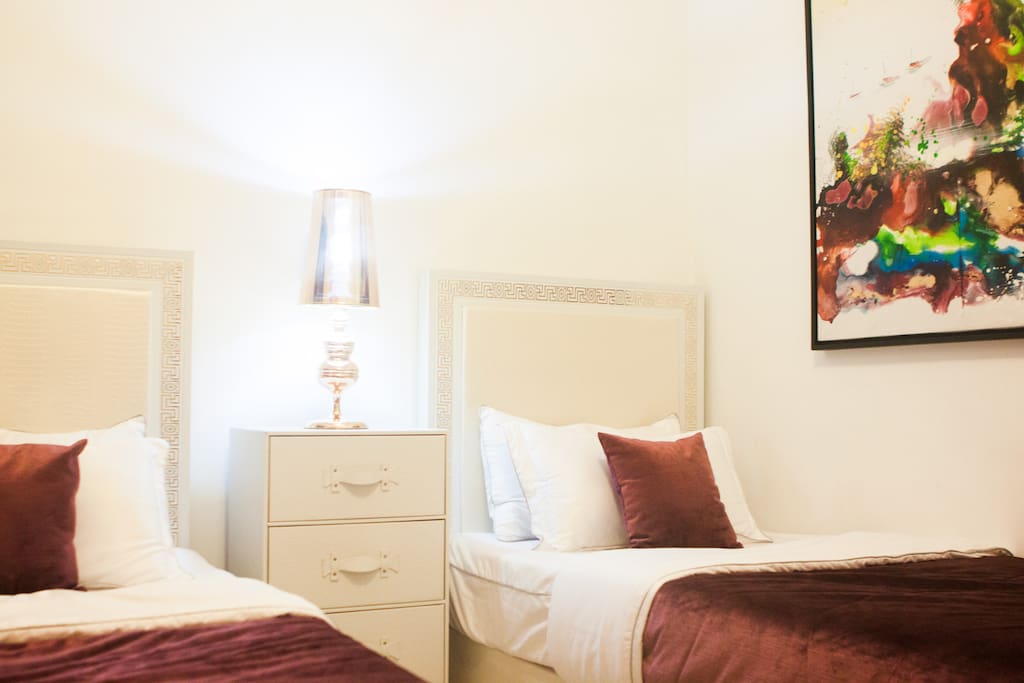 关于此房源
月租通华夜市和地铁步行1分钟!
设备齐全的厨房! 4间卧室3bathrooms!
2张双人床+ 2张床+ 4张单人床
完美的家庭团聚或朋友退房离开!
1800平方英尺!
---
---
---
---
---
---
没有党
没有访客(朋友,妓女,你在酒吧或俱乐部见面的随机人物)。
没药
没有非法的物质。
没有非法活动。
22:00后安静。
*不遵守规则导致立即取消而不退款。
---
严格
旅程开始前的7天之前取消预订可以获得50%的退款。如果在旅程开始前7天内取消预订,该预订将不可退款。
---
---
我們訂了4日3夜, 我們一到達機場已經安排好車接送!~ 房間是乾淨簡約的,有空調有暖氣等~設備算齊全! 環境寧靜,是休息輕鬆好地方。 不過,我們晚上去了喝酒,有一個回來吐了在床, 還有給樓上的鄰居投訴。。。 給了他們一大麻煩~~ 他很有心服務我們的需要,還有事後的工作。 謝謝!!
---
A great hosue in a fantastic area! The hosue was exactly as described as pictures. Megan was really kind and helpful. Her hosue has 4+1 bedrooms, 3 bathrooms and showers were great and immaculately clean - Apple TV and PS4 are perfect! I have nothing but positive things to say about this place. 10 of us love the fact that the hosue is just located a few blocks away from Tong Hua night market and nearest Metro station is just 1 mins away. It was spacious, well equipped of local style, AC is function well, kitchen is nice, quiet for sleep, wifi is good and bed is comfortable. The location is super central near Taipei 101 and everything you need is right at your doorstep. Also, the rate is very reasonable and nice compare the expensive hotel in this area. We felt right at home! One thing is for sure, we will be back!! Thank you for host us Megan!
It was a pleasure to welcome a lovely and a nice guest like Luo. He is very organized, friendly and kept the house clean. It is such an extreme feeling of happiness hearing those compliments from adorable guest like you. Me and my team always want to provide our guest needs the best way we can and it's good to hear Luo enjoyed their stay in my Big House. His group are very nice and excellent guests. They were easy to communicate before and during their stay and they looked after my house extremely well. I are looking forward to have Luo again as our guest. I would highly recommend them to other hosts and would love to have them anytime. Again, thank you for trusting us and best regards! Megan
---
I'm just telling only true things. the location is good and towel& linen were clean. and the manager was kind. BUT IT WAS OVERPRICED. House is quite small and old. It's just around 20 square meter per floor and stairs are really high and narrow to move luggages. No enough space to put luggage down on the floor. coz lots of beds and useless furnitures(for photogenic) are in the room. No closet in every room. guest must use their luggage to closet. No windows to air out and see out side. just windows without any function. So whole house is like a basement. We can see cockroaches and dust every nook and corner. Some of beds sagged to one side. After taking shower, drain was blocked at 3rd floor's bath. 1 toilet is in first floor and 2 bathrooms are in 2,3 floor. so actually 2bath amd 1toilet. And 2 rooms are in 2,3 floor and rooftop room in not room. Just rooftop floor and it's a storage. To conclude, 4 rooms, 2bath, 1 toilet and rooftop floor that is used for storage. We stayed 7adults , 3 kids and 2 babies. If ur group is under 8 adult people, this house will be o.k. otherwise, hotel will be much much better. coz host count people who is really small baby. And guest must becareful about all furniture that is too old and weak. when my company moved to room, she broke unfixed standing mirror that standed at small corridor and the manager of house asked to pay for cash. Fortunately our 5kids were o.k in that accident. If you are in same case, don't pay for cash. It goes against airbnb's rules. we could feel commercial spirit of host. If you really want to experience about taiwanese culture, this house is not good to you. If guest want to know more details, send me message. 위치는 좋지만 들어서는순간 너무너무 좁고 낡아서 여행망쳤다싶은집이예요. 한층에 6평정도 되는공간에 호스트가 언급한 모든시설이 들어가있으니 정말 사람한명 다닐정도의 통로만 나오는집이예요. 계단오르내리다 사고안난게 천만다행이지만 아이들동반하는 게스트는 절대 가지마세요. 위험해요. 저집의 사진들은 속인건 없지만 정말 드라마틱하게 잘찍었더라구요. 사진발용으로 쓸데없는가구는 너무 많으면서, 방4개에 옷장하나없고 너무좁은방에 침대는 많이도 넣어놔서 남는공간에 트렁크놓고나면 다닐공간이없어 침대뛰어넘고 다녀야합니다. 저런작은집에 14명까지 게스트를 받는다는걸 에어비앤비는 검증조차 한건지 의문이네요. 좁은방에 끼워맞추느라 침대사이즈를 적은걸 넣어서 일부일행은 잠을 제대로 자지도못했고 옥탑방이있으니 방이 5개라했지만 옥탑방이 아닌 그냥 계단위층에 창고같이 쓰는공간을 방이라고합니다. 에어컨없어서 지낼수없는곳이죠.... 적은규모의 그룹에 시내관광이 목적이라면 몰라도 그게아니면 절대 비추입니다. 난민체험 수준이예요.
Dear Seungyeon, I find it surprising to read that a guest complains as you, that you be charged by broken item of Airbnb and out of mind which is indeed scare :-( Seungyeon broken my mirror during her stay and we show her receipt but she does not apologize at all and do not want to pay any penny for it even though Airbnb manager contact her several times and she was very unhappy and she did show many crazy behavior during her stay and after. Please note that you only ask for 3 bedroom due to your limit budget but after you are asking 5bedroom which we open it for you for FREE but then you still completed that 5BD is not enough which is very strange. If you want to rent an affordable private big house in the very space limited country you might find it outside the city - but never in the very heart of one of the busiest cities of the world. It will be unreasonable that you keep compare the condition of Korea and Taiwan, the rate of what you paid is only enough for half of your group stay 1 night in this area in hotel. My house is a popular Taiwanese style building and we are a normal hosts offer you general local apartment but not executives of an Hotel who asks for high rates for a small room for your group. Each stair in Taiwan is as this even though in hotel it will be no different as this is the general standard here. Please consider that climate in Taiwan are famous for humid which that by not tied garbage well will easily attract cockroaches for sure (this is not Korea and no snow here!) Also, every room has window which is function well and the size of entire house is more than 150 sq meters, do not even mentioned the furniture just purchase for 2 months ago. We will much appreciate your complete understanding of Taiwanese culture and it is a bit absurd to read what you wrote if you do not want to responsible of your personal behavior of broken the item in my house, do not follow the house rules and also took my private goods in the storage room without permission. Of course if you prefer the move luggage service as hotel - I will advise Andy to help with the luggage. Thanks and best regards!
---
Super convenient location. Detailed instructions. All eight of us thought it was a great experience!
Thank you for the wonderful review Amy, I am glad that you and your friends enjoyed your stay in our superb location and spacious BIG PRIVATE HOUSE. It is our intention to answer all your questions and attend your needs the best way we can. Looking forward to have such lovely guests like you hopefully in the near future. Please keep us in mind and keep in touch if theres anything we can help you with :-))
---
学生12人の台湾旅行に利用しました。シャワーが2つしかないためお風呂に入るのに時間がかかりましたが、立地も景色も価格も最高の物件でした。特に部屋は非常に清潔で、12人でも広々泊まれました。大人数の宿泊にとてもおすすめな物件です。最寄り駅が近く、最も使うメインの路線で電車で移動するにはとてもよかったです。また近くに24時間空いているスーパーがあって、お土産も買えました。また鍵もパネルなので、大人数でも好きなときに出かけられました。帰りは空港まで車を手配してくださり、助かりました。
---