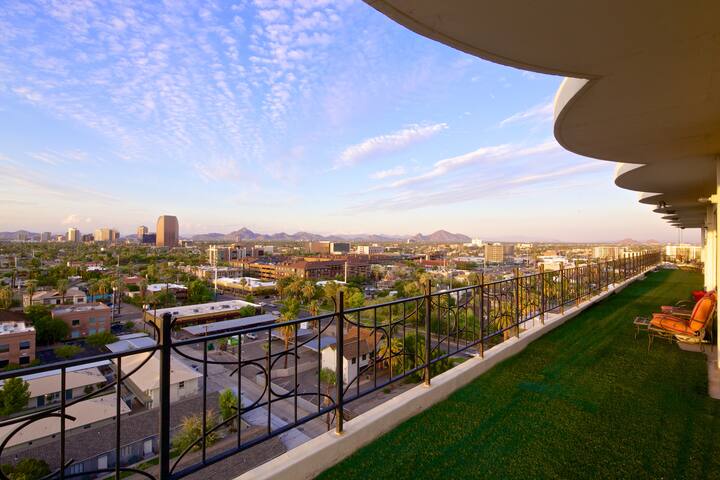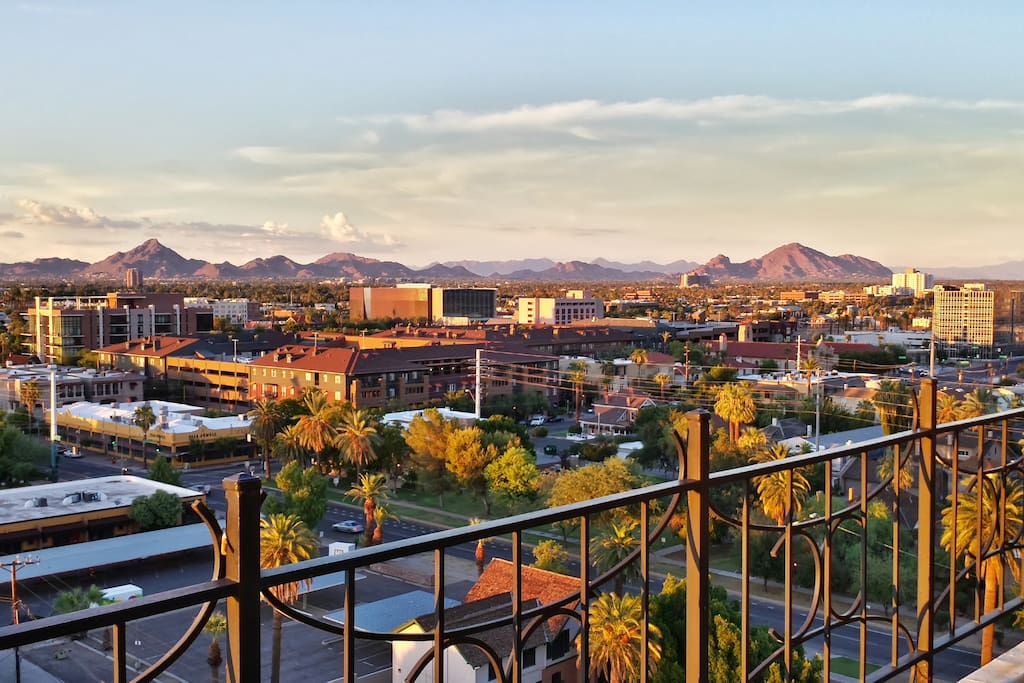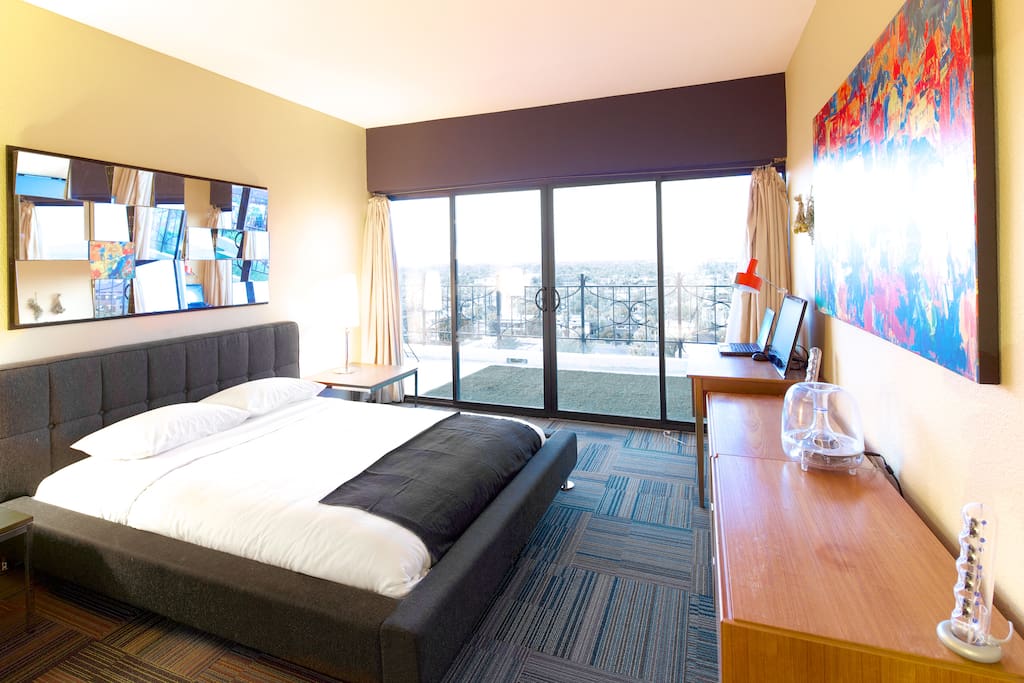 房源细节
DETAILS
Experience what it's like to live the penthouse life - opportunities like this don't come up very often! Plus, this penthouse has one of the largest balconies in the United States! This beautiful penthouse is located on the top floor of a downtown condominium building. Fully furnished and ready for your visit, the penthouse includes the following amenities:
* 800 square foot (55 m2) balcony wraps around two sides of the building for 270 degree views of downtown/midtown skylines and surrounding mountain ranges.
* Balcony is the perfect place to sunbathe or to watch the sunrise, sunset, moonrise, and lights of the city.
* 3rd floor swimming pool and fitness room are a great place to spend the afternoon.
* Computer, monitor, printer, speakers
* Modern Glass Fireplace
* 55-inch LED 3D Television w/Hulu+, Netflix, Amazon, Vudu, Cable TV with DVR, (SENSITIVE CONTENTS HIDDEN) Chromecast, etc.
* Billiards Room with Olhausen Tournament Series table.
* Living Room - Incredible Views!
* Dining Area - Incredible Views!
* Gourmet Kitchen - with Gaggenau double ovens and Dacor warming drawer, Bosch dishwasher, refrigerator, Gaggia super-automatic espresso machine, Keurig coffee machine, and Nespresso machine, KitchenAid mixer, Zojirushi rice cooker, Zojirushi bread baker, and seating area for four people.
* 2 Bedrooms - Amazing Views!
* One bedroom has a King size bed and the other has a Queen Size Bed - Same mattress as Ritz Carlton Hotels
* 2 Bathrooms - one with walk-in shower, another with jetted jacuzzi tub.
POOL/FITNESS FACILITY
Fully equipped large fitness facility. 3rd floor pool that overlooks palm trees and the downtown skyline - one of the most unique pools in Arizona.
WELCOME
I own the entire penthouse floor of this building, and you'll definitely enjoy being a guest here - it doesn't get much better than this.
LOCATION
5-10 minute walk from Phoenix Convention Center. Great cafes/restaurants/bars/pubs, museums/galleries, parks, shopping, and a 24-screen movie theater all within walking distance.
TRANSPORTATION
Walking distance to two Metro Rail stations, just $2 per ride, or $4 for a full day transit pass. The train runs until after midnight Sunday-Thursday and about 3am on Friday/Saturday nights, and directly serves Uptown/Midtown/Downtown/Phoenix Sky Harbor Airport/Tempe/Mesa.
SAFETY
This building is extremely secure, with three controlled access points as well as cameras covering every movement from the moment you park your vehicle to the moment you arrive at the front door of the Penthouse... of course there are no cameras inside the Penthouse, but you will feel very safe and secure during your stay!
SPECIAL NOTES
To comply with my HOA's CC&Rs, you will sign a 30-day lease to stay, but it can be canceled at any time.
Dogs are allowed, but must be potty trained and approved prior to your stay. Please respect our neighbors, this is a solid concrete building but no loud parties. If you need anything, I am always close by!
Ben coordinated with us very well. We were both traveling on business and through email, text and phone we aligned our collective needs. The penthouse itself was great. Clean (important), keyless entry that he allowed us to program (awesome) and a parking spot to boot in the shade (very important in Phoenix spring). When we had a need he addressed it.
---
This is an awesome place with amazing views. Really enjoyed the location because its literally in Downtown Phoenix. Super convenient to the freeway and train stations. Having all of this made the experience nothing like a hotel and Ben was a great host. He was there if needed but didn't intrude in any way. Thank you Ben!
---
Ben's penthouse was amazing! If you don't use this space while your in Phoenix you're truly missing out. Sharing Ben's penthouse with him was truly a luxury, easy and convenient for me and my two traveling companions. We were in town on business and Ben made our stay unforgettable. Ben's place was nothing like a hotel experience, it was so much better than I thought it would be. His knowledge of the local cuisine and things to do were great. There was so much more that the space had to offer than was even described in airbnb.com listing. The view was spectacular and relaxing on the outdoor wrap around deck was fabulous. The pool table, pinball machine and fitness equipment were huge high points for all of us. I can't forget to mention the kitchen. We ended up cooking healthy breakfasts everyday. We hardly did any shopping because Ben was gracious enough to let us use what he had in the fridge. Oh yeah I loved the washer and dryer to...I don't want to forget that one either. Basically this was the best travel experience I've had in a long, long time. When I go back to Phoenix I'll be calling Ben again. Thanks Ben!!! -JD
---
Ben was incredibly attentive and accommodating to all our questions and needs during our stay, he is a great host. The location of the penthouse is very good if you are a sports fan with baseball and basketball arena's within walking distance. Plenty of restaurants near by that accommodate every taste. If you do need to go somewhere, like scottsdale (12-15 mins away), you can always use lyft or uber, both of which Ben has coupon codes for which give you free travel to anywhere you want. It is a great service. Ben owns the penthouse floor, so you are actually staying with him at his home, but in a completely separate and secluded part. The space is super private and very quite, its like being on another planet. The views are exactly how you see them in the pictures. Everything you need to stay in and have a great breakfast/lunch/dinner is there. Very sharp knives. Beds are super comfortable and although we didn't sleep a lot (we were out till late each of the evenings we were there) during our stay, the sleep we did get was great. The penthouse is very clean. One of the bathrooms is very nice, however the other bathroom requires some work and I would rate it at 7/10. No pool access, so something to consider, but Ben allowed access to his pool at his hotel (7 mins away), which was great. Also a great restaurant inside the hotel. Ultimately this penthouse is one of the nicer properties in Phoenix and is a place to definitely consider if you are staying a few nights. You will not regret it.
---
I am the owner of The Clarendon Hotel in Phoenix, Arizona - one of the highest rated boutique hotels in Arizona. I have put a lot of my creativity and passion for design into these living spaces, and hope that you enjoy them as much as I do. Welcome to Phoenix - you're about to experience the best of the best.... at a price point comparable to a standard hotel room at a quality property in downtown Phoenix.

Favorite Travel Destinations:
* Arizona: Sedona, Jerome, Flagstaff, Grand Canyon, Havasupai, Bisbee.
* United States: Esalen Institute in Big Sur California, San Diego, Los Angeles, San Francisco, Aspen, Yellowstone, New York, Washington DC, and of course ALASKA!!!
* World: Vanuatu, Costa Rica, Japan, Thailand, Paris, Machu Picchu, Rio de Janeiro, Istanbul.
* I still have not been to Africa and one day hope to travel from Cape Town to Cairo - all in one trip...
语言:
English、Español