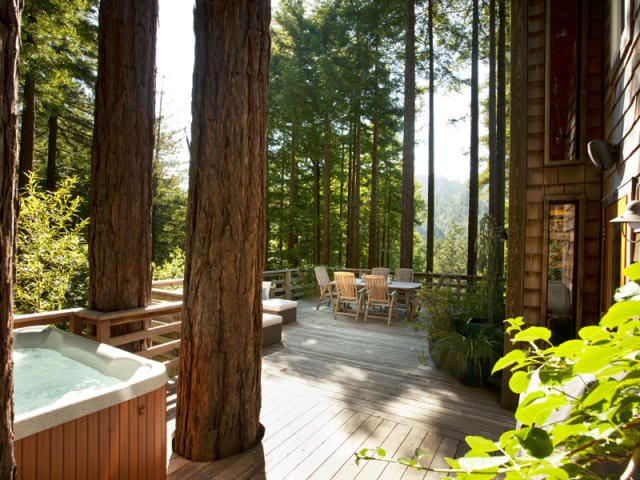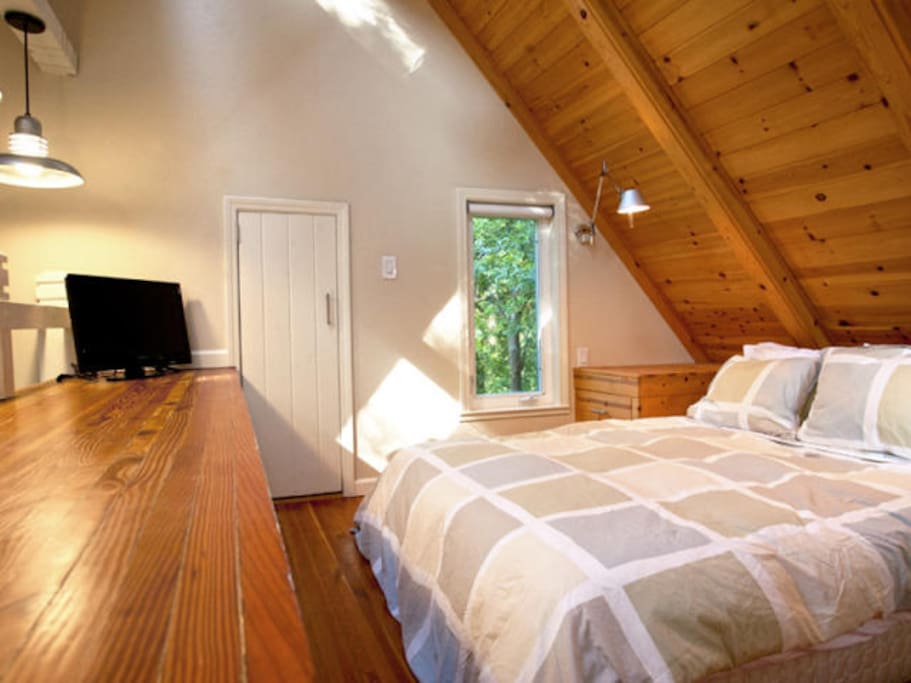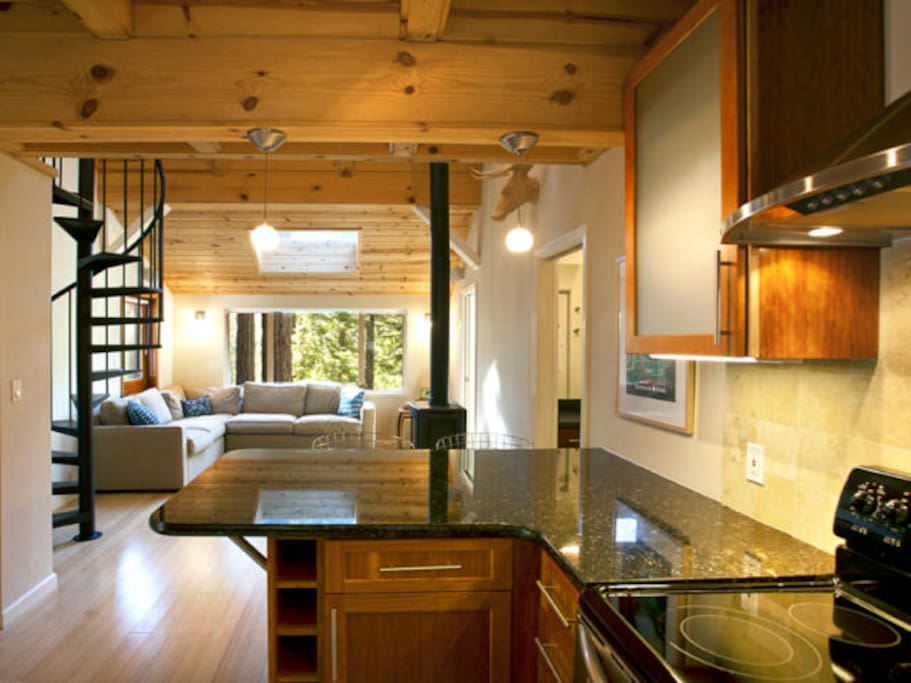 Sonoma Russian River Redwood Escape
"这是Airbnb最特别的地方之一。" - 博阿,2017年8月。 "一个最崇高的空间,位置,感觉,香气,冒险自己,利用一个最平静和最美丽的空间,更具体来说,舒适的床,枕头,景观,厨房等都是五星级"。 - 蒂姆,2015年10月
"This is one of the most special places on Airbnb." - Beau, August 2017.
"A most sublime space, location, feel, aroma. Spoil yourself and take advantage of one of the most peaceful and beautiful spaces I have been. More specifically, the comforts - beds, pillows, views, kitchen, etc. all are five star." - Tim, Oct 2015
房源
特别在电视节目"小屋狩猎"s02 e11。当代,舒适的家里有热水浴缸俯瞰索诺玛县的俄罗斯河谷现代生活在古老的红木之中,一位客人说:"我没有这样放心年"。看看为什么 "我相信罗伯特的地方是有史以来最好的航空公司。" "完美,我迫不及待要回来了。 "扬声器系统的主要功能"。 "我可能已经从你的甲板上拿了200张照片。" "我几年来一直没有这么高兴和放心。" "你在森林里有最可爱和正义的绿洲。" "感觉很幸运在这里。" "神奇" 这个真正特别可爱的家庭距离金门大桥(Golden Gate Bridge)不到90分钟(没有交通...)。这栋房子非常美观,维护良好,完全现代,建在红木森林的小山上,俯瞰着俄罗斯河谷。彻底的当代"小屋"位于加利福尼亚州蒙特里奥(Monte Rio)小镇附近(Guerneville以西约3英里)。坐在那个俯瞰美丽的俄罗斯河谷的原始美丽的热水浴缸里没有什么比这更好。这个地方非常适合一对夫妇或个人旅行者,他们只想在一个非常漂亮而特别的地方放松身心。 关于地方房子大约720平方英尺,彻底地现代化,巧妙地使用了空间。"阁楼般的"卧室位于螺旋楼梯的顶部。从床上是由天窗构成的红木树。提供亚麻布。 酒店设有一个带餐桌的大型甲板,还有一个美妙的热水浴缸。热水浴缸在您到达后需要几个小时的时间才能上床,最多可以达到104个 - 制造商不会让浴缸变得比104.热水浴缸在客人之间对待,并在星期三完全维修,所以如果您的访问包括周三热水浴缸的人可能会出现,我们可以提前让你知道什么时候期待他们。 外面还有两个沙发。优良的室内/室外立体声系统的扬声器系统真正增强了甲板上的冷却。 这个地方有一个非常现代化的厨房和电炉。甲板上有一个燃气格栅,我们试图为烤架提供足够的丙烷。你会发现通常的烹饪破坏手段。一些客人带来和离开香料和油和一些东西积累(芥末,牛至)和其他人快速(橄榄油)。为了安全起见,如果你喜欢做饭,你可以带上你所需要的,或者先检查一下你所需要的,只是替换你所用的东西。 您可以沿着山坡走到俄罗斯河上一个美丽的海滩,步行约需10-15分钟。如果您是步行者,您可以步行约一英里到蒙特里约,那里有几家餐馆,咖啡馆和酒吧(有些只在夏季开放)。距离拥有更多餐厅和酒吧(包括2间同性恋酒吧)的Guerneville距离酒店约有3英里远。在Guerneville和Monte Rio,您还可以租用独木舟或皮划艇在河上一天。沿着另一个方向,您沿着河流行驶,约十分钟到达仁纳山脉和山羊岩州立公园,这是一个壮观的公园,河流与海洋相遇。博德加湾也很近。迷人的西方,有很棒的早餐点,距离酒店很短的车程。您也可以在Northwood高尔夫球场附近,阿姆斯壮森林公园,以及50多个世界级的酿酒厂。加上徒步旅行,在这个压倒性的美丽的地方。 与许多当地的房源不同,您可以了解到我们获得了2位宾客限制的度假租赁许可证。所以没有额外的客人,不幸的是没有孩子或宠物。感谢提前了解。 请注意,只有Verizon和Sprint在此处有一个单元格信号。另请注意,"加热器"选项未选中。这个房子里没有暖气!有一个木材燃烧的火炉,如果你想要一个火,我们建议买木头。有点火提供,但如果您可能有麻烦在壁炉上开火,我们建议您携带Duraflame日志。你会很高兴你做到了 房子里充满光芒。这是设计!这是值得注意的,因为有些客人可能想要戴眼罩。 这个地方是一个很好的机会,只是冷静下来,去探索索诺马县,品尝葡萄酒 - 无论你想要什么。许多客人根本就不想离开这个地方。房子很华丽,地方壮观。你会爱上它! 客人可以使用整个房子和周边的酒店,包括热水浴缸,室外燃气烤架和扬声器系统。此外,这是一个轻松步行到俄罗斯河观光和夏季游泳。 访客期间主持人不在场。什么时候 预订完成后,我们提供访问代码以检索钥匙到房子,我们发送"欢迎信"与房屋规则和建议的活动在该地区。我们全天候通过电话和电子邮件经常提供,但尽量让客人独自一人。 "邻里"是一条5公里的乡村道路,穿过红木森林。没有很多邻居,你们看到散步的人都很友善。 "邻里"的最佳景点是风景秀丽的散步,靠近俄罗斯河和周边的活动,如远足,游泳,骑自行车,大餐厅,当然还有品酒。 包括停车场,需要一辆车。请注意,大型SUV无法在狭窄的乡村道路上行驶。 特别注意:星期五和星期六的预订必须包括星期日或星期四的第3晚,除非周四或周日已预订。最后一分钟的例外情况可能会适应。
Featured on the TV show "Tiny House Hunting," s02 e11. Contemporary, comfy home with hot tub overlooking the Russian River Valley in Sonoma County. Modern living amidst ancient redwoods. Said one guest: "I haven't been this at ease in years." See why
"I am convinced Robert's place is the best airbnb ever."
"PERFECT. I can't wait to come back."
"MAJOR PROPS for the speaker system."
"I've probably already taken 200 photos from your deck."
"I haven't been this pleased and at ease in years."
"You have the most lovely and righteous oasis in the woods."
"Feeling so lucky to be here."
"MAGICAL"
This really special and lovely home is under 90 minutes from the Golden Gate Bridge (without traffic...). Fabulous, tasteful, well-maintained, and totally modern, the house is built into a hill in the redwood forest and overlooks the Russian River Valley. The thoroughly contemporary "cabin" is located near the little town of Monte Rio, CA (about 3 miles west of Guerneville). There is nothing better than sitting in that hot tub overlooking the pristine beauty of the gorgeous russian river valley. The place is great for a couple or a solo traveler who just wants to chill out in a really beautiful and special place.
About the place. The house is about 720 sq ft and thoroughly modern with an ingenious use of space.The "loft like" bedroom is atop a spiral staircase. From the bed are redwood trees framed by skylights. Linens are provided.
There is a large deck with a table for outside meals, and there is a wonderful hot tub. The hot tub will take several hours to warm up after you arrive and will get up to 104 - the manufacturer does not let the tub get hotter than 104. The hot tub is treated between guests and fully serviced on Wednesdays so if your visit includes a Wednesday the hot tub people might show up and we can let you know ahead of time at what time to expect them.
There are two couches outside as well. The speaker system for the excellent indoor/outdoor stereo system really enhances chilling out on the deck.
The place has a very modern kitchen with an electric stove. There is a gas grill on the deck, and we try to provide enough propane for the grill. You will find the usual implements of cooking destruction. Some guests bring and leave spices and oils and some things accumulate (mustard, oregano) and others go quick (olive oil). Just to be safe, if you love to cook you can bring what you know you need, or check what's been left first and just replace what you use.
You can walk down the hill to a lovely beach on the Russian River, and the walk takes about 10-15 minutes. If you are walker, you can walk about a mile to Monte Rio where there are a few restaurants, cafes, and bars (some only open in the Summer months). Guerneville, which has more restaurants and bars (including 2 gay bars) is about 3 miles away. In Guerneville and Monte Rio you can also rent canoes or kayaks for a day on the river. In the other direction, you drive along the river and in about 10 minutes come to Jenner and Goat Rock State Park, a spectacular park where river meets ocean. Bodega Bay is quite close as well. Charming Occidental, with great breakfast spots, is a short drive. You are also near the Northwood Golf Course, Armstrong Woods Park, and easily more than 50 world class wineries. Plus hiking all over the place in this overwhelming beauty.
Unlike many local listings, you get the comfort of knowing we obtained a vacation rental permit that mandates the 2 guest limit. So no additional guests and unfortunately no children or pets either. Thanks in advance for understanding.
Note that only Verizon and Sprint have a cell signal here. Also note that the "heater" option is not checked. There is no heating in this house! There is a wood burning stove, and we recommend buying wood if you would like a fire. There is kindling provided but if you might have trouble starting a fire in a fireplace, we recommend bringing Duraflame logs with you. You'll be glad you did.
The house lets in abundant light. This is by design! This is noted because some guests may want to bring an eye mask.

This place is a great opportunity to just chill out, go explore Sonoma county, taste wines - whatever you want. Many guests don't ever even want to leave the place at all. The house is gorgeous, and the area spectacular. You'll love it!
Guests have access to the entire house and surrounding property, including the hot tub, outdoor gas grill, and speaker system. Plus it is an easy walk to the Russian River for sightseeing and summer swimming.
The hosts are not present during the visits from guests. When booking is complete, we provide an access code to retrieve keys to the house and we email a "welcome letter" with house rules and suggested activities in the area. We are available 24/7 by phone and check email frequently, but try to leave guests alone.
The "neighborhood" is a 5mph country road that winds through a redwood forest. There are not many neighbors and the folks you do see out walking are friendly. The best thing about the "neighborhood" is the scenic walks, the proximity to the Russian River and surrounding activities like hiking, swimming, biking, great restaurants, and, of course, wine tasting.
Parking is included, and a car is required. Note that a large SUV will have trouble navigating the narrow country roads.
SPECIAL NOTE: Friday and Saturday bookings must include a 3rd night, either Sunday or Thursday, unless the Thursday or Sunday is already booked. Last minute exceptions can be accommodated when possible.
房客使用权限
客人可以使用整个房子和周边的酒店,包括热水浴缸,室外燃气烤架和扬声器系统。此外,这是一个轻松步行到俄罗斯河观光和夏季游泳。
Guests have access to the entire house and surrounding property, including the hot tub, outdoor gas grill, and speaker system. Plus it is an easy walk to the Russian River for sightseeing and summer swimming.
与房客的互动
您的主持人将通过电话或电子邮件提供,但我们不会见面。客人得到一个门牌,给他们一个房屋钥匙。
Your host will be available by phone or email, however we do not meet. Guests get a gate code that gives them a house key.
其他注意事项
我们喜欢3晚以上的要求。当特定2晚的请求的预订不可用时,只能提供2晚的预订时出现的异常情况。很少是接受2晚的请求,如果这样做意味着您的请求和现有预订之间的一个空闲的夜晚。
We like requests of 3+ nights. Exceptions made when the bookends of a specific 2-night request are unavailable leaving only a 2 night booking available. Rarely is a 2 night request accepted if doing so would mean one unoccupied night between your request and an existing reservation.
---
---
---
不适合儿童(2-12岁)入住,或不能为儿童提供安全的住宿环境
Check in is after 3:00 pm and check out is by 11:00 am. Cleaners will come just after the check out so it is important to honor the check in and check out time.
When you book the house we will give you a code to a lock box to get a key. It is essential you return the key to the lock bock because if you lock yourself out we need to send a locksmith out to the house and will deduct $200 from your security deposit to pay the expense.
Some rules that are house rules are also the law and governed by the permit: quiet hours from 10pm - 9am; absolutely no children or pets; absolutely no more than two guests. Violation of any of these rules will mean you are instantly asked to leave and you forfeit the deposit. Sorry, but there is no flexibility here.
Hot tub will be off when you arrive and will need to be turned on to use. Warming up will take 3 hours, approximately.
Do not try to use the Electric heaters. They do not work.
No shoes inside.
Music. You can plug your ipod or MP3 playing devise into the receiver in the closet to listen to music in the house and outside. We ask that you play music outside only if you are outside, and to be mindful of the neighbors.
Eat and drink only what you bring with you. You may want to bring extra ice.
Feel free to uncover the outside furniture and recover when you leave. Bring cushions inside if there is a chance of rain.
In warmer, dryer months, the cushions will be left covered outside. We request that you please cover the sofas at night so they are not dampened by evening dew and fog. Plus one time some guests left garbage outside and raccoons came and stomped all over the white cushions and that was a mess we'd like to not repeat.
WiFi access info will be provided.
An outside gas grill is available and instructions are provided to renters. We cannot guarantee propane, but try to keep the tanks filled.
Electricity. When you are not using lights, like the outside lights, please turn them off.
Toilet. The house is on septic so flush only when you must. And only toilet paper in the toilet!
The garden: we are constantly in the process of improving the garden. We encourage you to enjoy the garden from the deck. If you walk into the garden, please stay on the pathways and only go down to the level with the two chairs overlooking the valley. The other pathways and stairs are not established and could easily tumble if you step on them, and you could injure yourself, and of course we don't want you to hurt yourself and cannot be held liable if you do.
The gate: When coming and going, the gate can sometimes slide into the lock position from the inside if you shut the door to heavily from the outside. The trick is to make sure the interior lock is flipped over to keep it from slipping into the lock position if you heavily close the door. You'll see what I mean when you get there.
Liability: Renting this property includes paying a $750 deposit. The deposit is not refunded in the event of any damage and any violations of these rules or in any way violating this agreement. Some examples of violations would include violating quiet hours, violating the "no kids no pets" policy, violating the garden guidelines, and violating any other rule specified. The property owners are in no way responsible or liable for any injury, lost properties, damages, theft, or "acts of God" and shall in no way be construed to have any financial or legal obligations to our guests. All guests have an express obligation to pay the property owners for damages or losses for any property caused by guests or invitees. Guests agree to indemnify and hold harmless the property owners from any loss, damage or personal injury suffered by Tenants and guests or invitees in relation to the rental of the vacation unit, including, but not limited to, power outages, weather conditions, flood, fire, theft, negligence, equipment failure. Tenant and guests shall immediately inform owner upon learning of any unsafe or hazardous condition. Requesting and being accepted to rent this property means you agree to all house rules including this liability statement.
Other Rules. No campers, trailers, RVs, tents. No early arrivals or late departures. No smoking. Commercial use is forbidden. Tenant agrees to leave premises as instructed. Accepting a booking with the property owners is construed as agreeing to each of these terms, and is construed as having read these terms.
Before you leave you will be asked to do the following:(URL HIDDEN)Strip the bed and put all linens and towels on the bathroom floor
(URL HIDDEN)Unplug coffee maker, toaster, and coffee grinder
(URL HIDDEN)Turn off all lights and fans. Make sure oven and grill are off! Do not leave anything running
(URL HIDDEN)Close all blinds
(URL HIDDEN)Make sure lights are off
(URL HIDDEN)Put trash and recycling in the garbage can on the driveway. Secure the lid.
(URL HIDDEN)Cover sofa cushions on outside furniture; if it may or has rained, bring the cushions inside
(URL HIDDEN)Turn down the hot tub to 75 degrees
• Lock everything. Return the key to the lock box and secure the lock box!
(URL HIDDEN)Let us know if you notice we are low on propane.
---
---
---
Awsome location, we loved the deck and the hot tub and watching the humming birds. Just make sure you pay attention to the details in Roberts check in letter, there is a reason he took the time to write all the little details.
---
The other glowing reviews speak for themselves! The location was wonderful - secluded enough to feel like an escape but very short drives to all of the great activities in Monte Rio and Guerneville. The place itself was beautiful inside and out. Robert gave us detailed instructions and made staying (and checking in and out) a breeze! Would recommend this to anyone who wants to travel to Russian River.
---
Robert's place is incredible! My husband and I came up for a little getaway after our wedding weekend and it could not have been better. We were able to relax outside, enjoy the hot-tub, all while surrounded by redwoods. The views were stunning and the place was so beautiful and comfortable! It was exactly what we were hoping for and Robert was amazingly communicative and helpful throughout!
---
Outgoing & enthusiastic guy who loves to travel, works hard, reads a bunch, and resists easy categorization. When not traveling I'm likely to be at some live music, eating with friends, chilling in a local park or out hiking someplace in the Bay Area. As a host, we expect the same that we give when traveling: being relaxed, being kind, leaving the place in the same condition as when it was found, and being as loud as you want when out but absolutely being quiet and respectful when home.