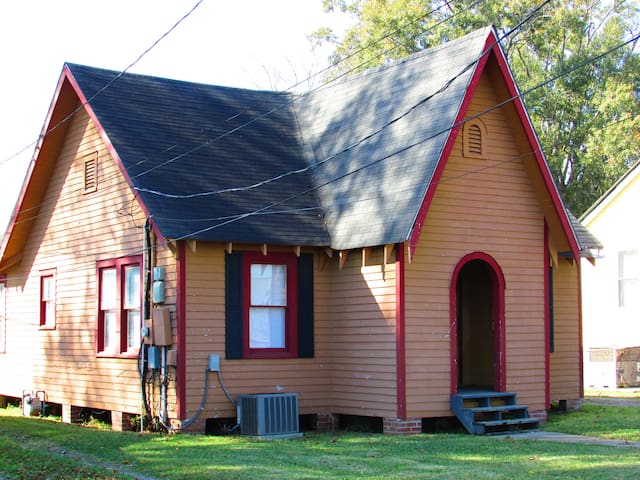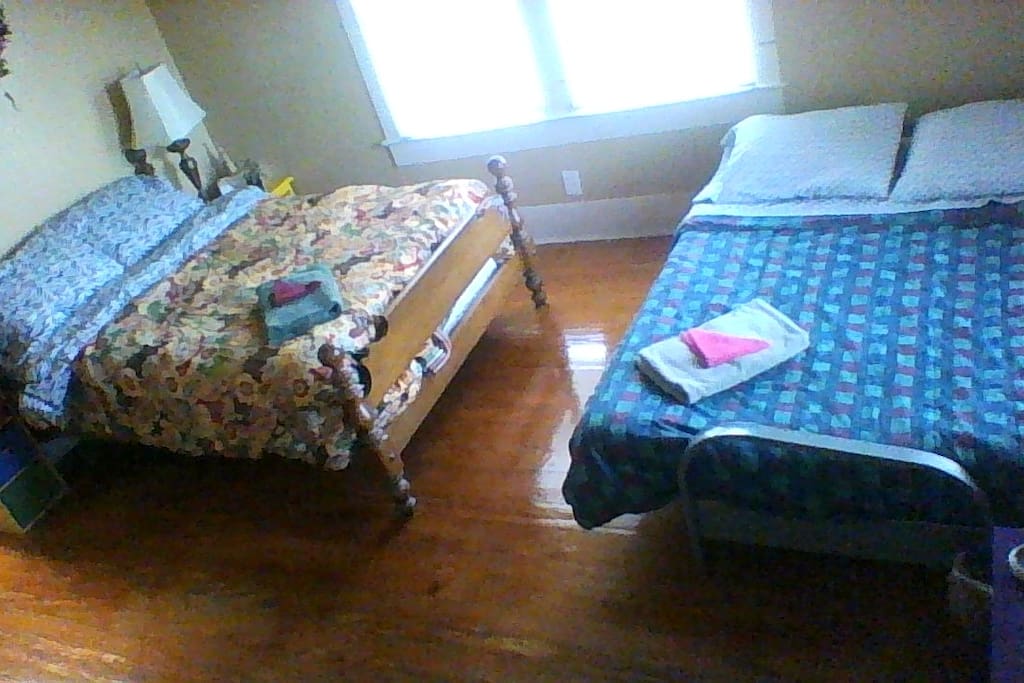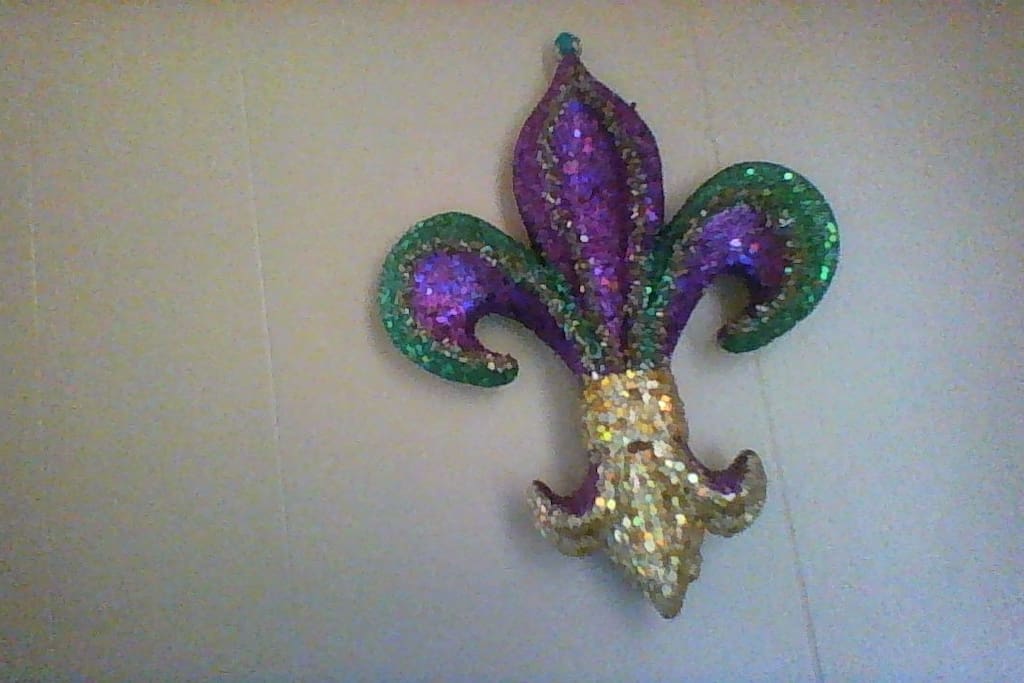 The Lafayette Downtown Hostel Cajun Fest!val Room!
Our Northern-Light Room. Perfect for artists & writers of every kind. CLOSE to everything Downtown (4 blks) AND University (8 blks). Writing Desk. Double Bed + FutonDouble. More Info: Search keywords Lafayette Downtown Hostel in the BOOK of FACE ;-)
房源
Everything's a Story. There are 100 items in your room, & each artifact has a Story. Ask !
---
---
始终通过爱彼迎进行交流
为了保护您的账号隐私和付款安全,请不要相信其它任何平台的折扣或优惠券代订,并始终在爱彼迎站内转账和交流。
了解更多
---
ONLY TWO RULES, but they are absolute and without exception :
1. Show Kindness towards all with whom you come into contact, no drama here at The Lafayette Downtown Hostel. We are a Peaceful Place of Rest.
2. Show Active Consideration towards each other, me, the property, neighbors, our neighborhood, and our fair city, state, country, world & universe ... Wash your own dishes, pick up after yourself, keep all areas you use clean & in good order, especially kitchen & bathroom. Ask.
PLUS take this into Kind Consideration as you are planning your trip here :
So I may help you have a 5-Star Experience, Please Share with me your desire(s) while Visiting My Beautiful & Exciting Cajun Culture.
How would you prefer to spend most of your Time & Money while here?
On Food? Music? Event(s)? Tourist site(s)? (which one(s))? Anything Else ?
You sharing This Information with me will help me assist you in Creating an Experience that will Echo through Time as a Lifelong Memory for You.
What question(s) do You have Now that will help you Enjoy Your Visit Here?
Want to Better Communicate With Me? Find Me on the "Book of the Face" (Did you understand that clue just now ? You must be CLEVER!) as Joe Paris. I am wearing a Straw Fedora Hat & A White Suit / Blue Shirt / Red Tie.
WHEN DO you plan to Arrive at My Family Home ( your "ETA" ) ? What Time ? And what is probably the FIRST THING you may wish to do Upon Your Arrival here ?
Some Guests want to EAT, others plan to GO OUT to hear MUSIC or ATTEND an EVENT. Others wish to VISIT a PARTICULAR TOURIST SITE. Is there SOMETHING ELSE you prefer to Explore & Discover Right Away ?
Just LET ME KNOW & It's My Pleasure To Help MAKE IT HAPPEN for You.
I am Excited to meet you & look forward to Sharing My Local Culture & Area with you ! Please Do Not Hesitate to CONTACT ME if I may Help You IN ANY WAY At ALL, either Before You Arrive or During Your Stay with Me. ( Example : if you are coming from New Orleans, AVOID traveling on Interstate 10 through Baton Rouge due to traffic and other concerns. INSTEAD, come to me by driving along Highway 90, through Houma, Morgan City, & New Iberia. I am located just a few blocks off of that highway anyway !)
Sincerely,
Joe Paris ( org )
Your Certified Resident SuperHost
At the Lafayette Downtown Hostel ( org )
A Cajun Boardinghouse ( org )
In The Cajun Travels (org ) Family
With The Stardust Rangers ( org ) Team
Helping Travelers Since 1951 To
Explore, Discover, & Share The World.
"Your Adventure is Our Passion." (c)
---
---
---
---
Joe was great - can't wait to return
Thank You YoLo ... As Airbnb Hosts yourself in New Orleans, I know you & Genevieve enjoyed Festival International here in Lafayette, and it was especially appreciated that you encouraged two of your friends to come and stay WITH YOU in your room !! We really enjoyed Them as well !! This is the biggest weekend of the year here, and you helped me fill my Family Home to capacity. Please come back & explore when you just want a day off during the week and stay as my guest. Hope you enjoyed your Sunday Brunch at Mel's, and getting acquainted with Lafayette Louisiana ... It will be a pleasure becoming allies as Hosts - hope Genevieve enjoyed those passes ... do come back when you can simply relax ... we all need a break from being Hosts ... Joe Paris Resident Host Airbnb Superhost The Lafayette Downtown Hostel
---
Joe is an outstanding host! He showed us the way around and proposed so many activities to do, based on what we like! He knows pretty much everything to know about Lafayette and so many other things. He also always has a good story about anything and also always has coffee ready ! (It is so nice to wake up and have delicious coffee ready ) He is very generous and always ready to give a hand! But most important, he made us feel like family and that his house was our home, even for a short stay. He has become a friend!
You ARE now part of my *family* , Shaz ! I will always remember you and how we celebrated New Year's Eve together as 2015 turned to 2016 ! What a pleasure to be able to use my experience living and writing for more than a Half Century in these parts, to advise you & Simon where to go to do the things you love !! Come back to your home when you can ! And one day, you may just hear a knock on *your door* , and it will be me !! 3 Love your spirit of adventure ...
---
Great location, very short walk to the bars downtown. The beds were very comfortable, keep in mind you'll be on the floor if you're out of bed space. One bathroom for the whole house. Great host, full of great stories and knowledge.
Glad you enjoyed your time here - your bed after the first two people is either a full queen air mattress (after which "Air"bnb was named) OR a single pallet - Either of which is comfy - notice that guest had good things to say about overall experience ... we were happy to have over-stuffed rooms at GUESTs behest ! We welcome them back anytime !!
---
"Explore, Discover, Share ... " is My Life Motto (ask me why)

The *MAIN* reason to stay here is that I will be Everything to You as your Resident Host. With more than 50 years ( a HALF-CENTURY ) experience WRITING professionally about this area (AND reporting on it) , i can humbly yet confidently share with you that no one appreciates, nor knows more about, Lafayette & The Acadiana Region - the Cajun Heart of Louisiana and the World - as do I.

This fact alone will save you TIME & MONEY if you stay here. I can assure that you make THE MOST of BOTH during a stay on 1,2,3 or more days. I also know PEOPLE here who can HELP you in a variety of ways. Experienced travelers need read no further. YOU will instantly know what i mean (I have many contacts in the community that can help in a variety of ways) ...

The other main reason to stay with me is a Perfect LOCATION. I am in the CENTER of Lafayette and ALL of Acadiana, convenient to everything that will make your trip the Best Experience for you & a Lifelong Memory. Just look at a map & see for yourself ...

I am choosy. This is my personal home. Not every traveler wants or gets to stay here, because I have created a Home of Joy, Peace, Rest, Harmony, Pleasure, and 1,000 stories i have to share, and many travelers just want the cheapest place.

You will be happier & build more memories here, but i understand if you must go elsewhere. But write me first at 2joeparis at Gee Mayle. I can recommend a Great Place, as i know many of this area's Hosts ... i know i can help you choose the best place if i am full or not the Best Fit for you ...

BUT IF you want an UNFORGETTABLE experience & a unique perspective from a Lifelong Writer & Storyteller, THEN I'm your man & this is Your Place. Hope to see you soon! (ALL PRICES are negotiable if you arrange to pay me in a way upon which we both agree. If you are flexible, you *will* save money) ...

"Travel is fatal to prejudice, bigotry, and narrow-mindedness, and many of our people need it sorely on these accounts. Broad, wholesome, charitable views of men and things cannot be acquired by vegetating in one little corner of the earth all one's lifetime." ~*~ Mark Twain, The Innocents Abroad/Roughing It

"YOUR Adventure is OUR Passion" (tm) - Storyteller Joe Paris

"'Beauty is truth, truth beauty, / that is all Ye know on earth, and all ye need to know." ~*~ John Keats

My Hostel has much Lived-in Beauty, as it is a FAMILY HOME - and therefore is NO Taj Mahal. This is a REAL HOME. If you expect perfection or are the kind of "white-gloved" traveler who will judge me on "Hotel" standards, then you will be happier in a hotel, probably - but then you would miss some of the 1,000 stories i will share with you.

So come be part of this Unique Hostel & spend some time with me - i have been Hosting folks for more than half of a century & will Always be a person who prefers to Share my Life as a Father, Brother, Uncle, Cousin, Friend, Neighbor, former Husband (we are, BTW, still good friends) & Active Community Member who stays engaged.

We are RELAXED, laid back, & easy going here, and although very Clean & Hygenic & even Sustainable (we save gray water for our organic garden & recycle & compost in the kitchen in a closed container), we are *not* immaculate. So keep searching if you wear White Gloves, literally OR figuratively ...

Choose to stay here if you appreciate Great VALUE rather than just low cost ... experienced travelers know the difference ... for in 20 years or 10 or 5 or 3 or even 1 year - what will matter most : Your Money or your MEMORIES ?? I kindly suggest the latter will ...

"Three things in human life are important: the first is to be kind; the second is to be kind, and the third is to be kind." ~*~ Henry James."

Come join me in a Spirit of Kind Consideration as you CREATE Lifelong Memories for YOU and your traveling companion(s) !!
语言:
English、Français