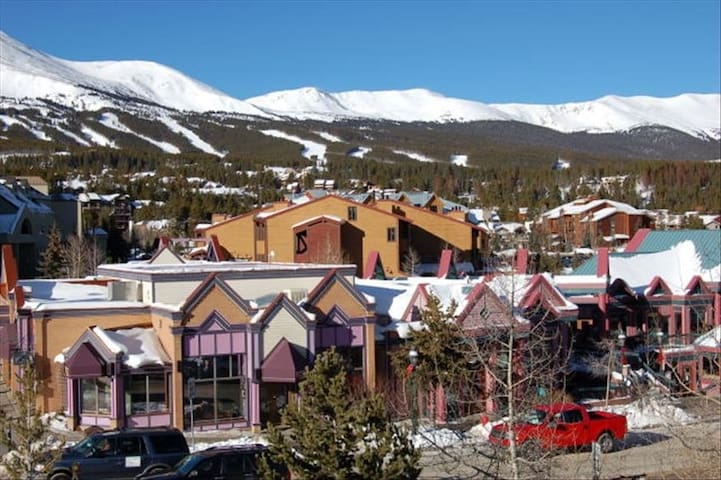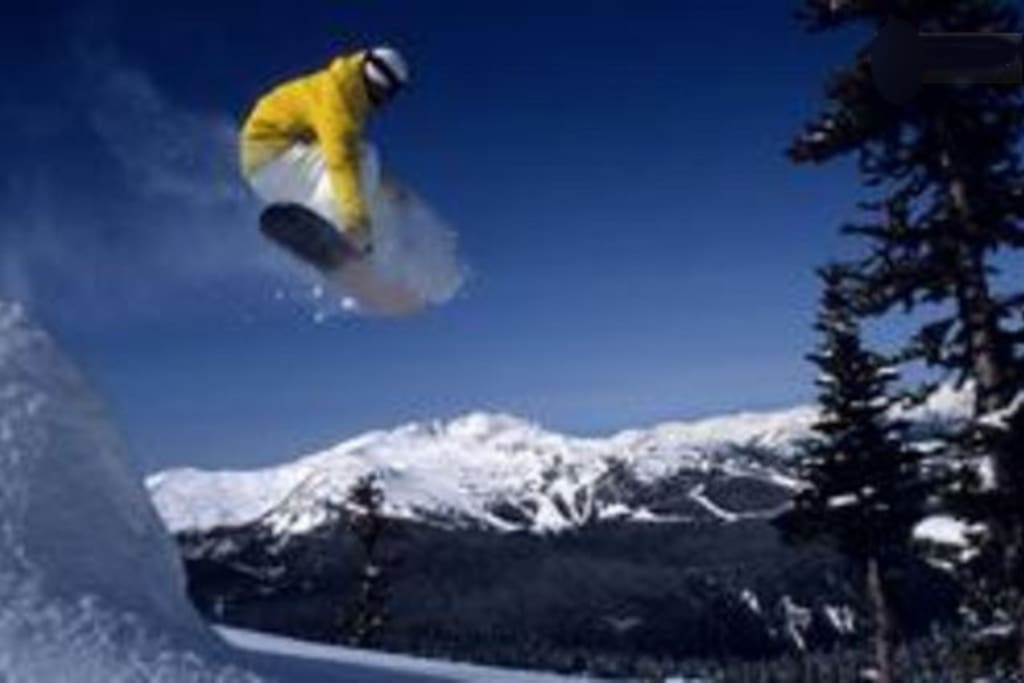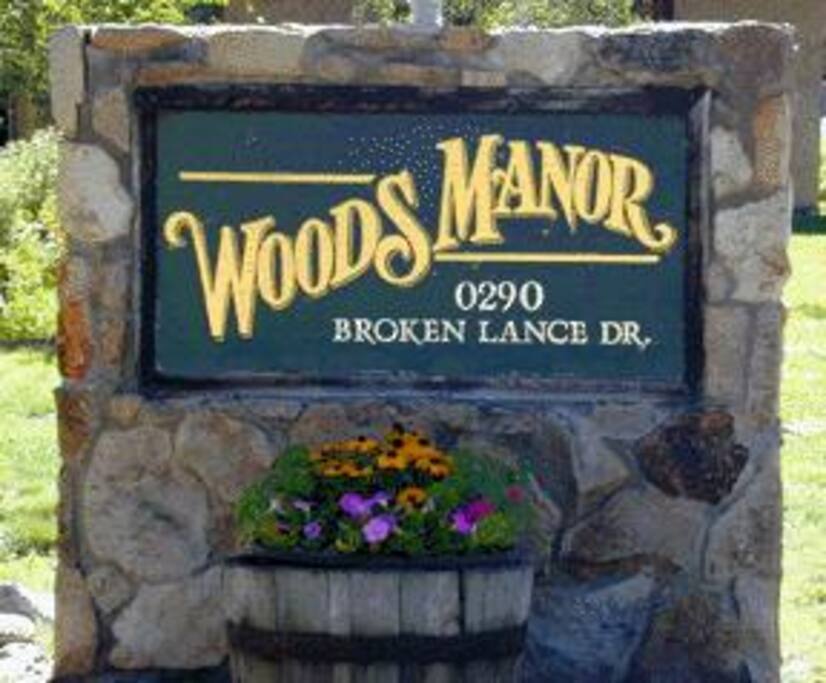 NEW YEAR'S "Woods Manor" StepsToAll
房源
Woods Manor is located a short walk south of downtown Breckenridge with easy access to the lifts, shopping, dining, and the town shuttle.

This beautifully appointed vacation home is a lovely two bedroom condo. The unit is nicely equipped with full kitchen and two baths, private patio, balcony, or deck with a spectacular mountain view, washer/dryer, romantic Jacuzzi, plus a cozy fireplace. The whole family (up to six people) will be very comfortable. It is professionally decorated and nicely equipped with everything you'll need to make your stay one you'll remember for a lifetime including all kitchenware, towels, linens, pillows, blankets, etc. All you will need to do is show up and enjoy!

prime location south of downtown Breckenridge and charming Victorian-era Main Street. Guests will find themselves tucked away in a quiet community just a short drive or walk from dozens of entertainment, shopping and dining options. This well-maintained and attractive property is also just minutes from the Quicksilver chairlift at Breckenridge Ski Resort. Guests who want to venture farther from home and explore the area have easy access to the convenient free shuttle which makes a stop near the property.

This Woods Manor vacation condominium is loaded with amenities and provides guests with everything they need for a relaxing alpine escape. Amenities include a fully equipped kitchen and a large livingarea with flat-screen TV, fireplace and comfortable furnishings.

The complex also includes a clubhouse with an indoor hot tub, dry and wet saunas, and a fitness center. Guests have access to convenient underground garage parking and will enjoy coming home to a private deck area boasting breathtaking Rocky Mountain views.
---
---
---
始终通过爱彼迎进行交流
为了保护您的账号隐私和付款安全,请不要相信其它任何平台的折扣或优惠券代订,并始终在爱彼迎站内转账和交流。
了解更多
---
COMMON AREA USE
1. The sidewalks, entrances, and all of the Limited Common Elements and General Common Elements may not
be obstructed by skis, bicycles wagons, carts, chairs, benches, tables or any other object at any time and no
such article shall be stored in such area except that bicycles may be kept in the garage bicycle racks. Skis,
poles, and snow boards shall be stored in the individual Unit Owner's ski locker located in the Building A and
B garages.
TRASH DISPOSAL
2. No Owner/Guest shall discard, or throw anything including cigarettes from their Unit's deck, balcony, entry
way windows or doors at any time. Snow may be removed by throwing it to the ground with caution.
3. Trash, refuse and bagged garbage shall be deposited in the dumpsters provided for the complex.
PARKING
4. Each Unit is authorized one parking space in the building in which such unit is located. Garage spaces in
excess of the twelve per building available for Units, and all parking lot spaces shall be available on a first
come basis.
5. Vehicles temporarily parked in the Woods Manor parking lot must not exceed 20 Ft. in length. There shall be
no occupancy of campers, trailers, motor homes; etc in the parking lot and no utility connections shall be
made from the buildings to such vehicles.
6. No Unit Owner shall store automobiles, trucks, sport utilities, ATVs, trailers, mobile homes, recreation
vehicles or other recreational equipment such as snowmobiles, boats, etc. in the building A or B garages or
parking lot, without first obtaining permission from the Board of Directors.
7. No vehicles shall be repaired or serviced (except for emergencies), rebuilt, dismantled or painted anywhere
on the property.
NOISE AND QUIET HOURS
8. No Owner or Guest shall make or permit any disturbing noises or sounds from CD/tape players, television,
radio, musical instrument, etc, that unreasonably interferes with the rights, comfort or convenience or other
Owners and Guests. All occupants shall observe "quiet hours" between 10:30 p.m. and 8 a.m. each day.
9. No noxious, destructive or offensive activity shall be carried on in any Unit or in the Common Elements or
parts thereof that causes unreasonable annoyance or nuisance to any other Owner/Guest in the complex.
Fireworks shall not be allowed anywhere on the grounds of Woods Manor.
PETS
10. No animals are permitted in the Timeshare (Interval Condominium) Units.
----------
CLUBHOUSE/SPA RULES
15. Children under the age of fourteen years are prohibited from using the spa/hot tubs without being accompanied by an adult (at least 18 years old).
16. Glassware, food, beverages and alcohol are prohibited in the spa area.
18. Any additional rules for use of the Clubhouse and spa area which are posted in the Clubhouse shall be followed. Such posted rules shall be subject to enforcement as provided in these Rules and Regulations as if they had been set forth herein.
HADAZEROUS MATERIALS
19. No flammable, combustible or explosive fluid, chemical or substance except those required for household use may be kept in any Unit or General or Limited Common Area including the garage in the Woods Manor Complex.
DECKS, WINDOWS AND EXTERIOR
20. Charcoal grills are prohibited on all decks or balconies of Woods Manor. Gas or electric grilles are permitted.
21. No sign, advertisement, notice or design/lettering/numbers shall be displayed, inscribed, painted or affixed on any part of the buildings or General or Limited Common Elements except as approved by the Board of Directors.
22. No clothesline, air conditioner, antenna, satellite dish, wiring or other mechanical or electronic devise shall be installed on the exterior of a Unit or Woods Manor Building or be allowed to protrude through walls, windows or roof of a Unit or building.
23. No conditions which are inconsistent with the design integrity or standard of appearance of the Woods Manor Condominiums shall be permitted to exist within any Condominium Unit or the decks, balconies or doors which are visible from other condominium Units or the Common Elements. Conditions include but are not limited to window treatments, drapes, shades, hangings and articles on decks, balconies and doors. If the Board of Directors notifies the owner that such inconsistent conditions exist, such conditions must be eliminated promptly.
24. Nothing shall be altered, constructed or removed form the Common Elements by any Owner/ that Guest.
COMMON AREA STORAGE
25. Nothing shall be stored in/on any part of the General Common Elements by any Owner or their Guest. Except a Unit Owner's personal possessions may be stored for up to one week in the storage unit in the Building A garage if space permits. Each item must be tagged with name, date, unit number, and contact phone number. After one week the Owner must pay a rental rate that is comparable to the storage closet rents according to the space that is being used. For longer term storage, possessions must be moved to a Woods Manor storage closet as directed by the Board or Management Company. If a storage closet is not available, the Owner's possessions must be stored in the Owner's unit or removed from Woods Manor property.
26. Designated storage areas within the building A&B may be rented on a first come basis. Rental fees are determined by the Board or Directors. If rental charges are delinquent, rental privileges will be revoked and a timeline will be set for removal of stored items.
MANAGEMENT COMPANY EMPLOYEES/VENDORS
27. Employees of the Management Company shall not be directed in their activities by the Owners/Guests, nor shall there be any attempt to assert control over the employees of the Management Company.
ILLEGAL ACTIVITY
28. No activity shall be carried on nor shall anything be kept in any Unit or in any of the General or Limited Common Elements which is in violation of any statute, rule, regulation, permit or requirement of any governmental body having jurisdiction, including Federal and State governments, or which would violate the terms of insurance coverage for the complex. Violations will be reported by the Management Company as they occur.
BUILDING SECURITY
29. For Building A and B security, all self locking entry doors shall not be obstructed from closing to locked position at all times.
ENFORCING RULES AND REGULATIONS
30. Enforcement: Owners/Guests who have been accused of a violation of the Rules and Regulations or of the Condominium Declaration will be given a written notice of such violation indicating the time, date and approximate location of the violation. A warning letter will be delivered on the first violation and subsequent violations of a similar nature will be subject to fines. Owners wishing to dispute an alleged violation must submit any documentation supporting their position to the Management Company or other designated Association representative at least seven calendar days prior to the next meeting of the Board of Directors if they wish their dispute of violation to be considered. If a hearing before the Board is desired, a written request must be submitted to the Board. Hearings will be conducted privately by the Board with the Owner cited or their representative. The decision of the Board will be communicated to the Owner by a representative of the Association, in writing, within ten (10) days following the hearing or Board Meeting at which such is considered. The Board of Directors shall consider all evidence regarding the violation and determine whether there has been a violation of the Rules and Regulations, and/or Condominium Declaration.
31. Penalties: In addition to any other right or remedy available to the Association, the Board of Directors may assess the following fines for violation of any of the governing documents:
A. First Violation Warning
B. Second Violation $25.00
C. Third Violation $50.00
D. Fourth Violation $100.00
E. Subsequent Violations $200.00
All fines shall be assessments, as provided in the Condominium Declaration of Woods Manor, against the Unit Owner of the Unit responsible for the violation.
32. Damages: In addition to any penalty which may be imposed, Owners shall pay the total actual cost of General Common Element repairs, replacement and/or cleaning due to damage, vandalism or theft committed by Owners, Guests, Renters or Lessees (Tenants). Vandalism is defined as any malicious destruction, damage, waste or defacement of Woods Manor property throughout the interior, exterior and/or grounds of the complex. Timeshare owners and renters shall provide credit card (Visa, MasterCard, American Express or Discover) information to the management company as the means of paying for any penalties stated in #31.
These Rules and Regulations adopted by the Board of Directors of Woods Manor April 29, 2006 shall be in effect until amended by the Board of Directors of Woods Manor Condominiums and shall be binding on all Owners and their Guests including Timeshare and Rental Occupants. All Owners shall, at all times, obey such Rules and Regulations and shall use their best efforts to see that they are observed by their Guests, Lessees and Invitees.
LATE FEES
33. Late Fees: All penalty, damage (see 32 above) payments, monthly HOA dues payments, and special assessment payments must be received by the Management Company within thirty days of the date stated on the notification letter sent to the unit Owner to avoid a $25.00 late fee. An additional $25.00 late fee will be added for each 30 day periods that the total charge (fine and late fee) has not been paid in full.
The Board of Directors may, at any time, request assistance to secure payment of all amounts owed. Such assistance may include, but is not limited to, hiring a collection agency/attorney, filing a lien or court ruling against the unit Owner's property. The unit Owner shall reimburse the Woods Manor Homeowners' Association all expenses for securing payment of all amounts due.
Woods Manor Board of Directors
NOTE: Problems regarding the service of the building, including problems coming from other Units or from the Timeshare Units shall be reported to the Management Company. Problems with individual Units are the responsibility of the Unit's Owner or Agent.
NOTE: All applicable Rules and Regulations must be followed by the Residents of the Woods Manor Property House. Penalties and damages stipulated in this document apply.
---
---
---
Happy new year! Brrrrr @~15* it was great to watch the glow worm torch light parade and fireworks extravaganza from the comfort of our condo in front of the warm gas fireplace! Wow what a view. Skiing access was about a 3/4 mile walk or slide down the street thru the back of the Marriott condos,or get the free shuttle at the driveway. the walk to town started at the top of Main Street so many shops so many restaurants,New Years week is very crowded yet fun. We used the one hot tub once,there is also a steam room and sauna. the room was spacious and the kitchen had everything you needed. Whenever a question Scott replied immediately. Had a great time!
---
Hello, My name is Scott, I have many X-mas and New Year vacation rentals in great Ski/Snow Boarding areas (California and Colorado). I also have a year-round vacation home in Oakland County Michigan, Dawson's Lake House. It's a great spot on a beautiful lake!