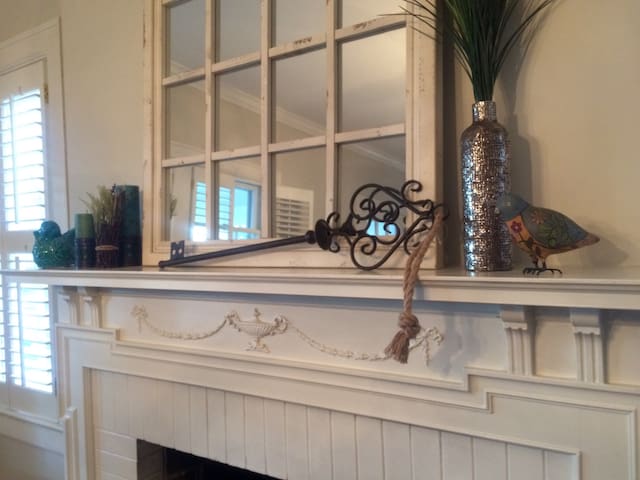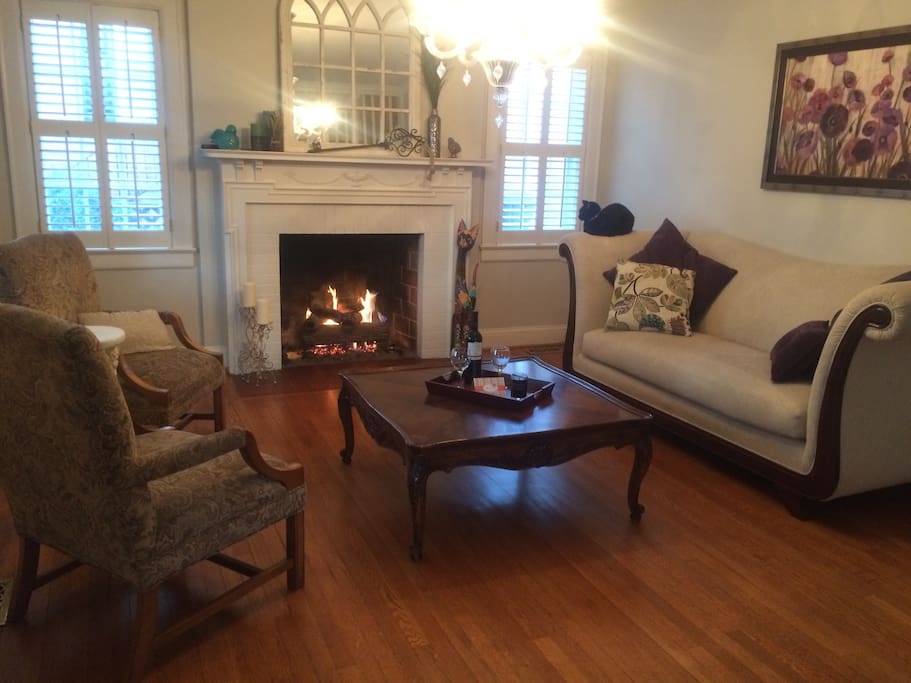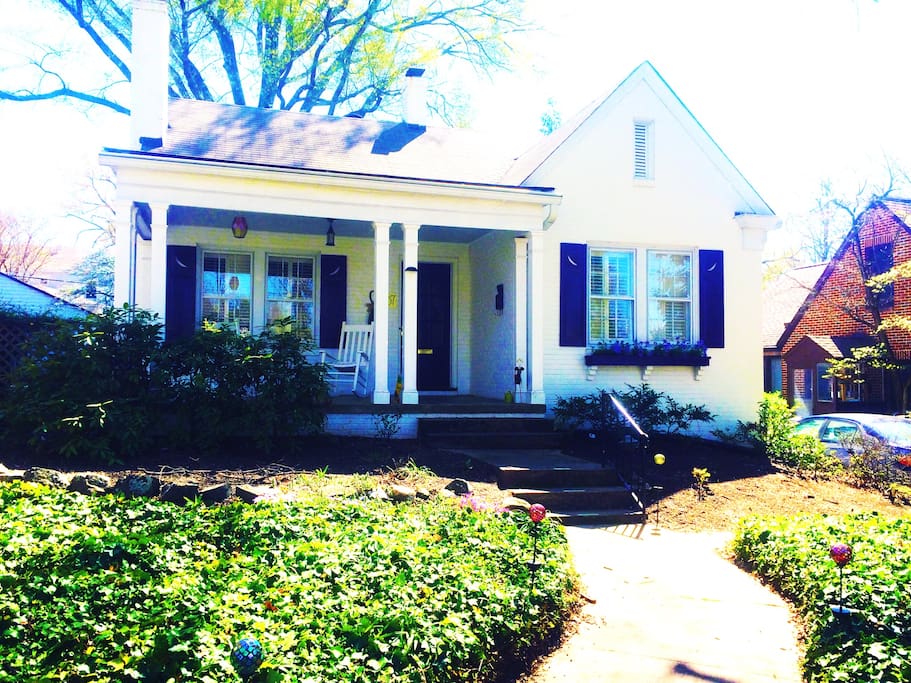 Treat yourself to a relaxing stay in a magical cottage located just five minutes away from downtown Greensboro. Surrounded by a lush park, our charming neighborhood is inhabited by artists, free-thinkers, college professors, and young families.
房源
Our charming cottage was built in 1931. It was one of a few dozen homes that were built in the Westerwood community during that era. While Westerwood was one of Greensboro's first "planned communities," each home is uniquely designed and most are utterly charming.
Our home feels both gracious and quirky, with antique lighting fixtures and whimsically designed switchplate covers in almost every room. The front door opens into a living room with a remote control chandelier and a gas log fireplace, which you are free to use during your time here. From the front entry, you can also see the stairs that lead up to the master suite, the dining room, and a hallway leading to the other rooms on the first floor. Rather than feeling small, this space seems open and spacious thanks to a recent renovation by its former residents.
Turning to the right of the front door, you move into the dining room. Our table seats eight! Attached to the dining area is our kitchen, complete with a breakfast nook.
On the ground floor, you will also find our single bedroom, which was tastefully decorated by our incredible daughter. Her bed is amazingly comfortable. This room is also the home of a work desk, in case you MUST get any work done on your laptops while you are here.
Right next to the single room is a brightly decorated room with a queen-sized bed. It is a more spacious room and includes a seating area.
Also downstairs is a family room. Technically, it is a fourth bedroom, but it leads to our spacious outdoor deck, so we thought it made sense to make it a television room. This is the room where you will find an L-shaped couch long enough to sleep two adults (one on each branch of the L). I have slept here many a night and love it, but I know who would love it more: kids and teenagers! The television does not have cable, but it does have Roku: you can watch Amazon or Netflix (our subscriptions) and dozens of free channels. We had cable for years but cut the chords and never looked back. Of course, we also have wifi, so if you MUST, you can stream videos or internet television anywhere in the house.
One of our bathrooms is downstairs. It has a full-sized soaking tub with a hand shower; those folks longing for a REAL shower can use the master bath upstairs. The bathroom is totally cute, with green and white tile reminiscent of the 30's.
The upstairs used to be an attic, but now it is a master suite. It is very spacious, with a two-person sitting area, lots of shelves (and not enough books), plenty of closet space, and a queen-sized adjustable bed. If you like to sleep with your feet (or your head) up at night, this is the room for you. There is also a large full bathroom in the master suite, with a bathtub/shower combination, a double vanity and (of course) a toilet. The bathroom has a skylight built in, which you can open to let in some fresh air should you wish. (Just be sure to close it again in case of rain.) A note about this master suite: the stairs are steep. Those with mobility challenges will want to sleep downstairs.
The backyard is home to a fantastically large deck. And off the deck, there are two smaller brick patios. On one of these patios is a small Weber grill, just in case you want to get some grilling done while you are here. The other small patio is home to a store-bought firepit ... imagine sipping some wine around a flickering fire on a beautiful summer (or fall or spring) night! (Information on propane tanks and fire logs can be found in our guest book.) There is also an old 1930's garage in the back yard. Marvel as you sip your wine on the fact that cars used to fit in garages that small!
房客使用权限
The whole house is yours! We have some stuff stored in the garage, so that area is off-limits, but other than that: enjoy! Can you use it (whatever it is?) Yes, you can: that's why we left it. And maybe others will leave a little of this or a little of that when they leave, and maybe you will, too. (Not half-eaten food or anything like that...but some unused whiskey? Yes please!)
与房客的互动
We have moved to Monterey, but you can always call, email or text me with questions about the neighborhood, restaurant suggestions, etc. Additionally, we have a property manager who lives nearby and she is one of the sweetest people you will ever meet. She'd be happy to help you also. But we will not be there to be your Greensboro guides, so if you need a more interactive experience...we totally understand if you find another place to stay!
其他注意事项
Well-behaved dogs and cats are welcome in our home. Other pets will also be considered. If you travel with a cat, we do have a litter box. You will need to bring or buy some cat litter, and you will be responsible for scooping/disposing of the litter. We have a dog crate stored in the garage in case you are traveling with a dog that needs to be crated when you are gone. It is for a 50-75 pound dog. A smaller dog could romp around and have fun in it. Just let us know if you will be needing to use this and we will let you know where it is.
Our neighborhood is very dog-friendly. And very people-friendly. It is definitely the custom to clean up after your dog. The nearby park (exactly a block away) requires dogs to be on leashes, but they can be pretty lax about it.
Although we have a fenced-in back yard, I do not recommend putting your dogs back there unattended. There are areas under the fence where a dog could definitely squeeze through. We have watched our own dogs do it. There is a little gated dog yard to one side of the patio; if your dog is not a digger or a jumper, it MIGHT be able to stay alone out there. But I really don't suggest it. If you let the dogs out in the back, please clean up after them. My yard man doesn't like little "surprises." Can't blame him!
---
---
---
---
---
No smoking indoors. If you are a smoker, you can definitely smoke on the back porch. Just be sure to place your butts in the sand bucket, and please make sure you keep the doors to the house closed while smoking. And if you want to really rock our world, throw those butts away before you leave.
Feel free to use the washer and dryer. I mean, don't bring 40 loads or anything ... there is a supply of soap and dryer sheets.
Westerwood is a quieter neighborhood; while our cottage could definitely be used for a daytime or early evening gathering, the volume should be kept at a low level. I adore my next door neighbors and would hate to ruin their night. Also, one of my next door neighbors is a police officer--so don't do anything that could get you in trouble with the law!
---
---
---
---
This is the perfect location for a visit to Greensboro. The neighborhood is wonderful - very walkable and clean. The park is very close for walking the dogs. We felt very welcome and loved everything about the house. It is truly charming. Everything was perfect and exactly as described. We had an issue with a large tree branch crashing to the ground that crushed the fence and fell into the neighbor's driveway. I called the property manager and she had the handyman over right away. He was great and always let us know when he would be out back to work on getting everything cleaned up. Their response time was great. This was our first Airbnb experience I can only say great things about it. Prior to check-in, Katherine, let me know what to expect and communications were open and welcoming. So glad I found this place.
---
Katherine's home is charming and quaint. It is in a wonderful neighborhood close to downtown and many shops and restaurants. Check in and checkout was a breeze. Everything in the home was just as described. She had thought of every welcoming and convenience detail. Katherine was extremely responsive in all communication. Not sure we will ever have the opportunity to be in Greensboro again but if we are, I know where I am staying!!
---
Hi there! I am a traveler, a lazy explorer (I love sleeping late), a friend-maker and a theatre-lover. For fifteen years I taught human rights, social justice and ethics to elementary students in NYC. About two years ago, my wife and I moved to Greensboro, NC and thought we would stay forever. We bought this adorable cottage and sought to make it our own. However, we find that we are traveling often and don't use it the way we could. We are not ready to give up our cottage, though. I love the idea of sharing it with others. It is not perfect; it is not fancy. But it is HOME: warm, happy, silly and comforting.