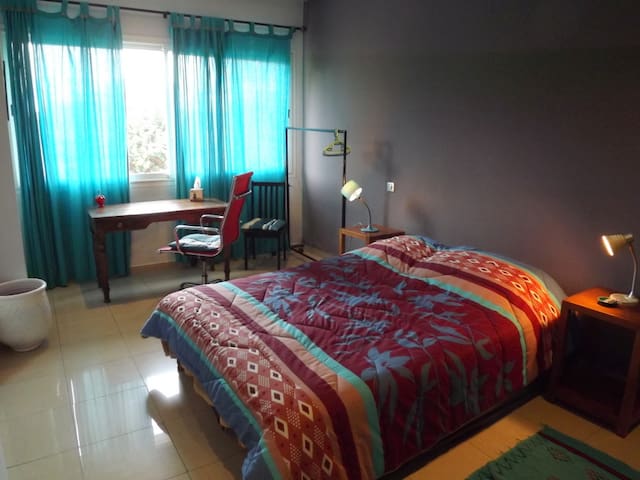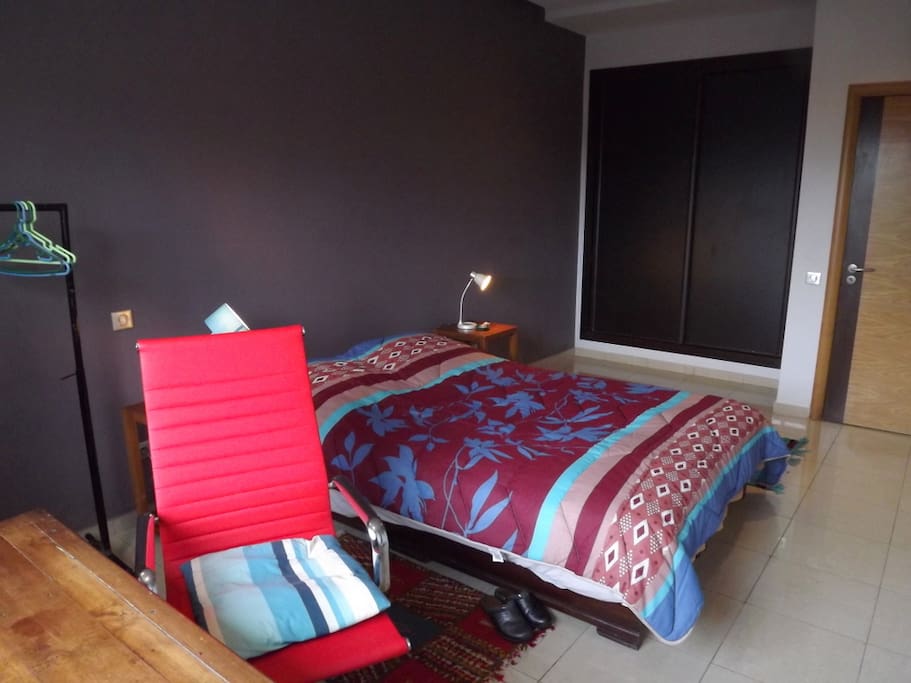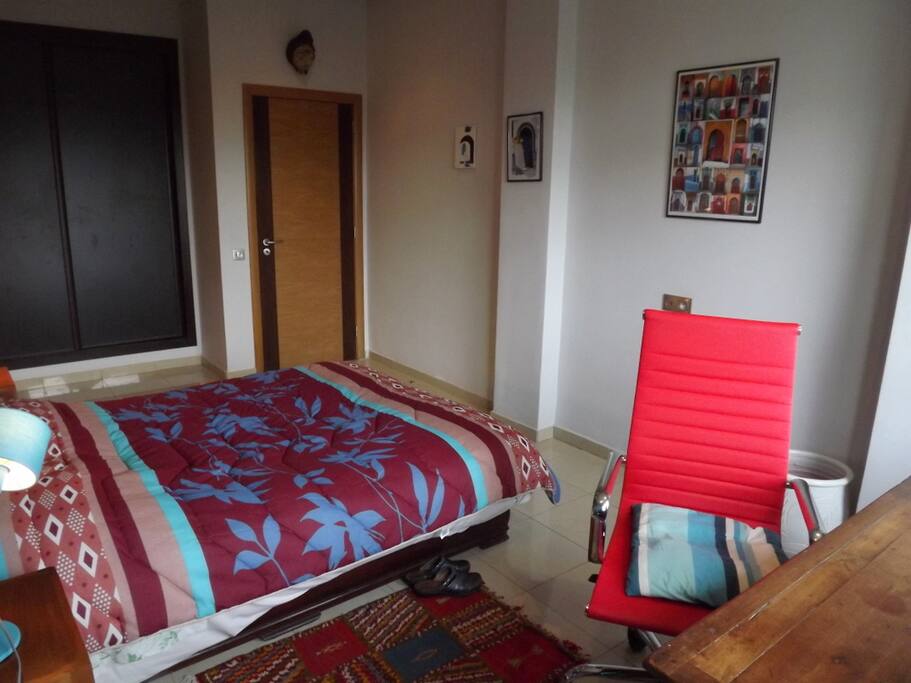 Chambre d'appartement à Hay Riad
房源
Chambre de 18 m² avec lit 2 places, salle de bain.

Situé dans le quartier résidentiel de Hay Riad, près du périphérique sud de Rabat. Proche des plages.

Petit déjeuner compris.

Possibilité de transport sur l'aéroport de Rabat-Salé, station de tramway ou taxis.
---
Our stay at the Hay Riad apartment, for me, optimised and defined what makes a great stay. The hosts graciousness, kindness and openness contributed vastly towards this ideal. A wealth of local information was shared and a friendship was born. The apartment itself was clean, sophisticated and delightful, with an element of class without being ostentatious. The room comfortable and perfectly private. The area was exquisite and the beaches and Rabat superb. All easily accessible from the apartment either by car or taxi. The fact that the apartment is located away from the main city made it the perfect retreat and enabled full relaxation. I cannot stress any further how much me and my girlfriend enjoyed our stay. Furthermore a true friendship was created with our hosts and we felt truly welcome in their home and in Morocco. We would 100% stay here again in the future.
---
This was one of the best highlights of our 3-week travels. We were welcomed into the home and the lives of our hosts. We had so much fun and appreciated the sincere interest taken in us by them. We felt special, like old friends. I think this is a reflection of how these hosts are truly interested in people and how aligned we were as guests with them. In addition, one of us is able to converse in French and this helped us connect with one another also. If you are like us and are really interested in getting to know your hosts, love lively conversation and exchange thoughts and ideas on a wide range of topics, you may find this to be a mutually satisfying and memorable visit. I think it's important to emphasize that we 'clicked' because as hosts and as guests, we were respectful of one another and had shared interests. Our hosts consistently offered us the choice of time to ourselves or join them. This is just one example of how respectful they are. I think it would be unfair to expect these amazing people to wait on guests who sit back and expect just that. For us, we feel that we've created a friendship that we can enjoy with another visit to Rabat or reciprocate by becoming hosts for them to our home. Their home is beautiful and well appointed. They live in the new part of the city and the old town is easily accessed by taxi. They were very helpful with mapping out a one-day list of suggestions for our visit to the old town. We had a great day exploring, following their outline and then sharing our experiences with them in the evening. We learned a lot about life in Morocco through their knowledge and experience.
---