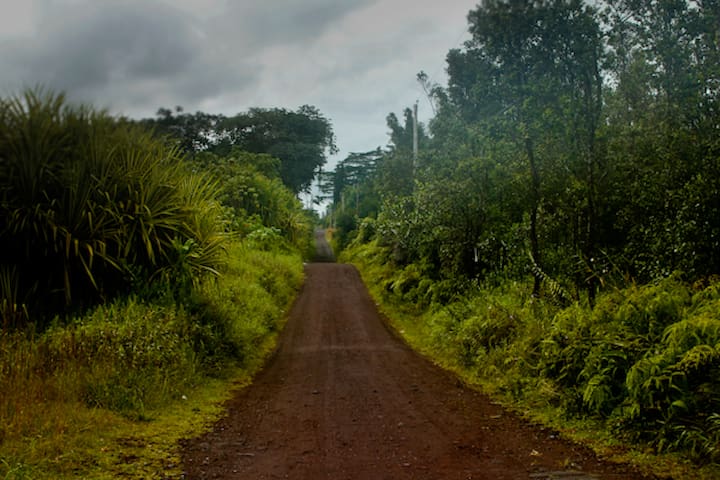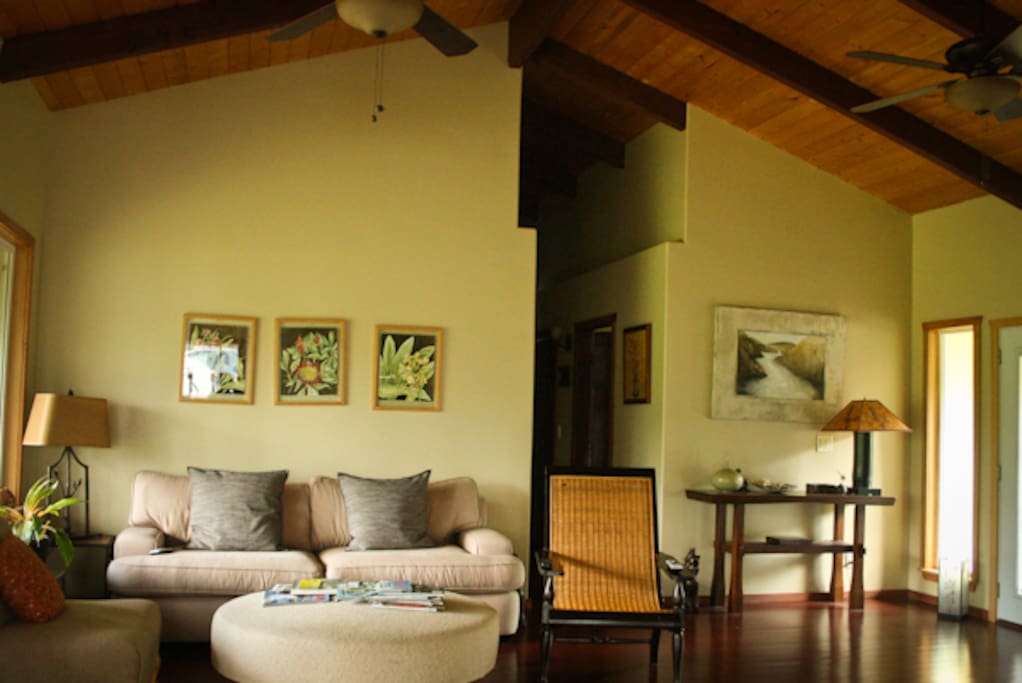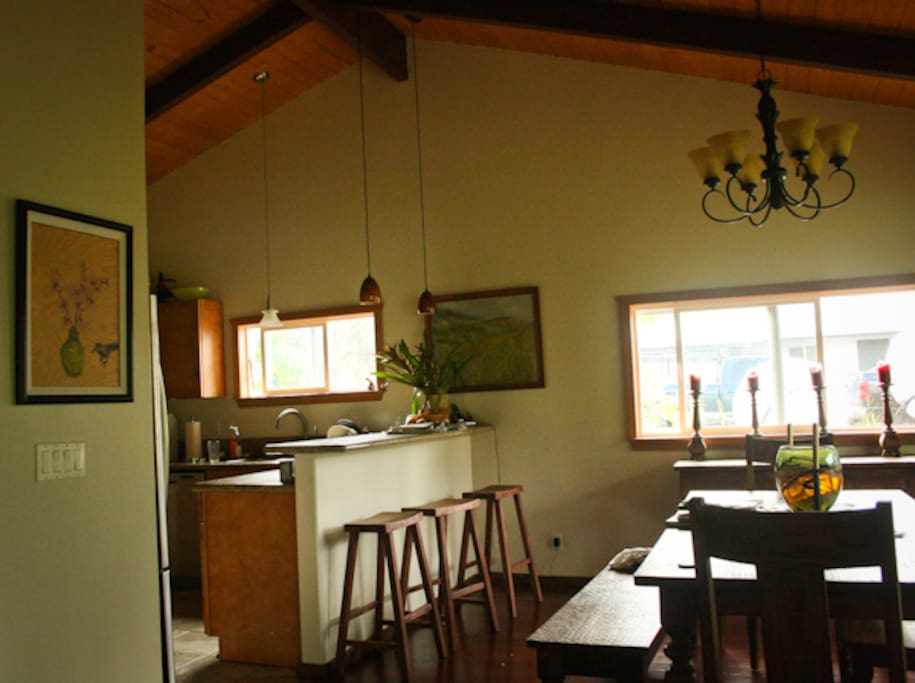 房源细节
Aloha,
I live in on the east side of the Big Island of Hawaii, in an area called Orchidland and yes there are wild orchids that grow everywhere - its lush and tropical. In between the towns of Keaau and Pahoa, this home is conveniently located to Volcano, Hilo, beach areas and other unique tourist destinations in East Hawaii and has all the modern ammenities you will need for a comfortable stay.

I have a spacious three bedroom contemporary tropical home, quiet and very comfortable. Two bedrooms are available to use in the home along with a shared bathroom. One room has queen size bed and another with an antique double bed with shared bath available.

Wireless internet is available, good cell phone coverage along with cable tv.

We are located 22 miles from Volcano National Park, 12 miles from the lava viewing area in Kalapana, and 11 miles from Hilo town. Closeby are Pahoa and Keaau town for shopping, dining, grocery and other convenience needs. Public transport is available but not frequent.
•Room type:Private rooms
•Bed type: one Double and one queen
•Accommodates:2 ea room
•Bedrooms:2
•Bathrooms:1
* You have to book the rooms separately through the system and not as additional persons except for couples sharing one room.
We enjoy interacting with guests and will do our best to make your trip to the Big Island a memorable event and suggest many places to discover on the East side.
There is alot of beautiful areas and natural wonders to see in our unspoiled area. For activity buffs there's also hiking, snorkeling, surfing, coral reef diving, whale watching, ziplines and helicopter tours on the Big Island.
Please note that we don't charge a "Security Deposit" or "Cleaning Fees" when figuring out your total cost.
Nearby attractions to Orchidland include HIlo town, Banyan drive and Coconut Island, Rainbow falls, Hilo farmers market, Panaewa zoo, Reed, Honolii beach and other local area beaches. Along the Puna coastline is Kehena Beach, the popular black sand clothing-optional beach where Spinner Dolphins often come to play, the Kapoho Tide Pools as well as other warm tidal pools where tropical fish swim at your feet, Lava Tree State Park, lava viewing. The Maku'u Farmer's Market which attracts 15,000 visitors every Sunday is just 4 miles from here.
A short drive is Volcano Village and Volcano National Park with Kilauea, the world's most active volcano, located about 22 miles away. Kilauea is currently experiencing some of the most active lava flows in recent history. Tour the thousands-of-years-old lava tubes which stretch for miles and gaze in awe at active lava flows.
Mahalo

Common courtesy and notice of late arrivals and excursions.
Noel's place is beautiful and private. Lush tropical greenery visible from all windows, and just far enough off the road to feel completely secluded. The bed was clean and comfortable and the room was well-decorated. We took the (unreliable) public transit to arrive, and it was an easy walk from the main "highway" to his place, which is also near a small but well-stocked store. He was in Hilo when we were arriving there and offered to pick us up, which was such a great offer! Lunch plans made it inconvenient, but the next day he drove us to our destination of the Maku'u market (Sundays only), which was so nice! Definitely recommend. Would stay again.
---
Noel is such a sweet person: easy to talk to and with a great sense of humor! He makes you feel welcome right away. If you're looking for a rainforest experience you've come to the right place! The view from our room was pure rainforest and we loved hearing the coqui frogs at night. Earplugs may be advised for sensitive sleepers. Because of the humidity it was hard to avoid sour towels. The place was not the cleanest but if you're ok with that you've found yourself a great deal! Noel left the house lights on for us every evening, which made us feel really happy coming "home" each day after a long day of touristing (we stayed for 3 nights). Noel also asked us about our tourist experiences since he wanted to share that information with other guests, which we found to be very considerate.
---
We absolutely loved Noel's place. It really is like living in the rain forest. We got used to the frogs at night. The rains every night helped us sleep. Noel seemed withdrawn at first but eventually we all opened up. He gave us good tips on things to see and do, including the farmer's market and Rainbow Falls. He invited us to participate in a hula class, where we met a lot of friendly local people. That was a highlight of our visit. We are already thinking about coming back here again.
---
Lovely place, room had antique furniture and the mattress was amazingly comfortable. The dirt road out is a bit rough and the windows in room didn't have curtains. There's no one to see in and no way they could through the trees anyway, but my husband did find it disconcerting. Noel was a kind host who made excellent suggestions for local sights and restaurants.
---
Artist, photographer and writer I'm easy going and knowledgeable about places to visit in East Hawaii. I love to do photography, paint/draw and a variety of creative pursuits thats inspired by island living. My free time is spent playing volleyball, hiking photo tours, dancing hula and singing with a local performance group.