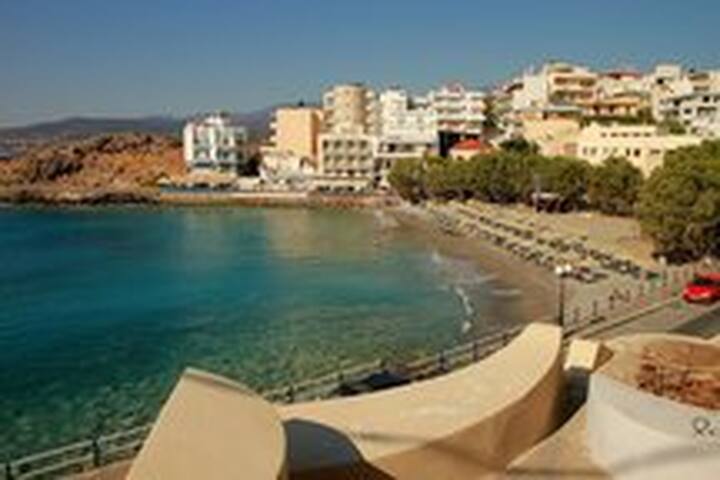 in heartOFcity&@beach master-bedroom&cozy sitting
in heartOFcity&@beach master-bedroom&cozy sitting
for a lady (or a yogi, or a monk) Are u one who may respect everyone & everything and love to live in cleanliness: ? share this lovely place with me and join my yoga..if u wish
---
la casa corrisponde alla descrizione fatta. Molto pulita e come posizione è centrale. Caterina la proprietaria è disponibile a dare qualsiasi informazione sull isola. Siamo diventate subito amiche. Divertente scambiare con lei qualche chiacchiera davanti ad una birizza. Se cercate qualcosa di particolare e non il solito hotel lo consiglio vivamente. Non vi manchera' nulla. Vi farà sentirete come a casa vostra. Richiede rispetto ma è quello che riceverete anche da parte sua. Soggiorno ideale per single perché non vi sentirete soli ma ottimo anche per coppie. Nulla da criticare. Spero di ritornare presto.
---
Really convenient location, in a beautiful 2 bedroom apartment. Though we attempted to book the entire place, the reservation came up as 1 person, however it was made clear in the personal message there were 2 people and the booking was accepted despite the error. This later caused confusion between both parties and there was a lack of efficiency in rectifying the error as it took 2 days to decide whether to keep the reservation; as although the booking had been made 3 days before, we would be unable to gain a full refund if we had cancelled, which I understood to be the issue for both parties. Upon arrival at the accommodation we were waiting outside for 20 minutes after our agreed check in time in which I had to go back to a wifi area to inform Aikaterina we were outside and then come back to the apartment, which then took a further 10 minutes to be welcomed to the property. Aikaterina was kind and generous to leave us with the entire apartment despite the miscommunication.
It seems there should be a reply. Jordanne has booked a sharing room by mistake and then didntl wanted to cancel or even pay 18 eur for the second person, also didnlt wanted to share. The communication was a mess. Additionally they asked if they could come earlier than the check in time (14:00) , and this was requested at 12:30 ! have informed that i ll do my best for 13:10 and they were in the house at13:20/ EN plus!! Additionaly , i left the house... Additoinally,,, didn;t charged for the second person a penny.. was offered as a complimentary friend.
---
Aikaterina and her daughter are truly lovely hosts! It felt like I was a friend, not a guest. They were always ready to help or give me advices. The apartment is really nice and well located, very quiet. A beach is just 80 m away in one direction, while walking 100 m in the other direction takes you to the port and the lake. Finding somewhere to park the car was actually easier than I expected, I always found a slot at the end of the street. Aikaterina arranged her apartment nicely, and she clearly takes care of it. I received warm, greek hospitality everywhere in Crete, but my stay at Aikaterina's place was the best. Highly recommended.
---
I really enjoyed staying with Katerina: the house is very cosy, close to the beach and town's center; but above all she is such a nice host, very friendly and carying that you feel comfortable! I recommend 200%!!
---
I am an optimist person, who likes to travel a lot, swim in this lovely beach @ my secret spot under the sun and do yoga. Having a lot of respect to everyone and everything, I ve been working as a reservation mgr in travel agent & as receptionist in Luxury 5&6 stars hotels for many years and, as a radio producer in the local radio. I am now a yoga teacher because ...
Life is beautiful... if we have love in our thoughts & respect it,,, simple like that...
语言:
Deutsch、English、Français、Italiano、Ελληνικά