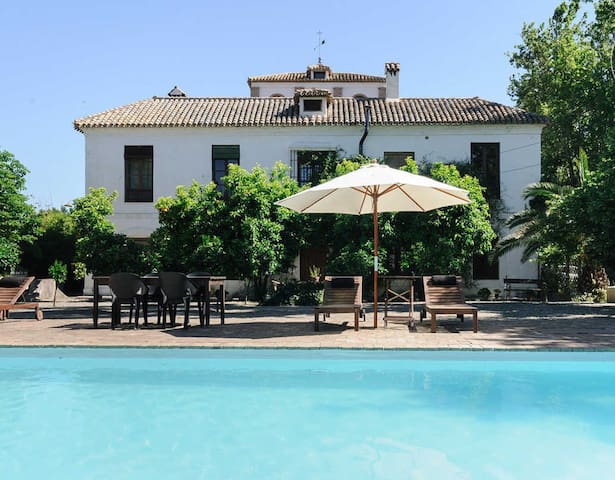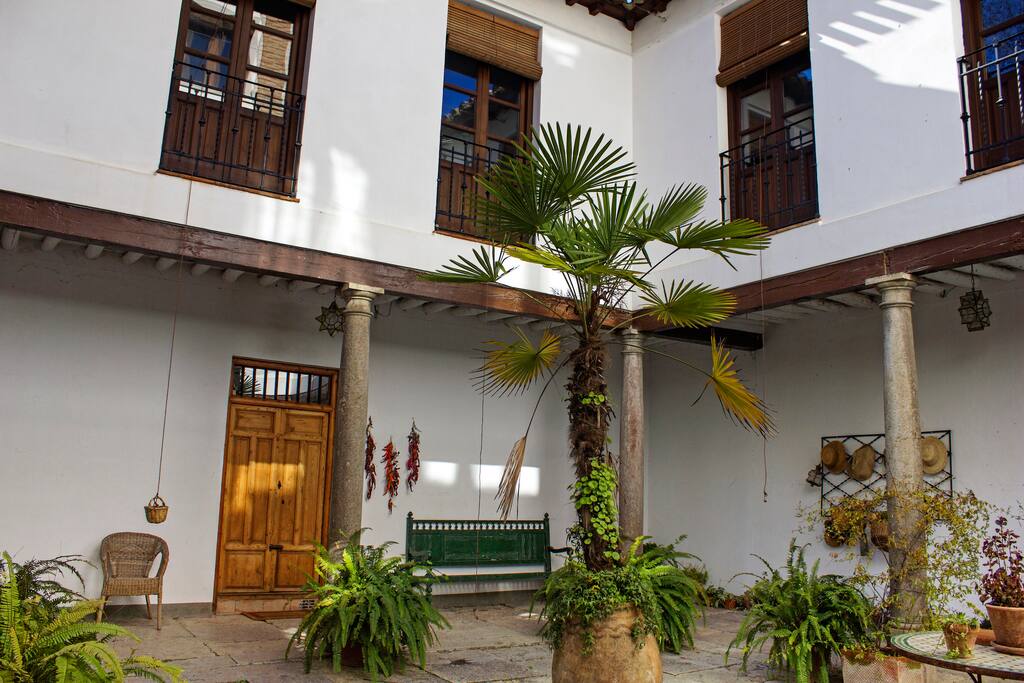 "El Cortijo del Pino", is a farm-house with historical architecture, that dates back to the XIX century, and is located only 3 kilometers from the city of Granada. The house is divided into two stories around a central courtyard, a tower with dovecote, swimming pool and ourdoor parking. The Casa de los Atrojes is located on the ground floor of the Cortijo del Pino, west aligned to the courtyard, with input from the garden.
Places: 2 doble bedrooms + extra bed
房源
El Cortijo del pino
Charming rural houses in the Vega of Granada just 3 km from the city
"El Cortijo del Pino", is a farm-house with historical architecture, that dates back to the XIX century, and is located only 3 kilometers from the city of Granada. The house is divided into two stories around a central courtyard, with stone columns, a tower with dovecote, cistern, swimming pool and facilities for agricultural use. El Cortijo houses four rural apartments, that have been restored mantaining the characteristics of the area, and recovering most of the original architectural elements: terracotta floors, wooden ceilings, handmade ceramic tiled … The entire cortijo is surrounded by lush vegetation among which include some centenary lime trees, palm trees, plane trees, cypresses and fruit farm in organic production.
The Casa de los Atrojes is located on the ground floor of the Cortijo del Pino, west aligned to the courtyard, with input from the garden. It has two double bedrooms (one with double bed, one with twin beds), bathroom with bath, living room with wood fireplace and separate kitchen.
Places: For 4 + 1 (extra bed)
房客使用权限
Equipment and services:
- Sheets, towels, tablecloth and tea towels
- Basic kitchen: tea, coffee, sugar, salt, oil and vinegar
- Basic bathroom: soap and toilet paper
- Garden furniture on the outdoor terrace
- Bicycles previous loan request
- Cot, high chair and baby bath on request

Common spaces:
- Pool and solarium (from 1st of May to 15th of October)
- garden
- Central patio
- parking area
- Point of sale organic and local products: oil, wine, jam, cheese, yogurt, canned ....
与房客的互动
The Cortijo del Pino plus accommodation is our family home so we are very aware of our guests and offer all kinds of information to enjoy their stay in the farmhouse and Granada, but also try to fully respect your privacy and autonomy.
其他注意事项
Please, confirm your aproximataly check in time when you know.
INSTRUCCION ON HOW TO GET TO CORTIJO DEL PINO
From whatever direction you come to Granada you have to come via the ring road A-44
Once on the ring road, you must take the 129 exit. This exit comes out onto a big roundabout to the Eudoxia Piriz street (there is a sign to "Cruz de Lagos" ) You must take this street parallel to the bike path and go along to the bridge over river Genil.
At the end of the bridge, there are traffic lights and a crossroads. When you cross the bridge, INMEDIATLY turn right.
Then, go along that road next to the river for about 1.9 km, until you get to another roundabout.
Once on the roundabout, you must take the road to Churriana de la Vega and, from there, it is 1.1 km to the point where you leave the road. At this point, there is a sign on the right, which indicates "CAMINO VIEJO DE CÚLLAR" before a petrol station (SHEEL). Go behind the petrol station and take the third lane on the right (you find some trees and 2 big stone), you have to unchain a barrier to pass. After about 120 m,
you arrive at the Cortijo. When you leave your car enter in the house and ring the bell you will find in the patio on the right.
If take a taxes. Here the isntruction to show the taxi driver:
CORTIJO DEL PINO EN CHURRIANA DE LA VEGA / CARRETERA DEL BARCO (GR/3303) ANTES DE LAS GASOLINERAS
Desde la rotonda del Hipercor (129) Camino Camaura. En la Venta del Nogal, dirección Churriana. Cruzar el río dirección Churriana. En el Km 3 justo antes de las gasolineras dirección Camino Viejo de Cúllar. Continuar por un camino de tierra por detrás de la gasolinera Shell y seguid las indicaciones hasta el Cortijo (300 m de camino de tierra)
---
---
Recepción a partir de las 14:00 h
Hora para dejar el alojamiento máximo a las 12:00 h
Fuera de estos horarios consultar
---
We loved the cortijo so much. Concha was such a kind and helpful host, and the way she has the rooms decorated is just beautiful. We loved the little store selling locally produced food items and the beautiful outdoor spaces around the property. The cortijo has the calm of the campo but great proximity to the city. Highly recommend!
---
My husband, daughter (10 years) and I stayed in Cortijo del Pino for 2 weeks in July 2017 and we had an amazing time. The apartment was sparkling clean, well cared for and stayed cool on the hottest of days (and the days were very hot!). Good wifi was appreciated by the 10 year old too. The pool is a decent size and very well kept - a lot of the time we had it to ourselves. We spent many days just splashing at the pool then dining outside on local produce (bought at nearby supermarkets) as the breeze from the mountains gently cooled us - bliss! It was a 10 minute drive in to Granada so we went in to the city regularly - either using our rental car and taxi. It is a beautiful city with amazing food, lovely people and of course, the Alhambra. Our favourite trip was a Landrover trip through the Sierra Nevada mountains - just breath-taking and it really felt very special. Concha and her whole family were wonderful - and there was always someone to help (although very little help was needed). They provided lots of useful information and even phoned taxis if required. I thoroughly recommend this place - it was perfect and we were so happy there.
---
En el campo pero cerca a la ciudad. Piscina y espacio confortable. Nos toco ola de calor y sentimos la necesidad de aire acondicionado. Puede mejorarse la cama de la habitación principal.
Juan Carlos agradezco tus comentarios aunque tendría alguna matización. Nuestro cortjo es una construcción tradicional de gruesos muros de piedra con un patio interiror con toldo y vegetación exterior ideada para sombrear en verano y dejar pasar luz en invierno. Toda la construcción tradicional andaluza está pensada para hacer las casas frescas en el verano. En estas zonas del sur, como medida cultural, siempre indicamos manterner puertas y ventanas con persianas cerradas las horas centrales del día y abrril a la caída de la tarde. Así la casa se refresca de manera natural. Todo esto hace que la temperatura dentro de la casa sea muy aceptable (unos 26 ª máximo) No es nuestra idea todar a nuestros alojamientos de la planta baja de aire acondicionadao por motivos ambientales y porque creemos sinceramente que no es razonable. Sí tenemos ventiladores! Tomo nota sobre la cama del dormitorio principal ;) quizás para personas tan altas como tú se quede algo pequeña
---
Mi abuela adquirió el Cortijo del Pino en el año 1940 y desde siempre ha estado dedicado a la actividad agraria. Hace unos años rehabilitamos parte de la edificación como alojamiento y en la actualidad compato el cuidado y mantenimiento del Cortijo con la actividad agrícola. …
语言:
English、Español