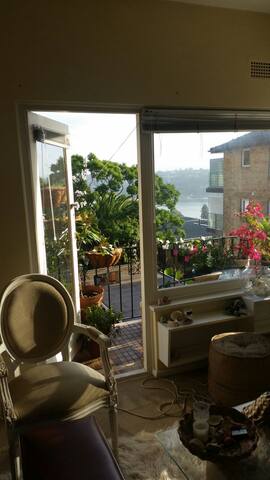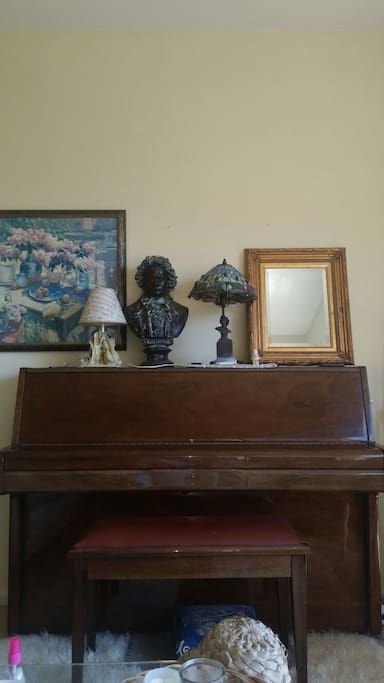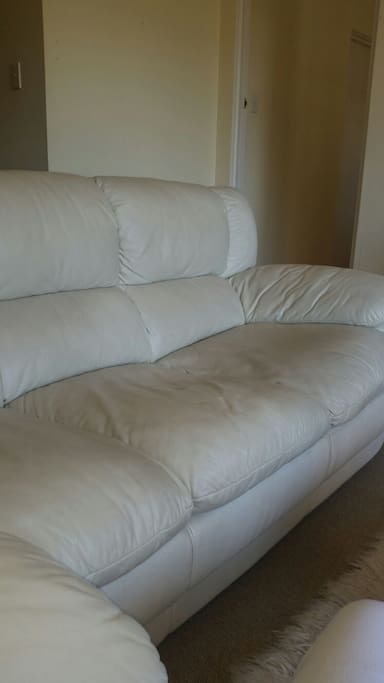 Waterview Bedroom.7 mins walk 2 two beaches
This cosy apartment is located in one of Sydneys most exclusive suburbs and has a balcony with water views.Comfortable leather lounge.Gas cooking.Bath and shower.and 4 post bed.l am renting out the bed room and there is an ensuite bathroom thats shared by the owner (me).lt is connected to the (URL HIDDEN) l may need to use the bathroom occasionally,therefore l need an easy going person to rent the bedroom.
房源
French style decore..top quality Sheridan sheets and bath towels provided as well as body wash,shampoo,conditioner,body (URL HIDDEN) pampered!Extremely comfortable bed..new Sheridan bed topper /bed pillow bought in March 2017..like the ones in 5 star hotels.This is my home,so if you like minimalist space,it is not for you.l love sewing art and music so l have things in my apartment that reflect that love.l like to share my love of art and music with others.This apartment is cleaned,dusted,mopped and linen changed before every guest arrives!Welcome!Single person only please.
房客使用权限
Intercom....safe!Street parking.Host stays in apartment in the loungeroom.l like easy going people as l myself am happy and easy going!
与房客的互动
l will restock breakfast goodies if needed.Please state what you like for breakfast...and l will provide it!I can be a tourguide or just provide company if you like...especially in summer at the beach!The host stays in the loungeroom but needs access through the bedroom to ensuite bathroom occaasionally.l also can provide live piano music...free live concert every night!!
其他注意事项
The area is surrounded by gorgeous waterways where you can do lots of bushwalks.Superb cafes . exclusive restuarants.Wifi in a cafe 5 mins walk away.Super chic shopping (for the rich and famous-or the normal ones like myself)..the apartment has been treated for bugs and cockroaches on 11th August,2017(photo of receipt in gallery)
---
Julie's warm hospitality is precious - very thoughtful and generous. The location is conveniently located between 2 great beaches that are not crowded. I found her apartment to be very clean, tidy and quiet. The only comment is the shared bathroom in the ensuite which might be inconvenient for some guests. However, Julie is very thoughtful with her usage. I would highly recommend Julie's place to guests who do not expect complete privacy. It is very much a shared space with a private bedroom.
---
I booked a long term stay for 1 month so my review is different from a short stay of a few days. Many issues were experienced such as: 1. Cockroaches all over the kitchen and living area. 3 times I had a cockroach on my bed. 2. I cleaned the bathroom floor on arrival and purchased a new shower curtain as hers was mouldy, out of good faith and to make my long term stay more comfortable. I also cleaned her kettle and iron as it was filthy. She gave me her iron with sticky dust on it and a dead cockroach was stuck to it... incredible! 3. Dusty/dirt everywhere and didn't want to use her kitchen items so I purchased my own. Everything is cluttered in the cupboards and little cockroaches crawling. 4. She offered her bedroom while she slept in the living room and I had to comply with her sleeping patterns as she stated many times that she is a light sleeper. She was very intolerant and stressed to any noise... which I didn't make but her balcony door was loud to open.. big clang.. not my fault! She also complained about the kitchen light which shines into her bed. The light switch is positioned outside of the kitchen so it must be turned on before entering - not my fault! 5. She consistently complained about usage of electricity so I made sure to turn my bedroom lamp on/off. I once dozed off with the lamp on and she told me off... absolutely crazy!! 6. Wifi is not available so I must of read the ad wrong. I couldn't stay there any more as my stomach was churning. I cut my stay short and left after 2 weeks after AirBnB kindly responded favourably to my case. Again, this may not be an issue for a short term stay, however this review is from a long term perspective. GOOD POINTS TO MENTION The location of Julie's apartment is outstanding and very well positioned for transport, walking distance to beautiful beaches, cafes and shops. The walks along the esplanade are stunning and great for relaxing and doing nothing. The view from the balcony is amazing of the bay, birds and nature... this was a strong selling point for me when I booked.
---
Julie ist eine sehr freundliche Gastgeberin und die Korrespondenz im Vorfeld lief immer problemlos,prompt und informativ. Vor und während unseres Aufenthaltes versorgte sie uns auf Wunsch mit den notwendigen Dingen, wie zum Beispiel Frühstücksmaterial. Leider entsprach aber die Wohnung nicht unseren Erwartungen, wie sie aus den Bildern und der Beschreibung entstanden ist. Die Wohnung ist klein, eng, übervoll möbeliert und ohne freien Schrank oder Regal, sodass es kaum möglich war die Koffer irgendwo hinzustellen, geschweige denn auszupacken. An vielen Stellen standen oder lagen auch noch ihre persönlichen Utensilien des täglichen Gebrauchs, wie zum Beispiel ihre Zahnbürste oder ihre Jacken. Wir waren nur zu zweit, allerdings mit Gepäck für 8 Wochen. Ausserdem kämpften wir jeden Tag mit dem zur Verfügung gestellten Giftspray gegen die vor allem in der Küche auftauchenden "cocroaches", was natürlich auch auf den Sauberkeitszustand der Küche schließen lässt. Wir beschränkten uns darauf, die Küche nur zum Frühstückmachen mit dem selbst gespülten Geschirr und Besteck zu benutzen. Im Laufe der Woche tauchten allerdings auch einige Tiere in den anderen Zimmern auf. Die Lage der Wohnung - Ausblick und Standort zur Erkundung Sydney's - ist allerdings sehr gut.
---
I recently traveled to Sydney with my daughter for a wedding and stayed in Julie's apartment for 3 nights. Whilst Julie was very prompt and accommodating on emails and text messages prior to and during our stay we were extremely disappointed with the Apartment. The whole Apartment was very cluttered, grossly untidy and extremely dirty. The place had not been dusted for some time, clothes and personal items stuffed in every corner, dirty sticky floors and every cup, glass, plate we wanted to use had to be washed prior to use. The refrigerator was disgusting and also had been cleaned out for some time. It contained food well past it used by date which gave off an unpleasant smell. There were lots of bugs and cockroaches crawling around mainly in the kitchen. The Apartment is in a great location and Julie did provide the breakfast food we requested. I do not recommend this Apartment to anyone unless you are a person who does not care about cleanliness.
---
The apartment was in the perfect location for our needs. Short walk down the hill to Balmoral beach ( coming back up was a good fitness work out if you don't have a car) . The host had everything ready for us and was easy and quick to communicate with. The bedroom is big enough for 2, although we managed, we had a tight squeeze with our 2-years old travel bed so I would probably recommend it for couple only. All in all just what we needed for our short stay.
---
I am afraid Julie did not get off to a good start as after she accepted the booking she told me that I could not access the property until after 6.00pm even though I had told her I was arriving at 2.00pm. It was also disconcerting to be told that if approached outside the apartment or when tradesmen or the real estate agents turned up we were to say we were an uncle from the country. Once we got to the flat we found it grossly untidy. Socks and underwear were left over the floor, on chairs and stuffed under the bed. The place had not been dusted for months. The kitchen was so cluttered it was unusable and perishable food was left on the benches in plastic boxes. The refrigerator was something else. It was stuffed full of rotting food which gave off an offensive odour so it could not be used. All in all a particularly unpleasant experience and we left after one night rather than the two we had booked for. When the condition of the flat was raised with the host her retort was 'its all relative'. I would strongly advise against anyone using this flat on Airbnb.
---
I love hosting people from all over the world and have done so for 3 years now!l love my cute apartment near the sea and want to share my beautiful area with you.l have 2 for a bedroom and one for a shared space in the main room,so l have 2 different types of reviews.l will try my best to make you feel at home and happy in my cute home!Welcome! (-;
语言:
Deutsch、English、Português