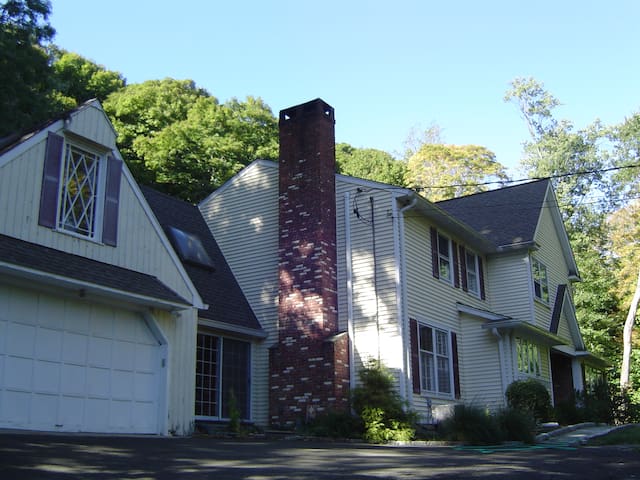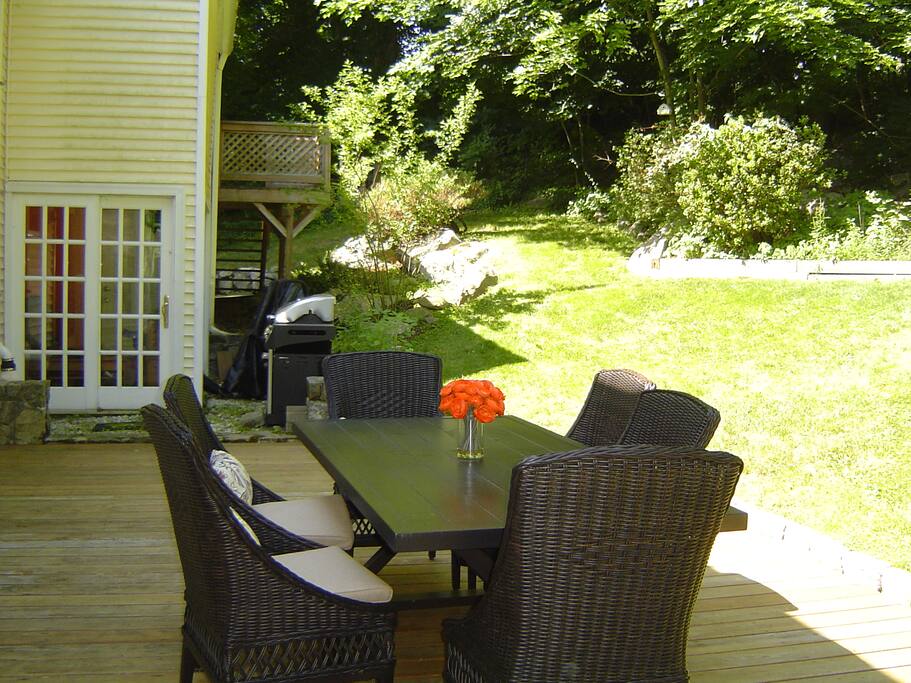 This charming 4 BR house is in Stamford's quiet, idyllic neighborhood, conveniently located (within a minute to the Merritt Parkway) and only 45 minutes to NYC. Natural beauty abounds and you may get a visit from the turtles & frogs!
(NOTE to guests, especially if you are from Europe or Asia; when I say 'conveniently located', everything is nearby within 5 to 10 minutes, DRIVING (and not walking distance).
The property is equipped with an invisible fence but your dogs must first be trained and become acclimated with it. Therefore, the fence will be activated only for guests staying longer than 6 weeks.
The house was at the end of a quiet, pleasant, residential street with lots of woods and very close to the highway (Merritt Parkway) with fairly quick access to New York City (less than 1 hour without traffic). It was clean and roomy and had a reasonably well-equipped kitchen which allowed us to prepare a number meals. The beds were comfortable and all six of us slept well. It was also reasonably close to downtown Stamford.
---
Spent 5 nights in Ali's home. Very nice home in a quiet cul-de-sac. Pictures and description accurately describe the house. Great location to Merett Parkway and train station. Ali was a superb host and checked in with us to make sure everything was in order. We'd definitely rent this house again.
---
Ali is a gracious and generous host who was attentive to our inquiries and needs. The house was clean and equipped as advertised. It has plenty of space for five or six people and is located in a quiet, lovely residential area with many trees and plantings and is safe for walking. We would enjoy staying there again if the need were to arise.
---
Foodie & (former) world traveler.

A city person at heart, I've lived in Japan during the 80's, China during the 90's and in NYC ever since, taking short & long trips to 30+ countries including a stint in Bolivia as a volunteer for Habitat and Humanity. Speak 4 languages besides English, none of which I am fluent at. Started my career in finance and later, in journalism. Now living in bucolic CT as a stay at home mom of a 12 year old boy, I think this is one of the best place to be than anywhere else in this world!