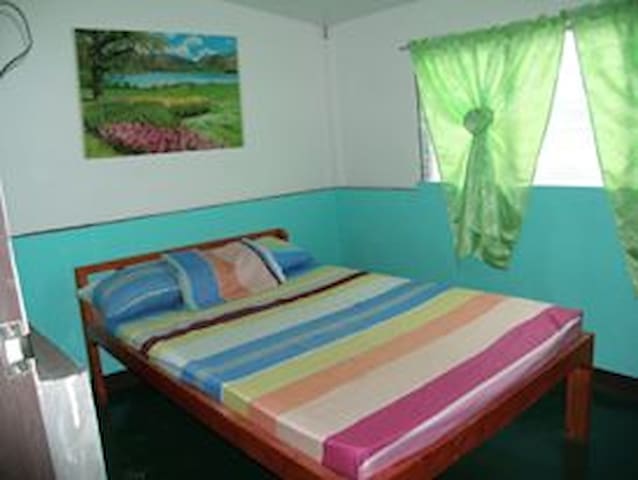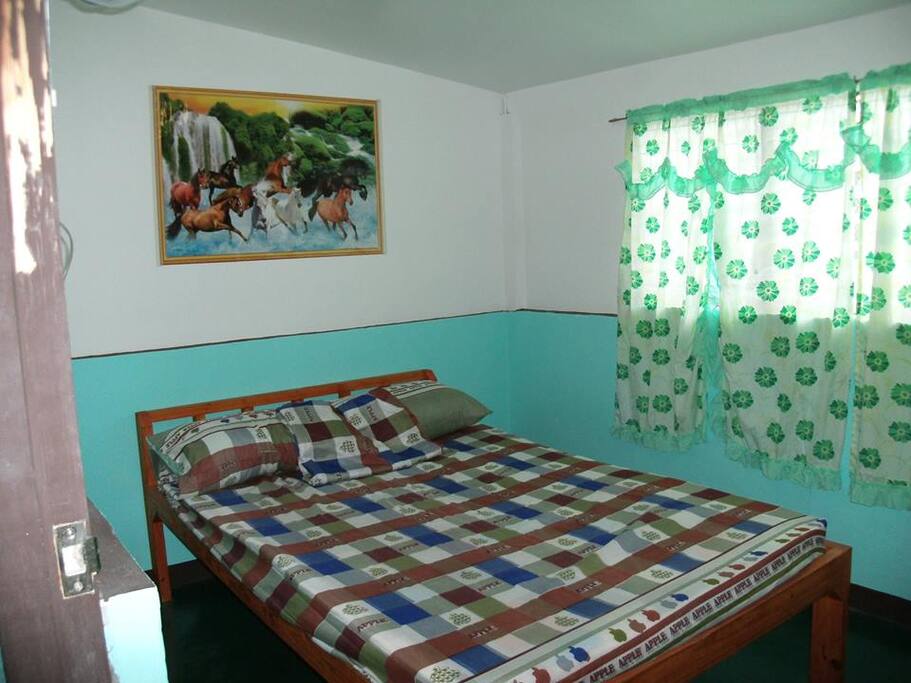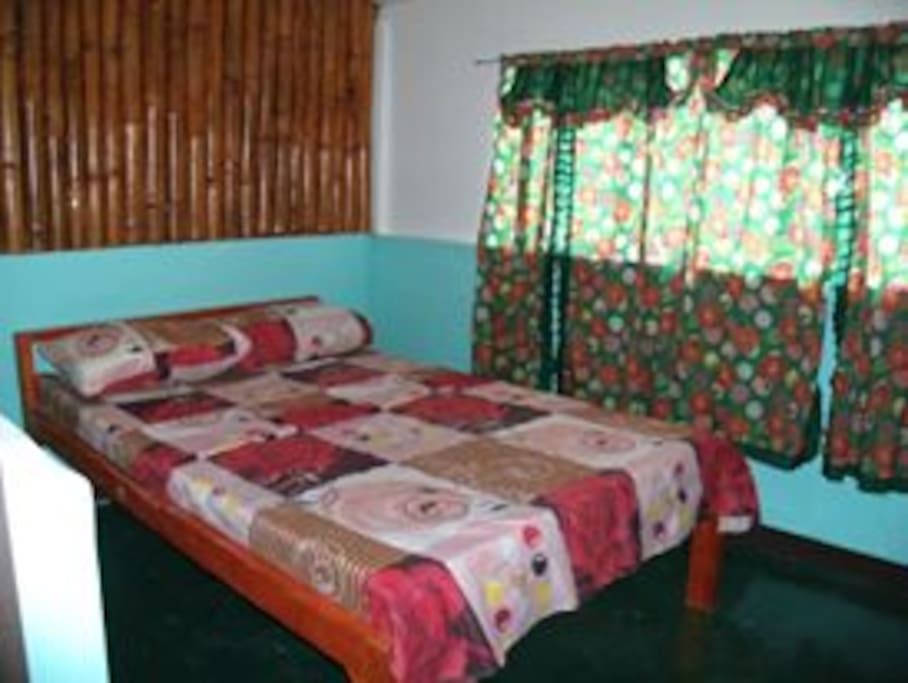 离Dauin潜水度假区仅几公里,位于一个僻静的3公顷自然保护区。设有8间新建的宽敞客房,每间都配有一张双人床和两个带淋浴的共用浴室。我们的餐厅和酒吧提供美味的食物。
Located moments away from the Dauin Dive Resort Area on a secluded 3 hectare natural reserve. Featuring 8 newly built spacious rooms each with a double bed and two shared bathrooms with showers. Delicious food available in our restaurant and Bar.
---
这是一次非常开心得旅行,也是非常好的房东。她那里是个很大的院子,里头也有很多狗狗猫猫,每天在小鸟的叫声中起来…沐浴阳光…真的感觉非常好。房东人很好,因为她的丈夫是美国人的关系,在她那的小酒吧里经常有各国的朋友来喝酒聊天。也可以在那里搞定一日三餐。每天房东Joan亲自给我做免费的早餐吃,猫咪们就和狗狗就在我身边陪我吃,哈哈。对了,她还有个很帅的儿子… 晚上都有带枪的保安通宵巡逻,很安全。离我潜水的潜店也不远,我租房东的摩托车,每天开10分钟就到潜店了。房间和床很干净,浴室也很干净。不过没有热水的,热带地区,不需要…哈哈。 如果下次再来,我想我还是会再住这里。那种浓浓的田园情调…友好的人们和动物们吸引着我…价格便宜住的也舒心,很不错的民宿。Mahogany Upland Resort is nice relaxing place. They have a nice clean basic room for a very affordable prices. They have delicious food for a very reasonable prices and served in a big portion. Very friendly and helpful staff. I also rented a motorcycle. I stay there for 6days I only spend $120 that include motorcycle, breakfast and room for 6 days. I will come back there for my future visit in Dauin.
---
I had a hard time finding this place because the map on Airbnb is incorrect. Also, the hosts internet wasn't working while I was trying to contact her so that was an issue on arrival. Once a local helped me figured out the name of the resort was Mahogany then it was an easy find, everyone in Dauin knows where that is. I don't mean this to discourage visitors, only to be helpful so you don't have the same issue I did finding the location. Once I found it everything was great. This is a family operation, Joanna is awesome! She is super friendly and helpful. They referred me to Coral Dive & Adventures and I had two great days of diving. I stayed one night in the single bed room and it was clean and comfortable, small but good for the price. Once I decided to stay longer I moved to one of their spacious apartments/suites with AC, cable tv, kitchenette, patio, etc., and also well worth the money. If I wasn't on a time restraint I would definitely stay here longer. The onsite kitchen offered delicious food!!!! The best I've had since arriving to the Philippines. The food takes a while to cook though so don't expect food in a hurry. One last things, wifi is available only in the restaurant bar.
---
Dear Joan i like my stay at your resort so mutch.. your staff is wondorfull joyfull , and i meet a lot of pepole from all over the world.. witch i nice. i love the nature sorrunding your place.. and your disches your meals .. i dont think and manage to finish one.. and i can eat a lot. LOL it was a pitty your pool wasent finish i know it's gonna a be great. just grab a beer and stay in pool all day gonna be wonderfull. i know your close to.and i hope i can see it befor i leave for denmark.. and the Daruin Divers you told me about what a great tour...i can anly recomend your place.. and i think that pepole that complain abut prices on biks should look the price up and see your price is the price. damm getting a bit hungry thinking about your bar and place... Kisses Peder Denmark.. tak care and keep up the good work.. and yes i got all the value for money i could ask for... and a guard to follow scared litte me down when i ask for at.. who could possible ask for more i dont know... kisses again Peder hope to see you soon in the futer.. i come back that is 110% for sure... and now just before i push send i think about some thing to complain about but i am so sorry cant find any ohhhh yes u god cheap whiskey for me.. damm drink to mutch... LOL
---
My firend and i, we had two days stay there. It was nice. Joan and her families are very accommodated. The room is big enough for two, with fan, no AC, but it's cool enough. CR is clean, no hot shower, but it's still ok since we got sweated. Water press is strong enough. No mosquito in room !!! The garden is big and air so fresh. Their big swimming pool is under construction. There's a bar and restaurant. Guyabano shake is my favorite! Must try! Lunch and dinner, we had it there too. Fried chicken and pork chop sets are delicious! Breakfast is good, I like scrambled egg, hehe. Oh their kitties and dogs are so so cute! Will come back next time, did not see the turtles :( due to windy and big wave.
---
Hi Joan.so pleasant to meet you.I enjoyed my short stay in this pension house.The price is right and the place clean.very kindly staff.They pick me up from the other place and go back.its cool and has a perfect view of the Ocean and Apo beach. 我在这里住了三天,价格非常实惠,虽然没有空调,晚上很凉快。从民宿到码头步行大约15分钟左右。老板很热情,来去都是免费接送的。非常好的体验。
---