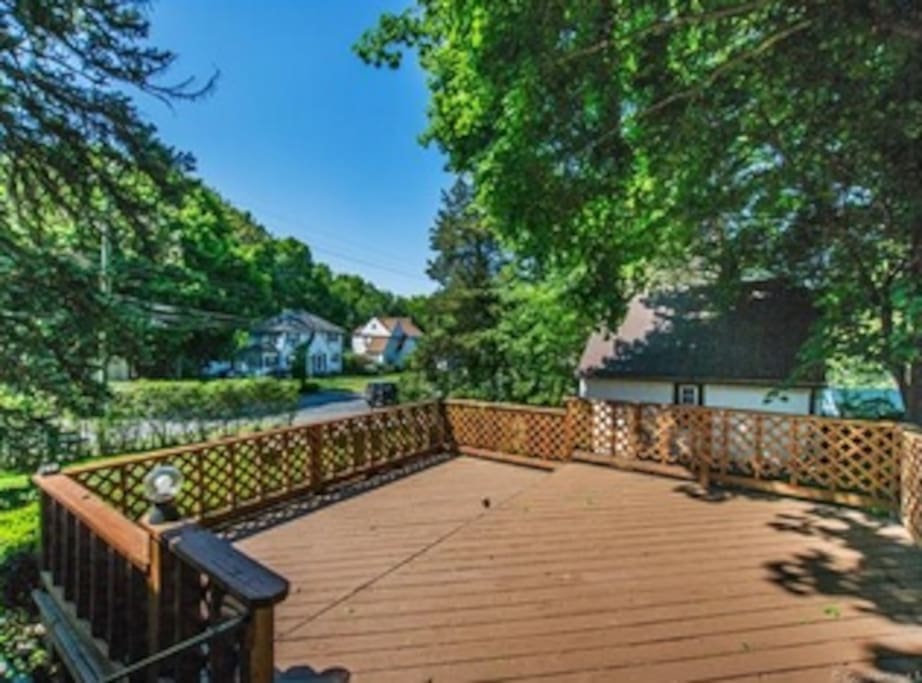 90-year-old home near Rockledge Golf Course and 1.85 miles from WH Center / BlueBack Square. Nice neighborhood with Main Street Bus stopping outside. This is a first floor large Br that's a converted Living room. Curtain draped over an archway separates this room from the converted Dining room. Half bath is on the floor; full bath (tub and shower) is upstairs. Nice kitchen. Washer/Dryer is on the floor.
This is 381 South Main Street.
房源
Hardwood floor. Big window looks east. Real (but not to be used) fireplace.
房客使用权限
Dining nook, kitchen and deck are all for you. Driveway fits 4 cars, but if you prefer the street, you log in to the WH Police Dept Parking Web Site and can get permission for overnight stays.
与房客的互动
Yes, Robert and Abhay are available to help. Both are handy.
其他注意事项
Bus to WH Center or to Downtown Hartford stops outside, steps away..
---
When I arrived nobody receive me. A room was a nightmare, a huge mess. 100 F, and the A/C was broken. The address was hard to find. I havr been in a lot of airbnb and this one is not recommended. Now, wait for a refund because I did not stay.
We feel badly for Luis. There are three new A'C units (all purchased in late June one in early July). None had problems before and none has had a problem since. So we don't know where this is coming from. It's been hot outside every week since Luis' stay and no guest has complained about the A/C. Luis didn;t stay around for me to inspect or fix, but when I arrived the next day, there was nothing to fix -- A/C working fine.
---
Great location near I-84 and near beautiful downtown West Hartford. Quiet respectful tenants, well appointed exterior and clean interior common space including nice kitchen and washer/dryer option. Bedroom was spartan, air conditioner very helpful but noisy. Plug across room from bed somewhat challenging for reading light or computer use. Host Mark great guy and very receptive to help.
---
This review is complex to write. I was not offered the room nor the house in the photos, had to stay at a different house in a different room. Went to the listed address and was told to go to a different nearby house. The new house was in a good location and the room was fine, but it was not what I paid for and not what I was expecting. Not sure why this happened, but confirm your room first. The house I stayed hand a handful of people renting different rooms, everyone was very friendly and welcoming. My room was basic, but good and I appreciated Mark had an a/c installed the day I arrived. The bathroom could've been cleaner - that was my only minor issue. Everything else in the house was cool and parking was easy. So, I can't review this room that I rented 'cuz I never saw it, but overall my experience was fine for a basic stay.
---