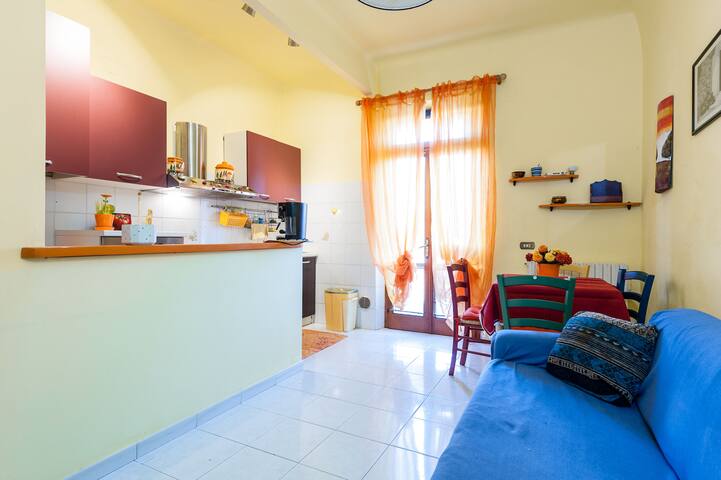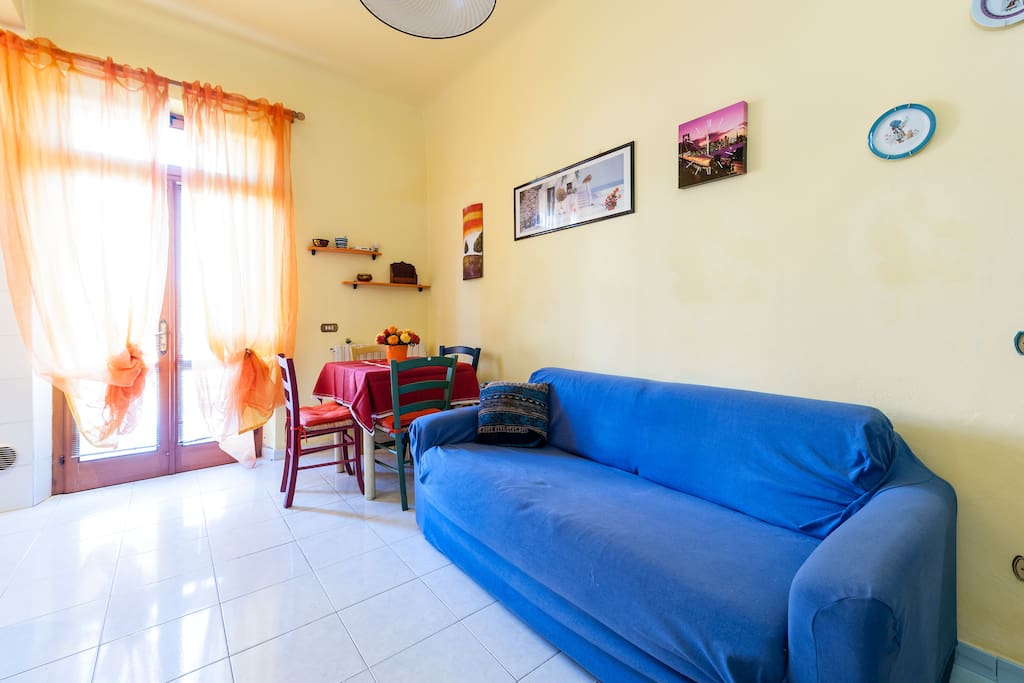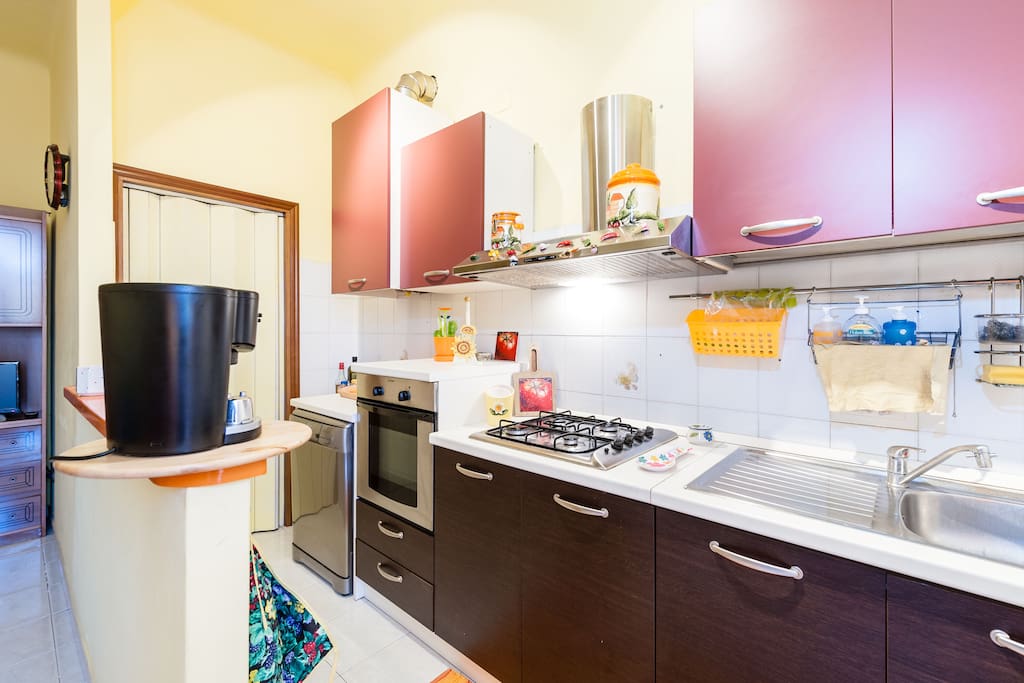 房源
Characteristic apartment bright, quiet and independent ground floor with individual heat. Consists of a large living room with double sofa bed, table with 6 chairs, glass cabinet with two doors closed and brand new kitchen with all electric applicane (dishwasher, dual function that is vented combined fridge-freezer, washing machine and espresso coffee maker), hallway with double deck more 'pull-out bed;, Bath room, double bedroom, whose windows you can 'see the famous and beautiful Romanesque Basilica of San Piero a Grado, with large wardrobe, chest of drawers and bedside table and large closet. The apartment has double entrances, one facing the street, the other is located in the living room and a terrace with access to the courtyard and private parking interno.Nel courtyard there is the possibility 'of cooking with a barbecue.
Located in a strategic position is located near from the sea, from the airport of Pisa, the center of Pisa, where you can admire the unique and beautiful Piazza Dei Miracoli, Livorno one of famous seaside towns where you can taste the famous caciucco and shopping at the legendary American market.
Recall the Natural Park of St. Flushing, where you can take guided tours, horseback riding, and nature excursions.
Next door is a bakery food, a bar and two excellent pizza-restaurant, each of which specializes in delicious pizzas as well as in cooking the fresh fish is fried on the grill. A little more 'on a famous and excellent ice cream,, kiosk , a hairdresser, a post office, a tobacco bar restaurant and a bakery. 1 km around a small supermarket and a bus stop 'at about 100 meters the apartment is Ideal for single person, couple and family. also available for weekend or for longer periods.
A welcome basket will be at your disposal to prepare a delicious breakfast in the bathroom you will find everything you need, including change of linen. I am happy to pick you up at the airport to welcome or to the railway station and give you all the instructions if you come by car.
---
Silvia's place was very nice, plenty of space, equipped with everything you could need and in a nice and quiet location just outside Pisa. Very easy to get to on the bus. Very tasty restaurants within a 2minute walk. Opposite the Basilica. Clean and tidy on arrival with a welcome package of cake, milk and fruit juice. Thank you Silvia
---
Lovely comfortable house in country side of PISA. Silvia is a wonderful host – warm, welcoming and kind. The communication with her was very good and fast. She prepared water, juice, milk and crostata for me in house. The room is quiet, pretty and very clean. If you can take the bus, I recommend to stay at this house. The pizzeria next to the house is also good. Thanks a lot and hope to see Silvia again!
Thanks a lot to Kiyoko I was very pleased that my home was comfortable and that you found yourself well.It was a pleasure to meet you, you are a beautiful person, sunny and very educated.Thanks for bringing me that gift too!I hope so much to be able to meet you again.Having a guest like you is a great luck!A warm greeting Kiyoko!
---
Everything in the house was the high standard with a great help and support from Silvia. She did her best to host us well, caring about everything even before our arrival. She was always ready to answer any question and solve any problem. Silvia was a perfect host and we're very grateful for all she did for us! The neighborhood was very calm and charming, the house is located next to the old basilica and very good pizzeria. It's in the half-way to the sea from the centre of Pisa, however it's still around 8 km from the city centre. The house was kept in the great condition, was clean and we had everything we needed inside. I hope to meet such hosts as Silvia every journey! Grazie mille!
---
Silvia is such a great host. She met us at the airport to take our family to the apartment. She was readily available to answer any questions about our stay in Pisa. She had information about Pisa, Lucca, and Florence in a folder for our review at our convenience on the kitchen table. She had water, juice and various food items for us to eat during our short stay. Silvia said she plans to remodel the bathroom during the summer which will give this apartment even more appeal. She even had toiletries for us to use...although we didn't need them since we brought our own. The apartment was cozy with a small enclosed yard for small kids to play. The bus stop was about a 3 minute walk away from the apartment for a short ride into the city. Silvia also called a taxi for us to pick us up in the morning for our flight since we do not speak Italian. She made our stay in Pisa very enjoyable.
---
I along with two of my friends were lucky enough to stay at this cozy apartment situated in the beautiful countryside of Pisa. It had everything we needed and more. It was clean, comfortable and affordable. Although it is a short bus ride away from the city center, it is located very close to an awesome Italian restaurant
---
Sono italiana, sono nata a Pisa ma vivo a Firenze,sono contenta di conoscere persone che vengono da tutto il mondo. il mio appartamento e' pulito e curato, adatto a tutti coloro che vogliono godersi le loro vacanze , ma vogliono sentirsi come a casa propria;il mio appartamento e' un'alternativa più umana e personale ad un' albergho. Durante l'intero processo, dal momento della prenotazione fino al check out ti seguiro' indicandoti i luoghi piu' incantevoli da visitare,e le curiosita' da sapere.Ti aspetto .....buon viaggio!!
.