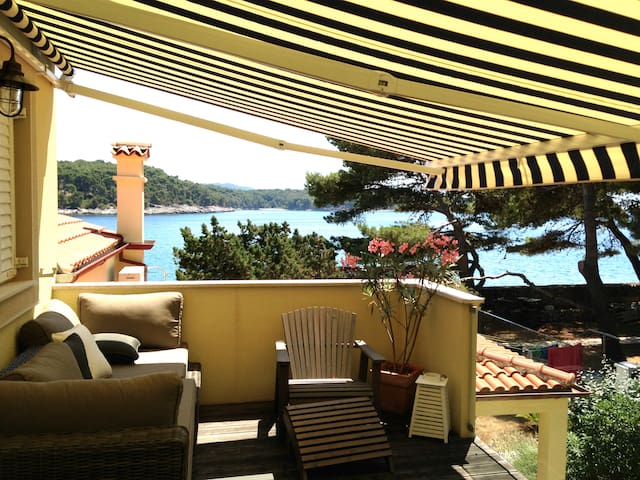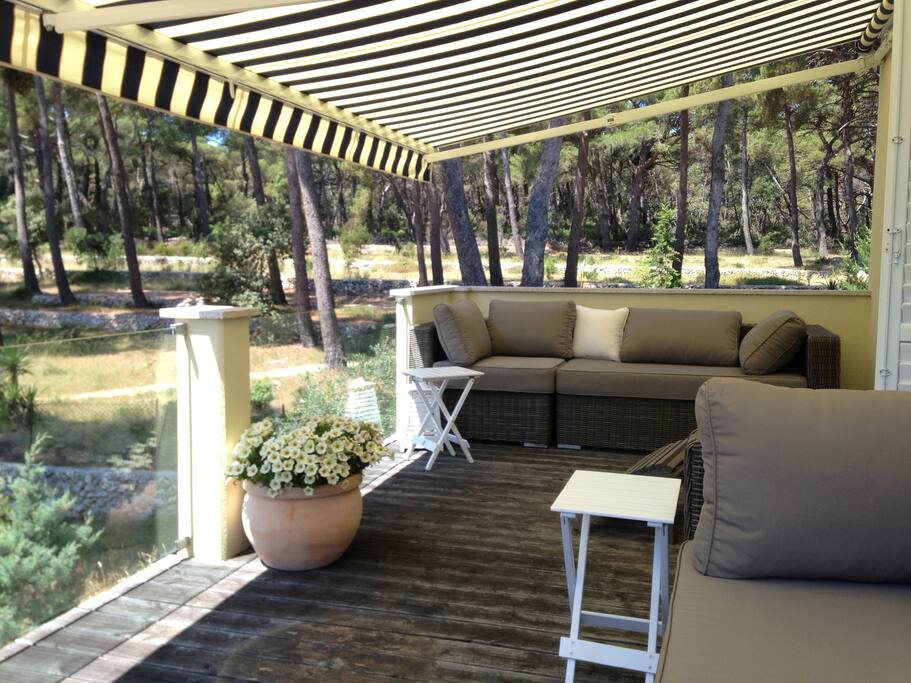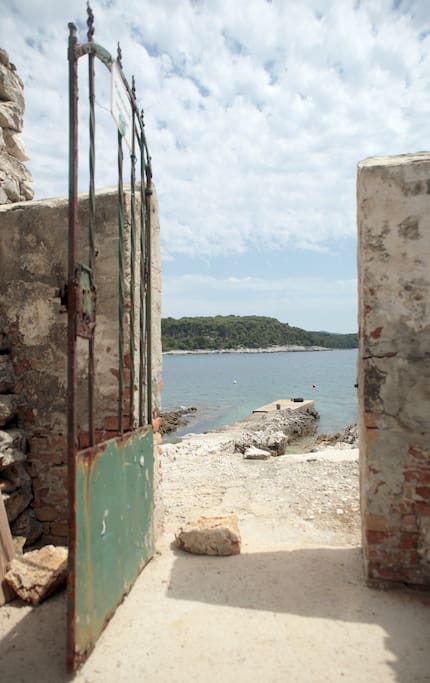 Seaside house on a tiny island
A little piece of heaven on earth as our guests called it. Surrounded by crystal clear sea, the house has all the comforts of a well equipped home. You need to get to the house with a motor boat (+- 700 meter the parking place on the main island)
---
Ein wundervoller Ort. Das Haus ist wirklich einsam auf einer kleinen Insel. Man hat seine Ruhe! Dafür ist natürlich jeder Ausflug in die Zivilisation mit einer kleinen Bootsreise (10-15 Minuten) verbunden. Für alle Ruhe suchenden ein perfekter Ort. Kinder finden dort natürlich keine Spielkameraden, außer den Geckos, Fischen und Krebsen. Aber das hat unsere Buben nicht gestört. Absolute Empfehlung für alle die keinen Touristenrummel gebrauchen können!
---
The sea side house of Agnes located on Koludarec Island is a true Robinson Crusoe like adventure for the family. It is a beautiful, special place in the middle of nature that you can only reach with your own motor boat - taking a short ride of 8-10 minutes. We went there as a couple with three girls 2,8 and 11 years of age. The huge lawn with picturesque pine trees was the perfect playground, we had a slack line, a hammock and with the stones we built a little fairy house. During the night, it was great for the kids to sleep outside on the roof terrace listening to the breaking waves, the crickets and the singing birds. It was so great having breakfast on the garden terrace looking over to Cikat peninsula and the creek to Mali Losinj. On the little pier in front of the house, there are many fishes - a perfect place for snorkel and riding the kayak. Being in the middle of nature meant also to see many beatles, grasshoppers and bees. We even had our own seagull that we called "Anna" and that came every day to be fed. When it is windy and the waves are higher, we had to park our boat in a little haven directed towards the main island and walk an amazing stone path of 5-7 minutes. On Koludarec Island itself there is a scenic sandy beach (gold bay) from where to watch the sunset. The house itself is tastefully furnished as a country house with everything you need: electric stove, dish washer, washing machine, a big refrigerator, van, shower with hot water. Agnes and her husband Robert are generous and amazing hosts. They helped us with everything, answered immediately to any question we had, gave us helpful advise. To welcome us, there was a bowl with fresh cherries and a bottle of wine! In case we would have needed help with crossing the bay, they would have been with us within short time - but fortunately we had perfect weather. To sum it up: this is a unique, amazing, unforgettable place for people that want to enjoy a hideaway - the contrary to all inclusive holidays. Here you get inspired by the nature, you enjoy reading a good book, thinking about live, having BBQ and being with the ones you love, it is the perfect place to recreate your mind.
---
What a paradise like place an earth! We spent one week there early September, Anna and her mum were very friendly and helpful, with recommendations for grocery shopping, excursions etc. the boat was easy to handle and fun to drive around! I can only highly recommend to come to this beautiful place! We plan to come back!!
---
I am a writer and researcher, traveling a lot between Europe and New York.
I'd always rather be on the islands!