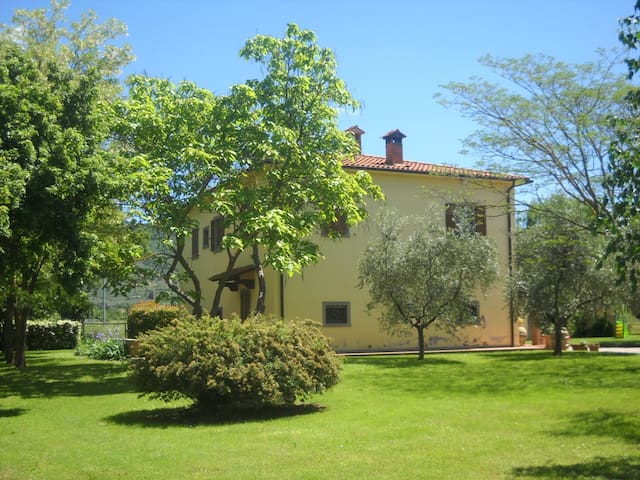 房源
Beautiful villa of the '900 completely renovated in the Tuscan countryside and surrounded by a park in the grass and very skittish of 12000sqm completely fenced, ideal for those who dream of spending a vacation or just a weekend full of total tranquility. Is only km.5 from the center of Arezzo and only km.2 dall'Arezzo Equestrian Centre, major international equestrian center.
In the direction of Cortona, in a strategic way to visit the many beauties of the area and the nearby Umbria, the villa is composed:
4 bedrooms for a total of 13 beds, three bathrooms with shower, one with Jacuzzi, large living room with sofas and library, TV and video library, jukebox with cd, musical instruments (keyboard and guitar) and chess, large kitchen with dishwasher and many other appliances, large dining room with fireplace,
laundry, mini bar consumption. Outside patio with sofas, covered gazebo for outdoor dining.
In the park is the swimming pool with sun loungers and parasols, the gym, table tennis, foosball, playground and children's pool, free bike rental, great barbecue in stone and marble with pizza oven and covered parking.
The villa is well suited for weddings, holidays and various anniversaries, where you can also have the photo shoot, floral and catering. Calling or email can have a custom quote.
We make cooking classes and wushu. Free wifi internet connection.
房客使用权限
guests have at their disposal and of course throughout the villa, the pool, the gym, mountain bikes, parking, barbecue and oven and wifi included. Linen and bath towels with weekly change, and final cleaning included.
与房客的互动
The cooking course, held by the property itself, includes the preparation of a full meal typical Tuscan (Italian on request), and the subsequent dinner of the dishes prepared. Maximum number of participants six people.
Also the course of wushu is required from the property. Possibility of beauty treatments and massages. Riding.
其他注意事项
Excellent starting point for excursions in the city's historic and artistic as Arezzo, Siena and Florence, excursions in Casentino with its beautiful forests and impressive Sanctuaries (La Verna, Camaldoli) .Importanti also pageants of the Crossbow in Sansepolcro second Sunday in September, the Palio della Vittoria in Anghiari, the Joust dell'Arcidado in Cortona, the Joust of the Saracen, or the flea markets in Arezzo, the Checkered Tablecloth Anghiari.
---
---
The Mountain Bike are available only Take good care during use. It 's not possible to smoke inside the
The only recommendation is to always switch off the light in the places where you do not stay the night and in the corridors and outside.
Pets are allowed on request.
FOR THE PERIOD JULY AUGUST YOU NEED MINIMUM 7Nights.
FOR THE PERIOD OF HOLIDAYS 'CHRISTMAS IS REQUIRING 5 NIGHTS.
您还必须确认以下情况
需爬楼梯 - Per accedere alla sala e alle camere c'è una piccola rampa di scale.
可能会有噪音 - nelle vicinanze passa una ferrovia ad alta velocità che viaggia SOLO DI GIORNO e produce un rumore per pochi secondi.
房源里养有宠物 - Io e mia moglie viviamo in una villetta all'interno del parco con due cani e due gatti amorevolissimi che comunque in presenza degliospiti vivono in c
---
Very nice home to stay in, clean, comfortable and centrally located to a lot of the nice villages and cities in Tuscany. Fabio is a great chef and cooked a meal for us on the night of arrival, the food was great and he was able to accommodate dietary restrictions our family. Check in and communication was good.
---
Our stay at LaVilla B&B was absolutely wonderful. Fabio, Valeria and Ione could not have been more helpful and welcoming. We were made to feel like family from the minute we arrived. The villa was beautiful and exactly what one would expect for a "villa in Tuscany". The bedrooms were spacious, the kitchen and dining room provided plenty of space to cook and have meals. One of the BEST things were that there were screens on the windows as there were quite a few mosquitoes. The bedrooms were comfortable and each had a separate bathroom which for our family of 5 was very helpful. The living room was great for sitting and watching a movie after a busy day. They have a very large selection to choose from. One of the other great aspects of this villa was that the owners were close by if we had any questions at all and were very eager to help us in any capacity. We cannot recommend this home highly enough. The one big problem we had was not the owners fault but Airbnb's fault. The address was listed as #10 and it is actually #50. ALSO, nowhere in the listing on Airbnb is the name "LaVilla B and B which would have made our ability to find it so much easier. There are signs for this on the roads leading to the villa but we did not know this was the name of the home. The listing is "Villa in Tuscany" NOT LaVilla B and B. This is definitely a problem with Airbnb, not the owners. Other than that issue, we could not have been happier and the meal that Fabio prepared for us was superb. If we could give this villa 10 stars we definitely would.
---
Our group of 5 stayed at this property during our trip to Tuscany. The property is beautiful and spacious. The parents were very friendly and welcoming. Lonela, their daughter, was very helpful and accomodating us. She even drove us to the nearby supermarket and waited for us for an hour. We enjoyed her company during our stay. However, there are few things that I'd like to mention they would benefit both the travelers and the hosts. 1. Both AC & kitchen were listed on the posting, however, they were not allowed to be used during our stay. Although we were there toward the end of August and the house was cooler, we prefered to use AC as it would help with the moskitos. While I respect that the hosts wanted to save money on energy bill during these months, it would be helpful if that was clearly stated on the posting regarding their exceptions. Some travelers may not care but some do. The same situation with the kitchen, it was there at the house but we weren't supposed to use it. 2. Washer was there at the house, however, we couldn't use it ourselves. We would need to give them our clothes and they would wash for us. Since we only stayed there for 3 days, we didn't think we need to do so. However, I think this should also be stayed on the posting as typically with most AirBnb properites that offers washer / dryer, the guests should be able to use the machine on their own. 3. The yard and the pool were very lovely. They offered many outdoor toys / games for the guests. However, we weren't able to use any of thoses because there were a lot of moskitos. To be clear, I don't think this goes against the hosts, but future travelers should be aware when planning their stays. Overall, our stay was okay at this property. We will come back to Arezzo / Tuscany area for more wine tastings but will stay in the downtown / center area instead. By the way, the hosts can cook dinner for the guests for a fee, though there are a lot more options to try out in the center area of Arezzo.
Dear Eric, I have to contradict you on some things you wrote. First of all, no one prevented you use the kitchen much less air conditioning which are at the disposal of those who rent the villa. Unfortunately at this time the washing machine is broken and that is the reason why we have decided to offer a laundry service. Regarding the mosquitoes I have to say that all the windows of the house have mosquito nets and that we are in the country and I think it is normal that there is some bug..... I would like to reiterate and to communicate to the staff of AIRBNB that we keep faith in what we publish in any way!! All the reviews we have received from our customers on Booking or on Tripadvisor can prove that! The last thing: it is not true that we pay too much attention to energy consumption (even if we don't like unnecessary waste!), In fact no one has ever pointed out that you have kept the lights on in the house 24h-24h. I'm sorry we can't count you among our customers anymore and I wish you with all my heart to spend a beautiful new holiday in Arezzo although not by us.
---
The owners, Fabio, Valeria and their adult daughter, Ionela, were very hospitable. Their own home is just across the driveway from the rental home. Although not intrusive, they were available whenever we needed help with anything. Fabio's cooking class was well worth the time and money. With the help of their patient interpreter/friend, Fabio made the learning fun and memorable. The home-style Tuscan food we made was delicious. The 2 storey house had more than enough room for our group of 4 adults and 4 children. We enjoyed using the outdoor charcoal grill and pizza oven. The kids loved the above-ground pool, and the foosball table. They also enjoyed riding down the bumpy country roads on the bikes we borrowed. The spacious lawns and landscape plants were well maintained. Valeria's lovingly tended flowering plants enhanced the homey atmosphere. The two patios were perfect for just relaxing in the shade. The house is only a short drive from Arezzo but feels remote. It is tucked away down a gravel road so you will want a car (or bike if you're a serious cyclist) if you stay here. Navigating the country roads can be tricky after dark, so you should plan accordingly. Fabio arranged to meet us near the neighboring Equestrian Center and guide us in when we first arrived. The high speed train passes nearby from time to time and is loud but it passes very quickly. It didn't bother anyone in our group, but might be an issue if you're especially sensitive.
---
Thanks to wonderful Costa, Barbara, Illaria and the beautiful "La-Vila", we enjoyed the perfect family vacation. The villa itself is everything you dream of; endless lawns, a great pool, amazing location in the heart of Tuscany and stylish and spacious rooms. The experience is elevated to a whole new level by the hospitality of Barbara, Costa and their beautiful daughter Illaria. From the first moment they did everything to make us feel at home - showing us around the area. taking us grocery shopping, making us a fresh breakfast everyday and basically catering to our every need - always with a great big smile. After 30 years of family vacations. not only did we have our best experience thus far, but we found wonderful new friends in the Morganelli family. If you are contemplating a pampering, once-in-a-life-time vacation in Tuscany - this is the place for you!! And one last thing - don't forget to ask Costa to put you in touch with the talented house chef, Ryan, who will teach you the secrets of Tuscan cooking. All our love and thanks to Costa, Barbara and Illaria. Grazie di tutto!!(URL HIDDEN)
---
We were a party of 2 adults and 6 children. This property was chosen based on the advertised availability of "free bike rental". We were perfectly happy with the house, it has been photographed at its best for the airbnb site but the photos are reasonably representative as it is quite a nice house and garden. Our initial experiences with seemingly pleasant hosts changed when issues over amenities were raised. We were shown around the property following our arrival including the entrance to the laundry room which was attached to the hosts house. When we asked about the bikes we were told, very definitely, by Valeria that there were no bikes because previous guests had damaged the wheels. It was clear to the hosts that this was an immediate disappointment, and clear to us that there was no intention to provide bikes. The issue was raised by messaging Valeria and then Airbnb. We requested the option of shortening our planned 13 night stay as 8 people could not do one of the main planned activities without bikes. This did not go down well with the hosts and we were accused of using the bikes as an excuse. As the hosts are living on site we remained polite at all times to minimise the negative impact of these early encounters for the duration of our stay. When airbnb contacted the hosts Valeria's daughter told us that the bikes would be available on the 3rd day. Only four bikes ever became available, two of which were not safe to ride (poor brakes on child's bike, unstable saddle on adult bike). There were more significant safety concerns with the steps to the free-standing pool - broken steps were replaced by pieces of wood jammed into place. Sun loungers were prone to collapsing resulting in one superficial laceration to my arm and nipped fingers in 2 children. We were told that the air-conditioning thermostat should be put no lower than 24 degrees. (See Eric's September 2014 review along with Valeria's review of Eric and her response to his review for informative reading). What is described as a hot tub is an "in-bath" jacuzzi in a bathroom. The initial age restriction for using the gym unsupervised was 14. This was increased to age 16 during our stay and it was then locked (the oldest child is 15). On our last night Valeria presented my 13 year-old daughter with a bill for using the washing machine (€5 per wash). This is on the listing as an amenity ("Essentials" are also listed as an amenity) with no mention of a charge. This issue was raised with the Valeria and Fabio. Unfortunately the response we experienced was very confrontational and insulting to every member of the party. Among other things the children were falsely accused of bursting pool inflatables. We left the property immediately as they continued to shout insults and "You English" through our car window. The only appropriate response was arrivederci.
---
Da tempo amanti della campagna e degli animali...quando abbiamo visto questa Villa vicino all'Equestrian Centre e circondata dal verde...non ci abbiamo pensato molto e nell'arco di un mese ci siamo trasferiti qui e abbiamo iniziato questa nuova avventura!! Tutti i nostri amici c…
语言:
English