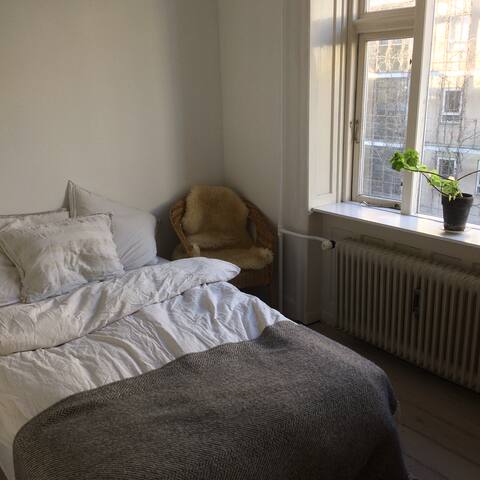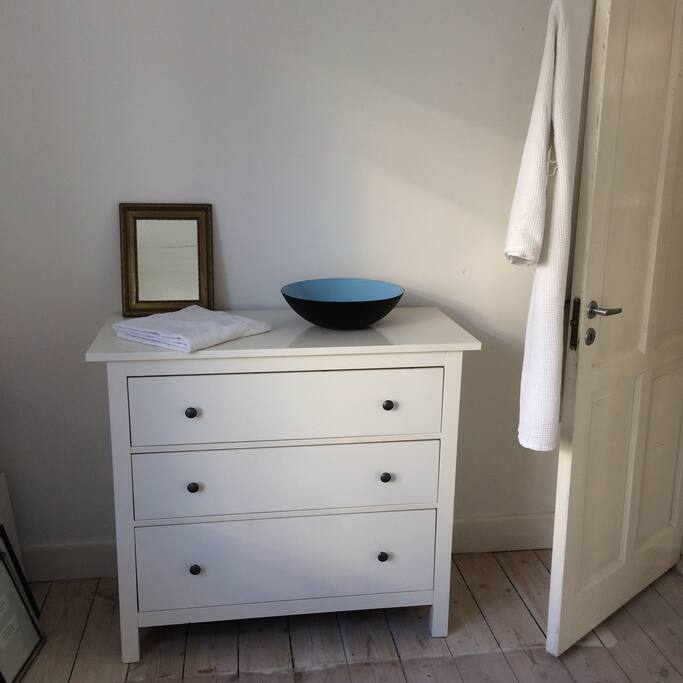 Light and cozy in lively Nørrebro
A cozy room in a light and elegant apartment - with balcony - located in the midst of the loveliest part of Nørrebro, full of small cafes, restaurants and small bookshops. You'll be sharing the apartment with Maria (me) and Mads, my boyfriend.
---
Maria was an excellent host- friendly, communicative, and generous. The room itself is really lovely. The big window allows tons of sunlight in, but there is a blackout shade if you need it. The bed was dreamy comfortable. Everything was clean and well-appointed. Also, Maria was an incredible resource for information on the city, which is literally at your fingertips from her place. The location was fantastic! One note, if you are sensitive to street noise, bring earplugs just in case. I would absolutely stay there again!
---
Maria and Mads are very nice hosts, they helps you a lot and make you feel at home since the first moment. The flat is very well located in Nørrebro, modern area full of small cafes, bars and restaurants. Very easy to find it from the airport or central station. Perfect room for one person, small place but enough for a short travel. Comfortable bed and pillows. A good option for to visit Copenhaguen.
---
Everything went very well. The apartment was cleaned, the room perfect. The communication with Maria was very easy. Event if she wasn't here, she managed everything so I could feel confortable. The only thing was the noise of the street because the area is very busy, at least during the weekend.
---
Maria and her boyfriend were absolutely delightful, they made me feel very welcomed while staying there, we even had a couple of beers and they shared some cool tips and places to try out around their house, I definitely felt home! The neighborhood is without doubt the most lively of Copenhagen, with tons of cool eateries and cafés nearby. Their flat is superb, decorated with a lot taste with a cosy feeling and the room is as described, very charming and bigger than I expected. They even provided towels / hairdryer on demand. The terrasse is very enjoyable when the sun is out! It can get a little noisy at night so I would recommend bringing earplugs, yet I think it is a very common thing in Copenhagen. Apart from this, I had a wonderful trip, thank you again Maria! I'd recommend this place to everyone.
---