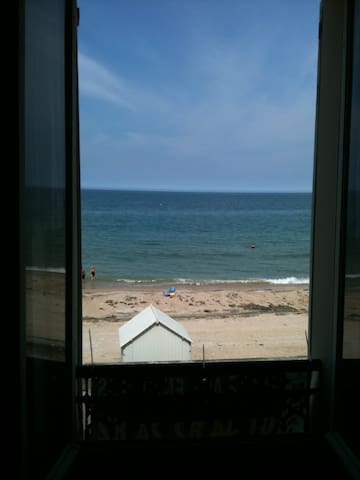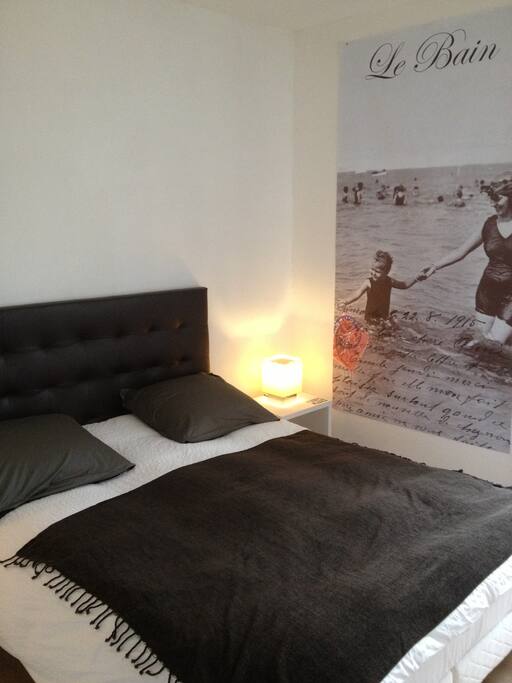 房源
On the D Day landing beach called JUNO (english and canadian sector), we rent a charming 2 rooms appartment located in St Aubin sur Mer (22kms from Caen, 220 from Paris) convenient until four people.
on the "Promenade Guynemer",5 meters walk from a sandy beach, this appartment has an amazing sea view.
it's completly and comfortably furnished.
You can organize your stay through sun bathing but also by :
- visiting landing museums and beaches (Omaha and Utah beach, war american cemetery of Colleville, artificial harbor of Arromanches, Pegasus Bridge, pointe du Hoc battery...),
- going in a day trip to the amazing site of Mont Saint Michel (110km far).
- going to Caen, city of "Guillaume le Conquérant" , to see its Peace Memorial, but also the mediaval castle and Saint Pierre 's Church.
-leisure : tennis, sailing, horse riding, casino.
acces :
-highway from Paris : A13 exit "CHU Hospital" to Douvres la Délivrande and the coast.(2.30h)
-Train: from Paris Saint Lazare to Caen Central Station (2h)
- ferry from portsmouth to Caen-Ouistreham harbor (britanny ferries).
其他注意事项
sheets and linen are furnished for 10€/person staying in the appartment.
---
Finding the place was difficult and as other reviewers have mentioned, communication with Jean Paul can be a challenge. But once there the location was perfect. I wasn't worried about no Wi-Fi because one reviewer said it was available at the info center, but since I was there in the winter, the info center was closed. Normandy in the winter is great because there are no crowds, but then services are a bit lacking. I found some wonderful restaurants, tho. I rented a car in Caen so that I could explore the coast. It was very moving. Unlike other places, though, where you can just leave your key and go. There is no way to lock the place, so you have to meet someone to hand over the key. All this was difficult because I was trying not to use my phone because it is so expensive internationally. I was finally forced to use it and can't wait to find out what the cost will be. I was hoping that WiFi would solve all my problems.
---
Beautiful view of the beach through classic large open windows in the 2nd story apartment - bright & airy. Perfect place on Juno to visit the Canadian landing beaches. Private parking was a major plus. Bedroom was large. Day bed & trundle bed were fine in the central room. Very basic necessities covered - thanks to another reviewer I knew about the towel and toilet paper shortage. There's a little pharmacy very close to pick up soap and other small items. If your not a French speaker plan WELL in advance to arrange contacting local property rep to let you in and keep at it.
---
We stayed in Charles lovely apartment with a beautiful view of the beach in St. Auben with my husband and our two college age daugters. It was clean and the beds were very comfortable. The kitchen was nicely appointed with dishes, and such. We were greeted by a lovely man who did not speak English and spoke very fast french so it was hard for our daughters to even interpret for us but it worked. There was no toilet paper or paper towels, or soap, but those things can be picked up at a nearby little grocery store. The location was lovely, lots of restaurants, and close to the historic beaches, and museums of Normandy. The downstairs neighbor reminded us daily in person we were to take off our shoes and were being too loud. She was nice about it, but we were not being the least bit loud or boisterous. I can't imagine if small children would have been with us. The shower room was teeny.
---
Location,location,location this spot has it! "On the beach" is as close as one could be to this beach. The view out the front window is just as photographed. The apartment is furnished in a modern uncluttered style. The bath towels were great, the bed lwas comfortable. There are restaurants nearby and parking was close by. This works as a good base to explore the Normandy beaches. Charles answered our questions and was easy to work with.
---
HELLO I'm a single 40 years old architect leaving with my son. I'm working quite a lot but i'm always pleased to meet people coming from other parts of the world, a mean to travel to. i'm interested in Art (photo, paintings...) cinema and music. hope to see you soon!!