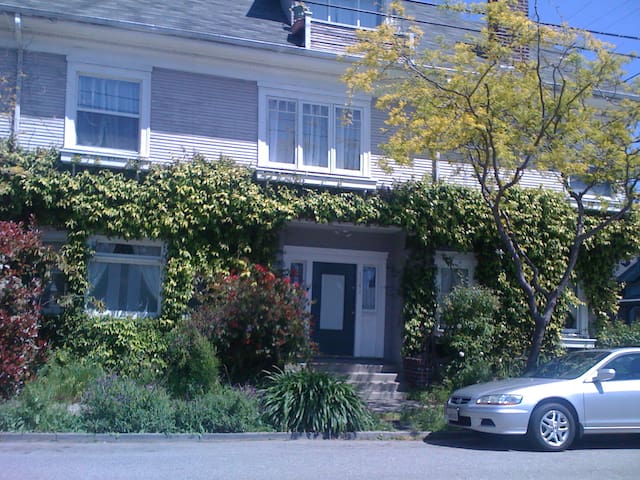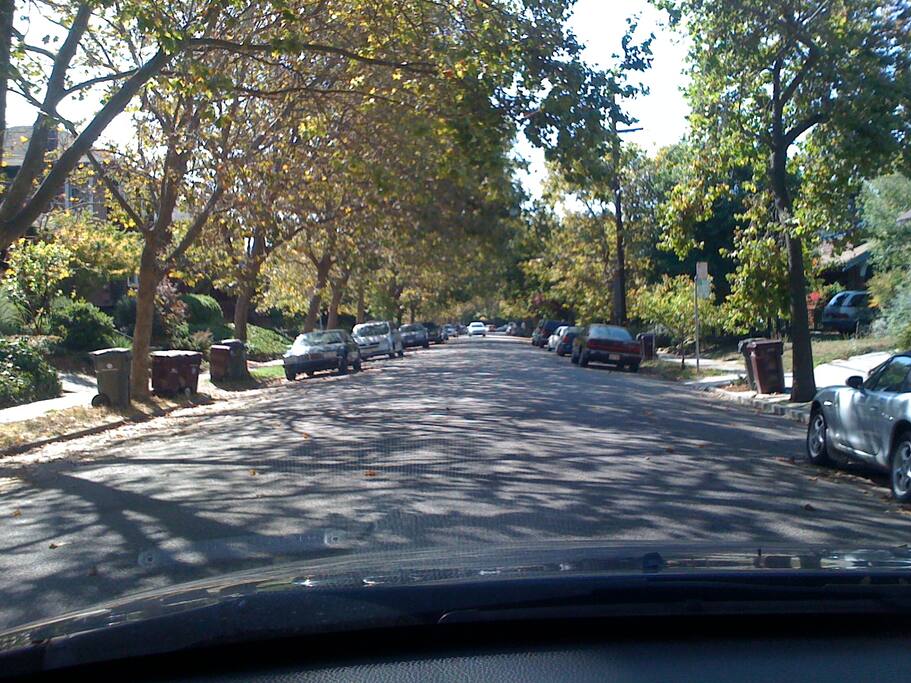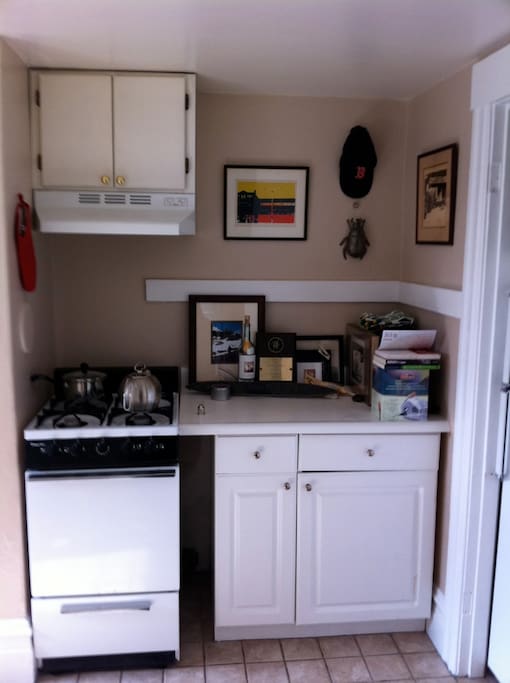 此房源的描述已由谷歌翻译从英语翻译成您的语言,但谷歌翻译并不能保证翻译的准确性。
美丽的阳光充足的公寓在一个安静宁静的绿树成荫的住宅区。位于伯克利历史悠久的Elmwood区,距离College Avenue,餐馆,剧院和书店只有三个街区。 CAL校区只有9个街区!
---
---
---
---
不适合儿童(2-12岁)入住,或不能为儿童提供安全的住宿环境
喜欢相当尊敬的客人,没有派对,没有鞋子里面。这是为两个客人的意图,而不是更多。没有聚会或团体晚餐 - 这个地方很小,意味着1-2最大。有事先批准,我允许3(如果一个安静的小组)谁可以向我保证,他们会安静。我也允许一个单身爸爸和他的三个孩子,因为他们将要出去 - 他 - 他向我保证,他的孩子是良好的行为 - 他们只是使用这个地方睡觉,这也没关系。所以,这是一个个案的基础,但理想的情况是最适合两个最大。它不适合婴儿或幼儿,因为在顶部的楼梯有点陡峭。没有事先批准的过夜客人。
这是一个安静的住宅区,在一个非常安静的社区,我们喜欢保持这样。
夜间晚上10点后,不得运行任何电器(洗衣机,烘干机,搅拌机等)。
如果晚上10点之后进入,我们要求你注意别人睡在别的地板上,安静的进入和离开 - 这意味着不要在楼梯间或大门上大声说话。我们问同样的人。谢谢!
---
---
---
I stayed at this place for one month and it worked out really well. The location is by far the best quality being so close to Rockridge, but also to the Gourmet Ghetto, UC Berkeley, and even a nice stroll to the BART. I had a minor issue with parking, but Maura was very helpful and offered to assist getting parking passes for the month I was there. Be advised you will need a pass to park Monday through Saturday, but the City of Berkeley sells daily and weekly passes.
---
This was our first experience with Airbnb and we thoroughly enjoyed it. My husband and I rented Maura's apartment for the month of July. We were in Berkeley to visit our daughter who was having her first baby. We loved the location. The apartment was tucked away on a quiet cul-de-sac a few blocks from College Ave., a main street. We were able to walk or take the bus to the Bart station and easily ride into San Francisco. The bus goes up and down College Ave. often. Since we're senior citizens, we bought a Clipper card and saved money. We love to walk and we walked all over Elmwood, Berkeley and the Berkeley Hills. We walked to the top of the mountain behind U of C and had a fantastic view of the whole bay. The apartment has a view of downtown San Francisco from the sitting area, which was lovely at night. The queen size bed was very comfortable. There is a washer and dryer in the kitchen. There are motion sensor lights at the entrance and going up the stairs, which were helpful. Maura was easy to reach and responsive to our questions. She was a great host. We were lucky enough to get a reservation for dinner at Chez Panisse, which I would highly recommend. The restaurants and coffee shops in the area are wonderful. We plan on going back to Berkeley often and hope we can stay at Maura's again.
Thanks Christy for your great review. I wonder which hike that was you took - was it behind the Claremont Hotel? If so, that is called the Berkeley Fire Trail, and there are panoramic views of the bay from the top. It's a tough climb though. (See reviews on Yelp.) If that wasn't the hike, you might want to add it on for next year. There is also a book that details Berkeley's hidden pathways and stairs that walkers like, so when you plan your next trip let me know, and I'll make sure the book is there.
---
Thank you, Maura! We spent the month of April in Berkeley and these were excellent accommodations for all we wanted to do, both in terms of the apartment and its proximity to all the community has to offer. We each needed a work area and were pleasantly surprised to find that the apartment felt bigger than it looked online, in part because of the layout of rooms, which are connected by a hallway, and even the living room and kitchen have doors and can be closed off as needed for privacy or quiet. The living room has a desk in front of an expansive window with a view across the neighborhood and the San Francisco skyline glimmering in the distance, a wonderfully conducive spot for writing, and the bedroom has a window nook where we placed a desk found in the bedroom storage closet under the eaves. There are ample closets and storage and we could have happily stayed another month or two. We also had company for a few days and the living room has a futon couch that makes a bed, and there are ample linens and towels, so this all worked out better than expected as well. We had a surprise heat wave for a couple days and Maura quickly supplied a nice quiet fan, which made sleeping cooler, and the apartment has windows that permit a good cross breeze. The neighborhood is lovely, the local residents and shopkeepers are friendly, and we loved the shops and cafes of College Ave, as well as the Berkeley campus. We brought bikes with us (and they also can be rented nearby on Telegraph, or purchased and sold back, if staying longer) and were able to explore widely, and found BART quickly accessible and easy to use for adventures in the city. We also rented a car for a few days, quite inexpensively, at Enterprise, about half a mile away on Ashby, and were able to explore Point Reyes, Marin County, and parts of the city that are less accessible by public transit. Proximity to good local food (nearby shops, farmers markets, Trader Joes and Whole Foods all within walking distance) and a kitchen with all you might expect made it possible to cut our costs substantially, although we did enjoy a number of local eateries – including one fine meal at Chez Panisse (booked 30 days in advance). Don't miss the Rockridge farmers market on Sundays, at Claremont and Cavour, probably about a mile and easily walkable – not only superb local fruits and vegetables, but also Thai, Indian, tamales, fish tacos, fresh juice, multiple bakeries, a superb pot pie company, tofu, etc. Stock up for the week! We miss it. Thank you again, Maura, for opening your home to us!
---
Maura's penthouse is a very nice place to stay and I highly recommend it. What I like the most about this place is that it is (probably) in the best neighborhood of Berkeley. Lots of people think so. It is absolutely charming and close to everything. There are lots of trees and flowers, it's quiet, people are really nice... With the Californian sunshine, it's just delightful. Not too far away (5min walk), there are a bus stop, lots of nice restaurants, a movie theater, stores, a post office... The bus drives you to the BART station (downtown) in 15min so it's easy to go to San Francisco if you don't have a car. The campus is pretty close too (20min walk or 5-10min bus). About the apartment, it's on the 3rd floor of a very charming house. There is a big bedroom and a living room that can be turned into a bedroom too. Actually I'm sleeping in the living room and I find it quite comfortable. It's very bright and quiet. There is a balcony with a view of San Francisco that I enjoy a lot. As a student, I find it perfect to work. In both rooms there are a desk and a closet. The kitchen is very well furnished with everything you might need (fridge, blender, toaster, dishes...). There are also a washing machine for your clothes and a dryer. The last room is the bathroom where you can find the toilets and a bath. Maura furnishes towels and sheets so you don't have to bring yours. Overall the apartment is clean and very easy to look after. I've been living here for a month now with my roommate and I don't regret my choice. I went to some of my friends' places but Maura's apartment remains my favorite. Hope this review will help you making your decision.
---
This is a terrific place to stay. The apartment is equip very comfortably with everything you might possibly need during your stay. It's on the top floor of a well maintained charming 3-story home, it's quiet and in a beautiful neighborhood. The apartment has a view of SF and the Bay which was a real pleasure at sunset. I did not have a car while I was staying there and I commuted to SF everyday, it was very easy to walk to the train, or get groceries, coffee or go to dinner. Excellent place to be for a month.
---