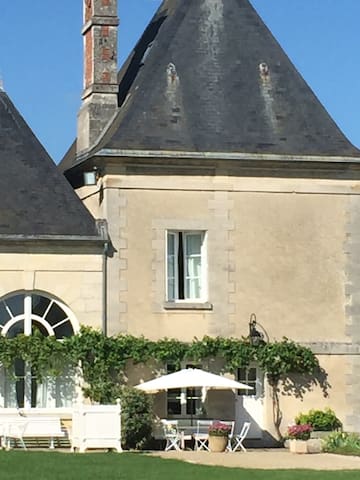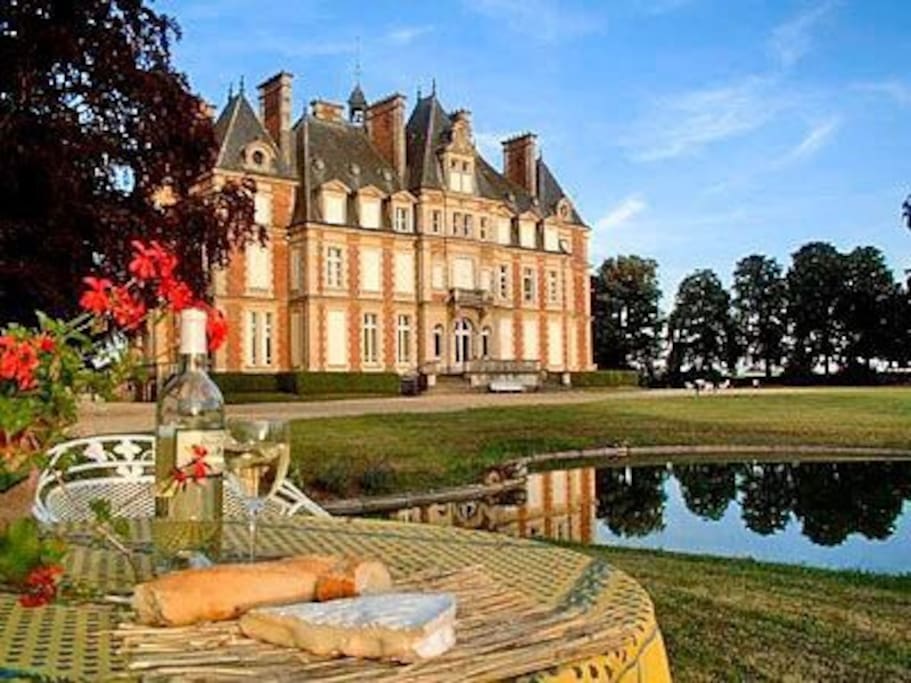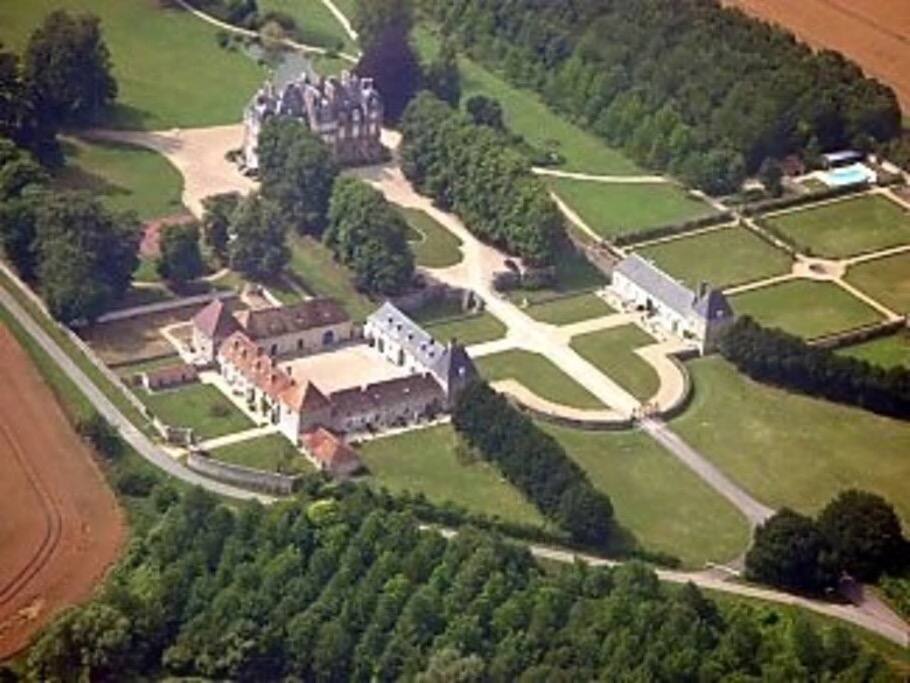 Charming tower in the Historical Chateau Estate surrounded by 40 plush park like acres with orchard, greenhouse, forest, formal and wild gardens, woodlands, moat (now dry) and ornamental ponds with pool, tennis court and pool. Home is fully equipped on 3 floors plus a loft. 40 mins from Paris.
房源
The tower is a unique space in this historical Chateau estate. Guests are encouraged to use the beautiful outdoor space, garden and interiors.
房客使用权限
Guests have access to the 40 park-like acres, running track, orchard, tennis court and heated pool (Open from April to October).
与房客的互动
I appreciate everyone's privacy upon arrival so to the extent that guest needs something, they are certainly welcome to contact me. Otherwise, I let them enjoy their time.
其他注意事项
Chateau La Trousse is a fairytale place that is full of life, mature historical trees that light up anyone's bad day. THREE NIGHTS MINIMUM.
Please note the prices change during holidays. I don't know where to put that note in the prices section of Airbnb so please read it here. Prices are below:
Base rate:
(PHONE NUMBER HIDDEN)
high season: summer 6/1-9/15
And Holidays:
Xmas/ Nye 12/20-1/5
Easter/Spring (PHONE NUMBER HIDDEN)
---
---
CHATEAU LA TROUSSE – REGULATIONS FOR TENANTS

Welcome to Chateau La Trousse. As you are no doubt aware La Trousse is a shared environment and as such we have House Rules that have been compiled for the benefit of all residents of Chateau La Trousse. We hope you enjoy your visit and we ask that you observe these house rules whilst staying on the estate. There are numerous little things that need to be mentioned so modern life can fit in with the communal use of 400-year-old buildings. We really appreciate your cooperation and understanding.

A significant part of your enjoyment here will be because of the work done by two of our members of the La Trousse community. Jean-Yves is the gardener/caretaker and has the responsibility of maintaining the grounds and physical aspects of the buildings. Fouzia is responsible for cleaning the common area in the chateau but is also used by many owners as the liaison person with renters.

Both Jean-Yves and Fouzia are integral to the day-to-day running of La Trousse.

-----------------------------------------------
Arrival at La Trousse.

Standard arrival times are 0900 to 2000

When you arrive please phone your appointed contact so that they may let you in.

Please wait outside the gates so they know exactly where to find you.

Late arrival time
Please follow the instructions specific to your rental apartment.

The Entrance Gates

The gate code is 33771 - The access number pad is in the gate structure by the pedestrian side gate. The gates will open and close automatically.

Leaving the Estate – After inputting the code take care not to cross the sensor beam when you walk back to your car or the gates will immediately start to close and will need to reset before they can reopen. The sensor beam units are on black steel posts, 2 meters in front of the main gateposts.

If you are not taking your car out of the estate please use the pedestrian side gate which will be unlocked.


Please do not let children play with the gates

Car Parking and Driving in Complex

You can drive to your accommodation to unpack/pack your car then please park under the Horse Chestnut trees over the moat bridge or in front of the chateau. For everyone's comfort and pleasure we ask you not to leave your car either in the Cour or in front of the Orangerie.

Speed should be kept to an absolute minimum when driving around the chateau complex. Drivers should be aware of both safety and the amount of dust that is associated with excessive speed.

Garden furniture

There is a variety of garden furniture around the Chateau, Orangerie and Cour buildings. Please check if the owner of your rental apartment has provided garden furniture for your use and where the furniture is located.
You are welcome to use the benches around the main garden to the front of the Chateau.

Gardens & Communal Areas

You are welcome to use the communal areas of the estate. These include swimming pool, tennis court, swings, kitchen garden, Spinney, barbecue and the general garden areas to the front, back and sides of the Chateau.

However please be advised that your rental arrangement does permit access to the produce in the gardens. Several owners have spent many hours cultivating and nurturing their kitchen gardens and orchard, to grow produce for their own enjoyment. In years of access you may find boxes of fruit and vegetables inviting visitors to take as they want and at those times feel free to do so.


The estate boundary is walled all round so strangers cannot wander in or children wander out. However, we would suggest you do not allow young children to explore the estate unsupervised. The ponds and moat are not fenced off, are quite steep sided and deep. Please make your children aware of these potential hazards.

Ball Games
The area directly in front of the entrance gates (prior to entry) and the large grassed area behind the chateau are ideally suited for ball games. Other areas infringe on gardens and plants are easily damaged by balls (and people) going astray.

Washing and Drying of Clothing
Please note that it is not permitted to hang washing or dry towels etc. outside your apartment. This is not only unsightly but also not in keeping with the ambience of the chateau complex.

Pets
Dogs should be kept on a lead when outside the apartment and is expected that all pet owners will take the appropriate measures to clean up after their pets. Each pet owner needs to ensure that his/her pet does not cause a nuisance.

Fireplaces in apartments
Fires are forbidden in fireplaces or log burners unless the owners of your rental apartment have made a declaration that the fireplace has been passed as safe to use.
Where fires are permitted please check the owner's instructions regarding the provision of wood. Please do not take logs from any log stores around the Estate.
Where provision of wood is the responsibility of the tenant (varies according to owners) it can be bought from Jean Yves at an extremely competitive price compared with garden shops or supermarkets.

BBQ
Due to insurance specifications relating to the age and historical significance of Chateau La Trousse buildings, BBQs with naked flames are not allowed close to any buildings. There is a communal BBQ in the garden between the swimming pool and Chateau.

Noise level
In keeping with the ambience of the chateau sound levels of radios and other sound equipment should be kept at a level which does not disturb other residents. You should be particularly mindful of late night conversations outside your apartment, as in some areas the noise carries quite far (especially late at night). In fairness to other residents, 11pm is considered a reasonable hour to cease outside group discussions and gatherings.

Tennis Court (Available May – Oct.)

Can be used at any time the net is connected. In busier months a coin/token reservation system will be set up. It is very simple and there are instructions by the court. You may need to bring your own racquets and tennis balls, as the local supermarket does not always stock them

Out & About Supermarkets/Fuel

Fuel is available at two places – Carrefour Supermarket on road to Trilport and Intermarché market on the road to the airport (through Lizy sur Ourcq).

If you prefer smaller shops, there are two very good boulangeries in the main street in Lizy sur Ourcq.


SWIMMING POOL (Available May – Sept.)

Open daily
8.30am – 9.00am adults only,9.00am - 7.00pm family use.
Please Note - The Pool Rules
To comply with insurance requirements the following rules apply

1. No inflatable or polystyrene toys or lilos to be used in the pool other than swimming teaching and safety aids.

2. In the pool garden all children under 10, whether they are swimming or not, must be accompanied by an adult.
3. No diving.

For everyone's enjoyment of the pool the following rules apply

1. Please shower before getting into the pool - Sun cream and body moisturisers tend to knock out the chemical balance of the water and it turns milky/cloudy and uninviting. On occasions this has caused the pool to be closed while chemicals are added to clear and rebalance the water.

2. No glass to be taken into the pool garden. The breakage of glass in this confined area will also lead to the pool being closed for intensive cleaning.

3. Please take your rubbish with you after each visit - bits of paper, plastic etc. can get blown into the pool and then get stuck in the filter tank resulting in the pool being closed to clear the problem.
4. Poolside furniture should be returned to the open barn.

If the pool has to be closed for unscheduled maintenance, as in the examples above, this can mean a period of anything up to 3 days, which could be a considerable portion of your holiday without the pool!

Please note: the pool does not have a supervisor or lifeguard. Usage of the pool is entirely at your own risk. Owners and the Syndic cannot be held responsible for accidents, injury and damages to individuals.

RUBBISH PROCESS - THIS IS VERY IMPORTANT

The local authority can impose a fine on the estate if we do not stick to the strict recycling rules. Large rubbish bins are at the first bend of the driveway, outside the entrance gates.

Unfortunately the main culprits are renters not understanding the system so please take time to separate:
Blue lid bin - cardboard, magazines, newspapers, metal, tin cans, hard plastics i.e. containers for milk, washing liquid, yoghurt pots. After depositing these items of rubbish please place the carrier or black bag used to transport it, into a bin with a Maroon lid.

Maroon Lid Bin - perishable food waste, soft plastics, polystyrene packaging, tissues & bathroom rubbish.
White bin – for glass bottles please remove corks or lids. Container for bottles is through the boom gate.

Toilets and Drains – ALSO VERY IMPORTANT!

PLEASE, PLEASE, PLEASE do not put anything down the toilets other than human waste and toilet paper. Please use the bathroom bins provided for everything else. We have a Septic tank servicing the chateau and should the pump get blocked the consequences are extremely unpleasant for all concerned.

During your visit to Chateau La Trousse should you have any questions or problems then please contact the owner of your apartment in the first instance.
Otherwise you can contact:
Jean Yves – the Estate Guardian


IN CASE OF EMERGENCY –
Emergency services telephone 112
Nearest 24 hour hospital – Grand Hopital de L'Est, 6-8 Rue Saint-Fiacre, 77110, Meaux (+(PHONE NUMBER HIDDEN))


Thank you for reading this document. It has been compiled for the communal benefit of everyone and we hope you enjoy your stay at Chateau La Trousse
---