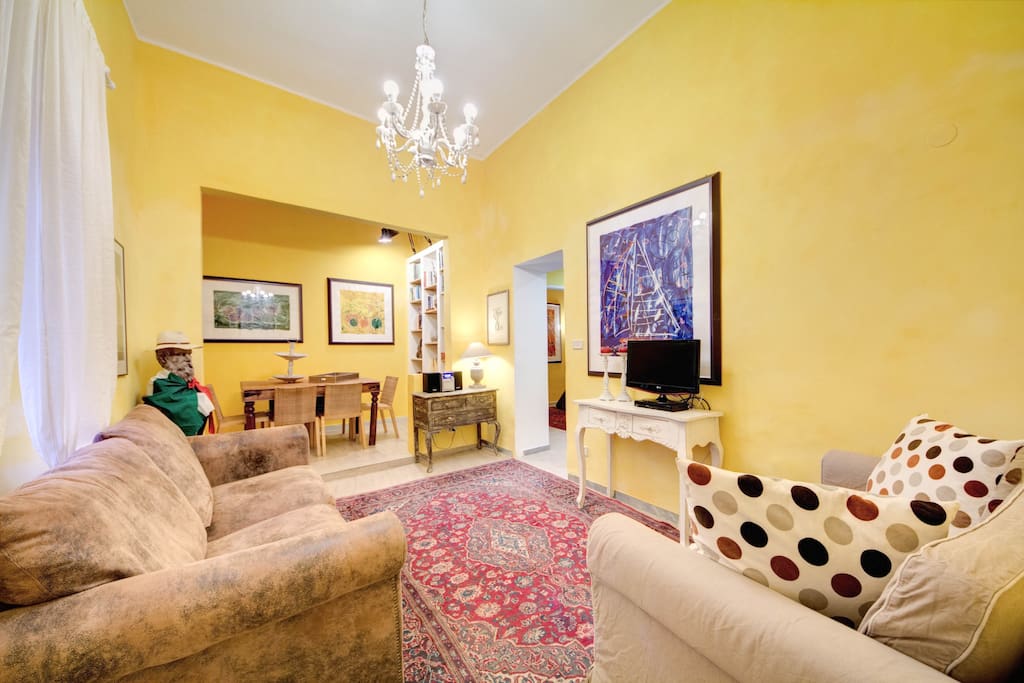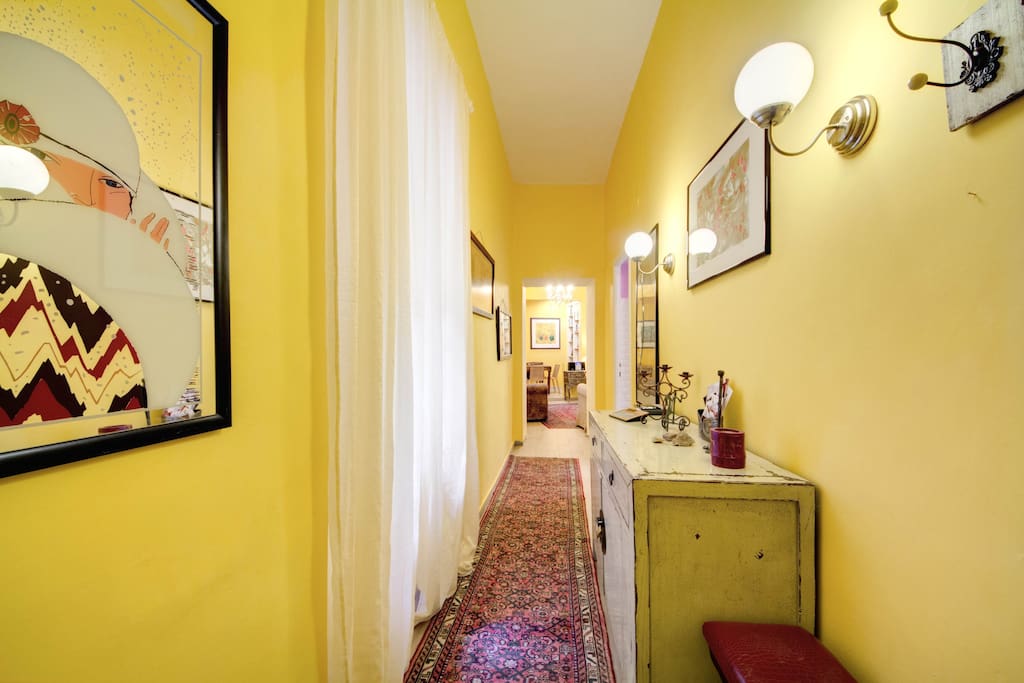 The area is absolutely safe, day time and night time,is full of nice RESTAURANTS( I will let You know which one is good ) BARS , GROUCERY STORES and Daily Markets. Feel free to contact us or just let us know and we will contact you by phone
房源
The apartment is in a unique location, consider it is no more than 200mt away from PANTHEON and 300mt from Piazza NAVONA. Parliament, Senatus and Trevi Fountain 5 minutes away while Spanish Steps ( fashion area ) Via del Corso , Via del Babuino , Piazza del Popolo…but also Piazza Venezia , Quirinale, the amazing and charming Jewish Ghetto and Colosseo no more than 10 minutes away. The area is full of nice RESTAURANTS( I will let You know which one is good and not touristic and which one You have to avoid ), BARS ( at the Basement there is the Caffè Gotico owned by Cristiano always nice and helpful ) GROUCERY STORES ( the closest one is no more than 200mt in Via dei Giustiniani open 9am up to 22pm7 days a week ) Daily Markets ( at the back of our building in Piazza delle Coppelle there is a very nice and characteristic fruits and vegetables markets usually until 2pm ), The area is absolutely safe, day time and night time, there are policeman h24 guard on the corner because of an Historical Church…who could ask for more ? They are very friendly and after the first day, as soon as they realize You are no more a tourist but a local, they will start saying " Hello " . The building is an historical building of the XVI Century in perfect condition and it has protected by the fine arts. Your apartment is almost 80 sq.mt very well organized and completely restored on Jan 2010. The entrance consist in a big and long corridor, on the right there is a fully equipped kitchen provided with everything You might need for cooking, pots and pan, an electric oven , gas fire cookery, microwave, dish washer and an amazing fridge with a huge frozen part, there also is a small balcony with a storage for the washing machine. Getting back to the corridor there is an arch leading You to the heart of the apartment, the living room. There is a comfortable sofa bed for 2, an ancient Chinese closet and an ancient little desk, in the same room but over a step there is the dining area. It has a wall library full of reading books, rome guides and maps plus the ancient Indian table with 6 chairs, there also is a brand new 22" tv . Another arch leads You in the sleeping part of the apartment, 2 double rooms, the white one and the black one with 2 toilettes with Versace's Marble Tails and 2 idro-massage showers to relax Yourself after a nice Rome tour. Both bedrooms has finest furniture's, brand new and comfortable mattress are maden by a new component ( the company guarantees it will take the shape of Your body for heavenly dreams ) and the " head of the Bed " is an ancient painting frame cut into 2 parts and then adapted by pone of the best " handcraft " in town with an amazing fabrique. The apartment windows overlook the 2 inner courts so the whole apartment is always embraced by the silence, always even if You could not be more central, this is definitely a plus ! The apartment is also provided with wi-fi, (network : NEMOMEDOMAT
psw : 10AFA10AFA recommendation 10= number ten AFA = in CAPITAL LETTERS or You will not have internet access ) independent heater and air conditioning in every room, linen and towels,If You might need some special furniture's just let me know it and I will do my very best to provide You with. The welcome is very friendly and according to our scheduled we will do our best to take You for a ride in the area so You can immediately know the main things saving time…..on holiday it is never enough ! I have 2 more apartments in the same street , next building and 3 more 2 minutes away only so I can accommodate up to 26 people within 300mt. According to the availability , if You have friends, colleagues or relatives in town they are all very welcome to have a look at it so their eyes can speak better than any reviews, we have nothing to hide and everything to show !
---
---
IN CASE OF EARLY ARRIVAL AND LATE DEPARTURE !
In case of early arrival You can leave Your luggage inside the apartment at 11am, we can not ask our guests to leave the apartment before that time and we will not ask it to You the day of Your departure. The cleaning lady will come at 11 and You can leave Your things inside the apartment so You can immediately start enjoying the town without heavy weights. If the checking out family has an early departure You can obviously leave Your luggage at 9am. If they have a late departure they will leave the apartment at 11 leaving their luggage closed inside the apartment , keeping one set of keys and they will be back just before going to the airport ONLY FOR OPENING THE DOOR, COLLECT THEIR LUGGAGE AND LEAVE THEIR SET OF KEY. This is what we will be pleased to do to You if You have a late departure.
Extras:
Check in will take place between 11am and 08pm, while there is a surcharge of 30€ for check ins after 08pm .
Check out takes place until 11am.
A stay tax of 3.50€ per day and per person will be charged to the clients. This tax can be apply for a maximum of 10 days and are exempt children under ten years.((cash only ))
Plus €200 deposit against damages, The €200 deposit will be refunded completely at the check out if no damages are in the apartment. ((cash only))
---
This was the perfect apartment for our group of 4! Great central location and close to many great restaurants, bakeries and delis. Karina allowed us to leave our bags early and there was a fruit and wine basket to welcome us at check in! She even arranged our transportation to the airport for us. I would definitely book again.
---
Right at the pantheon , what a dream ! Clean, safe, quiet and location location location .We also reserved the best tour :COLOSSEO ...the tour guide really profesional and so friendly Such a big pleasure being assisted by My magic rome staff
---
Me and my boyfriend love this apartment, we had a very late check in and all was ok, mymagic rome staff offered us a special discount for Venice since they have an apartment there, unfortunately we were there before coming to rome , if you are traveling in these 2 cities ask them a friendly discount They are very nice and professional people
---
This apartment is perfect for exploring Rome. It is literally in the center of the tourist sites and you can walk everywhere. The hosts recommendations were excellent and we especially loved the restaurant around the corner (in the alley). I forgot the name but it has 48 in the name. The apartment is very nice. The second bedroom does not have any windows, FYI. The kitchen is small but well stocked and we cooked most of our meals there. Having a washing machine was nice, except that it's very loud so you have to do the wash during the day. What a great place! I would definitely stay here again.
---
My magic Rome was an excellent host! They were easy to get in touch with before the trip and extremely helpful! They responded quickly to emails. Karina was very kind when we met her and made us feel very welcome! I recommend their apartment to anyone traveling to Rome. The apartment is in an excellent location, easy to walk to all of the sites.
---
We are 5 girls knowing Rome very well, we love travelling that is why we do more than our very best to give exactly what we would like to receive when we go abroad, this is more than our mission, it is our life style !
we love good music, photos, movies , having dinner together as much as we can and modern oil on canvas, this is MY MAGIC ROME
语言:
English、Español、Français、Italiano、Русский