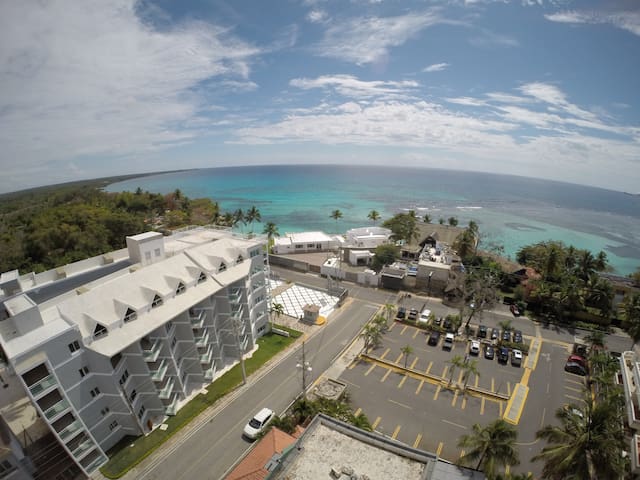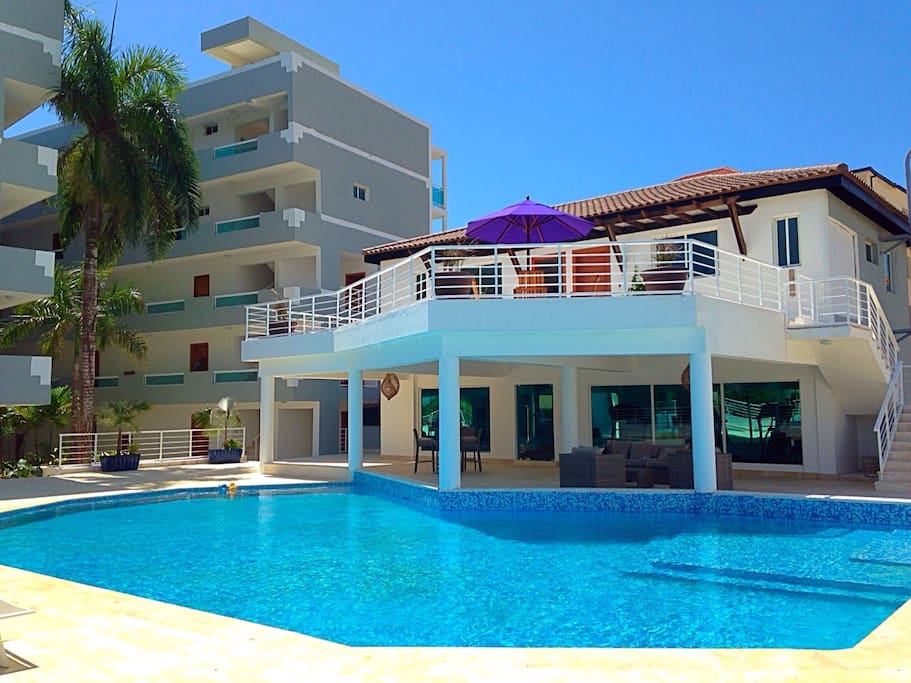 Newly remodeled and beautifully furnished Studio. Amazing Ocean view from the entire Studio. Full bed. Ocean view from balcony and Kitchen. Glass mirror closet, TV and wifi. Refrigerator, stove. No oven no microwave. Large bathroom. Social Area with Large shared swimming pool. Gym (no a/c). 5 minutes to supermarket, 10 min walk to the beach on which you find more local restaurants, 15 minutes to Las Americas International Airport and 40 minutes to capital. Best area of Boca Chica.
其他注意事项
For pictures and reviews please see our (SENSITIVE CONTENTS HIDDEN) @vistamarinaresidence
and @StTropezrd
---
Raquel, my host was great. Every question that I asked after booking was answered in detail, and Raquel was very prompt to respond. The unit was amazing and very clean. The area surrounding the complex was great, as well as the restaurants. The ladies that worked at the front desk, although they spoke very little English and I spoke very little Spanish, answered all my questions and made sure I had everything that I needed during my stay. I would definitely return to this property when I visit Boca Chica again! Only thing was the wifi in room wouldn't connect during my stay, even after getting with front desk girls and double checking the wifi connections available. This caused me to have to go to lobby to do some work on laptop, somewhat of an inconvenience, but definitely did not ruin my stay!
---
The place was accommodating and put together very well. Very comfortable, with a few beautiful oceanside restaurants. The staff let us do a couple loads of laundry! Raquel contacted us very quickly when we had a question. The hostess provided a Claro mifi that worked fine for internet access. Would recommend for a simple place to spend the night, or somewhere to spend some time.
---
Raquel was really helpful in advance and Wendy at the apartment was very polite and great to deal with. The units here are very new and nice to stay in as an alternative to a hotel. There were a couple of small issues that Wendy dealt with straight away and actually ended up moving me to a bigger unit so I wasn't waiting around. The location is great for being close to a couple of the best restaurants in Boca Chica and of course everything else is very close too being such a small town. I went to Boca Chica to scuba dive and this worked out great as it was a short 6 minute walk to the dive shop.
---
El apartamento que habíamos rentado, era pequeño pero bonito, lamentablemente tenía problemas de cable, lo que desde un inicio nos comentaron y nos llevaron a un apartamento más grande y bonito. Lamentablemente éste también tenía el defecto de que el grifo del agua de la cocina no tenía la manguera de conexión, con lo cual nos pasaron a otro mas grande aún. Era el mejor de los apartamentos. La vista en los dos primero era buena, y los aprtamentos nuevos como Raquel mencionó, pero en éste último, la vista era de ensueño, con ma habitación con vista directa al mar. Fui con mi novia así que pasamos dos días increíbles. Para almorzar les recomiendo BUEY Carnes y Mas, que se encuentra en Juan Dolio y si desean más cerca está Boca Marina (justo frente al edificio donde está el apartamento) y Neptuno. Johnny que es el administrador local, muy atento también al igual que todos en el edificio. Soy de Perú, y he recorrido varias veces la isla, y realmente la vista desde el edificio me sorprendió mucho. De igual manera Raquel muy amable y rápida con sus respuestas. Gracias Raquel!
---