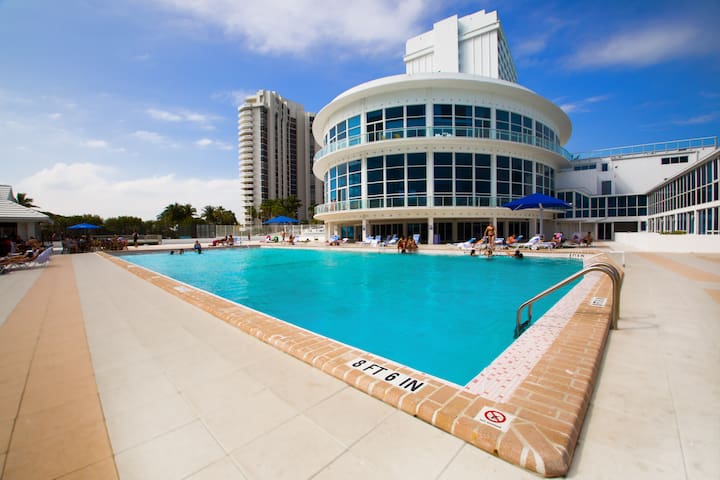 OCEAN VIEW W/BALCONY W/PARKING 1430
Ocean front property
FREE Valet Parking FREE WiFi Safe Box
Daily cleanning usd (towel change , bed turn ) usd 20+tax x day.
Building Amenities:
Direct Beach Access
Swimming Pool
Gym
Laundry
Restaurant
Tiki Bar
2 grocery stores.
Check in: 3PM
Check out: 10AM
---
appartement très bien décoré, vue magnifique, photos conformes, mais déçue par l'équipent vendu en tant que "appartement", pas de plaque de cuisson, aucune prise éléctrique dans la cuisine donc obligé de brancher la cafetière dans la chambre !! très peu de vaiselle, pas de balai, de pelle, rien pour nettoyer à croire que tout est fait pour commander à manger au resto dans bas et pour payer le ménager journalier!! Wi-Fi très médiocre
---
My parents and I spent two weeks at Enrique's apartment. Even though we had no contact with Enrique, the stay was great! The place looked as in the pictures, very clean, comfortable, well-equipped, with a beautiful view. The location was perfect, in front of the beach, friendly staff and easy check-in and check-out. The only thing that I would suggest is to forbid hammering during mornings, there were a couple of days that we woke up at 8:30am because of the noise.
---
I would not recommend this booking at all! I usually have great air bnb experiences, so sad this was not a good experience at all. Wifi connection was very poor, kept going out, not reliable, very frustrating. No one had cell phone reception in the room, it was a deadzone There were no towels and no toilet paper in the room. There was no phone to call reception, you had to go downstairs for everything. The hotel was very old, elevators barely worked There was a lot of party people, loud music every night, couldn't sleep. They were doing loud construction on the roof right in front of the room everyday. The TV didn't work, there weren't enough plugs to plug in our phones, the room was dark, not enough lighting. The kitchen facet was running and dripping all the time, needs to be fixed and the shower was broken and could barely get consistent hot water to take a shower. The room was dirty, lots of dirt on the floor that stuck to your feet, you had to wear your shoes inside. The valet was congested every single day and took 20 mins to bring out our car. The location was far away from everything and not walking distance to any stores or shops. The store on site didn't even have deodorant or razors. Also, as a Canadian I would have appreciated staff that could speak English, no one who worked at the hotel spoke English, Like I asked if they sell bottles water and they couldnt understand me. Everyone spoke Spanish. Its really hard to communicate with people in customer service that don't speak English. Worst of all Enrique was so rude to us for no reason. When we checked out of the hotel we asked the hotel management staff and cleaning staff for a late check out, they said there was a late checkout fee and we said no problem and we paid the late checkout fee. I repeat, we paid the late checkout fee. We left 3 hours before the next person would check in. We thought everything was fine then Enrique messaged me the following day saying we broke the rules by checking out late, but we asked in advance and they said it was okay. Very confusing. I'm very confused, I don't think Enrique speaks English very well, I think there was a language barrier. Maybe if you speak spanish you might have better communucation with Enrique and the staff at the hotel. Overall would not recommend, host treated us poorly, hotel staff was not helpful, room was dirty, loud and things were missing or didn't work, location was too far for convenience. The only good thing was the view. So unfortunate as the pictures and reviews make it look like a nice place to stay. Very disappointed.
YOU ARE NOT WELCOME HERE EVER AGAIN!!!! Report COURTNEY SCHRANZ CHECK-IN: 03/18/16 CHECK-OUT: 03/21/16 We had an inconvenience today with this guests' check out…. There is no flag of 'late check out' in this reservation… We went to knock at the door by 11:30 am since we realized there were still 'in house', everybody sleeping (kind of 'drunk' and 'something else'…),we advised them if they were not out by 12:00, they would have to pay for an additional night… However, one hour later they came down evading us because evidently they did not want to pay…. As we were busy assisting two other customers at the Front Desk, they took advantage of the situation and runaway to the sidewalk outside the building… Jeannette chased them down with Security (Oscar was on duty at the time), however, they still refused to pay… I went to talk to them one more time (to the sidewalk) to get to an arrangement 'for good' or 'call the police,' they did not really care if we called the police… Finally, we agreed to at least pay $50.00 for the 'really late check-out'…. As we are writing this email, Housekeeping is informing us about the smell on the beds of 'throw up'.. DO NOT RENT THIS PERSON!!
---
My name is Enrique and I manage several properties for short rental in Miami Beach Florida.