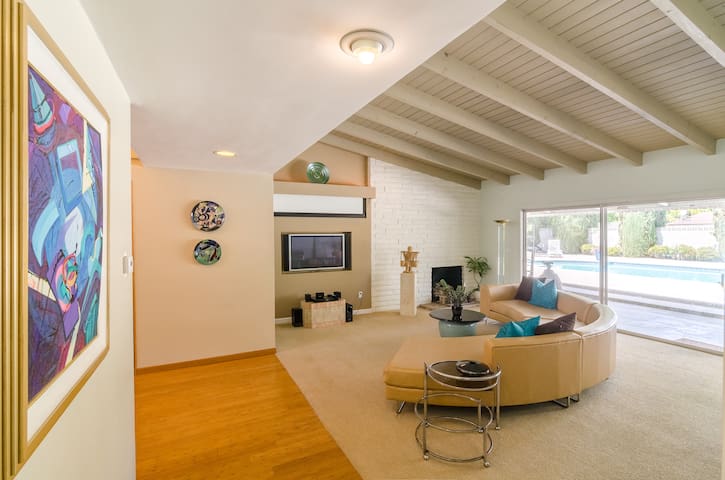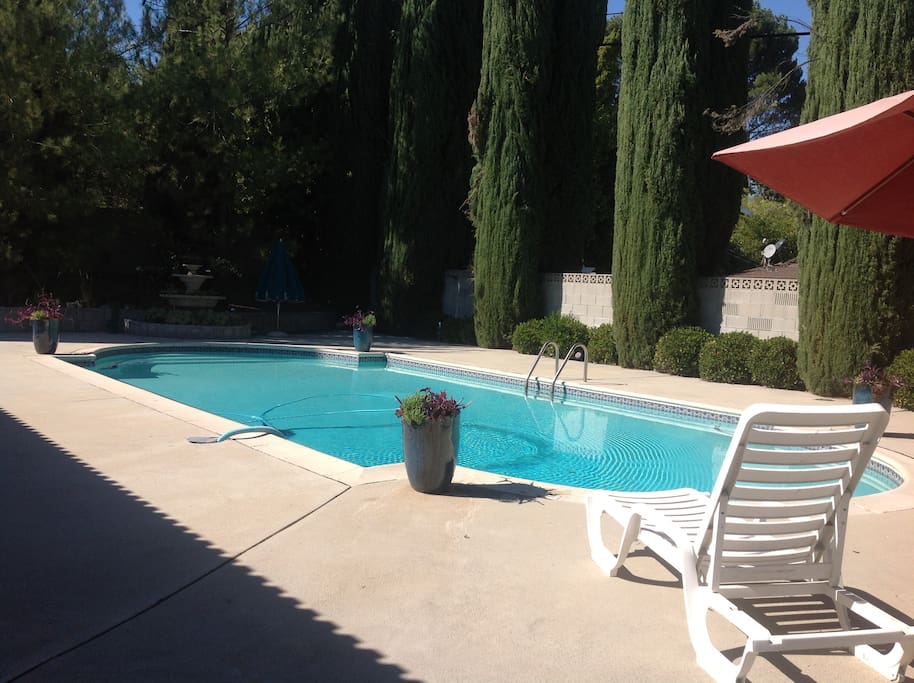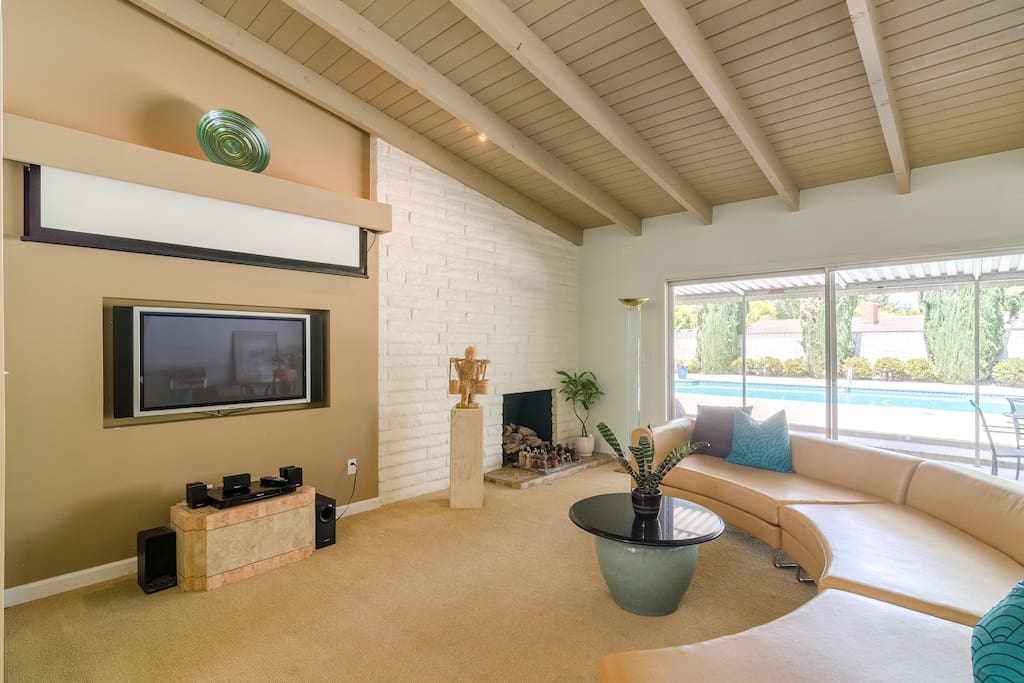 Location, location, location!! We hate LA traffic but thanks to the location we were able to avoid most of it. The house is super spacious and beautiful. Fully equipped with everything so we felt right at home. Sarah had a nice "welcome" gift basket waiting for me on the kitchen countertop. How awesome!! Thank you for that lovely gesture and thank you for the coffee. As a coffee lover I really appreciated the little coffee station with everything I needed. It is also a very short drive to to main shops, restaurants and salons/spas. Very close to beautiful scenic views on the way to the beach. I love the canyons! Very safe and quiet neighborhood. The entry was with a key box and a code which was super easy, didn't have to worry about a key. Plenty of towels, pillows, extra blankets, awesome outdoor space, just perfect! Will definitely recommend the home and the host! Thank you Sarah!!
---
The house was great! Sarah was easy to reach when needed but gave us our privacy. Very spacious, very comfortable great location for us. We had seven family members in our group and everyone was very pleased. The beds were so comfortable, this was unanimous! The bathrooms (3) worked well for our group. The patio and pool are very nice and gave us a great place to spend our evenings relaxing after busy days. This was our first time using AirBnB and it was a great experience.
---
Be aware that this host uses false and misleading advertising to promote the features of her home. You should also know the kitchen appliances come with broken knobs. Be sure to do a walk through before and while leaving otherwise she will make false accusations to get you to pay for repairs that she refuse to do. Also, this house has RATS!!! Be aware of rat traps along the base of the outside patio. The pool table doesn't work. It has broken tips. Misleading in advertising. Their is fake outdoor workout area- misleading in advertising The host should invest in updating her kitchen appliances and invest in hiring a Pest Control company to eliminate rats running across your pathway while sitting by the pool.
I asked Jackie to pay $115 for a broken patio chair following their stay. The email reply I got was "shock" and that I would be receiving a scathing review in retaliation. This is a guest that I would recommend only to stay in hotels where she can get immediate HELP. As a host for many years, I have found that certain guests do not adapt well to private homes and do not have the capacity to resolve technology issues on their own, or lack the patience required to operate unfamiliar household fixtures and appliances. I enlisted two building pros to arrive the following day of this guest's two complaints, on a Sunday, and they both documented that everything was working fine. Meanwhile, I received rude emails from the guest saying my "house was amok" and she was being "traumatized". Interestingly enough, upon her Friday check-in, everything was fine. I will only say I found it very unsavory to have an emotionally unbalanced and overly dramatic guest inside my home, even for 3 nights. The fact is: there was the usual 110 degree, SF Valley heat wave July 8-9. Upon our site inspection, we found this guest had left windows open leaving the AC unable to cool properly. She was also unable to operate the settings of a double oven but didn't ask for help. We have TWO ovens and I know they both work because a food vendor recently used our kitchen. In addition, it is commonly known that summer heat makes it harder to balance chemicals in pools; and often brings out rodents looking for food remnants left in patio areas. Numerous guests before Jackie, as well as recent guests, have had NO traumas- nor had the need to lash out in hysteria, vindictiveness and insults to their host.
---
The pool home was great and greatly appreciated during the very hot weather in LA during June. The house is in a nice quiet neighborhood and very easy to get to. It is an older home...but the owner keeps it in great condition. It is not the Hilton but an older neighborhood home with many upgrades. It needs continuing care but the owner shows pride in her property. It was a perfect place for my family to enjoy some time together in LA.
---
我们位于伍德兰希尔(Woodland Hills)的轻松四卧室牧场拥有一个巨大的游泳池烧烤区,邀请着环太平洋环抱的装饰,采用竹木地板,横梁天花板,天然光线。我们可以方便地前往Pepperdine和Malibu海滩。看我们的指南!
Our relaxing 4 bedroom ranch house in Woodland Hills has a huge pool-barbecue area, inviting Pacific Rim decor with bamboo wood floors, beam ceilings, tons of natural light. We have easy access to Pepperdine and Malibu beaches. See our guidebook!
房源
Our 4 bed, 3 bath home is in Northern LA county and just inland from the coastal drive along the Pacific and sleeps 8-10! This home is great for family gatherings and the photos reflect the style and the mid century vintage of the property. We have a 4 night minimum but prefer full 7 day reservations.
Please note: Do not leave your food items around the pool as it will attract local wildlife including possible coyotes, squirrels, rodents, birds or lizards. We live in a hillside area near the Santa Monica Mountains and Malibu.
The place is very inviting with bamboo wood floors, beamed ceilings, double-sided fireplace, lots of natural light, stone counters and a solar heated 20ft x 40ft pool. The 2500 sf house rests on over 12,450 sf corner lot in a quiet, family community outside of Warner Center commercial area and close to Hidden Hills, Calabasas, area colleges, nature parks, golf courses and beaches.
Amenities Included:
4 Bedrooms, 3 Baths
4 LED TVs
1 Projection 100" Movie Screen
Hi-speed Spectrum wireless internet
Galley Kitchen with Dishes and Cookery
New Dishwasher, Ovens 2017
Pacific Rim Style Furnishings
Formal Dining Room
Master Bed- King size
Bedroom 2- Queen size
Bedroom 3- Full-size (1 or 2 upon request)
Studio Bedroom 4- Queen size
Daybed Twin in Dining
Sectional in Living Room
Vaulted Ceilings throughout
Wood Flooring throughout
Onsite Laundry, New W/D
Driveway Parking
20' x 40' Pool with Solar Cover
Barbecue
Covered and Fenced Patio
Patio dining for 10
Patio Lounge seating for 4
New Pool Filter 2012, New Pool Pump 2015
New Furnace and Air 2012
All Baths remodeled 2013
New Upholstery, Barbecue 2014
Here is the run down on Local Attractions:
101 Fwy- 2 minutes
Old Town Calabasas Shopping, Commons- 3 minutes
Tennis and Swim Center- 5 minutes
Golf- 5 to 15 minutes
Warner Center Malls- 5 minutes
Fine Dining- 5 to 15 minutes
Wine Tasting- 5 to 20 minutes
Malibu Beach- 15 minutes
Pepperdine University- 20 minutes
Santa Monica Hiking Trails- 15 minutes
Railroad Station- 15 minutes
Getty Museum- 20 minutes
Reagan Library- 20 minutes
Universal Studios, City Walk- 25 minutes
CBS, Warner Studios- 30 minutes
Burbank Airport- 30 minutes
Hollywood- 30 minutes
Beverly Hills, Sunset Strip- 35 minutes
Santa Monica Pier- 35 minutes
Downtown Music Center, Galleries- 40 minutes
Six Flags Magic Mountain- 45 minutes
Pasadena Galleries- 45 minutes
Venice Beach, Marina Del Rey- 45 minutes
Catalina Island Boat- 45 minutes
MarineLand- 60 minutes
Channel Islands- 60 minutes
Knott's Berry Farm- 70 minutes
Disneyland- 80 minutes
Santa Barbara- 120 minutes
Arrowhead Lake Skiing- 120 minutes
Legoland, Seaworld- 120 minutes
Las Vegas- 180 minutes
We are walking distance to Calabasas and Hidden Hills. These neighboring areas are prestigious and home to Justin Bieber, Howie Mandel, Britney Spears, Will and Jada Smith, JLo, etc. You can often run into local celebrities at our local Common's Shopping Plaza!
Your kids will love the sparkling pool and local walks at the lake! There is fantastic area shopping with three local malls and numerous fine restaurants.
Please see my attached guidebook. Our location is within 30 to 60 minutes to all the major Los Angeles sights and the LAX airport.
Enjoy the serenity.
与房客的互动
Guests may contact me in advance for travel and restaurant recommendations. I offer the following guest packages at the home for your convenience:
1) Group Massage Day
2) Wine Tasting Tour
3) Local Catering
I am on hand to greet guests who can schedule a specified time with me. Otherwise, access to the home will be on lockbox with self check in and I will call you to be certain everything meets your expectations!
其他注意事项
The photos reflect the 1964 vintage and modern blend of this mid century home. We have a new Bosch dishwasher and Bosch double oven since Sept 2017. We have also donated the outside pool table and our older gym equipment. Currently we have added teak pool loungers for a total of 5 loungers and 2 outdoor dining tables with 10 chairs for a great private resort setting!
We keep our rates at a fraction of the cost of the local hotels who charge the same price for a suite- plus we include your own private swimming pool!
The kitchen contains full matching dishware and glasses for 6-8 guests. Occasionally, guests may lose or break our kitchenware and we make every effort to stay stocked with matching sets of glasses and utensils. The kitchen also contains 3 sauce pans, 2 large pots and 2 dutch ovens and a large assortment of knives and accessories. However, if you are planning to have large meals, it is best to dine in a restaurant as our kitchen is limited and we do not allow events and parties in our home.
Since Sept 2017, we have also added a full day for clean-up between guests to better manage this sizeable property.
If you are arriving before 5:00, please arrange with the owner for a personal walk through to better acquaint yourself with features of the property. Otherwise, your check in will be by lockbox access.
---
---
- We have a satisfaction guarantee and a full refund will be provided if the home does not meet your needs and we are notified upon arrival and so long as you make other accommodations.
- No shoes inside the home to preserve cleanliness.
- We provide an Instruction Guide for special features inside the home such as internet and TV.
- We are supplying a starter amount of household items such as paper towels, toilet paper, trash bags, and laundry detergent for several days.
- Guest parking is in the driveway and PLEASE only if your car does not leak oil. Street parking is limited to 2 hours Monday to Friday and there is unlimited parking on the adjacent cross street.
- No outdoor parties or loud noise past 10 pm due to city requirements.
- Please observe no smoking indoors or 10 ft close to the house. if we find cigarette or marijuana buds or smell smoke there will be a $500 to $1500 fee for smoke remediation of walls and upholstery, if required.
- No additional guests beyond the booking party is allowed without express permission. We do not allow house parties or film crews without a special cleaning rate and notice to neighbors. If we find excess and abusive use, a group use fee of $1500 per day will be accessed.
- On rare occasions, appliances, pool pumps and other household items can malfunction unexpectedly. We will respond with any necessary repairs immediately.
- Please exercise great caution with kids around the pool as falls and injuries are your sole responsibility.
- No pets are allowed due to allergies of some guests.
- The barbecue is provided for guest use. However, if the propane has been exhausted, the guest is responsible for his own refill.
- Please take off the AC and all lights when leaving the home to conserve energy.
- Please remember to take off all exterior landscape lighting when not needed.
- A local manager will be on hand to check the outside grounds regularly and is also available for any urgent requests.
- Guests will leave their final linens and towels in a laundry basket or at the laundry area upon departure.
- Guests will leave their final dishware in the dishwasher upon departure.
- For poolside special events and parties over 8 persons, rates will be customized.
- Guests will take the garbage out for Friday morning curb pick up.
- Upon leaving the property, please leave your trash in the cans provided. Any excess trash will be charged a hauling and disposal fee.
- The cleaning fee is applicable towards any regularly scheduled cleaning of the premises. Any required repairs to the property, beyond normal wear and tear, will be retained from the security deposit.
---
I am an empty nester and work in property management of my own rentals and design of residential homes. I enjoy a quiet, coastal lifestyle and am interested in architecture, real estate and construction. Living in California, I am fortunate to have wonderful opportunities to …