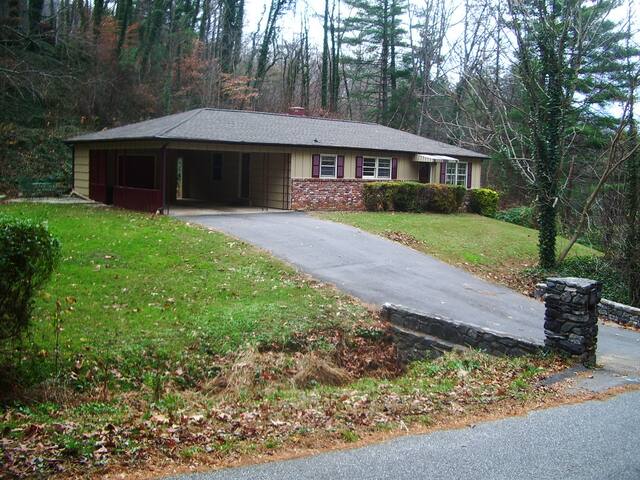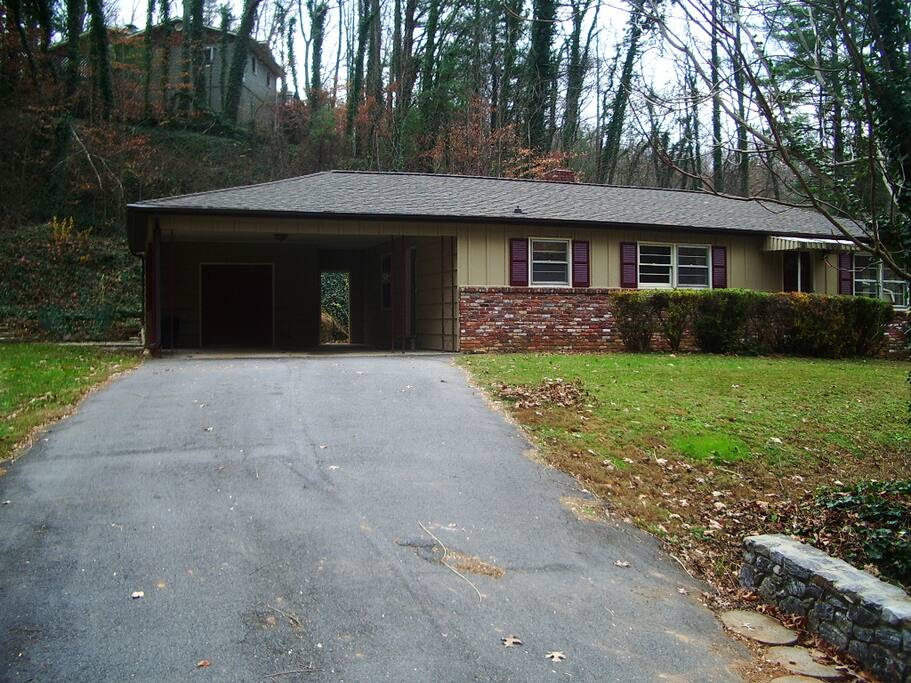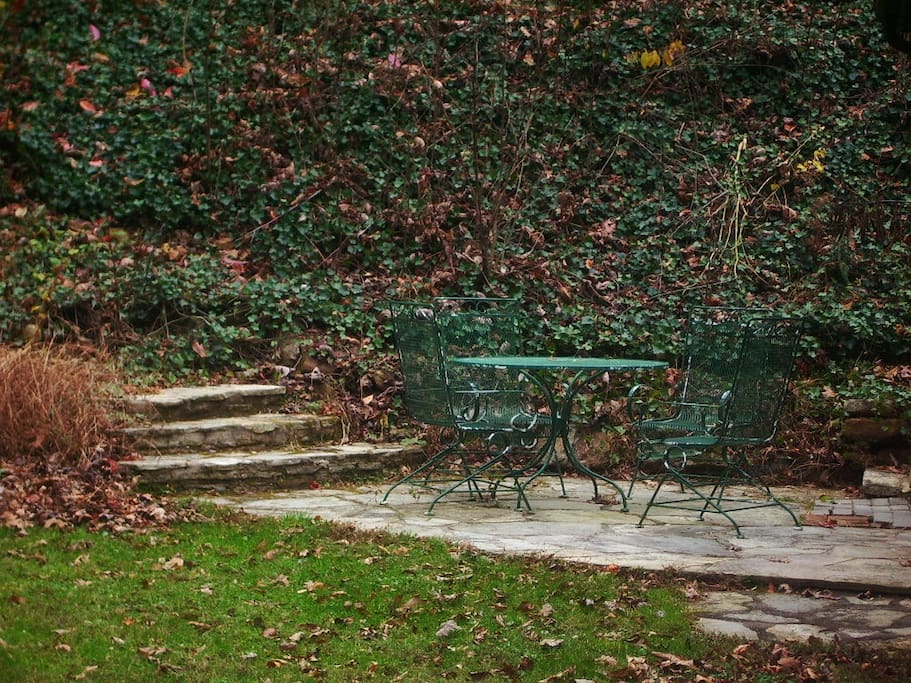 房源
Welcome to our peaceful retreat tucked under the Blue Ridge Parkway! Our location offers the best of both worlds! With convenient access to the mountains and the town. We are located approximately 5.5 miles from the center of downtown Asheville (the review with a response saying 8 miles is wrong, but Airbnb will not let me change it), with it's quaint restaurants and coffee shops. And a country mountain road drive up to the Blue Ridge Parkway with inviting trails and spectacular views of the Blue Ridge and Great Smokey Mountains. The Biltmore Estate and Winery is very close by and a great way to spend the day. Also, Beaver Lake is right at your doorstep with a great walking path. Pisgah National Forest and the Great Smokey Mountain National Forest are both nearby with lots of outdoor recreation and adventure activities.
Outside makes this home a great mountain vacation setting with the small stream that runs through the property and under the driveway. A forest of trees to your left as you enter, adds to the peacefulness and privacy. The rock patio off the carport is a great place to enjoy morning coffee, brunch/lunch or dinner.
Inside you will find a gourmet kitchen with maple cabinets and granite countertops. Beautifully finished hardwood floors throughout the home. Custom vanity cabinet in main bathroom and cute half bath with pedestal sink off of the master bedroom. With a queen bed in the master, a double bed, and 2 twin beds, the home can sleep 6. But it is a very cozy getaway for 2 and the most affordable accommodation in the Asheville area.
This home is one of the best locations in Asheville, and the absolute best value for lodging in the Asheville area. Great for corporate guests and business travelers needing privacy and affordability.
其他注意事项
AT&T cellular service does not work at the home.
We do not allow pets for allergy concerns of all guests.
---
---
We do not charge a cleaning fee. All we ask is you leave the house as clean as you found it. There are complete instructions in the rental agreement of what is expected upon check out. This agreement is also on the kitchen counter in the home. We do not rent to anyone under 25. We will charge the entire deposit if the cleaning instructions are not followed and/or late check-out. Thanks and hope you have a great stay in our home and wonderful time in Asheville, NC !
---
This place was on a very pretty price of property! The beds were pretty uncomfortable and made lots of noise when moving at night. There was no cell service or cable, but we were provided movies and a DVD player. Not having cell service made me nervous if there were o have been an emergent- but we weren't at the house a ton. It was clean and had no bugs! Had warm showers and a nice kitchen! Overall a good place to keep us warm and dry over the busy weekend we had in Asheville!
---
Bart was very pleasant to interact with and left clear check in and check out instructions which I appreciated. This home is a great value if ALL you're looking to do is sleep there. The lack of wifi was frustrating considering there is also very little cell service where the home is located. Some other things that would've been helpful would've been a few basics in the kitchen for guests to use, such as a can of Pam and more cooking utensils. The kitchen is lovely and there was plenty of ice, which was GREAT!!! But when we went to cook breakfast, we found it hard to do so with what was provided. Judging from past Airbnb experiences, I would've expected some extra things to be provided in the kitchen, but this was really the bare minimum. So if you're looking to cook in the home or have things to do other than DVDs and a few board games, I would suggest making sure you bring anything and everything you think you might need. In terms of location, the home is in a quiet pretty area and a quicker drive from downtown than I originally thought, which was very helpful. 15 minutes at absolute most. There are also great grocery stores in the area, such as Trader Joe's. Overall, our stay was pleasant and perfectly roomy for 6 people and a two year old. I would definitely recommend Bart's place if you're looking for an affordable place to rest your head with a group in Asheville!
Thanks again for staying with us Katelynn! Not sure exactly what you were needing to cook breakfast with? The kitchen is fully stocked with dishes and cooking utensils. To include a brand new coffee maker (the one before was new but previous guests broke it), toaster, waffle iron, microwave, cutting boards, pots, pans, tea pot,... Basic condiments (salt,pepper,sugar,and occasionally tea/coffee,coffee filters) are also provided.
---
Nice, comfortable place not too far from town - easy uber ride IF you can get service (noted that AT&T has trouble, but my Verizon was a little spotty too...although that may be due to old phone in need of upgrade). A Great weekend was had, but one friend was under the weather & stayed in one day, but unable to get any tv, and wifi is unavailable so a little frustrating...but if you just need a place to crash that's close to fun activity of Asheville this is the perfect spot. There IS a DVD player with some videos and Bart, the owner, was super friendly & helpful. I'd recommend the place!
---