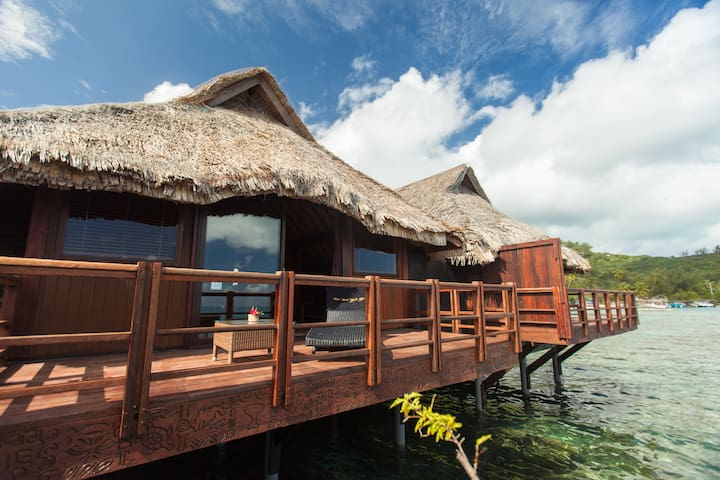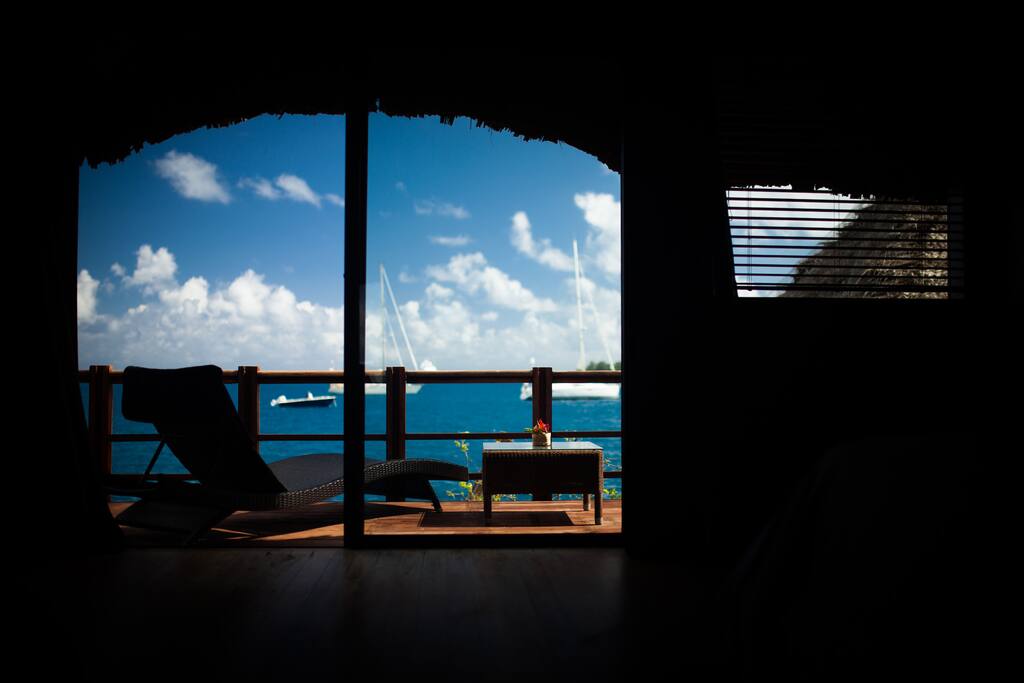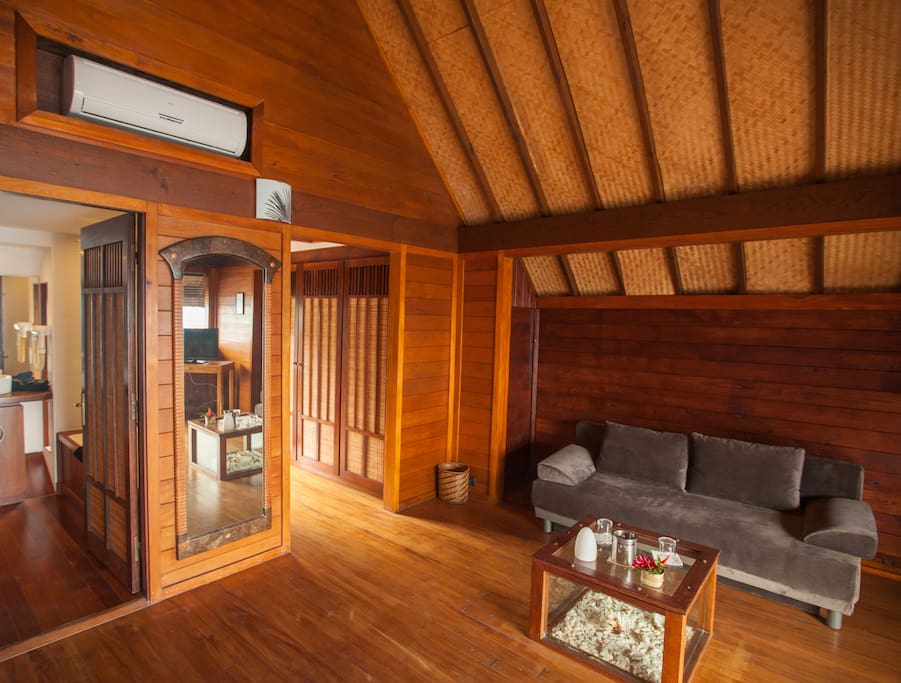 博拉博拉游艇俱乐部自1972年以来一直在骄傲地运营。我们为客人提供平房住宿,游艇服务,酒吧和餐厅,供应午餐和晚餐。
Bora Bora Yacht Club has been operating proudly since 1972. We offer our guests bungalow accommodations, yacht services, a bar and a restaurant for lunch and dinner.
房源
泻湖景观洋房设有带特大号床,沙发,咖啡桌和平面电视的开放客厅区。独立浴室配有卫生间,浴缸,淋浴和两个水槽。这个住宿的真正亮点是俯瞰着世界上最美丽的泻湖之一的露台!
The lagoon view bungalow features an open living room area with a king-size bed, couch, coffee table and flatscreen TV. A separate bathroom is equipped with a toilet, bathtub, shower and two sinks. A true highlight of the accommodation is the terrace overlooking one of the world's most beautiful lagoons!
房客使用权限
客人可以享用Bora Bora Yacht Club酒吧和餐厅午餐和晚餐以及我们的游艇服务(额外收费)。
Guests can enjoy access to Bora Bora Yacht Club bar and restaurant for lunch and dinner, as well as to our yacht services (extra fees are applicable).
与房客的互动
Our staff is present on the premises during opening hours and available for assistance.
其他注意事项
Free breakfast is included in the rate.
---
Pre-trip... Communication was great, Marc was helpful in recommending how to get there, etc. Arrival... We saw the Yacht Club from the water on the ferry and it looked a bit run down, but we were optimistic. The area around the Yacht Club isn't the greatest - it's residential with run-down houses and walls or fences everywhere. Inside the walls of the property you feel somewhat secluded, but there appeared to be significant construction on most of the bungalows (including ours, black plastic tarp covering the entire roof) and it felt like we were the only people around. It was sort of nice, but at the same time somewhat disconcerting. The staff were all very friendly. The room... Even though we were seemingly the only people staying there, our room wasn't exactly prepared for us. The room looked more or less clean and the bed was made with towels in order, but that's where it stopped. It was stiflingly hot in the room. We were shown the AC controls, but if we're the only people staying... why wouldn't you cool it in preparation? The worst part was the wasps. I understand that you can't control nature, but you can keep doors/windows closed to make sure the bungalow isn't filled with over a dozen terrifying wasps buzzing around. And if they do get in the room, make sure they're gone before the only guests arrive. I had chills down my spine the whole time I was in the room. We brought these to their attention and so a nice older woman came in and took off her sandal to swat them all. There were some that were out of her reach or stuck in between the glass panes on the sliding door, so we weren't sure what to do. We were told it was the season for wasps. No WiFi access in the room. We decided to leave and stay somewhere else so that's all I have about the room. The restaurant... We were starving when we arrived so we left our bags in the room and headed to grab some food, which was great. They were very attentive (again, we were the only people there). The rest of the space... There is a dock and you can snorkel (if you have gear), but there is no beach or other form of entertainment. WiFi in the restaurant. We decided to stay elsewhere and had them call a taxi. Marc asked if there was anything he could do, but our minds were made up. The staff were all extremely helpful, but this really wasn't the place for us. I'd only recommend this place for more adventurous folks with a car to be able to get out and explore because there's definitely not much to do on the property. I think if we came in with lower expectations and the room was properly prepped, we would have stayed and made it work. It just isn't what we had in mind for our honeymoon.
---
Such a nice place! We were made to feel very welcome with friendly staff and service! Definitely not the big resort feel. And such a good price! We would stay here again in a heartbeat! Beautiful views, amazing reef right below our room (amazing snorkeling!), and very personal service! The room was very comfortable. Nice bed, cold ac, mini fridge, etc. My only complaint, if you forced me to write one, was that we were unable to connect to wifi in our room. But it didn't matter, we enjoyed being "off the grid" a bit, and if we really needed to connect we would go sit out on the dock by the restaurant! Loved it!
---
The bungalow had a beautiful over the water view looking to the western sunsets. The space was rustic but worked for its setting. The staff was very friendly and helpful. Especially Juls, Swan and Clarita. The snorkeling right off the dock was nice with a wide variety of fish to view. You need your own snorkel gear No other water sports were available that we saw. The breakfast that was quoted as included was very basic. Coffee, bread and a couple of Danishes A rental car is needed to maneuver to the different restaurants and shops. The on site restaurant was average. The food was good but not outstanding for the setting. As to whether I would go back, I would go back to the resort based on getting one of the over water bungalows.
---
We just got back from Tahiti and our stay at the Bora Bora Yacht Club was fantastic. The bungalows are spacious and clean, and the view is breathtaking ( the sunset especially). Bekir and his team are very nice, helpful and always here to answer questions. The restaurant is a great, romantic place to have dinner at. The food is delicious too. I would recommend this place in a heartbeat! Bekir and his staff will make you feel at home! I will definitely return.
---
Bora Bora Yacht Club has been operating proudly since 1972. We offer our guests bungalow accommodations, yacht services, a bar and a restaurant for lunch and dinner.

Enjoy your vacation in one of our garden or lagoon view bungalows with Polynesian decor!
语言:
English、Français