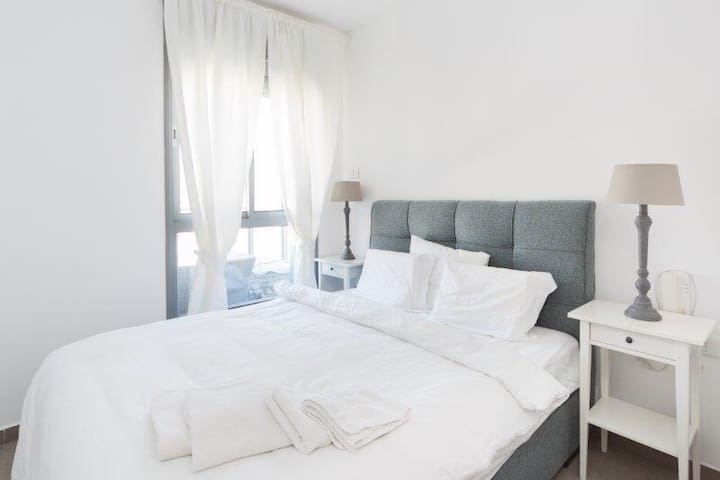 Amazing 1 bedroom that is fully equipped less than a min. walk from the beach and less than 5 min walk to the amazing and fun Tel Aviv HEVE ZEDEK
Place has - Wifi, cable TV, washing machine, linen & towels, , hair dryer, iron.PARKING
房源
LEVINSKI 2a. It is 1 minute walk to the Neve Tzedek tower, 5 minutes to the tourist beautiful area Neve Tzedek with delicious restaurants and cafes, 10 mins from Rothschild Boulevard, 7 minutes to rave Florentine streets with clubs / restaurants and bars, 10 minutes to the nearest large children's and sports area (small playground, and even a garden there in the yard of the house), 15 minutes to the old beautiful Jaffa, 15 minutes to the most famous market Shuk ha-Carmel, 12 minutes to the beach of Jaffa and the promenade with children's and sports grounds, stunning walking zone, where You can ride the bikes, run, just to enjoy the view and sound of the waves crashing on the rocks. The apartment is in a new house with parking, which is rare for Tel Aviv. Living room combined with kitchen, 1 bedroom, large 14ti meter balcony with furniture for relaxation and a very nice view. Especially in the evening), sleeps 4 (plus there are additional floor mattresses 2 pcs). The apartment is new, with a fresh renovated and newly purchased equipment and furniture "for themselves" (that Israel rarity).
---
We really enjoyed our stay in Tel Aviv. ELENA's apartment was really cozy, clean and simply beautiful, and the most important it has a private parking. Perfect location, close to old city, beach, restaurants and shops. Definitely will recommend to our friends. Looking forward to stay here again in the nearest future.
---
Alle reden vom fantastischen Meerblick- es ist ein toller Stadtblick! Der Balkon liegt Richtung Osten und ist in den warmen Monaten erst ab dem Nachmittag zu nutzen, da die Sonne voll drauf scheint und es keinen Sonnenschirm gibt. Für den Weg zum Strand sollte man mindestens 20 -30 Minuten Fußweg einplanen.
---
Квартира очень понравилась. Отличный балкон с видом на город, на котором приятно встречать рассвет и проводить вечера. Новый дом. Солнце на балконе с утра до 15. Можно загорать, если лень идти на море. До моря, неторопясь 15 минут, через кафе с наивкуснейшим мороженным и потом через район неве цедек. До старой яффы пешком тоже минут 15. В 10 минутах Ротшильд с многочисленными кафе. Там же отделение банка люми и гипермаркет ampm. Хозяйка всегда шла на встречу и все возникающие вопросы/проблемы решались оперативно. Все очень понравилось, приедем еще.
---