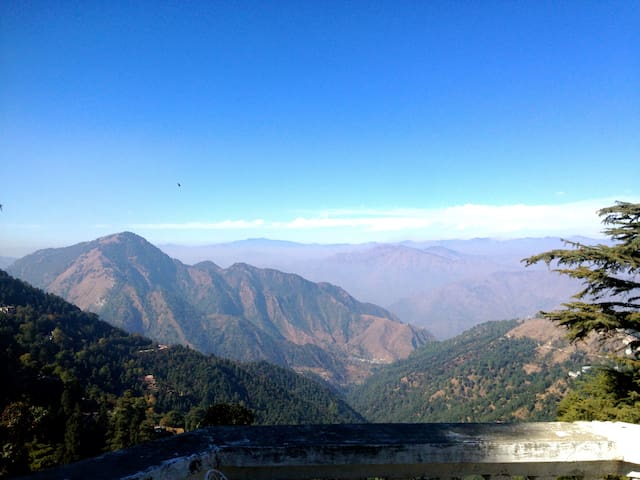 Crown of the Queen of Hills
Himalayan view.
---
Heavenly experience! This resort is in perfect location where we enjoyed the view from the comfort of our rooms! It was fairly easy to get to the mall road as well. We had our breakfast in the natures best view and clouds passing by. As travellers, we are always skeptical, but we were lucky to get this place and we got more than what we bargained for. Nice spacious rooms with attached clean bathrooms, kitchen with a cook, who would make us delicious food right there in the kitchen and served hot on the dining table. Nice furniture in the living room where we played xbox. We felt like home! At night we did bonfire with music, dance, wine and great bbq in the open view of the mountains. It was refrshingly peaceful environment. Mr. Amit and his staff were very accommodating with all our needs. This has changed my experience of vacationing in mussorie forever!!! I will never stay in any hotels given this option. I give 5 stars to this place and I look forward to visiting again. Thanks Amit for making this trip a special remembrance for me and my family.
---
We booked this property based on the pics we saw on the site. Unfortunately the property is not even close to what it looks in the pictures. The host gave us incorrect expectations about the property too. Fact is currently property seems to have been not used or maintained from a very long time. House was in a mess. Dirt stains of moved out furniture and wall hangings. Broken cupboards, plug points. Stained mattresses without bed sheets, stinking carpets around the house. I can keep on writing about what pathetic state of condition is the house in. We felt totally cheated by the listing upon are arrival after a long drive from Delhi.
---
It was a great stay, I can say would like to visit few more time but for a longer time. I think at least 2 nights is required to enjoy the place. In short an awesome place to stay and live your thoughts.
---
Its a wonderful cottage located at the most scenic point of Mussorie..far from the hustle bustle of the city.. Such a amazing view from the cottage that you would not want to step out. The caretaker is very helpful and nice. The crazy traffic jammed prolonged 16hrs drive from Delhi to Mussorie was definitely worth it..only becoz of this cottage where we chose to stay.
---