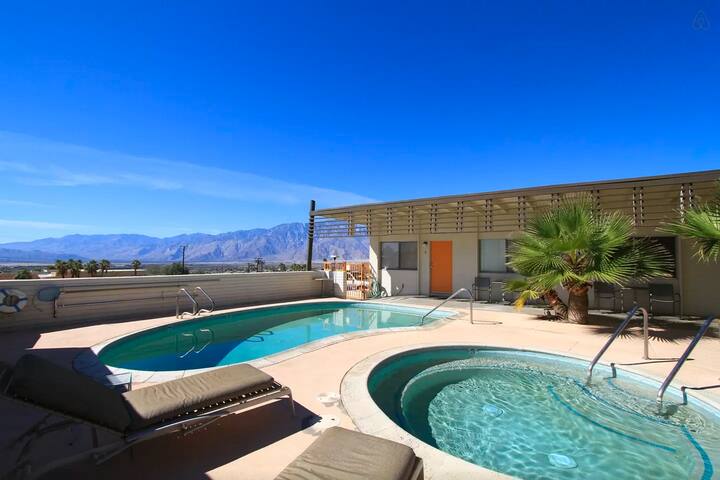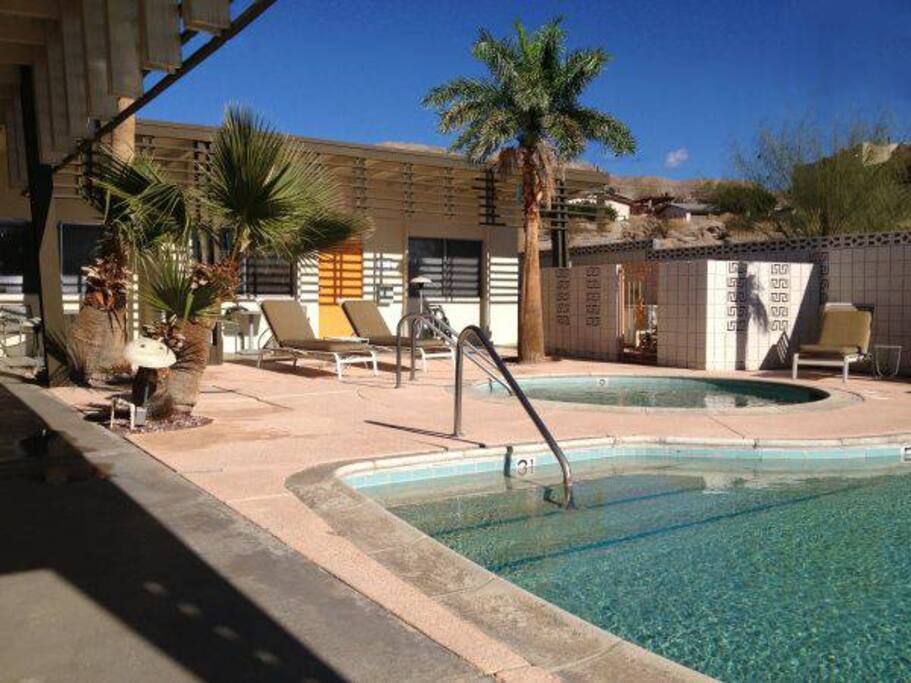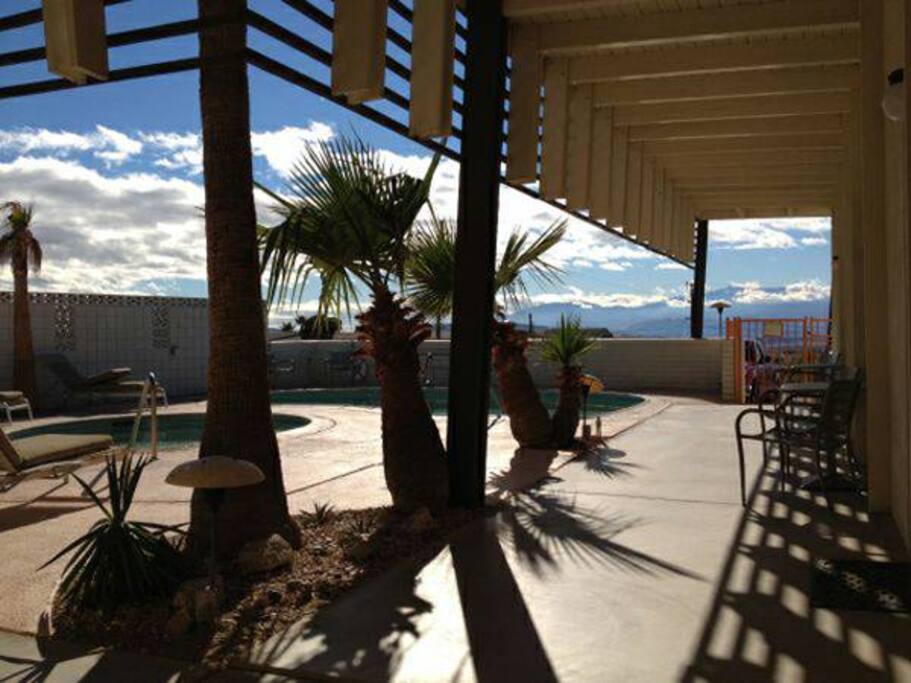 This beautiful mid-century modern, spacious 1BR, furnished condo offers a comfortable and stylish 'home away from home' nestled in the hills of Desert Hot Springs. Comes with full kitchen, central heat/AC, + original mid-century details throughout.
房源
1BR apartment rental from $85 per day. Seasonal, Holiday or Special Event premiums may apply. Weekly and monthly rates available. $60 cleaning fee.
Neighboring apartments may also be available. Please check these links:
Studio/1 Bath #3 https://www.airbnb.com/rooms/2419024
1BR/1 Bath #1 https://www.airbnb.com/rooms/8409400
1BR/1 Bath #2 https://www.airbnb.com/rooms/3779768
1BR/1 Bath #4 https://www.airbnb.com/rooms/11656053
1BR/1 Bath #5 https://www.airbnb.com/rooms/921464
2BR/2 Bath #6 https://www.airbnb.com/rooms/9875976
Large Well Maintained Mid-Century 1BR (aprx 700 sq ft) in quiet 5 unit building located in the Spa Zone of Desert Hot Springs, CA. 1 Bedroom (queen size bed) , 1 Bath, Living Room, Dining Area and Kitchen. On-site laundry and off-street parking.
This beautiful mid-century modern, spacious one bedroom, fully furnished apartment provides a comfortable and stylish 'home away from home' nestled in the hills of Desert Hot Springs. The apartment comes with a full kitchen, walk-in closet, central heat and air conditioning. Original mid-century details throughout. The open floor plan lends itself to casual and relaxed living.
The front door leads out to a large patio with palm trees and a pool. Your backdrop during the warm sunny days and star filled desert nights will be the spectacular vista of the Little San Bernardino Mountains. Enjoy the panoramic mountain and valley views and the nearby windmill fields. It's a perfect setting to simply relax and rejuvenate.
Nearby resorts feature the most unique natural mineral springs found anywhere in the world. Naturally hot thermal waters fill pools and spas and treat a wide variety of ailments. The drinking water (which comes right out of the tap) has been rated best and 2nd best in the world for several years running.
For a modest fee, guests can obtain a day pass to Tuscan Springs Spa, which is located across the street and offers some of the best thermal mineral baths and spa treatments in the Desert Hot Springs area.
Tuscan Spring Spa is within walking distance. And less than 10 minutes away are Two Bunch Palms Resort & Spa and the Desert Hot Springs Hotel & Spa, both featuring spa treatments, good restaurants, and occasionally live entertainment.
Tuscan Springs Spa day pass $45
Two Bunch Palms Spa day pass $25 (Sun - Fri), $40 Saturday
DHS Spa day pass $3 (Tues), $5 (Mon - Wed - Thu), $7 (Fri - Sat - Sun)
The apartment is freeway close, on bus lines, near shopping, grocery stores, and restaurants. It's a 15 minute drive to Palm Springs, 30 minutes to Joshua Tree, 2 hours to San Diego or Los Angeles, and just 20 minutes to the best discount shopping at the gigantic Cabazon Outlet Mall. Two of the areas premiere golf courses are less than a 5 min drive. Nearby is a city park with tennis and basketball courts, a baseball field, and skating course.

DISTANCE TO ALL MAJOR PALM SPRINGS AREA ATTRACTIONS
GREATER PALM SPRINGS AREA CITIES
Palm Springs – 12.0 miles, Palm Desert – 22 miles, Indian Wells – 23 miles, Cathedral City – 15 miles, Rancho Mirage – 19 miles.
NATURAL PARKS, HIKING, BOOTANICAL GARDENS
Big Morongo Canyon Preserve – 12 miles, Indian Canyons – 17 miles, Moorten Botanical Garden – 14 miles.
Palm Springs Aerial Tramway – 13 miles, Center of Natural Lands – 18 miles, Joshua Tree – 26 miles.
The Living Desert – 23 miles
CASINOS
Spa Casion Resort – 12 miles, Morongo Casino Resort – 21 miles, Agua Calilente Casino- 12 miles.
Spotlight 29 Casino – 30 miles
SHOPPING
El Paseo Shops – 14 miles, Palm Canyon Drive Shops – 13 miles, Cabazon Outlets – 21 miles.
GOLF
Mission Lakes Country Club – 3 miles, Desert Dunes Golf Course – 5 miles, Whitewater Country Club – 11 miles, Desert Princess Country Club and Resort – 12 miles, PGA WEST – 32 miles, La Quinta Resort & Club – 26 miles, Indian Wells Golf Resort – 24 miles, Desert Willow Golf Resort – 19 miles, Shadow Ridge Golf Resort – 17 miles.
MUSEUMS
Palm Springs Air Museum – 10 miles, Cabot's Old Indian Pueblo Museum – 2 miles, Palm Springs Historical Society – 13 miles.
SPECIAL EVENTS
Coachella Music Festival – 25 miles, Stage Coach Music Fesitival – 29 miles, PS Modernism Week - 12 miles, BNP Paribas Open – 24 miles.
房客使用权限
Guests have full access to the entire apartment, patio/pool area, and laundry facilities. Towels, and toiletries are available in the bathroom. CDs, DVDs and board games are provided.
与房客的互动
Most of the time, I have very little in-person interaction with guests. But I'm always available by text or phone.
---
---
---
Holiday or Special Event premium may apply.
Weekly and monthly rates are available.
$40 daily pass at Hope Springs Spa available.
$25 per day, dog fee.
=== === === === === === === === === ===
SHORT TERM RENTAL AGREEMENT- AIRBNB :
Vacation Apartment : 68110 Club CIrcle Drive, Desert Hot Springs, CA 92240
Check in: After 3:00pm Check Out: Before 11:00am.
This agreement made between:
Name(s)_______________________________________________________________"Tenant" (hereinafter called the Tenants) and Eric Handel (hereinafter called the Landlord) concerning the short term rental of the property located at 68110 Club Circle Drive, Desert Hot Springs, CA 92240
Spa heater – (optional, additional $60.00 a day due before arrival). Please inform Landlord if you would like to use spa heater.

Terms of the Agreement:
1. The Landlord has the right to inspect the premises without prior notice at any time to enforce the terms of this agreement. Should the Tenants violate any of the terms of this agreement, the rental period shall be terminated immediately. The Tenants waive all rights to process if they fail to vacate the premises upon termination of the rental period. The Tenants shall vacate the premises at the expiration time and date of this agreement.
2. There is no house phone line. Tenants must use personal cell phone. Wireless internet is available.
3. The Tenants shall maintain the premises in a good, clean, and ready to rent condition, and use the premises only in a careful and lawful manner. The tenants shall leave the premises in a ready to rent condition at the expiration of the rental agreement, defined by the Landlord as being immediately habitable by the next tenants. Tenants shall pay for maintenance and repairs should the premises be left in a lesser condition. The tenants agree that the Landlord shall deduct costs of said services from the security deposit prior to refund if tenants cause damage to the premises or its furnishings inside and outside.
4. The Tenants shall dispose of all waste material generated during the rental period in a lawful manner and put the trash in the bins on the side of the complex after their stay. Tenant is cautioned not to leave trash outside for long periods of time because it attracts animals.
5. The Tenants shall pay for any damage done to the premises over and above normal wear and tear.
6. No pets of any kind will be brought onto the premises without consent of the Landlord and advance payment of additional pet fee, $25 per day/per pet. If a pet is brought onto the property by the tenant or guest of a tenant, the tenant agrees to pay any and all costs due to damaged furniture, pet stains or the need for additional cleaning. Pets are not allowed on furniture or on beds provided for humans. The tenant is required to bring housing and/or resting equipment (pet beds, kennels, cage, etc) for each approved pet.
7. The Tenants shall not sublet the property.
Initials_________
8. The Tenants shall have no more than 2 (two) persons reside or sleep on the premises unless their reservation is for a larger party. There will be an additional charge of $50 per person/per night for each additional person.
9. The Tenants shall behave in a civilized manner and shall be good neighbors respecting the rights of the neighboring apartment occupants. The Tenants shall not create noise or disturbances likely to disturb or annoy the neighboring apartment occupants or surrounding property owners. Creating a disturbance of the above nature shall be grounds for immediate termination of this agreement and Tenants shall then immediately vacate the premises. Quiet hour starts at 10 PM and Pool and outdoor noise should be kept to a minimum.
10. There shall be NO smoking inside the premises. Smoking is permitted outside the apartment. Cigarette butts must be
properly put out and removed to the garbage containers.
11. Landlord shall provide towels, linens, cups, knives, forks, spoons, dishes, and other items as commonly used. Additional toilet paper, soap, dish detergent, laundry soap, shampoos, and other consumables are to be purchased by the Tenant. No reimbursement will be made for unused consumables left at the premises. If consumables exist at the premises when the Tenant arrives the Tenant is free to use them.
12. The Tenants and Tenants' Guests shall hereby indemnify and hold harmless the Landlord against any and all claims of personal injury or property damage or loss arising from use of the premises regardless of the nature of the accident, injury or loss. Tenants expressly recognize that any insurance for property damage or loss which the Landlord may maintain on the property does not cover the personal property of Tenants, and that Tenants should purchase their own insurance for Tenants and Guests if such coverage is desired.
13. 50% of the rental amount, except fees, is refundable up to 7 (seven) days prior to the beginning of the rental period. Less than seven days prior to the rental period the Landlord shall have the right to retain total rental amount. For cancelations before the start date of a reservation 28 days or longer, the Landlord shall have the right to retain the initial payment in full.
14. Tenants agree to pay all reasonable costs, attorney's fees and expenses that shall be made or incurred by Landlord enforcing this agreement.
15. Tenants expressly acknowledge and agree that this Agreement is for transient occupancy of the Property, and that Tenants do not intend to make the property a residence or household.
16. There shall be no refunds of rents due to shortened stays or ruined expectations because of weather conditions.
17. If the property should go on the MARKET FOR SALE, it may be shown to qualified buyers during the Tenants' stay. Every effort will be made to schedule the showing at a convenient time and not interrupt the Tenant's vacation. Tenant shall allow reasonable viewings of the home between 9 am and 8 PM present or not. This property is not currently for sale.
18. There shall be no refunds of rents because of shortened stays or ruined expectations due to work and family emergencies or other commitments.
19. It is the tenant's responsibility to learn about safety precautions, and safety procedures concerning swimming in or being around the pool. Tenant agrees to have a responsible adult supervising minors while they swim in the pool. Tenant is hereby notified that the pool can be dangerous and tenant accepts fully the risks involved. Tenant is further notified to be cautious when exiting the front of the complex as the pool is open and in close proximity to the entry ways and can be a hazard. There are no rails to prevent a fall into the pool.
Initials_________
20. Tenant agrees that Fireworks and other hazardous materials shall not be used in or around the property.
21. Tenant shall use the property for legal purposes only and other use, such as but not limited to, illegal drug use, abuse of any person, harboring fugitives, etc.; shall cause termination of this agreement with no refund of rents or deposits.
22. Tenant agrees not to access the "owners storage", even if unlocked, which contains cleaning supplies and chemicals that could be hazardous to children and adults.
23. The property has smoke alarms and carbon monoxide detectors installed and they are believed to function properly at the time of rental. Tenant will notify management without delay if a fire alarm "chirps" or has a low battery condition.
24. Tenant shall see to their own security while in the property by locking doors and windows when it's prudent to do so.
25. Valuable items left behind by tenant will be held for the tenant and every reasonable effort will be made to contact the tenant for return. If items are not claimed for longer than 2 weeks they shall become the property of the Landlord. The Landlord shall not be held liable for condition of said items.
26. Netflix and Amazon Prime TV are provided and service level has been chosen by the Landlord. No refund of rents shall be given for outages, content, lack of content or personal preferences with regard to TV service.
27. Tenant agrees that Air conditioning shall not be set below 76 degrees and heat shall not be set above 76. Doors and windows shall be closed when either heat or air conditioning is in operation. Please make sure the heater or air conditioner is turned off when you depart. Utilities will be charged for left on Air or Heat. You must also turn off all lights/fans.
28. Property MUST be securely locked any time you leave furing your stay. If property is not properly locked when you depart, you will be charged $150.00 fee, and be responsible if anything is stolen.
29. Trash must be properly bagged, secured taken to the side of the building and placed in Trash and Recycle Bins by Thursday evening. A $100.00 fee will be taken from the security deposit if trash is left in the or yard or public areas.
30. If you prepaid for the spa heater, the spa heater must not be set higher than 94˚. If it is set higher, additional gas charges may be incurred. Tenants are forbidden to adjust the pool or spa heater controls except in an emergency.
31. At the end of your stay, please make sure you lock all the doors and close windows, and return all keys to the Landlord. If you do not do this, you will be charged $150 and responsible if anything is stolen due to a door/window left unlocked.
32. Tenant must return all keys to the property. If any key or keys are misplaced or lost, tenant will be responsible for the cost of rekeying associated locks and replacement of associated keys.
33. Landlord reserves the right to terminate this agreement for any reason with 14 days notice.
34. Please inform the Landlord immediately upon arrival if there are any damages that you are not responsible for; or if there are any unforeseen issues with the house during your stay.
initials_________

Please print, fill out and sign this Agreement and mail to Landlord.
Landlord address: Eric Handel, 3334-D Rowena Av, LA CA 90027
(We) agree to abide by the above conditions and hereby swear that the information provided above is true:
Tenant _______________________________________________________________
Date_______
Tenant________________________________________________________________
Date______

Landlord _________________________________________________________________
Date_______
---