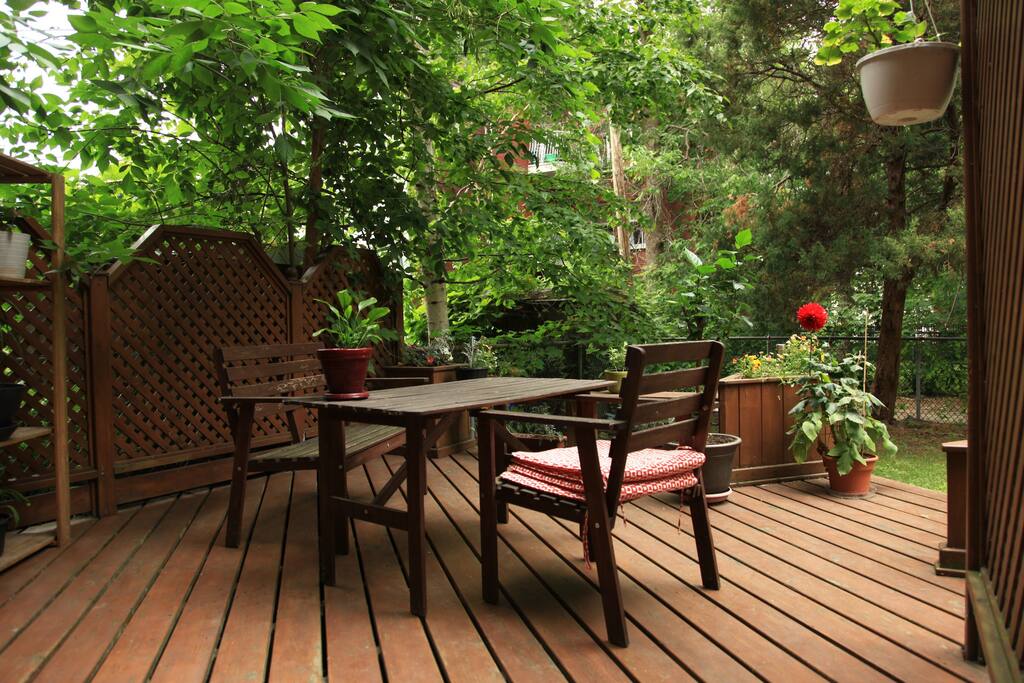 CUTE and cozy room with huge PATIO :)
Beautiful apartment with:
- Fast wifi
- HUGE private patio and backyard
- Large & cozy living area (with an apple TV and PS4)
- Free and easy parking on the street
- An adorable cat lives here - I got allergy pills if you need em
- Close to City Centre, Lachine Canal & Old Port
- Fully equipped kitchen
- Located in a safe an quiet street
- Free street parking
- I'll be happy to cook dinner with you if you'd like and give you tips about visiting Montreal :)
---
Sadly we did not get to meet Felix, our Journey from Massachusetts USA was a lot longer than anticipated because of torrential rains. He did his best to accommodate our late arrival and gave us instructions where to find the key. We were not in the apartment much. During the day I was at a convention and my son was sightseeing, so we only really used it to sleep. The apartment was basic, suited all our needs and was close to public transport. It had parking along the road, so was great for us as we had our car. The apartment was clean, there were clean towels and clean linens on the bed. There was photos of an office in the Airbnb description but we did not see that and the door was blocked off with stored stuff and suitcases so we assumed it was a no go area and respected that. The weather was very cold, windy and rainy and we were only really at the apartment after dark so I cannot speak about the patio area. All in all if you need a basic, clean and very reasonably priced apartment as a base for your visit to Montreal book Felix's place!
---
Felix was an amazing host, as well as a great individual to be around. He was very considerate and tended to our needs. He took the time to get to know my friend and I in the mornings. We got along so much that we ended up hanging out together outside of his apartment. If I come back to Montreal, I would definitely stay with Felix again.
---
The listing description was accurate and the location is convenient, close to the Charlevoix train station and the supermarket. After a long flight from San Francisco, it was frustrating to find out that the bed was not made, the bathroom had no toilet paper and for a day there was no hot water. Fortunately the host was quick to fix the hot water issue.
---
Situé dans un quartier calme, le bus se trouve au bout de la rue qui vous amène directement au centre. Félix est très accueillant, disponible et chaleureux. Le plus important est que vous avez un parking gratuit juste devant la maison. Détail non négligeable lorsque le stationnement est impossible à Montréal sauf en payant le prix fort.
---
Felix was a great host with a lovely home. It was comfortable, in a good location, clean, and a good size. Felix was very personable and helpful. We felt comfortable talking and having conversations with him, as well as keeping to ourselves. We thoroughly enjoyed our stay with him. The only thing keeping me from giving 5 stars is a beautiful, friendly, loveable cat that we were unaware we would be sharing the space with until the day before we arrived. I loved her and she wasn't a bother at all, except to my husband who has an allergy. That being said my husband and I would absolutely recommend staying with him for your trip to Montréal!
---