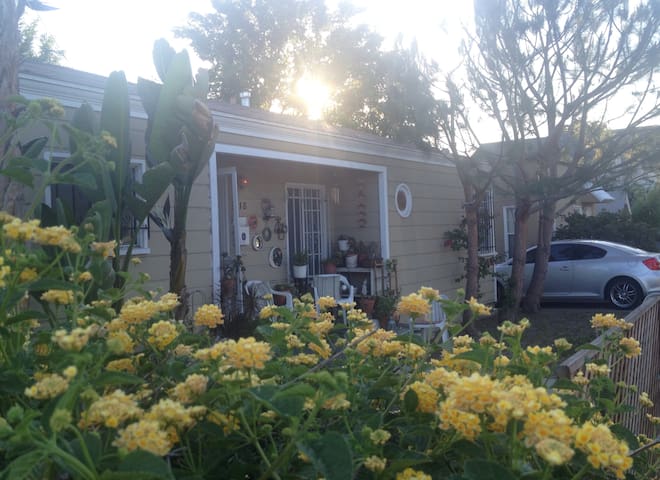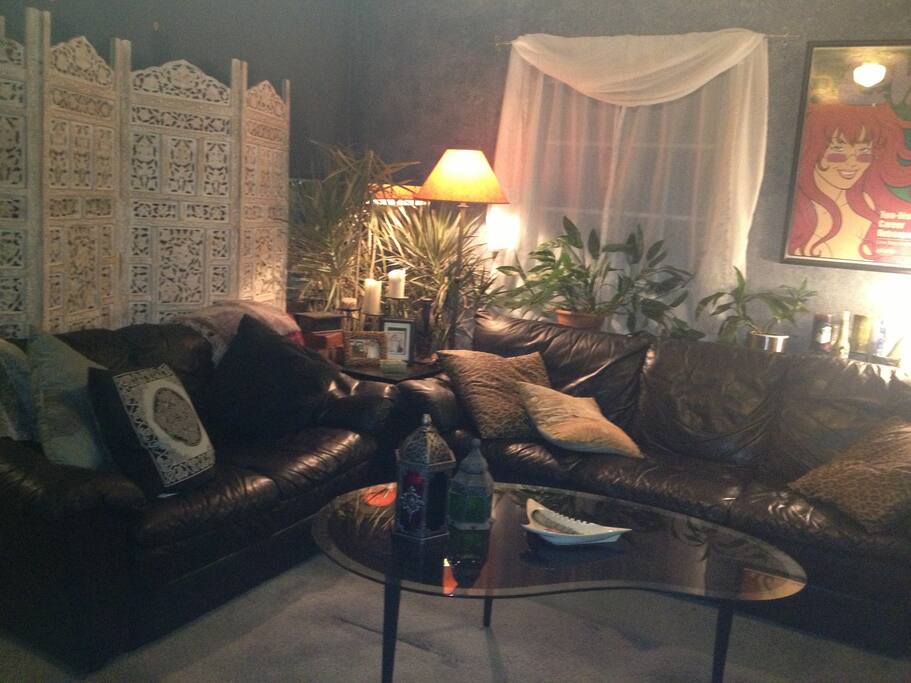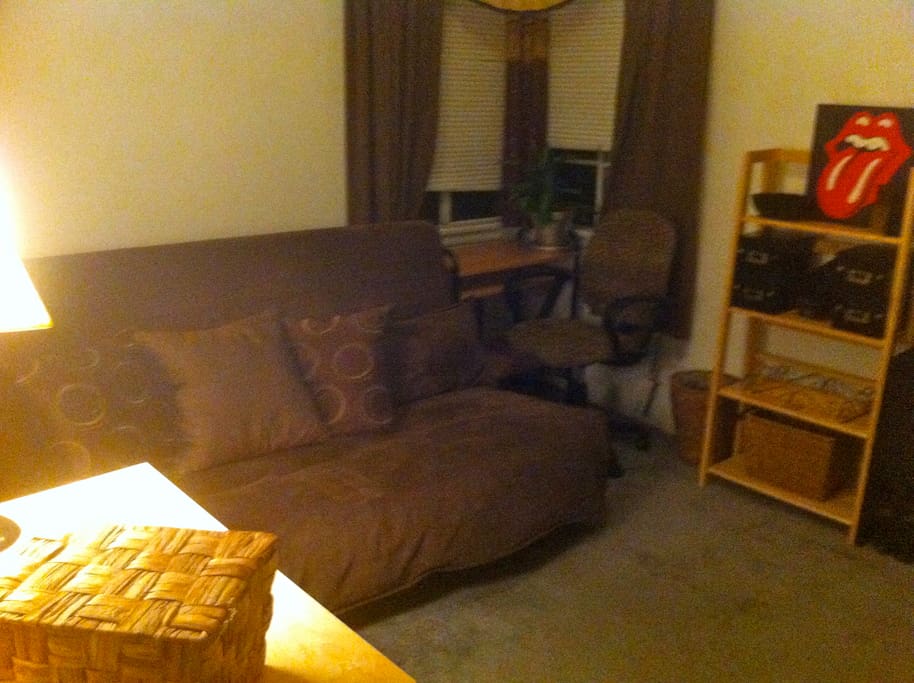 Private room in a quiet & safe neighborhood with a friendly hostess. Full size fold out futon. Free Wi-Fi. Plenty of free & easy parking in front of house. Atwater Village just off I-5, close to parks (Silver Lake, Griffith Park, and more)
房源
This private room in a cozy 2BR/1BA house on a quiet residential street with abundant, unrestricted parking can easily accommodate up to 2 people. If you are interested in a third person, I can offer the couch in the living room, or an air mattress for an extra fee. I can also accommodate small, well-behaved pets for short-term stays (a day or two -- not for longer-term stays).
The room offers a comfortable deluxe futon that easily folds into a full/queen bed. I will provide clean bed linens, pillows and bath towels. Also included is free wi-fi + a chair and a small desk for your laptop, and adequate space for your belongings. In the winter, the room will be stocked with extra blankets and a small space heater to ensure your comfort. (It's not likely you'll need it, because the place stays warm, but it's there just incase.) In the summer, there is no A/C -- [REPEAT: NO AIR CONDITIONING], but the house still manages to stay pretty comfortable IMHO... (admittedly, I like the warm California air, but if you are particularly sensitive to California's summer heat, you might need to consider a place with A/C.) For those that enjoy fresh air, the windows open to allow the breeze to flow, a ceiling fan as well as an additional floor fan to keep you cool.
The bathroom is shared but is always kept tidy. Toilet paper, towels, bar soap and hand lotions are always stocked. Hair dryer also available upon request. I can provide shampoo/conditioner, but bring your own toiletries such as toothpaste/toothbrush, razor/shave cream, etc. If you forgot something, check with me - I keep a bin of essential items that guests sometimes run out of or forget to pack.
You may use the kitchen to cook a meal, or chill out in the living room to watch TV or play with Wii. Need to do some laundry? No problem, there is a full size washer and dryer as well as a small ironing board and iron if you need it.
Smokers can enjoy their cigarettes on the front porch or chill out in the back yard. No smoking inside the house please.
Update: with the evolving restrictions on AirBnb in some cities (Los Angeles being among them) I must keep my bookings limited these days. I've only been an occasional host because I tend to keep my space available for close friends and family, but the new restrictions have forced me to adjust my availability even more than before. As such, I'm now giving priority to stays of a week or less, so that I can remain within the legal limit of short term rental days in a calendar year. That being said, if you desire more time, I can make exceptions to this limitation on a case by case basis and would be willing to book additional time after the first week when needed.
房客使用权限
Private bedroom
Bathroom
Living room
SmartTV w/ Netflix, Hulu & Spotify subscriptions
Kitchen
Laundry
Front & back yard
Wi-Fi
Parking
Garden
与房客的互动
Generally, I greet my guests and give them space to make themselves comfortable. I can be as sociable as they like & help them figure out the lay of the land, or give them total privacy... whichever is preferred.
其他注意事项
****PLEASE NOTE****
In order for this to be a good experience for everyone, here are a few additional details you should know:
RESIDENT PET: If you are allergic to cats this place may not be right for you. I had a resident cat that lived here with me for many years but he passed on recently, however if you are sensitive to pets you should know that a a cat once lived here. There is also a neighborhood outdoor cat that likes to visit. He is cared for by many neighbors, but recently its begun to appear as if he may have adopted me and this house as his preferred residence. He is mostly outdoors, but he comes in to eat sometimes (I don't like to leave food outside - it attracts other critters) and on cold/rainy nights I'll let him sleep inside. My neighbors and I "share custody" so to speak, and together we've ensured he's healthy, has been neutered, has had his shots, gets his flea treatment, etc. So even if you're not allergic, I prefer guests who love animals and will not be disturbed by the occasional presence of a furry friend.

DEPOSIT: The deposit is to cover lost keys (as locks will be changed if keys are not returned), anything that gets damaged, or broken, loaner items that go un-returned, etc. I have never found it necessary to keep this deposit, and I hope to keep it that way.
GUEST APPROVAL: Prior to using AirBnB, I only made my spare room available via personal reference and recommendations from friends. Because making my room available to guests has been a pleasant experience, I have decided to extend availability beyond my personal network of friends and into the AirBnB community. If you are a person with a new profile or few reviews, I will ask for other verifying information before accepting your stay.
NOT A HOTEL: It's also important to remember that this is not a hotel. This is somebody's home. I realize that there are now "career" AirBnb hosts that make a business out of renting their space, but I'm not one of those people. I'm just a chill hostess who enjoys spending some time with fellow travelers on occasion. If you prefer a hotel experience, there are places for that, but this is not my business... this is my home. I'm a pretty easy going & accommodating person, but, for example, if you think you may want to invite a bunch of strangers from the bar back to your room to party at 2:00 AM, getting a hotel room is probably better suited for you. However, if an inexpensive and safe place to sleep with the comforts of home is more your speed, I'm happy to have you as my guest.
I assume most people understand the concept of common courtesy and recognize that the AirBnB community could not exist or thrive without the mutual understanding that most people are inherently honorable & courteous to one another. As both a host, and a guest, I strive to ensure that AirBnb is a fantastic experience for all. :)
---
---
This is a 2 bedroom house. You are renting one of the bedrooms. I live in the other room. Living room, kitchen, laundry, bathroom and yard are shared, but my room, and the office nook off to the side of the living room is strictly off limits. I work from home most days and will be in either my bedroom or office most of the time, giving you plenty of space and privacy. I'm very hospitable and will make every effort to truly treat you as my personal guest. Please do not hesitate to ask me for anything you may need, whether it be rides, recommendations to restaurants and fun things to do/places to explore, etc. Its my goal to make this an enjoyable stay in every way possible. Here are a few things I ask of you:
- Overall, please be polite, courteous and responsible. I'll do my best to be a generous & accommodating hostess, please do your best to be a respectable guest.
- I am willing to consider a small, well-behaved pet on short stays - please contact me to discuss.
- Outdoor smoking only
- Check in time is 4:00 PM, check out time is Noon. Exceptions can be negotiated - please contact me to make alternate arrangements if needed.
---
Independent Marketing and PR consultant working primarily in the entertainment and non-profit arenas. I believe in doing well by doing good and stay active in charitable endeavors and worthy causes that promote social and environmental responsibility.