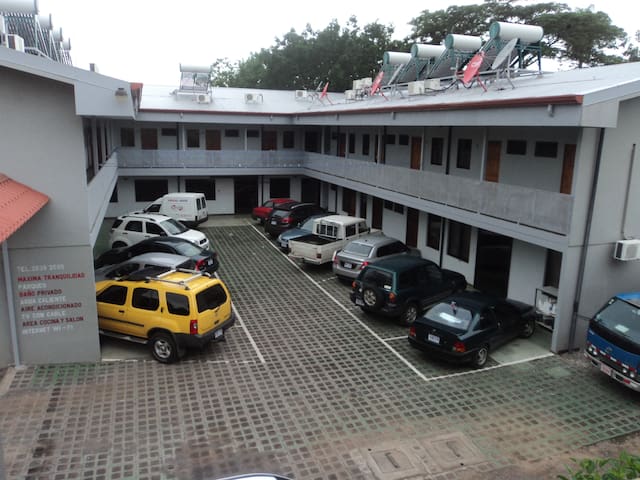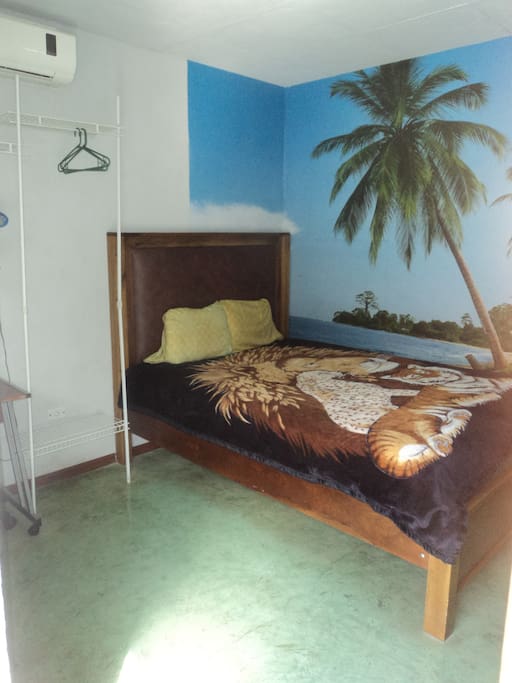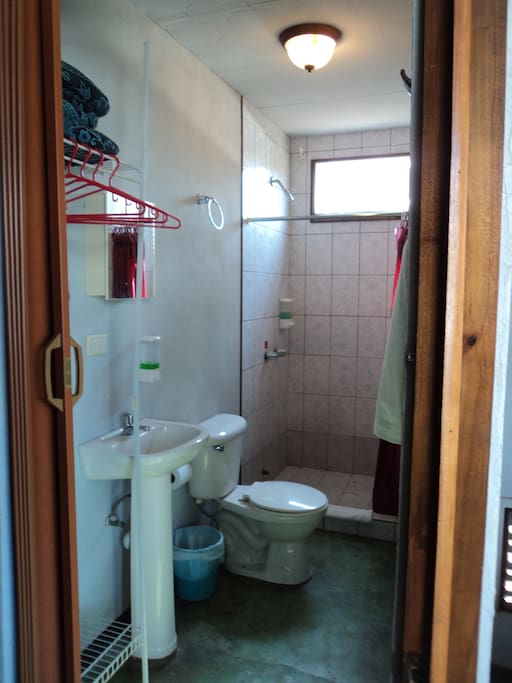 COZY B&B NEAR MONTEVERDE/PUNTARENAS
AN ONLY 25 Mins DRIVE FROM MONTEVERDE RAIN FOREST OR 15 Mins FROM PUNTARENAS BEACH OR SURFING PARADISE PLAYA DOÑA ANA , A VERY INEXPENSIVE BUT GOOD CLASS LODGING SOLUTION .. COZY ROOM REAL ORTHOPEDIC MATTRESS , A/C , HOT WATER , FREE WIFI N CABLE TV
房源
LOCATED IN A QUIET TREE TYPE GREEN AREA OVERLOOKING THE MOUNTAINOUS AREA AND GOLD MINES OF MONTES DE ORO TOWARDS THE NORTH AND THE NICOYA GULF TOWARDS THE SOUTH , WE ARE JUST 5 MINUTES FROM THE INT' L ROAD SAN JOSE – NICARAGUA
房客使用权限
YOUR PRIVATE ROOM IS JUST NEARBY AND HAS ACCESS TO FREE PARKING LOT AND KITCHEN AREA
与房客的互动
PLEASE PROVIDE US ANY COMMENTS ON HOW WE CAN IMPROVE YOUR STAY WITH US AND OF COURSE WE WILL PROVIDE YOU WITH ANY KIND OF TURIST INFORMATION YOU SHOULD NEED , SINCE WE HAVE BEEN LIVING IN COSTA RICA 25 YEARS
其他注意事项
WE ALSO OFFER LAUNDRY SERVICE AT A VERY SEPARATELY CHARGED BUT CHEAP COST AS WELL AS OPTIONAL SEPARATELY CHARGED BUT INEXPENSIVE AND VERY ABUNDANT 2 PLATE BREAKFAST TOO
---
---
---
WE OFFER A NOISE FREE PEACEFULL AMBIENCE , SO PLEASE HELP US KEEP IT THAT WAY .. PLEASE NOTICE THAT OPTIONAL BREAKFAST IS SEPARATELY CHARGED
您还必须确认以下情况
Dog(s)和cat(s) live in the house
---
---
---
---
STAY AWAY! I hate writing crappy reviews but this place I will never forget. First off this hotel room was VERY dirty it had cobwebs with bugs all over the bathroom door the walls ceilings and even around the bed. The door handle to the bathroom broke. There was stains on the walls and the bed mattress and sheets. The walls were actually sticky! And secondly in the middle of the night some one tried to get into our room. Which was really scary because the owner turns off all the lights in the parking lot and we were not able to see the man. We yelled a ton and finally the owner turned on the lights and dealt with the man. The owner never addressed it with us or apologized or made anything right with us. For the price we paid to stay there it was really not worth it.
---
We stayed here for the night between long drives, but didn't have any specific plans in the Miramar area. The place is a bit hard to find, as it's a bit out of the way, and not directly on the road. We made our booking on our way in - which led to a bit of confusion, but that was more Airbnb's fault than anything (apparently, it enables short notice of bookings, but doesn't deliver them immediately to hosts!?). Anyway, it all got sorted. We did find it was impossible to get warm water in the shower - the cold supply would override the hot if it was on, leaving our options to scalding or freezing water. Other than that, A/C worked great and was quiet.
dear devin... first thanks for your stay .. and i would like to mention that in this same airbnb ad, just about all the info you need is available with just taking one minute of your time to read ... there is a very extensive and cleared specified sections with complete directions and land marks included to our hotel and yes we are just off the main road to ensure quietness ... it would be kind you read all the content of our ad , and anybdy else' s for that mattter , before making negative comments ... i think we will all appreciate that from ur clients , cause just as we do , i am sure we all , those of us who have ads , try to please our gguests and it wuld be polite to be spoken to first , us of the managements part of ourbusinesses , before making negative comments , which also affect our ads on the site ... maybe you didn' tknow that your negative comment does have a negative consequence ...but we don' t go around making negative comments of ur clients , cause we are sure that whatever mishap may happen , no guest does that with full intention to harm our establlishment or facilities ... one thing about this cuntry .. it is tropical , so local people don' t use hot water , but in order to please our clients we had solar ambience friendly hot water installed .. but hot water tubes in this country are much thinner than cold water tubes , so yes cold water will always override hot water if both put at full throttle , unless you use less opening on your cold water faucet than hot water (URL HIDDEN) you just put all hot water and go mixxing little by little cold water till you eventually reach the temperature you want ... then you get in the shower ... just as i has adviced you to do when we met in th reception offcie ... and thanks for noticing that we installed roof a/c so as to be quiet and efficient ... maybe next time , wherever you may be staying , you would make a simple call to the management or reception office to fix any problem you are having wiith the use of the rooms and faciliites , BEFORE sending a whole night without being able to use correctely the room appliances and obviously BEFORE making begative coments which affect the correct function of an establishment in a web site ... as they say .. treat others as you wished to be treated ... we hope you had a nice stay in the country
---
Excelente lugar para descansar y muy bonitos alrededores
hola raul .. espero de corazon que este periodo de semana santa haya sido muy placentero y adventuroso para ti .. me alegra que hayas encontrado en miramar un buen lugar para una parada inteligente y acomodadora para tus necesidades y espero que por los caminos de tu vida hagas tantisimas maravillosas experiencias y conocimientos que te alegraran y llenaran tu corazon .. feliz proseguimiento de tus viajes y que DIOS te bendiga siempre .. roberto
---
A nuestra llegada nos recibió un hombre poco amable, no dijo su nombre ni nada, solo me entrego la llave y señaló de lejos el cuarto. La ubicación es algo escondida y da la impresión de no ser muy seguro, pero no nos paso nada. El cuarto en general estaba limpio a excepción de algunas telarañas en el baño.
estimada goretti .. siento entienda que un lugar un poco retirado de la calle principal se vea como no seguro , pero en este pais costa rica , entre mas alejado estas de la multitud , mas seguro es todo , y de hecho esa es la razon de nuestra ubicacion un poquito alejado , para garantizar la seguridad , y de hecho como usted misma dice . . no paso' nada ni tampoco nunca en todos nuestros años de trabajo ha pasado algo . . ademas , vio' usted barrotes en las ventanas como en casi todo costa rica ??? no , pues no los hay y solo ese hecho deberia decirle que tan realmente seguro es , y lastima usted tuvo que decidir criticar algo que masbien va positivamente en su favor ..
---
Our stay in Miramar was really nice. The town is small and clean. The room had air conditioning and comfortable beds. It was quite and serene as well as affordable. Our host lived next door and was only a phone call away.
hi austin , and yes miramar is a very pleasant even though small town on a mountain side overlooking the nicoyan gulf ... people here are still very friendly and you can rest assured that even if walking at high hours of the night time anywhere around here , you would never have any kind of mishaps , such as you might be afraid of having in most central american countries .. actually that is the reason why i myself set home in this peacefull town .. my own management is what makes low rivces but high quality available to offer , but as all things , not all is 100% perfect .. so in order to give low costs , i myself do all the shifts of work , which means at some time i must also sleep at some time , so if a client decides to leave very early , i may be in the premises at the time but asleep , but in case of assitance needed , the only necessary thing to do is a phone call and in 2 minutes i would be out giving any kind of service to any client , and thank GOD in all these years , all our clients have been so polite and correct as to never had given us any kind of mishaps what so ever and thus i have never asked any client to wait till i check the room they leave , as to search for anything wrong in it , and all clients have the liberty of being free to leave at their own pleasure of time , whether i check the room or not , thus not needing assitance for check out matters as in most places .. our phone number is on this add in this page as well as on the wall in the entrance to the hotel .. of course it is the local phone number , so if called by roaming service using an international phone you would have to add first 00506 , the int' l number for costa rica .. also local sim cards can be bought anywwhere in the country , with no identification even required and can be placed in any cell phone as to replace your own local sim card , but with the advantage of using very cheap local rates to make phone calls and not very expensive romaing rates , and in this case you wouldn' t even have to add the int' l costa rican code number in front of our local number , since you would be calling from a national phone number to another national phone number .. i' m glad you enjoyed your stay and may this new year bring you lots of joy and make all your dreams come true
---
I' M A GLOBETROTTER MYSELF HAVING AS MY ULTIMATE DREAM TRAVELLING DURING YEARS AROUND THE WHOLE WIDE WORLD TO KNOW THE WONDERS AND SECRETS THE EARTH HAS IN STORE FOR US TO LEARN ABOUT .. SINCE I 'VE DONE LOTS OF TRAVELLING , I KNOW JUST WHAT TURISTS WANT AND THUS I SPECIALIZE IN GIVING A HIGHLY DECENT PRODUCT ( ROOM AND AMENITIES ) AN A FAIRLY AFFORDABLE PRICE FOR EVERYBODY
语言:
English、Español、Français、Italiano