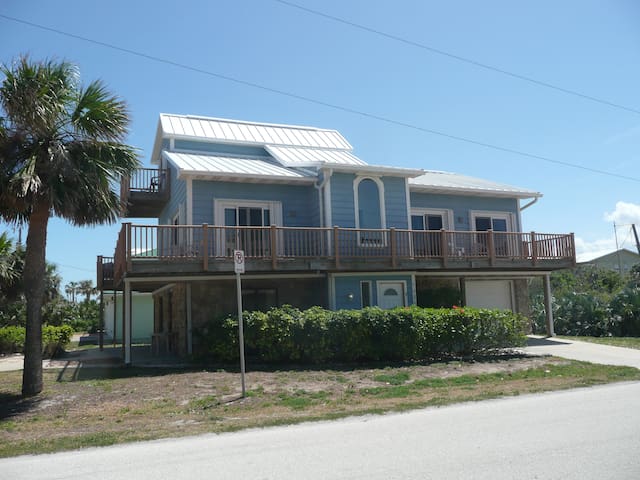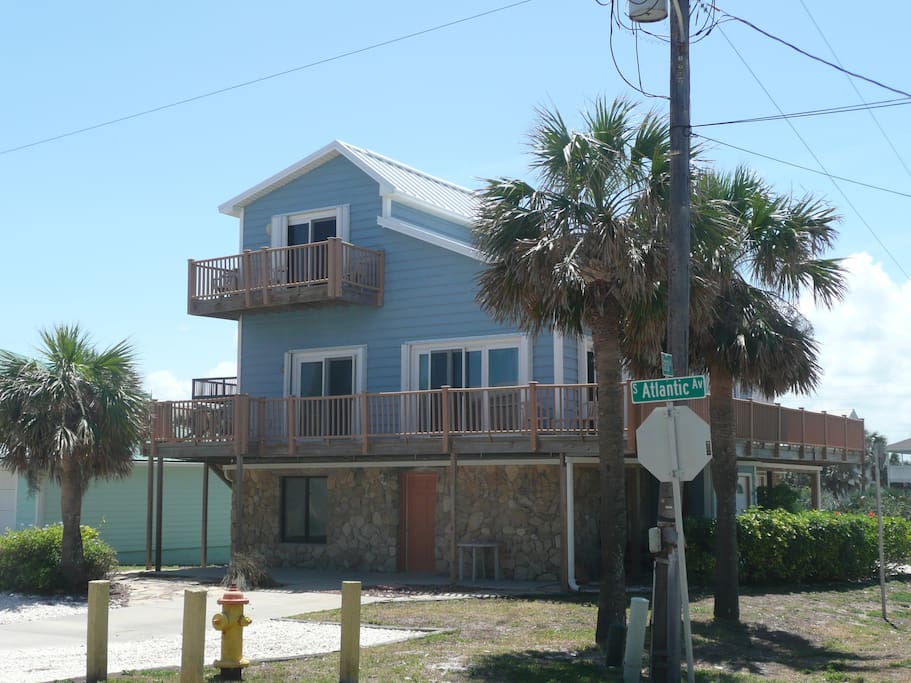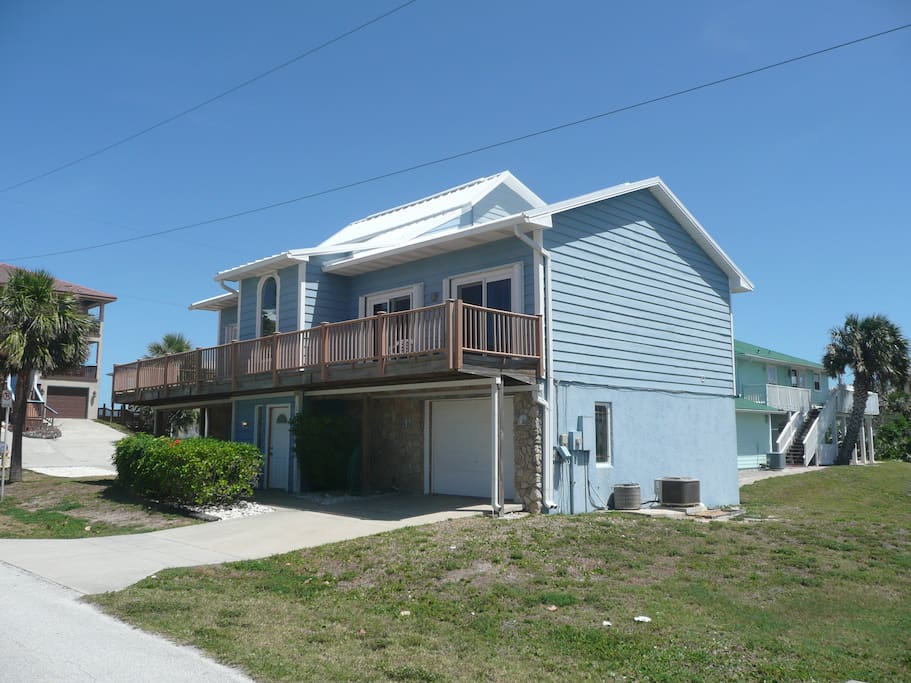 Beautiful beach house is located on a corner lot 2 blocks from southern most point of New Smyrna Beach. Beach access to quiet beach is steps away from the front door. 3 story, 5 Bedroom, 3 Bath, Sleeps 12.
房源
The house includes the following:
* 3rd floor Master Suite with Full Bathroom, TV, Ocean View and Private Balcony.
* 2nd floor Living Room with flat screen TV, Dining Room, Kitchen, Office, 2 Bedrooms (one with a queen and TV, the other with 2 twins), Full Bathroom, Full size washer/dryer, and Large wraparound Deck
*1st floor has another Living Room with flat screen TV, Eat-in Kitchen, 2 more Bedrooms (one with a king and flat screen TV, the other with a Trundle bed), Full Bathroom
The Kitchen is fully equipped for any cooking and baking needs and a large dining room table that can seat 8.
The Living Room includes 3 couches and a home theater system.
Wireless internet is also available free of charge.
The 2nd floor has a large wraparound deck with sliding glass door access from the Dining Room, Family Room, and the Bedrooms. Tables and Chairs available for dining on the deck.
Parking available for 4 vehicles.
---
---
---
New Smyrna Beach House Vacation Rental Agreement
Upon the terms and conditions herein stated, this Vacation Rental
Agreement ("Agreement") is entered into between The Beach House NSB ("Owner") and the Guest identified below ("Guest"). Guest Information:
1. Term: This Agreement is for a Term beginning on ("Arrival Date") and ending on ('Departure Date").
Check-in is 4:00 p.m and Check-out is 10 a.m.
2. Property: The vacation rental property is located 7000 S. Atlantic Avenue, New Smyrna Beach, FL 32169.
3. Occupancy Limit: Maximum occupancy of guests in house is limited to 12 people.
4. Rental Amount, Fees and Payments: It is hereby agreed that the Rent and fees are listed on this website.
5. Repairs and maintenance: Repair and maintenance problems must be brought to Owner's attention within 24 hours of occupancy or occurrence, or Guest will be held liable for all such damages or repairs. Owner will not be responsible for any unauthorized expenses incurred by Guest or his/her guests. Costs of needless or unauthorized service will be charged as Excess Damage Cost against the security deposit on file. Maintenance responsibilities are as follows: Owner: Electricity, water, sewer, local phone service, basic cable, and washing machine and dryer.
6. Smoking: Smoking is strictly forbidden inside the Property. Smoking is only allowed "outside". Evidence of smoking inside the Property will result in forfeiture of security deposit.
7. Casualty or Destruction: Should the Property be destroyed or rendered uninhabitable by an Act of God (including, but not limited to, hurricanes, storms, floods or fires), or by environmental disaster, or loss of utilities prior to occupancy by Guest, this Agreement shall become null and void, and all payments made hereunder shall be refunded to Guest.
8. Turtle season is between May 1st – October 31st. Per state, city, and county laws, no outside lights are permitted to be used after dark. Ocean facing interior window coverings, shades, blinds, etc. should be closed at night when lights are being used. There is a $250 fine per day accessed by the city if noncompliant. If this occurs, the fine will be deducted from your deposit.
9. No laundry or maid service will be provided during your stay. However there is a washer and dryer in the house for your use.
10. Liability and Damage: Guest agrees to defend, indemnify and hold Owner harmless from any and all liability, claims, loss, property damage or expenses, arising by reason of any injury, death or damage sustained by any person, or to the property of any person, in or on the Property during the Term of this Agreement, including Guest, additional invitees or visitors of Guest, where such injury, death or damage is caused by a negligent or intentional act of Guest, additional guest or any of Guest's visitors or invitees.
11. Cause for Eviction: The Guest and all parties with the Guest will be subject to immediate eviction from the Property if the Guest or parties of the Guest violate any terms of this Agreement. In the event of eviction from the Property, the Guest shall forfeit all amounts paid and there will be no refund of Fees and Costs: If Owner employs the services of an attorney to enforce any conditions of this Agreement, to collect any amounts due, the eviction of the Guest, or because Guest takes any action to recover deposits not due, Guest shall be liable to Owner for reasonable attorney's fees and costs incurred by Owner.
12. Short-Term Rental: It is expressly understood and agreed that this is a short-term vacation rental under the provisions of Chapter 509, Florida Statutes, and is not a lease or other long-term residential tenancy agreement. This Agreement is only for the licensed use of the Property for the stated Term. It creates no property rights in Guest and no rights to renewal or for recurring usage. This Agreement is also neither a Time-Share sale or a Plan of Time-Share Development, nor a Vacation Club.
13. Falsified Reservations: Any reservation obtained under false pretense will be subject to forfeiture of Reservation Deposit and Final Balance, if paid, and such party will not be permitted to check in and/or will be subject to immediate eviction with the forfeiture of all amounts paid.
14. The registered Guest and party(ies) on this Agreement are the only overnight guests allowed, unless prior written permission is received from Owner. The Guest signing this Agreement must be a full time guest at the property and must be at least 25 years of age and will be held responsible for all other parties and/or guests of the Guest for compliance with this Agreement, with listed policies, ordinances, rules and regulations and for any losses incurred by Owner or to the Property due to negligence or vandalism.
15. Succession, Assignment: This Agreement is binding on, and the benefits inure to, the heirs and personal representatives of the parties. However, neither this Agreement nor any rights hereunder may be assigned (in whole or in part) by Guest.
16. General Terms: This Agreement is made in, and shall be governed solely by the laws of, the State of Florida and Chapter 509, Florida Statutes. Venue for enforcement shall be Volusia County, Florida. If any section, clause, paragraph or term of this Agreement is held or determined to be void, invalid or unenforceable, for any reason, all other terms, clauses or paragraphs herein shall be severed and remain in force and effect. This Agreement is taken in full compliance with federal, state and local Fair Housing Laws, without regard to race, color, religion, sex, country of origin, handicap or familial status.
17. Acknowledgment: I/We understand and accept the terms and conditions on all pages of this Agreement.
---
---
---
This beach house was the perfect fit for our large family. The house is right across the street from the beach and has everything you could imagine to make your stay enjoyable. With two living rooms, two kitchens and five bedrooms spread out on three levels allowed for privacy. The large open kitchen and living room on the second floor allowed for us to cook, eat, relax and socialize. It was much larger than how the photos appeared online. Our family is very particular about lodging but they kept saying, "Wow, this place is awesome." Michael was very accessible before and during our stay. We highly recommend this house
---
I would not recommend this place. No beach access, don't be deceived! The place was not very clean. The linens had stains the beds were uncomfortable and only one tv worked. The upstairs curtains were sheer . This is just a few issues we had. We will be going with a rental management company next time.
Hi Amber. Thank you for the constructive feedback. Our beach access was destroyed last October with Hurricane Matthew. Volusia County had told us that it would be repaired in the Spring time, but it still hasn't been completed. We've updated our listing accordingly until it gets replaced. Regarding house cleanliness, that is our number one priority. We are currently re-evaluating our cleaning company to rectify this immediately. I wasn't aware of any TVs not working. None of our previous renters have mentioned anything. I will have someone look into it as soon as possible. I'm sorry you weren't satisfied with your stay at our house. Regards, Mike
---
This is a good house and Mike is a great landlord. Furnishings and equipment are fine, and there is a huge amount of beach stuff to use. Two notes for the mobility-impaired: (1) Stairways are kinda steep and narrow. Fine for relatively agile 60-somethings, but bit of a problem for 80-somethings. (2) Wooden public beach access has washed away and scrambling over rocks to beach is acceptable for 60-somethings, but impossible for 80-somethings. Nearest public stairs are half mile away. This shouldn't be bad for most people, but mobility-impaired should keep this in mind.
---
This was our family's second visit to Michael's house. There are so many things we love about this house. The downstairs "apartment" is fully equipped for a family with children. The main floor has two full bedrooms and a bathroom with a fabulous gathering kitchen and dining room table for meals together or family games. The views from this level and the balcony are wonderful. The upstairs master is complete with a dual headed shower and a small balcony for morning coffee. There are beach chairs and beach towels ready for your enjoyment. The beach is glorious. Nearby Fish Camp restaurant promises yummy food. Town restaurants are so much fun. Brunch at Flagler Tavern is a must and the Treetop/house restaurant is a favorite. We will be back next year! Thank you Michael!
---