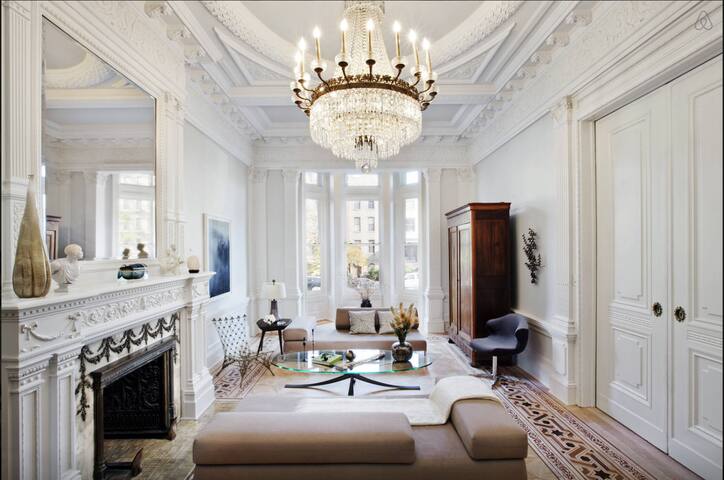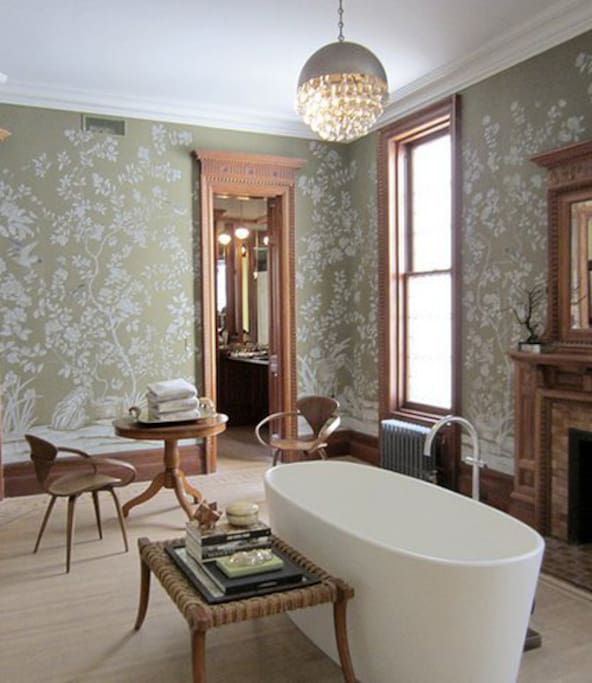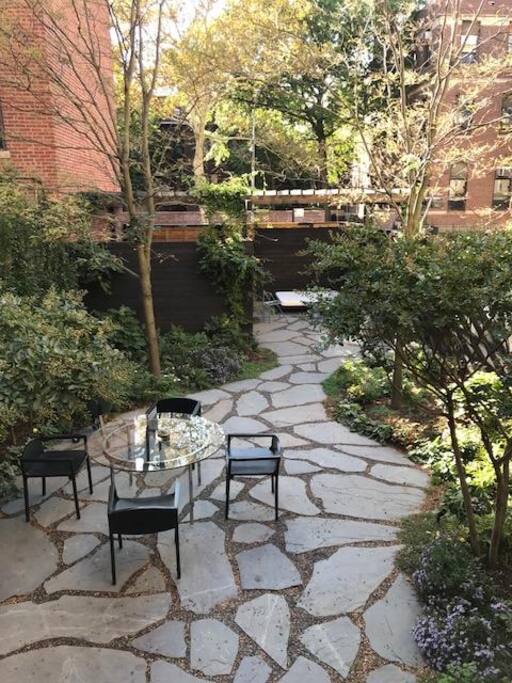 请不要通过这个上市查询 。 主机使用此列表创建自定义预订。 。 请在下面找到我们的客房和链接 -
PLEASE DO NOT INQUIRE THROUGH THIS LISTING
.
This listing is used by host to create custom bookings.
.
Please find our guest rooms and links below --
房源细节
{OUR ROOMS}
.
THE SHASHA
This spacious master bedroom located on the second floor is decorated in serene tones of pale green and sand with bleached maple wood details. It features a sitting area, a shagreen desk, large windows and a Juliette balcony. It has a private vestibule, a dressing room, luxury bedding, and a marble bathroom. King - sleeps 2. Rate $319/night (525 s/f - 48.77 s/m)*
.
https://www.airbnb.com/rooms/21158775
.
THE WILLIAM HENRY {private bath}
This stunning room, located on the third floor, has tall arched windows, beautiful mahogany woodwork and a fireplace. It has a masculine sensibility; a dark palette, midcentury furnishings, luxury bedding and distinctive art. The attached bathroom is sleek and modern with a beautiful marble shower. Queen, sleeps 2 - Rate $259/night (bedroom 230 s/f - 21.37 s/m)*
.
https://www.airbnb.com/rooms/5925343
.
THE SWOON {private bath}
This hip wonderland of a room, located on the third floor, is painted a deep peacock blue. It has a distinctive collected feel; decorated with antiques, flea market finds and mid-century modern pieces. It has large windows, a fireplace, a walk-in closet, luxury bedding, an artistic vintage-inspired attached bathroom with a clawfoot tub and an original pedestal sink. King, sleeps 2 - Rate $279/night (bedroom 210 s/f - 19.5 s/m)*
.
https://www.airbnb.com/rooms/242532
.
THE ERHART {private bath}
This room, located on the fourth floor, has a lovely view of Clinton Hill, Fort Greene and The Williamsburg Bank Building. True to the spirit of Brooklyn, it is decorated with a muted palette and an eclectic mix of vintage furnishings to create a tranquil atmosphere. It has a private vestibule, cedar closet space, luxury bedding, and an attached marble bathroom. A connecting room is available to create a suite. Queen, sleeps 2 private bath - Rate $239/night (bedroom 174 s/f - 16.2 s/m)*
.
https://www.airbnb.com/rooms/2874932
.
THE ERHART II {shared bath}
This room, located on the fourth floor, has a lovely view of Clinton Hill, Fort Greene and The Williamsburg Bank Building. True to the spirit of Brooklyn, it is decorated with a muted palette and an eclectic mix of vintage furnishings to create a tranquil atmosphere. It has spacious closets and luxury bedding. Queen, sleeps 2, shared bath - Rate $199/night (bedroom 174 s/f - 16.2 s/m)*
.
Note that bathroom may not be on the same floor.
.
https://www.airbnb.com/rooms/2874932
.
THE PFIZER II {shared bath}
A spacious mahogany paneled room stylishly decorated with pedigreed vintage furnishings; two merlot mohair velvet Tobia Scarpa sofas, a Pace coffee table and 60's Venini chandeliers. It has a fireplace, a mini-refrigerator, luxury bedding, a large flat screen television, and a dvd player. Room, sleeps 2 - Rate $239/night ( 300 s/f - 27.87 s/f )*
.
Note that bathroom may not be on the same floor.
.
https://www.airbnb.com/rooms/2875203
.
THE WALLACE {private bath}
This suite spans the entire top floor. The first room, THE ERHART, has a lovely view of Clinton Hill, Fort Greene and The Williamsburg Bank Building. True to the spirit of Brooklyn, it is decorated with a muted palette and an eclectic mix of vintage furnishings to create a tranquil atmosphere. It has a private vestibule, cedar closet space, luxury bedding, a marble bathroom and an iPod dock. The second room, THE PFIZER, is a spacious mahogany paneled room stylishly decorated with pedigreed vintage furnishings; two merlot mohair velvet Tobia Scarpa sofas, a Pace Collection coffee table and 60's Venini chandeliers. It has a fireplace, a mini-refrigerator, luxury bedding, a large flat screen television, and a DVD player. Suite, sleeps 4. Rate $439/night (bedrooms 300 s/f - 27.87 s/f and 174 s/f - 16.2 s/m)*
.
Note that twin beds can be added to accommodate additional guests.
.
https://www.airbnb.com/rooms/241140
.
FILM AND PHOTOGRAPHY LOCATION
All rooms are available for film or print shoots. Rate $(PHONE NUMBER HIDDEN) a day. We are also open to trading.
.
* sizes do not include closets or bathrooms
Some stays are good, some are great, and others are spectacular. Jessica and the Notorious B and B are in the realm where words can't begin to describe. At once relaxing and exciting, this Airbnb is a can't miss stay. A stunning mansion with all the amenities, located in the beautiful Clinton Park neighborhood of Brooklyn and a perfect host, Jessica and The Notorious B and B are worth every penny. Highly recommended!!
---
Our booking at this location was just incredible. We had so many options within the house for incredible photographic moments. Thank you to the owner to allowing us to use her incredible props within the house. She was very available to answer all of our questions especially given the turnaround was so tight.
---
Another great stay at Jessica's! This time my family stayed at the Swoon and the William Henry, both on the 3rd floor. The Swoon is at the back of the building and wonderfully quiet. The W.H. is large and fit a small roll away bed for our 8 year old. Breakfast is always a delight, served in the most beautiful wood, ceramic and glass bowls and cups. Thank you Jessica!
---
Doug greeted me, took my bag upstairs and showed me my room, which was just beautiful, spacious and elegant (with a wonderful shower!) It was a pleasure to sit and chat with the other guests and Jessica as we enjoyed the delicious breakfast she provides; she is quite the cook! I especially loved hearing about the history of this amazing home and of the neighborhood; Jessica and Doug have lived here for many years, know it well, and are a great source of information for a visit to this lovely, intriguing part of Brooklyn. They are wonderful hosts: accommodating, friendly and justifiably proud of their lovingly restored home. I highly recommend Notorious B.N.B. for your visit to Brooklyn.
---
The notorious BNB was a marvelous place. It felt like we were staying in a mansion and the hosts were so friendly and very welcoming. They helped us with everything and were very accommodating towards us. The pictures and descriptions for the house exactly and we couldn't have been more happy. The house is beautiful, luxurious and grand and in encourage everyone to stay here. It's. It a lovely brownstone on the streets of Brooklyn from the outside but inside feels like a mansion.
---
We are thrilled to welcome people into our house. It's just the kind of place that we would want to stay if we were visiting New York! We enjoy meeting interesting, creative and passionate people from around the world and sharing our love of Brooklyn and New York City with them -- the history, food, art, architecture, and music. What we offer is a room in a beautiful house. We are relaxed and welcoming. We ask that our guests make themselves at home (and we do all we can to make them as comfortable as possible). Staying with us is like staying with friends or family (who can cook well). We do not have locks on room doors (although we do fully respect our guest's privacy). This is not a hotel or a bed and breakfast "business" (no teddy bears or pot pourri). It is sometimes elegant and sometimes casual. We like vintage furniture, street art, local food, and all kinds of music ... an urban sensibility. It's 'real life' in this house -- we have dogs who are enthusiastic greeters, teenagers who are in and out and friends who stop by. That said, we try really hard to make each guest's stay wonderfully memorable. Please read our reviews. We have had amazing guests!