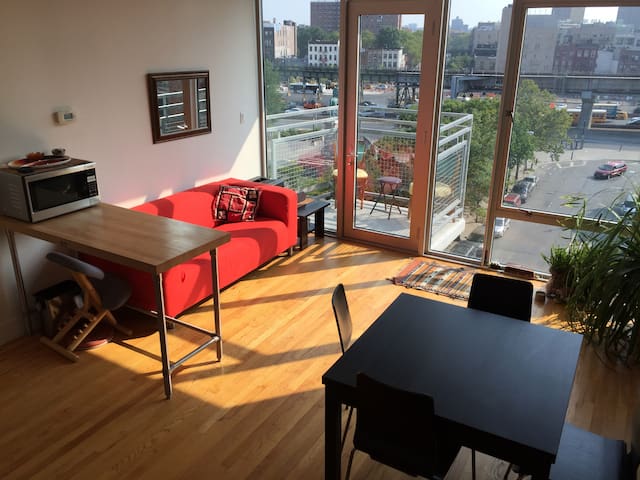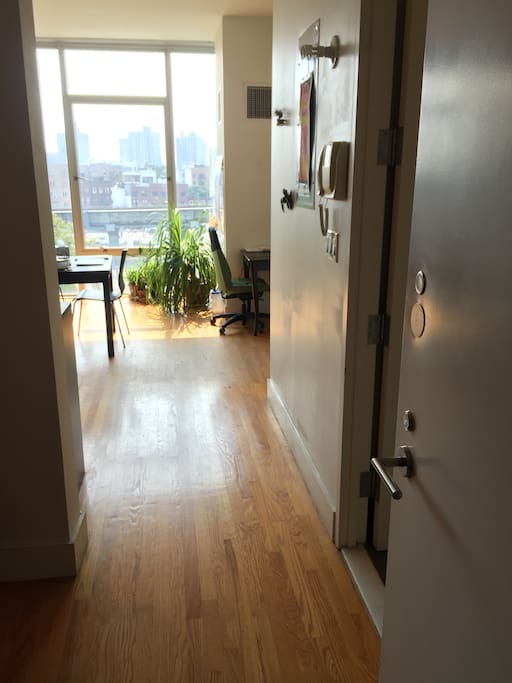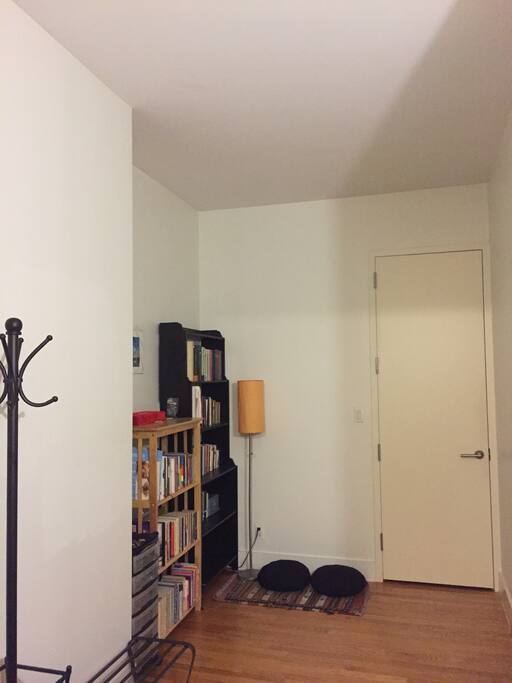 Stunning home available immediately. The Continental has elevators, a doorman, gym, sun deck, and rooftop. The apartment has fabulous South facing floor to ceiling windows. Flooded with bright light year round. Outdoor balcony with view of Lower Manhattan. All utilities included. Comes with a dishwasher & ample counter space. A Walk in closet. Luxuriant bathtub. An additional room with a giant closet and bookshelves. Cheerful, comfortable and clean. Easily accessible by train (L & J/M/Z) & bike.
房源
The space is ready for use with ample supplies.
房客使用权限
In addition to the whole apartment you will have 24 hour access to the elevators, gym, the sun deck and the roof.
---
Nandini and Evans were the perfect hosts. They were 100 percent responsive to queries and we felt immediately at home. We were new arrivals in New York and had an unexpectedly warm welcome. Amazing book collection too, many of which I coveted (other than the text books on quantum field theory). The apartment is comfortable, well equipped and functional. The lack of curtains/blinds is a little disconcerting at first, but more than compensated by the views. Talking of which, the rooftop is extraordinary, with a 360 degrees panorama taking in everything from downtown Brooklyn to Upper East Side. The apartment is perfectly located for two subways to Manhattan and for enjoying funky Williamsburg. There are hundreds of great restaurants and bars within a 10 minute walk, a quaint old style municipal pool, and a great neighbourhood feel. Interesting local fauna too, with an unusually high percentage of bearded kale-munching hipsters comparing their tattoos.
---
We stayed for one full month in Nandini's apartment in Williamsburg. We absolutely enjoyed the stay and can fully recommend this apartment. Nandini and Evan are great hosts, very responsive and helpful. The apartment has floor-to-ceiling windows, creating a great view (only downside is that the bedroom had no curtains so was a bit bright in the morning). The location of the apartment really is a short walk from the restaurants and shops of Bedford Avenue and also not far from the next subway.
---
Williamsburg is a hot spot to live in. Where we is right near the entrance to the Wiliamsburg bridge and only a 15 min. bike ride (Citi bikes available less than a block away) across to Mahnattan. We're amidst great restaurants, bars, coffee shops, the post office, the subway, the East River Ferry, a yoga center, a jazz/improv. club and other interesting activities if you should want to so engage.