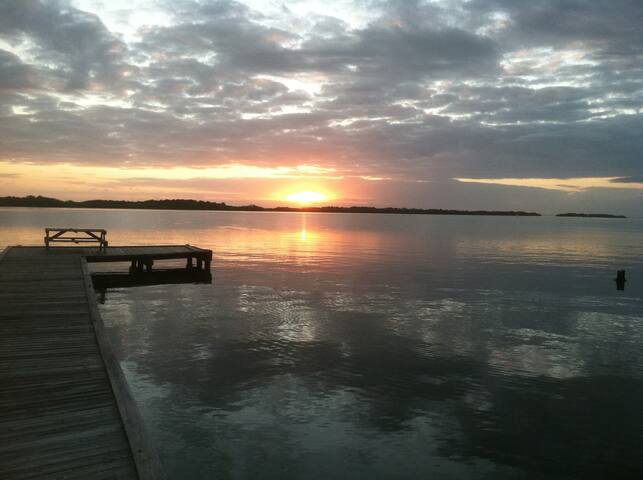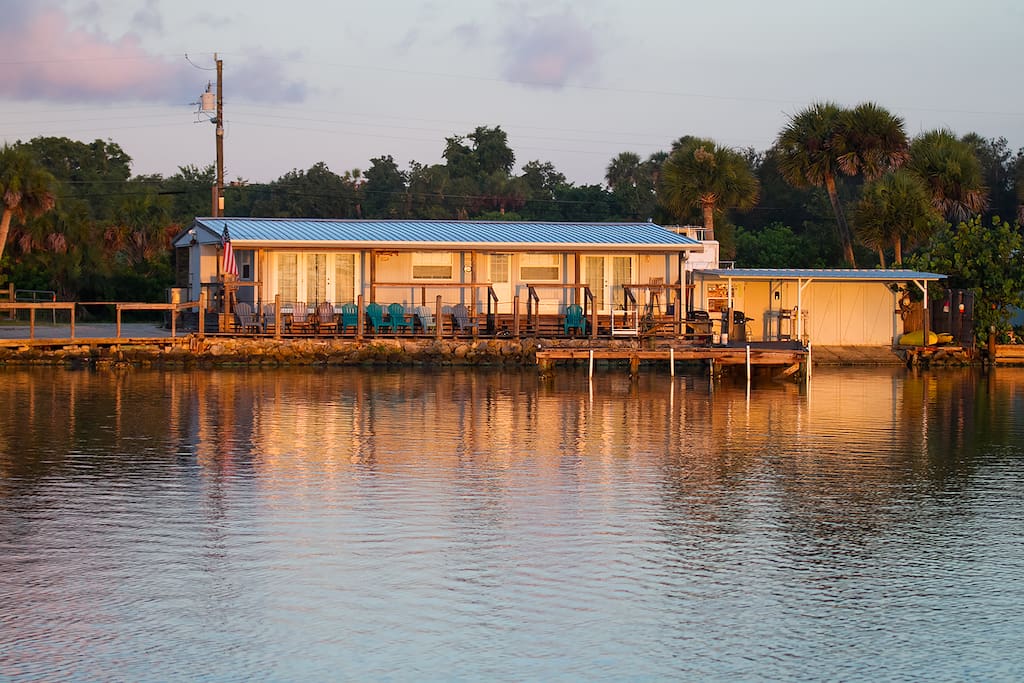 Waterfront studio & dock sleeps 2
TRANQUIL WATERFRONT CABIN YET 20 MINUTES DRIVE TO BEACHES
Located on the western shore of the Intracoastal Waterway in sleepy Oak Hill, Florida, and a five-minute idle or paddle to the world-famous flats of Mosquito Lagoon. This is a perfect getaway if you want to be surrounded by nature and wildlife but also want to be a short drive to the beaches, shops & restaurants of nearby, picturesque New Smyrna. Orlando theme parks, Daytona Beach Speedway and Cape Canaveral are also within easy reach.
---
Wonderful!! Beautiful place literally on the water, lovely view of the bay. The first thing that greeted me was a calico cat named patches. The place we stayed was very clean and inviting with one side consisting of french doors. Kitchen fully stocked, it even had spices. Upon walking out on the dock there were hermit crabs everywhere!! Huge pelicans sitting on the water. My first kayaking trip I saw manatees and dolphins. Capt. Brian is a friendly and gracious host, he had caught some fish and even given us one! ! It was delicious. We were even able to borrow some fishing poles and fish which was great! There was a great restaurant down the road about a block away and fresh caught seafood to cook yourself about a 10 min drive away, (Oak Hill Seafood) as well as large grocery stores and anything else you can imagine. It was a blast to paddle out and explore the many small islands and enjoy the wildlife. The community itself was very quiet and peaceful. I wouldn't hesitate to bring my children. We will def be staying here again.
---
This is a lovely rental directly on the river. You can rent the little efficiency with glass doors that open to the porch and dock. Just know that there's an adjoining two room rental so you're sharing the space with other guests. The host was accommodating and quick to respond to questions. Very peaceful place.
---
Absolutely amazing!! Beautiful view and very quiet, hosts are very friendly and helpful. Would recommend this to anybody! The ONLY thing I didn't like was the oven was a bit outdated and difficult to use so I would suggest just bringing things you can cook on the stove, which works perfectly, or in the microwave. Would go back again!
---
Hello, I'm a full time fishing guide on the Mosquito Lagoon which lies between New Smyrna beach and the Kennedy Space Center on Florida's East Coast.